The round bed comes full circle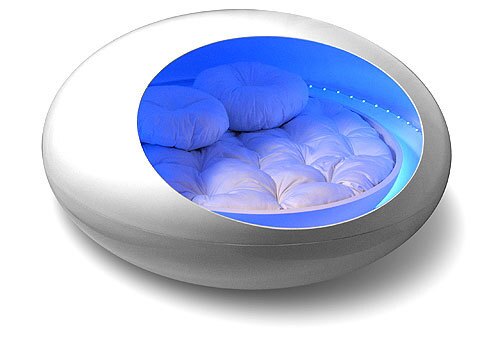 The Transport has a water mattress and sound and light system.
(Alberto Frias)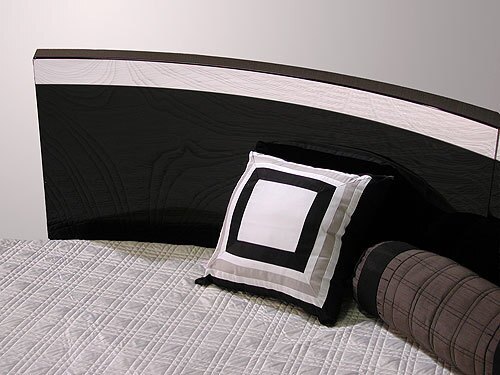 Sercio has a mirrored band in the headboard and a 7-foot mattress.
(Glober Furniture Inc.)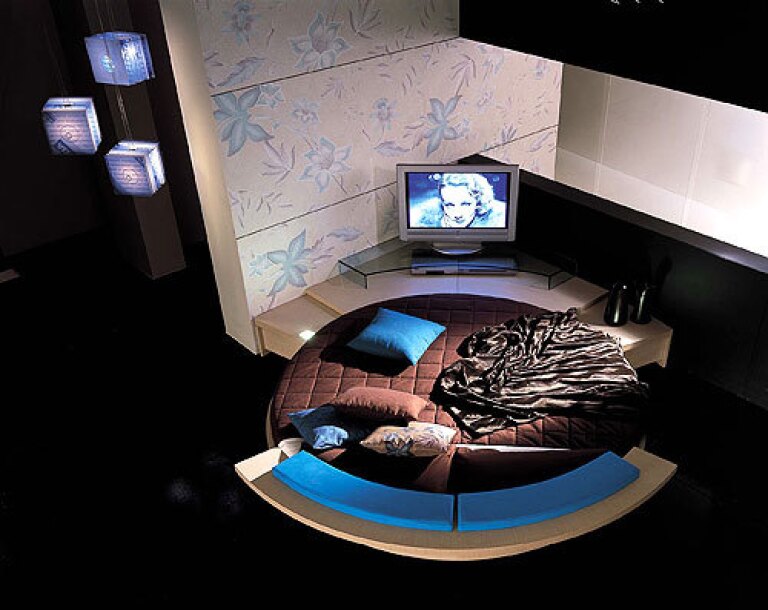 The Histoire D'O comes with curved nightstands that can fit corners.
The Nina Rota features a trolley on casters for use as a free-standing nightstand or a footboard.
(Cappellini)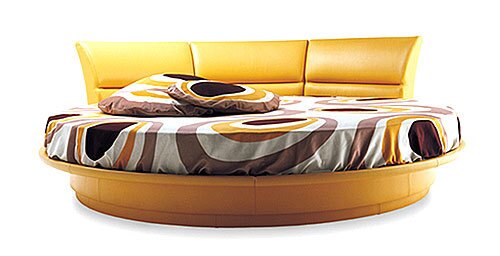 The Lullaby Due is a redesign of a 1968 model, with a taller, curved leather headboard.
(Poltrona Frau)
Times Staff Writer
REMEMBER the revolving circular bed from which the Mike Meyers' character Austin Powers proclaimed his shag-ability? Laugh if you must, but the Lazy Susan sleeper — that semaphore of swinging bachelorhood — is no longer a joke to be found solely in Hollywood comedies and special-interest hotel suites.
The latest models, available from prominent Italian furniture showrooms throughout Los Angeles, come equipped with streamlined leather headboards, custom-fitted linens and optional side pieces that function as nightstands and footboards.
Still groovy, they have found a new design niche with midcentury aficionados and space-challenged decorators.
These days the buyer is likely to be someone who thinks outside the box, but the round bed sells itself on its obvious design advantages rather than any implied aphrodisiac qualities.
"It had nothing to do with being sexy," says Pacific Palisades resident Judith Darch, who purchased a Poltrona Frau white leather Lullaby Due bed for her vacation home in Mammoth.
"I just wanted a different look; you can do so much with it, and it sleeps the same as a regular king bed."
With a diameter about equal to the length of a California king bed, the mattress-go-round offers 360-degree views of the room, which is why some decorators recommend it to clients with fireplaces, plasma TVs and multiple windows in their boudoirs.
The rounded edges also take up less floor space, and you never have to worry about hospital corners when making up the bed. That can be expensive, however. While manufacturers insist that king flat sheets can be used on circular mattresses, fussy folks may have to spend another $1,000 for fitted bedding.
The price of a mattress and base can be steep enough to induce vertigo. Revolving beds by the Italian firms Cappellini, Poltrona Frau and Prealpi typically cost more than $10,000.
In a surprising spin, however, lower-cost stationary versions of this adult novelty bed have also become popular for kids' rooms. After success with local retailers, Chicago-based manufacturer Glober Furniture Inc. offers the Sercio bed with a curved, mirror-trimmed headboard and a base illuminated with concealed rope lights. It is priced under $3,500, including the 7-foot diameter mattress; IKEA's Sultan Sandane, a round mattress on a minimalist frame, is about a quarter of the cost.
"They're a bit campy, like something you'd see in Katy Keene teen model comic books," interior designer Jackie Terrell says, "but I can see how it would be fun in a teenager's room."
Terrell, who is known for positioning beds in the center of rooms, says that if a client wanted a round bed, she would definitely "float" it under suspended lighting for a futuristic look. "I think it would be great to use a round bed in a guest room or TV room, where you could pile a bunch of big pillows on it and use it more as a lounge."
That's how candle designer DayNa Decker uses the Prealpi Histoire D'O revolving bed she purchased for her midcentury home in the Hollywood Hills. In a 12-by-12-foot second bedroom, the bed serves sleepover guests, though Decker and her husband often curl up on it to watch TV.
"If it was a square bed, we probably wouldn't hang out in the room as much," she says. "It's much cozier and if there's nothing on TV, we can spin the bed and look out the window."
For an even more contemplative experience, Alberto Frias' Transport is a fiberglass pod with a circular water mattress. The custom-order piece is outfitted with LED lights and a sound system.
The round bed arrived as a futuristic statement in the swinging '60s, making the scene as a Space Age sleeping surface around the same time as the waterbed, which also was offered in the round. Gimmicky at first, circular beds quickly found favor in hotels and resorts; the Culver Hotel in Culver City still sports one in the John Wayne suite.
As residential furniture, the design came of age in 1968 with the Lullaby, a motorized revolving bed that had an elegant, tufted leather headboard and a suite of matching tables and ottomans by Luigi Massoni for Poltrona Frau.
That company recently revived the bed as Lullaby Due, with a taller, slightly curved semicircular headboard. It has been joined by the Prealpi Histoire D'O, which can be augmented with curved nightstands that can fit against a flat wall or in the corner of a room. The latest arrival by Cappellini features a curved, open-shelved trolley table on casters that can be swung around the bed to use as a nightstand or footboard.
Stripped of the glitz that usually equates round beds with soft-core erotic films, the latest generation has more of the Zen simplicity of contemporary platform beds. Although one salesman recently described round beds as "sleeping one comfortably and two who really care about each other," he also noted a nearly equal split between male and female buyers.
There is no evidence that a circular bed offers greater health benefits than the traditional rectangle. "It's purely an aesthetic choice," says Santa Monica chiropractor Eric Dahlstrom. "But if a round bed is the focal point of your bedroom and it makes you feel calm, then you are probably going to get a better night's sleep, which affects your psychological and physical health."
One more upside of a round mattress on a revolving base: It's much easier to avoid getting up on the wrong side of the bed in the morning.
--
---
david.keeps@latimes.com

--

(INFOBOX BELOW)

Take one for a spin

Round beds range in price from affordable to astronomical, as you'll see in the list below.

Prealpi Histoire D'O, from $10,500, is available through the Ambiente Collection, 8820 Wilshire Blvd., Beverly Hills, (310) 659-1431. Sheet sets are $1,800. The bed can be found at https://www.spacify.com , with a starting price of $7,320.

Poltrona Frau's Lullaby Due, from $10,900, is sold through In-Ex, 8800 Wilshire Blvd., Beverly Hills (310) 358-0500. Sheet sets are $1,000.

Sercio by Glober Furniture Inc., $3,499, is sold through https://www.craniumfurniture.com .

Sultan Sandane, $899 with a fitted sheet, is available at the IKEA in Burbank, (818) 842-4532. Extra sheets are $29.99.

Transport by Alberto Frias, from $12,000, is available at Twentieth, 8057 Beverly Blvd., Los Angeles, (323) 904-1200 or https://www.albertofrias.com .

Cappellini's Rota Nina bed, $23,329; get information at https://www.cappellini.it .

Bedding: For cotton sheet sets starting at $199.95, visit https://www.specialtybedding.com and click on "round bedding." Custom sheets are also available at the Company Store, (800) 323-8000.

— David A. Keeps
---