It's all of the greenery, with none of the guilt.
The house plant craze has grown into one of this year's hottest trends: home decor that ushers in lush, botanical themes without the worry of watering.
"A lot of people are afraid of bringing live plants inside," said Dabito, the Los Angeles-based designer and artist who photographed who helped Instagram queen and high priestess of house plants Justina Blakeney photograph her signature urban jungle-inspired look for the book, "The New Bohemians."
The solution? Dabito explained: "When you bring in artwork, wallpaper, textiles and even artificial plants, you get the idea of greenery without buying plants you feel you need to babysit."
Propagating design
In addition to the fear factor, Los Angeles-based interior designer Nell Alano also credits cultural influences like Coachella (think: flower crowns), the resurgence of 1970s style, decoupage artist John Derian, and fashion designers like Gucci's Alessandro Michele for igniting an interior super bloom.
"If you walked through a Gucci boutique, it felt like you were surrounded by a botanical garden," Alano said of the 2018 debut of the high-end Italian design company's forward-looking 2018 home collection: The theme was an Eden-like paradise of vivid garden florals, bold botanicals and wildlife.
Now, it's a trend that can be spotted at every price point. "I was really happy to see CB2 and Target incorporate nature and botanical themes as well, in everything from shower curtains to small area rugs," said the designer. "I think people are craving it right now."
"For a while we've had that washed-out, gray, white, beachy, deconstructed look," said Los Angeles-based interior designer Aly Daly, "and I think design is moving a little bit away from that. We want pretty things again, details are becoming more and more important."
Garden variety
The types of plants, palms and blooms being emulated are less important than the earthy vibe they impart and our unbridled enthusiasm for blurring the boundaries between inside and out. Everything goes. Some of the most directional designs favor twists on traditional florals and riffs on rainforests and tropical getaways.
Nancy Fire, New York-based founder of Design Works International and design director for HGTV Home, said when it comes to choosing which botanicals to bring home, it's a jungle out there.
"We're seeing oversized," Fire said. "Big, botanical leaves, and jungle-esque [prints] with birds, butterflies, dragonflies and creepy, crawly insects."
Leaf shape, texture, pattern and color are also important elements in the new designs and line drawings offer yet another interpretation. "It almost looks like a sketchbook that is half colored in," she said. "I wish I could say that there is one type [of botanical style], but it's definitely about variety."
Plant-based style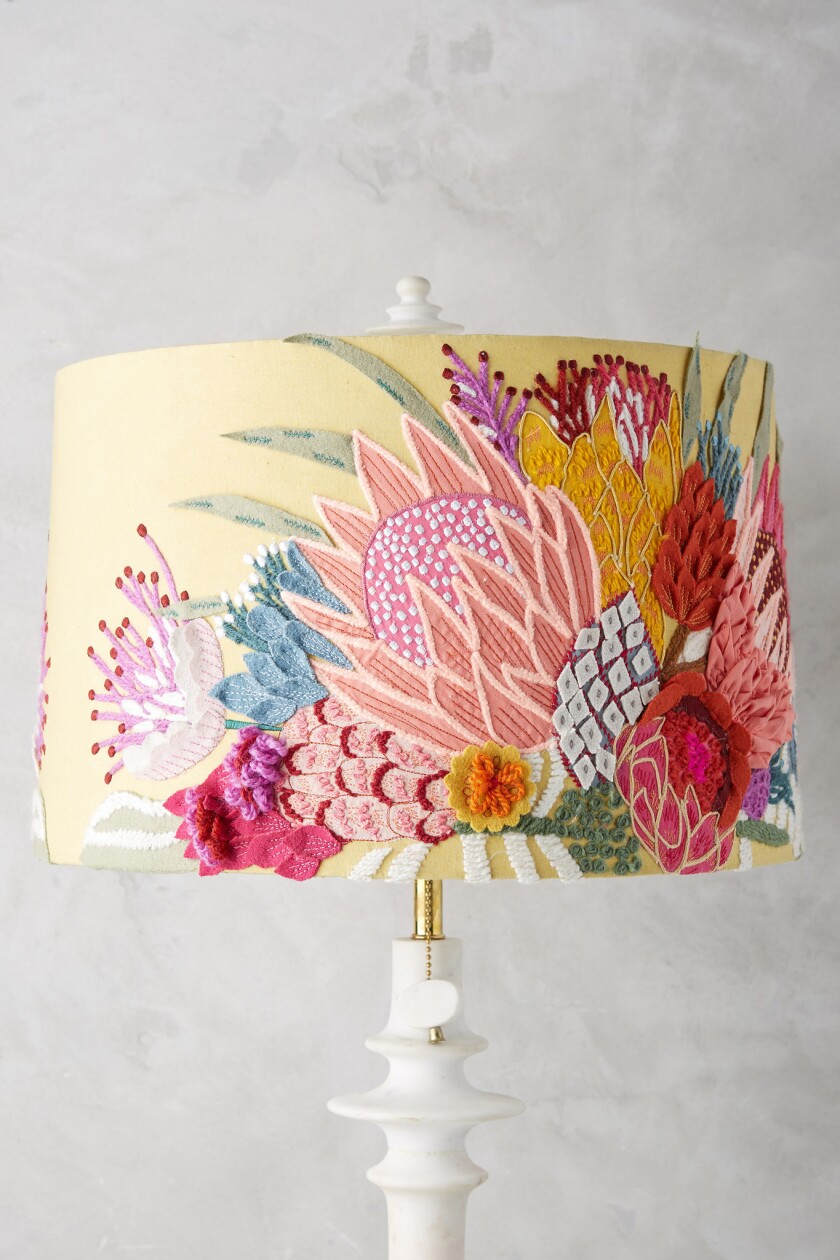 When it comes to incorporating the look, Fire said, "We're seeing accent walls with splashy, oversized wallpaper [prints]...or gallery walls using beautiful, botanical florals that are more modern in feeling, not the old English botanicals you would see out of a book."
But not everyone who wants in on the trend knows where to start.
"A lot of people are stumped," said Dabito. "It can feel overwhelming." His advice: "If you are free-spirited, bold, go with wallpaper, something really green and botanical." He suggests trying temporary wallpaper, especially handy for the rental life. "It's really easy to install and adds so much impact in a small space."
For those who are shy about introducing color and botanical motifs, Dabito said, "Start with artwork. Get a few pieces of artwork, see how it feels in your space." If it works, consider going further by layering with prints and patterns on decorative accessories, bedding, tableware, window coverings, upholstery – and yes, even live plants.
"Anything you can do to bring nature into the home makes it feel, even on a subconscious level, more of a connection to the earth," said Daly, "and I think that can have a soothing effect.
"Even a super slick, modern place can benefit from adding natural elements. It brings some softness to it."
"People are looking for the bright spots in life and I think the influence of nature really offers one," Alano said.
More photos: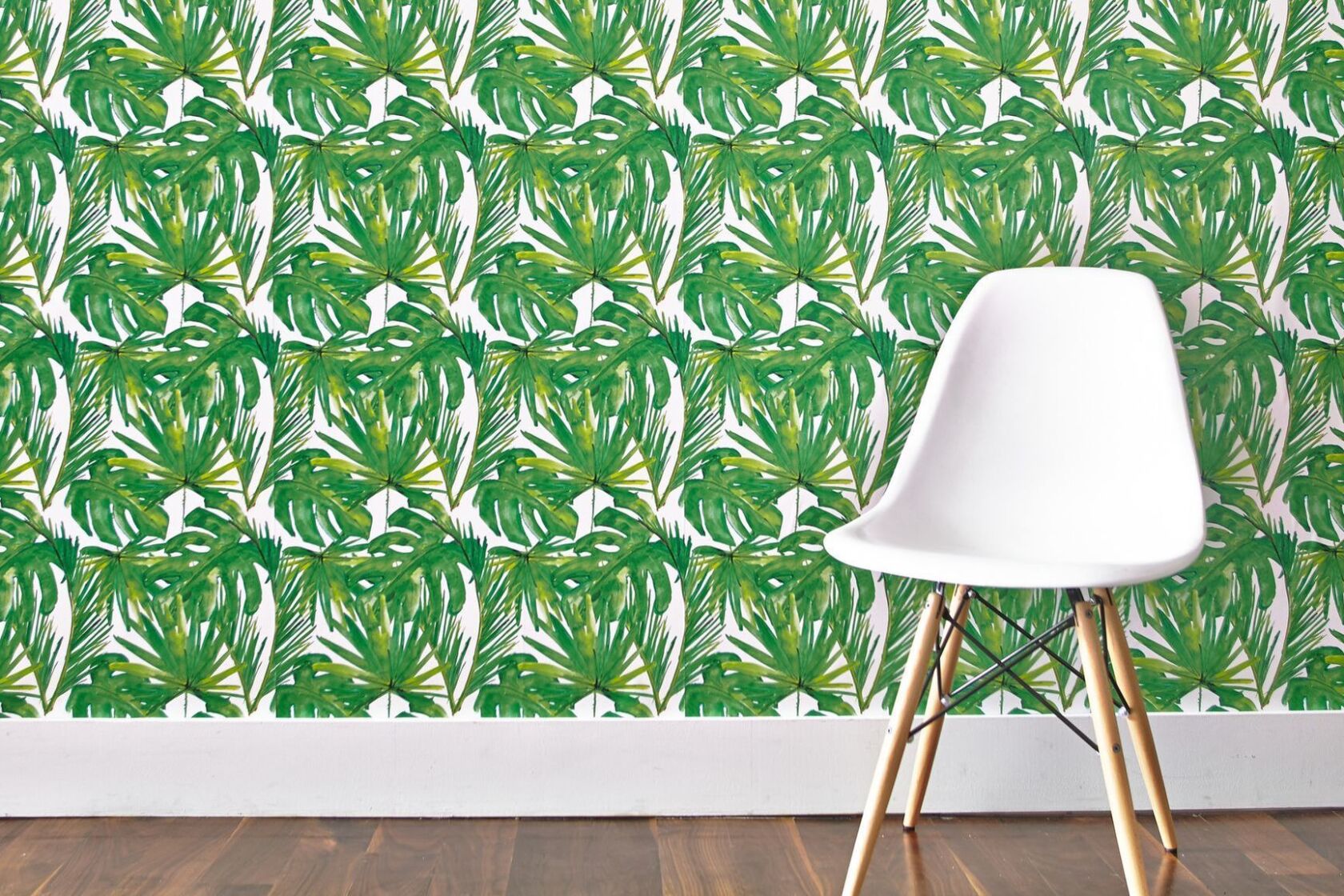 Interior design elevates the house plant craze with decor that goes wild. Here's how you can get the look, at a variety of price points. First up: Green Leaf temporary wallpaper from Chasing Paper. $40 per panel at ChasingPaper.com.
(Chasing Paper)
Melamine palm plate from Terrain.com: $12.
(Terrain)
Birds and Butterflies wallpaper, $5.78 a square foot at Perigold.com.
(Perigold)
Hybrid Zoe plate from Seletti: $46 at Burke Decor.
(Studio Badini Createam S.n.c / Studio Badini Createam S.n.c / S)
Spring Leaves temporary wallpaper, $40 per panel at ChasingPaper.com.
(Chasing Paper)
Hybrid dinnerware from Seletti.
(Studio Badini Createam S.n.c / Studio Badini Createam S.n.c / S)
Great Meadow mural, $548 at Anthropologie.
(Anthropologie)
Majorcan Garden lampshade, $138 at Anthropologie.
(Johan / Anthropologie)
Priano wallpaper from Serena & Lily: Priano wallpaper, $98 a roll at SerenaandLily.com.
(Michael Valdez / Serena & Lily)
Palm Tray from Serena & Lily: $58 at SerenaandLily.com.
(Michael Valdez / Serena & Lily)
Lilly Pulitzer gold monstera leaf, $44.50 at Pottery Barn.
(Pottery Barn)
Lucky Plant print starting at $45 at select Living Spaces.
(Jason Haza / Prestige Arts.)
John Derian tuberose pillow by Designers Guild, $146 at Burke Decor.
(Designers Guild)
Chiavari chair with embroidered moth, $2,600 by Gucci Décor at Gucci.com.
(Gucci )
Tropical teepee, $228 at Crate and Barrel.
(Crate and Barrel)
Bonnie McCarthy contributes to the Los Angeles Times as a home and lifestyle design writer. She enjoys scouting for directional trends and reporting on what's new and next. Follow her on Twitter @ThsAmericanHome
ALSO
How designer Nate Berkus blended old and new in his L.A. kitchen remodel
They found a real estate unicorn: A house with great 'bones,' ready for decorating
You've never seen a kitchen island sink like this
How online art galleries are serving up talent — and sales — without the 'tude
---