After straw ban, California builds a non-plastic future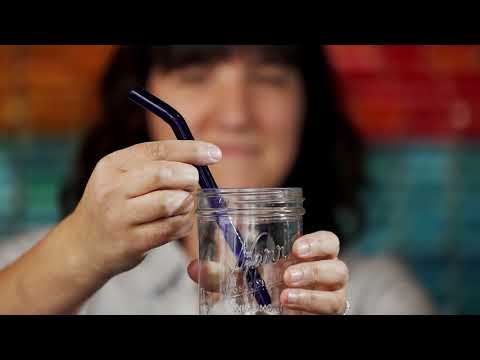 At Open Sesame in Long Beach, patrons can buy reusable metal straws for their drinks. (Luis Sinco / Los Angeles Times) LA Times Today airs Monday through Friday at 7 p.m. and 10 p.m. on Spectrum News 1.
Kaleigh Laurino keeps an eye on her drink when she meets up with friends at a bar — not because she fears that someone might spike her cocktail, but because she doesn't want her reusable stainless-steel straw cleared away yet again with the empty glasses.
"My friends are like, are you serious?" said Laurino, 26, a content specialist from Long Beach. But Laurino, who has long been serious about ditching single-use plastics — even before a restriction on their use became California law in January — now carries a small pouch with her that holds a reusable straw and small, bristled cleaning brush.
Ever since California became the first state to bar full-service restaurants from automatically giving out single-use plastic straws, many Californians have felt its impact. And some have definitely not been pleased to find out they have to specifically ask for one if they want to sip their drink through a straw.
Madison Mersola, who works as a server at the Open Sesame restaurant in the Belmont Shore neighborhood of Long Beach, said the early days of the new law were rocky, especially since the restaurant decided to eliminate straws, not just reserve them for people who asked for them. Mersola said she supported the ban on single-use straws — "I saw that terrible video that went around with the straw in the turtle's nose" — but it wasn't a view always shared by the people she was serving.
"Customers got upset," she said of the restaurant's hard-line approach. "It got to the point we purchased paper straws because we were getting so many complaints." (In addition to paper straws, the restaurant also sells stainless steel straws, along with a cleaning tool and carrying case.)
It wasn't only the restaurant patrons in Open Sesame who balked at the new rules. In March, Rep. Devin Nunes (R-Tulare) expressed outrage on his Twitter account over his own experience of eating out. "At restaurant tonight waitress asks if we want straw," Nunes tweeted. "Says she has to ask now in fear of "THE STRAW POLICE". Welcome to Socialism in California!" (The tweet generated 36,000 comments, many of them in support of reducing waste.)
When the law was passed in 2018, then-Gov. Jerry Brown hailed it as one of the most significant achievements of his administration. "Plastic has helped advance innovation in our society, but our infatuation with single-use convenience has led to disastrous consequences," Brown said in a statement. "Plastics, in all forms — straws, bottles, packaging, bags, etc. — are choking the planet."
And starting April 22 — Earth Day — the city of Los Angeles will take an even tougher stance, with its "Straws on Request Ordinance," which will require not only sit-down restaurants but all food and beverage facilities — including drive-throughs, food trucks and street carts — to eliminate single-use plastic straws by Oct. 1.
Into the breach have stepped canny entrepreneurs, creating a cottage industry of upscale straws and elegant carrying cases, along with such necessities as cleaning brushes, straw squeegees and dental-friendly silicone straw tips.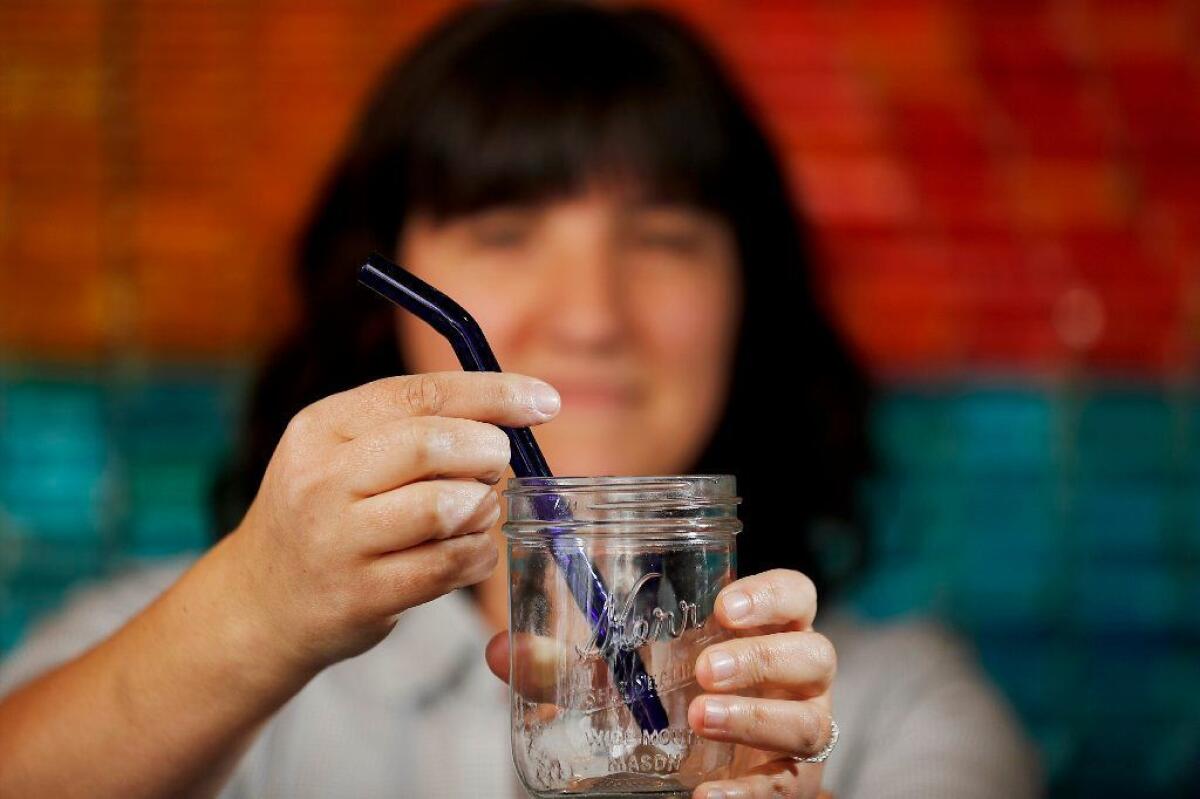 To walk into BYO Long Beach, the environmentally friendly retail outpost of nonprofit Algalita — an organization that describes its mission as being "at the forefront of the Great Plastic Awakening" — is to see the commercial potential of a non-plastic-straw future.
The small shop, on the edge of a marina, directly across the street from where the San Gabriel River meets the Pacific, is filled with large, glass jugs that dispense liquid soap, detergent, shampoo, shower gels and lotions into reusable, empty containers. Environmentally friendly products like beeswax sandwich wraps, reef-safe sunscreen, organic bulk teas and assorted goods in compostable packaging line the shelves. In the center of the store, a variety of glass, stainless steel and bamboo straws, cleaning brushes and carrying cases sit in Mason jars atop wooden milk crates.
Justin Lorenzo, a store support supervisor at the Whole Foods Market in Aliso Viejo, was recently purchasing a stainless steel boba straw in BYO Long Beach. It was not his first.
He said he has been building his reusable straw collection, including everything from stainless steel and silicone to a collapsible design that attaches to his key ring, since he and his friends made a resolution in January to be more environmentally conscious. "It's not much of an inconvenience once you create these habits for yourself," Lorenzo said. "It becomes second nature."
Online resources for reusable straws and accouterments also abound. James Garvey, vice president of sales for the Chicago-based Swzle, said his company is approaching the increasingly competitive marketplace with an eye on design. "We try to do something really eye-catching with the graphics," Garvey said, "it becomes like an accessory." (A typical offering is the Swzle Pack. For $19.99, you get two stainless steel straws and a cleaning brush, along with a carrying case that comes in colors including ocean blue and rose gold, and straws that can be ordered bent or straight.)
Betty Gomez, a travel consultant from Long Beach, gave her entire family reusable straws with carrying cases and cleaning brushes in their stockings last Christmas after hearing stories from her kids, two of whom are veterinarians. "John told us a story of a bird that came in with a straw wrapped around its neck," Gomez said. "He is a wildlife vet for San Diego County, and I think that was probably my final push."
Katie Putterlik, the beverage director for Otoño, a new Spanish restaurant in Highland Park, said the straw ban was definitely a consideration when she began stocking the bar. "We looked into using reusable metal or glass straws, but the health department wasn't too keen on us using those," Putterlik said . "So we started testing other straws to see how they would hold up in drinks."
Putterlik discovered Hay! Straws, made from natural wheat stems. "We left a drink out with a Hay! Straw in it, and five hours later the straw still wasn't soggy," she said. Putterlik says she stocks two sizes of the all-natural straws and — with the exception of a specific cocktail served in a highball glass — still provides them only upon request. "We do keep a few plastic straws in stock for the occasional gluten-free person," Putterlik said.
Emy Kane, digital director of strategy for nonprofit Lonely Whale and the Strawless Ocean initiative, said keeping single-use plastic straws from people who need them was not something that environmentalists ever proposed.
"We learned very early that some people need a straw, and oftentimes the plastic straws, specifically, the bendy straw, is best for those who have mobility issues or difficulty grasping on to a paper or a metal straw," Kane said. "It's been very important to us to make sure that [everyone] understands how to champion flexibility and to keep a small stock of plastic straws on hand, because if someone comes in and says, 'I need a plastic straw,' no questions asked, they are given one."
Added Kane, "Plastic straws are one of many, many single-use items, but if we can start there and create a groundswell movement that piques conversation and interest in people taking the next step, I think that's where we will start to see success."
Bonnie McCarthy contributes to the Los Angeles Times as a home and lifestyle design writer. Follow her on Twitter @ThsAmericanHome
ALSO
They found a real estate unicorn: A house with great 'bones,' ready for decorating
You've never seen a kitchen island sink like this
How online art galleries are serving up talent — and sales — without the 'tude
Get our L.A. Goes Out newsletter, with the week's best events, to help you explore and experience our city.
You may occasionally receive promotional content from the Los Angeles Times.