Honoring the pioneering work of L.A. ceramist Dora De Larios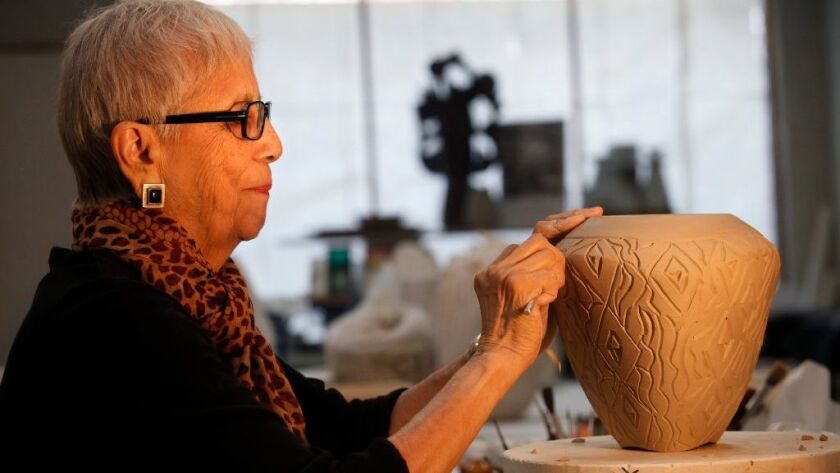 The works of Los Angeles native and noted ceramist Dora De Larios were influenced by pre-Columbian pottery and ancient Japanese sculpture.
Yet her work "felt resolutely Modern," Los Angeles Times arts columnist Carolina A. Miranda wrote in a profile earlier this year. De Larios died at age 84 on Jan. 28, one day after the piece was published.
Hailed as one of Los Angeles' "most vital, yet under-recognized artists," De Larios' works are currently on display in a solo exhibition at the Main Museum in downtown Los Angeles, "Dora De Larios: Other Worlds."
Among the works on display from throughout her career: a set of dishes she created for the White House in 1977.
De Larios had been commission to create the tableware for an anonymous client, and was given just 40 days to deliver. The hand-painted dishes adorned with indigenous markings turned out to be for First Lady Rosalynn Carter, and were displayed as part of a special White House luncheon honoring American craft.
De Larios grew up in Boyle Heights and then graduated from USC with a degree in ceramics in 1957, "a time when women, people of color, and ceramic art were barely visible in the art world," according to the Main Museum curators, who added: "Against these odds, she developed a robust six-decade-long art practice that endured not only because of the virtuosity of her work but also because of her pioneering spirit."
"Dora De Larios: Other Worlds"
Where: Main Museum, 114 4th St., downtown Los Angeles
When: Feb. 25 through May 13
Info: themainmuseum.org
---