Dax Shepard's biggest hit is a podcast he records in his attic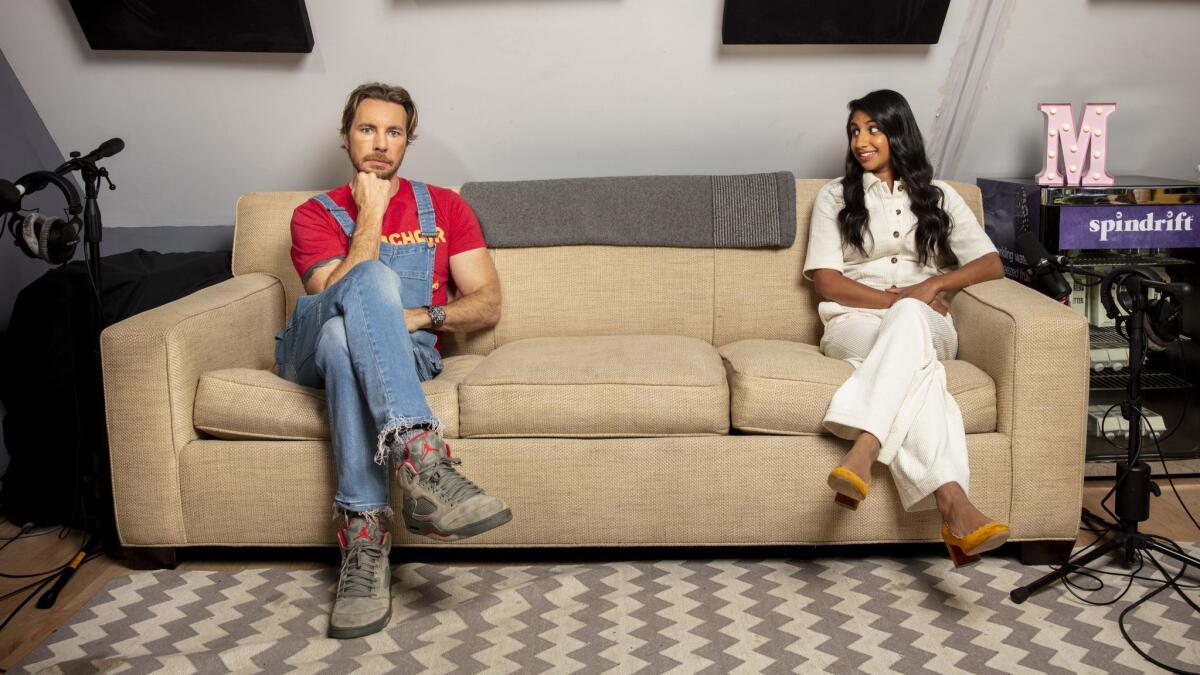 Dax Shepard, a tired dad who hates waking up in the middle of the night to pee, was floating an idea. Adult diapers: What's the downside?
To explain: The actor is 44 now. He just wrapped the first season of "Bless This Mess," an ABC comedy in which he stars with Lake Bell, and "Spin the Wheel," a game show set to premiere on Fox in June.
With his wife, the also-busy actress Kristen Bell — she just finished filming Hulu's "Veronica Mars" revival and is now voicing Princess Anna for Disney's "Frozen II" and shooting Season 4 of NBC's "The Good Place" — Shepard is a 50-50 parent to their two young daughters, Lincoln, 6, and Delta, 4.
In addition to all this, the couple recently released a line of plant-based baby products with Walmart called Hello Bello — "perfect for your little pooper," reads the diaper packaging — for which they did a promotional blitz that landed them on the covers of Parade and People.
With this household schedule, it is critical that Shepard stay hydrated. He drinks fluids compulsively. As a result, he needs to use the bathroom multiple times at night. But it can take him half an hour or more to fall back asleep. When you add it up, the bathroom trips are really cutting into his REM. "Why don't I just start wearing Depends undergarments and training my body to pee at night?" Shepard demanded to know. "Why not do that?"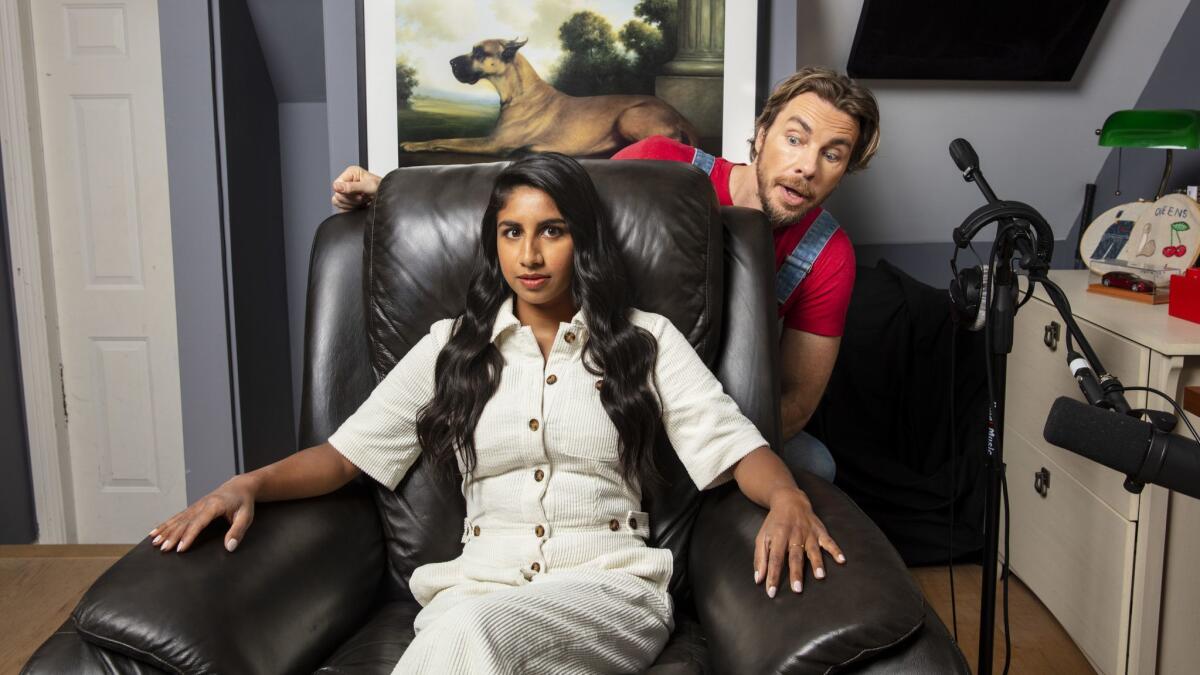 He was posing the question to Monica Padman, a 31-year-old actress who has worked with Shepard and Bell for five years. He was also posing it into a hot mike, because he and Padman were recording an episode of their hit podcast, "Armchair Expert."
The two started the show in early 2018 on a lark — and were shocked when it quickly became the year's most downloaded new podcast on iTunes.
A mix of in-depth interviews and freewheeling banter, "Armchair Expert" has clear antecedents in "WTF With Marc Maron" and "The Howard Stern Show," but Shepard's distinctive point of view and unfiltered lens on family life add up to something wholly unique.
Certainly, the podcast's legions of fervent fans, known as "arm cherries," think so: The first episode, an interview with Bell that opened with nearly an hour of marital bickering, posted on Valentine's Day, has been downloaded more than 4 million times.
Padman, often a voice of reason, felt the diaper plan ill-considered. What if he should find himself sleeping in a group setting — say, in the midst of an apocalypse? "I concede that if there's an apocalypse, this is a bad idea," Shepard replied.
"What if you want to get frisky in the middle of the night?" Padman asked. "I'm 44," Shepard said. "We're married. There's no way we're getting frisky in the middle of the night."
What if he should find himself in bed with Scarlett Johansson? (Consensually, of course.) "Then I'll make an exception," Shepard joked. "I'll remove my diaper, and I'll do it in a very sexy manner."
Shepard and Padman were in "the attic," an improvised studio above a tiny garage on the grounds of an expansive property in Los Feliz where Shepard and Bell are remodeling a home. (The family does not yet live there.) The compound is mostly a construction site, save for the garage, a large trampoline and two dune buggies parked nearby.
Padman was sitting cross-legged and barefoot on one end of a beige couch, wearing a cream corduroy jumpsuit. Shepard was dressed in off-duty dad wear — denim overalls, a red "Armchair Expert" T-shirt, Air Jordans — and enveloped in an enormous leather recliner.
The La-Z-Boy is an old gift from Bell, but it has become something of a mascot for the podcast: Shepard grills his guests from the padded comfort of the recliner while interviewees are relegated to the couch.
"He looks like a starship captain, sitting in his Barcalounger," said Conan O'Brien, who was a guest in November.
The recliner also embodies the show's conceit — that although Shepard interviews actual experts, he himself is an armchair expert, or "someone with huge theories doing no research," as he put it.
Today's episode would feature Dr. Eric Topol, the world-renowned cardiologist and digital medicine researcher at the Scripps Research Institute. (When Topol got the invitation, he was not familiar with the podcast, so he asked his daughter, Sarah, if she was. "She went wild with joy," Topol said by phone. "She described herself as an arm cherry.")
Shepard and Padman had interviewed Topol a few days earlier. They were now recording the "fact check," a postmortem of sorts in which Padman usually corrects any factual errors or sweeping generalizations Shepard may have made during the interview.
Padman explained that Alan Turing, whom Topol had mentioned in passing, was the British code breaker played by Benedict Cumberbatch in "The Imitation Game." She also corrected a story she'd told about her father in a previous fact check. (After it aired, her father called to inform her that it was a homeopathic doctor he had visited, not an Ayurvedic one.)
"Armchair Expert" frequently becomes a family affair. During the diaper debate, Padman's cellphone rang — it was Shepard's mother, calling to ask about tickets to a forthcoming live recording of the podcast in Denver.
"It's so appropriate that I'm talking about returning to diapers and my mother would call," Shepard remarked after Padman got off the phone.
"She sensed it," Padman said.
"I feel like he's about to try to be a baby again," Shepard said, feigning his mother's thoughts. "I've gotta put the brakes on this."
Shepard began to mull the idea of starting a podcast after being a guest on other podcasts. His first was "WTF," in fall 2014. Maron got Shepard talking: about growing up in Detroit with a single mom who worked nights as a janitor at General Motors; about his father, a car salesman who regularly brought Shepard and his brother to a bar called the Dirty Duck; about studying anthropology at UCLA; about joining the Groundlings; about his big break on Ashton Kutcher's "Punk'd"; and about getting sober in 2005, after a drug-fueled misadventure on Kauai.
Shepard was starring in NBC's "Parenthood" at the time, and he had appeared in more than a dozen movies, including Mike Judge's dystopian comedy "Idiocracy." He was used to doing short promotional interviews on TV.
"I really loved the long form," he said of Maron's podcast. "I got to express things I care more about than the movie I'm promoting."
Most striking was the connection he'd made with listeners. "As I would move through the world, people would stop me and say, 'That stuff you said about sobriety — I've listened to that podcast like six times.' That feels a lot different than someone saying they liked me in 'Parenthood.'"
The following month, Shepard and Padman found themselves in epic debates over the first season of "Serial." "We'd argue for two hours over whether Adnan was guilty or not," Padman said.
Padman, who moved to L.A. from Georgia in 2011 and trained with the Upright Citizens Brigade, had been working with Bell for a few years, in an evolving role. "Sporadic babysitting turned into full-time nannying, which morphed into assisting, which morphed into more of a creative partnership," Padman said. (Reached by phone, Bell described Padman as her "chief of staff," a wunderkind who could help with the kids, manage Bell's business dealings and punch up scripts.)
As the podcast explosion erupted in earnest, Shepard would mention to Padman that he wanted to start a podcast of his own. Eventually, Padman came up with a business plan, and together they hashed out rough parameters.
Shepard knew he wanted the fact check segment. "I just knew I'd be wrong a lot," he said. "And I thought, 'If we're going to have any credibility, we're going to have to go back and see if I'm way off or not.'"
He also wanted the interviews to take a page from the 12-step program. "People who are sober have had to go through so much introspection and get so vulnerable," he said. "I wanted to give people the experience of an AA meeting without them having to become a drunk."
Bell supported the new venture. "Dax Shepard was born to ask strangers intimate questions, which previously I just had to witness at a dinner table: 'How's your sex life?'" she said. "I thought it would be so cute. We had no idea that it would take off as swiftly and as massively as it has and become a huge element of our business and family life. Or that things would begin to revolve around it."
"I was mind-blown," Shepard said of its instant success. "I'm used to working really, really hard and having a pretty lackluster result. This was not that hard, and we had a huge result. This is confusing to me."
There was one difficult domestic adjustment: Padman's time was quickly overtaken by "Armchair Expert" responsibilities, so Bell had to remove some of her chief-of-staff duties. "I stole her wife," Shepard said. "It was poaching," Bell confirmed.
"I had found a fun, Upright Citizens Brigade-trained, sketch-writing, 4.0-grade-average unicorn who I can share clothes with," Bell said. "It was also nice to have another woman in the house when my husband is a 6-foot-3 gorilla."
The first interview with Bell set a tone of authenticity fused with humor that has become a through-line of "Armchair Expert." One of the sticking points in the couple's argument was that Shepard had not put a door or curtain on the studio's open bathroom. (He still hasn't.) "If you are going to be inviting people here, to your podcast, you have to have a door on the bathroom," Bell told Shepard. "There are certain things you have to do to have human beings want to spend time with you." (The doorless bathroom has since become a running joke. "Mila Kunis peed right in front of us," Shepard said. "That's a gangster guest right there.")
This holds true for the interviews with experts, a roster that now includes neuroscientist-philosopher Sam Harris, neurosurgeon-reporter Sanjay Gupta and Brené Brown, a research professor of social work at the University of Houston . (Dr. Phil went to the wrong house, a few doors down, and surprised its unsuspecting residents.)
"His strength is that he interjects humor without ever making you feel that you've been interrupted, and he goes deep," Topol said. "He was talking about condyles of the knee joint, and he knows all this stuff about the microbiome. I still don't know how he knows so much."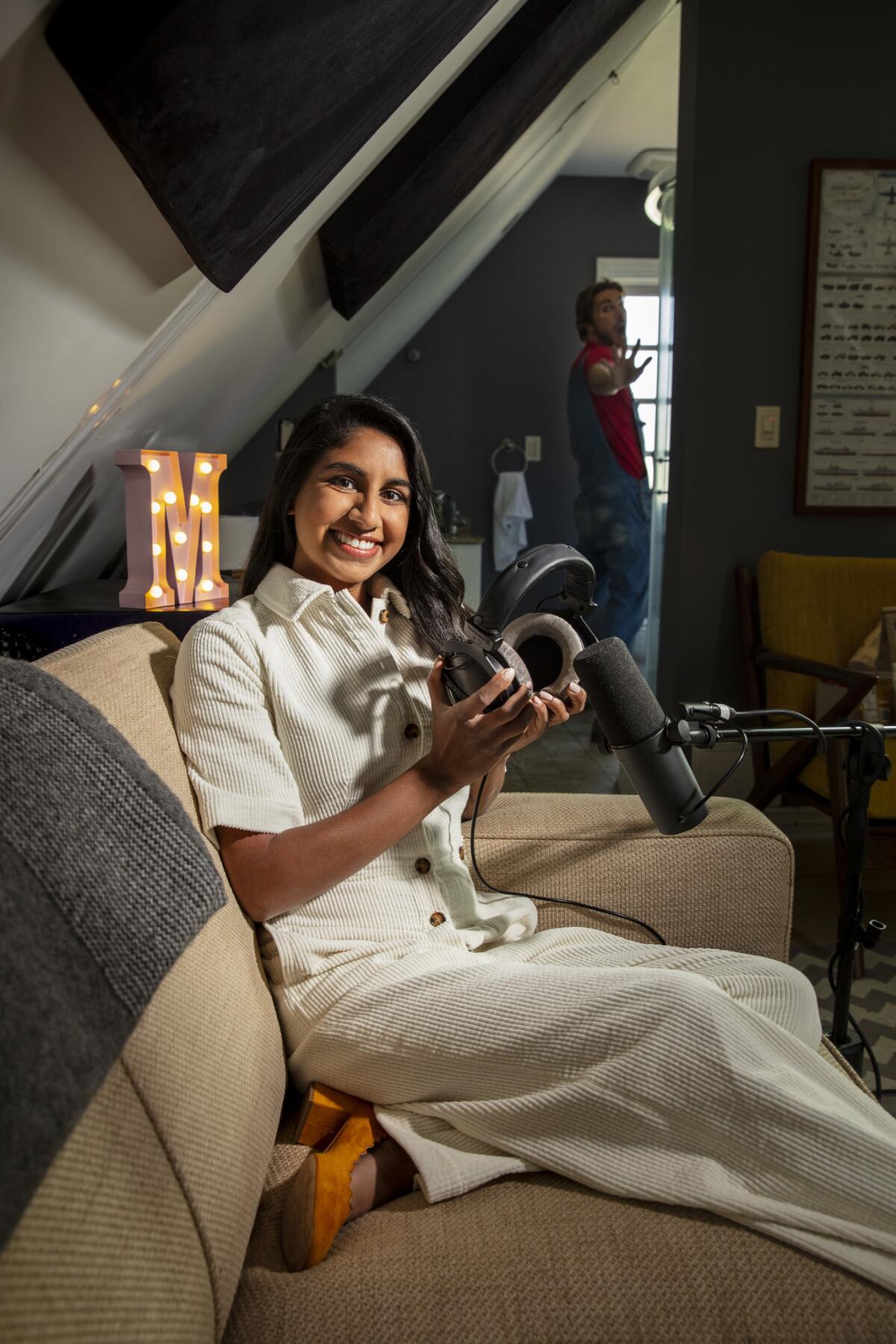 Shepard often processes his own personal regrets on the podcast. In an interview with Ashton Kutcher, Shepard told Kutcher that he was wrong to distance himself from "Punk'd" in the years after it aired. "As happens with me, my ego complicated and tainted that experience almost immediately," Shepard said in the intro.
In his discussion with O'Brien, Shepard rehashed a disastrous 2004 appearance on "Late Night With Conan O'Brien," in which, after a bender, Shepard pretended to have been bitten by a snake, fell over his chair and broke a table. Shepard was banned from the show for a few years. "He came and apologized to me and said he wanted to come back and be a great guest, and he did that in spades many times," O'Brien said by phone.
In an interview with Amy Schumer, Shepard reconsidered an uncomfortable exchange almost in real time. Schumer was making the point that women fear violence; in countering that men too fear violence, Shepard offered that he was molested as a child — by a man. Schumer's response was pointed: "I am so sorry that happened to you. It is so much worse for women." Afterward, Shepard unpacked the interaction. In equating the experiences of men and women, he concluded, "I was doing the 'All Lives Matter' thing."
An early episode with Shepard's mother, Laura Labo, elicited an especially ardent response from listeners. In a starkly intimate exchange that lasted for more than two hours, Labo recounted abusive relationships and bouts of depression. "I had no reservations about doing the interview," Labo said in an email. "However, I was surprised that he led me into the dark corners of our shared past." Labo still receives responses from listeners. "There is a certain comfort in knowing that, in my my most vulnerable admissions, of events that I was so ashamed of, I may have eased someone else's pain."
O'Brien, who consulted Shepard before starting his own podcast, "Conan O'Brien Needs a Friend," late last year, described Shepard as "an extremely emotionally intelligent person." "I don't think there's any big secret to the success of Dax's podcast," O'Brien said. "He has a lot of depth. He has a lot of curiosity. And he's got a really agile mind."
Asked to describe the compound, O'Brien called Shepard and Bell "the ultimate post-apocalyptic couple." "They have all-terrain dune buggies, and I know that their kids are going to be trained how to repair ATVs using twigs and stones," he joked. "And I know they've got gas stored somewhere. And I know that they know how to extract water from cacti."
O'Brien went on: "When the [expletive] hits the fan, those two and their kids are going to be bombing around Mad Max-style in the desert. And thriving. They're actually going to thrive. Dax will still be broadcasting his podcast, telling people where to gather, and he's going to bring fresh food that he's foraged. He's going to save us all."
Get our L.A. Goes Out newsletter, with the week's best events, to help you explore and experience our city.
You may occasionally receive promotional content from the Los Angeles Times.