Three By Three metal drawer organizers, $14.99 each at the Container Store.
(The Container Store)
Yamazaki Beautes desk headphone or purse hanger hook, $6.99 at the Container Store.
(The Container Store)
Three-letter tray set in fuchsia, $77.99 at AllModern.com.
(AllModern / AllModern)
Table top hanging file organizer, $16.99 at JossAndMain.com.
(Joseph Jovanovich / Joss & Main)
Table top hanging file organizer, $16.99 at JossAndMain.com.
(Joseph Jovanovich / Joss & Main)
No nails oversized dry-erase board, $119 at PBTeen.com.
(PB Teen)
Raskog utility cart in black, $29.99 at IKEA.
(Johan Olsson / IKEA)
One-inch 3-ring binders, $7.79 each by Greenroom at Target.
(Kimberly Aspelund-SOI Clementine / Target)
Poppin 2-drawer mini filing cabinet with multi-purpose cushioned seat top, $249 at the Container Store.
(Jason Newby / The Container Store)
#DeskGoals — we all have them. Visions of a desktop that would reflect the organized, sophisticated, stylish and 10-pounds-thinner-with-perfect-hair version of ourselves we just know exists — if it weren't buried under piles of paperwork and obscured by an overflowing inbox.
"We all have that Pinterest idea," said Tanisha Porter, owner of Natural Born Organizers and president of the Los Angeles chapter of the National Assn. of Productivity and Organizing, who admits to having a single pile of prioritized paperwork on her own desk, "but those Pinterest-worthy photos are very styled… so we have to keep that in mind. We can create that, but that comes with habits."
Porter said, "It's like with everything, it's the daily, weekly and monthly behaviors we do everyday that keep things maintained."
This is not the sexy solution we had hoped for.
In fact, this sounds dangerously close to that old saw about exercising and eating right.
To get started on the path to desktop fitness, Porter offered the following five strategies for success that can work for students heading back to school, or anyone else looking for an end-of-summer reset:
In the zone
"Defining your space is key," said Porter. "If you want [your desk] to function and look the way you really want, you have to think it through. This means assessing what tasks you do at your desk on a daily basis and what tools and information you need within arms reach.
"Then, the things you use occasionally (2-3 times per week), those can be on a shelf above you or behind you in a bookcase. The things you reference once a month or quarterly can be in files or a binder that's more like an archive for data retention and that type of stuff." (Pro tip: File loose business cards in plastic pocketed sleeves within a 3-ring binder.)
Go Vertical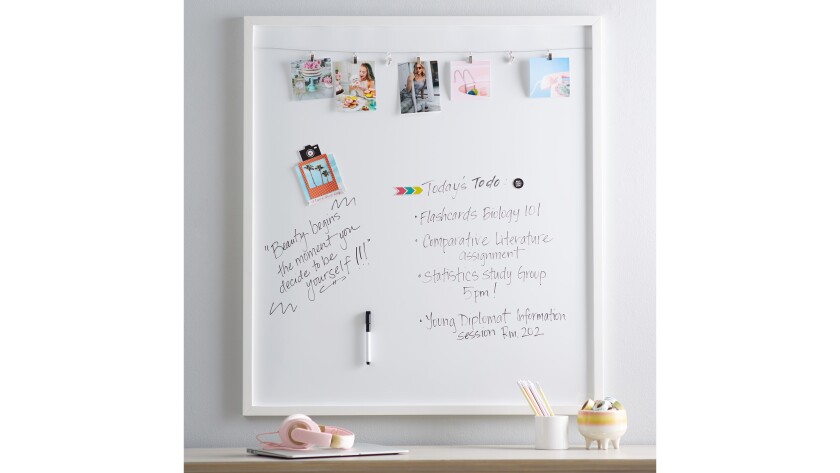 "Some people have a fear of putting things away because they feel like if they put things away, they're not going to remember them," said Porter. "As organizers, we like to utilize wall space and vertical space. If you have a blank wall, that's where peg boards, cork boards, magnetic boards and dry-erase boards come in handy."
Porter said boards are perfect for posting frequently referenced info: calendars, schedules, cheat sheets, reminders.
"Definitely use the wall space if you have a small area and your goal is to have a clear-ish desk," said Porter.
The magic of hanging file folders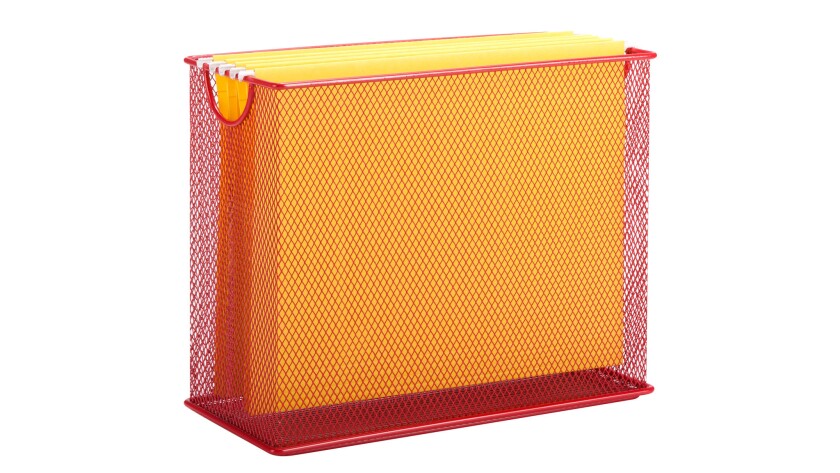 Instead of categorized piles stacking up around you, think: hanging folder file. "For work in progress," said Porter, "desktop files are really, really good because you can have 10 hanging file folders and create a reachable filing system. The good thing about that is, it's there when you need it, but at the end of the day, you can put it up, put it away on a shelf or cabinet — and it's mobile. It's great for college students and people who have offices in a shared space."
Porter said it creates a portable workplace. "It can move with you… especially for home offices where one day you might feel like working outside on the patio by the pool or in the dining room."
Contain yourself
The key to keeping things organized, of course, is having a place to put it. To this end, Porter said she likes to use bins, acrylic desktop filing trays, drawer organizers and even shoe boxes.
"We use acrylic desktop filers as the 'hot box' for things you do daily," said Porter, "things referenced on a daily basis and within hand's reach. So it's not necessarily a filing cabinet, but it's not loosey-goosey on the table either."
"Then, surprisingly," said Porter, "shoe boxes are great because you can store a variety of things (office supplies, tools) in a shoe box, slap a label on it and stack them… So, shoe boxes or small boxes with lids maximize space by stacking."
Get into a routine
At the end of the day, spend five minutes putting things back where they belong. "Have a winding down routine," said Porter. "Put the pencils away, if you have a project you're still working on… whatever system you create — put it away there… so the desk is clear for another day. There's something [energizing] about coming in and seeing a somewhat clear desk [at the beginning of the day], and you're ready to go."
Bonnie McCarthy contributes to the Los Angeles Times as a home and lifestyle design writer. She enjoys scouting for directional trends and reporting on what's new and next. Follow her on Twitter @ThsAmericanHome
ALSO
How designer Nate Berkus blended old and new in his L.A. kitchen remodel
They found a real estate unicorn: A house with great 'bones,' ready for decorating
You've never seen a kitchen island sink like this
How online art galleries are serving up talent — and sales — without the 'tude
---