Millennial makeover: 2 'EastSiders' update their Silver Lake apartment
After living and working out of their Spanish-style Silver Lake apartment for more than six years, Kit Williamson and John Halbach were ready for an update.
"We wanted a grown-up house," Halbach says. "But we also wanted our home to be fun and charming and still feel like us."
The key to transforming rooms, says interior designer Orlando Soria, author of the new book "Get it Together! An Interior Designer's Guide to Creating Your Best Life," is to experiment.
"Try things out," says Soria, who worked with the couple. "It's not the end of the world if it doesn't work out. Especially with paint. If you screw up paint, just redo it yourself."
The actors, who shoot their Emmy-nominated LGBT Netflix series "EastSiders" in the apartment, had amassed a wild assortment of kitschy accessories over their 11 years together. Their treasures include a New York subway sign, a green locker, vintage clocks, bowling pins and an ancient iron that they use as a door stop. "We have $15 finds from Saint Vincent de Paul," Williamson, 32, says with a laugh.
They hired Soria through Homepolish, an interior design platform that connects homeowners with designers, in the hopes that he could help them create more order and add a touch of refinement.
"When it comes to sophistication, people need to know how to choose their battles," Soria says. "Decide on the overall focus. Do you want color? Art on the walls? Figure out the focal point. People get obsessed with minutiae which makes them forget that they are creating an overall composition."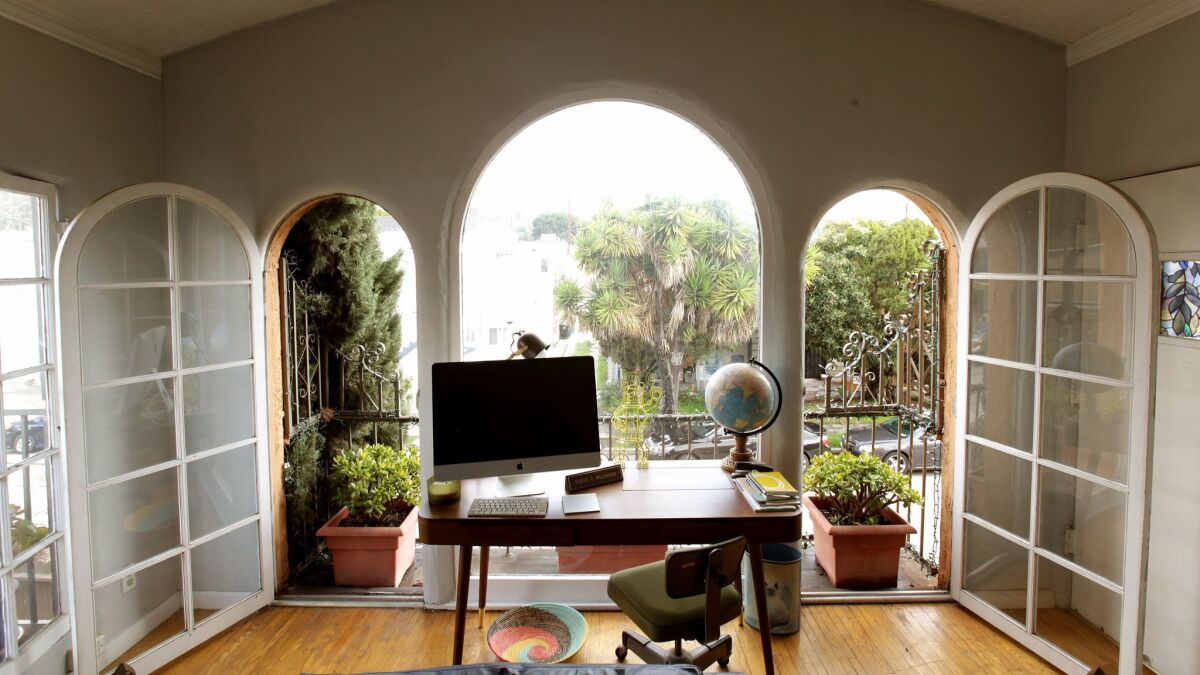 Because the couple spends the majority of their time in the living room, Soriano established separate vignettes in the long narrow space.
"They are both actor-artist types," says Soria. "They are not organized people. So I styled it in a way that helps them be neat and orderly."
He created an office area at one end of the living room by placing a desk in front of a street-facing window. A large blue area rug by Rugs USA helps to define the lounge area of the living room, which is now furnished with contemporary pieces by Article, Interior Define and Bend Goods.
Soria swapped butter yellow walls for elegant light gray paint by Benjamin Moore called Horizon.
"It's a very light and bright apartment," he says. "We didn't want to do a crazy amount of color because there is already a lot of color in their art and accessories. We wanted a nice clean palette for the rest of the space."
Soria incorporated new accessories with the couple's character pieces. "You don't want so much vintage that it looks like your grandmother's garage and not so much new that it looks like a showroom," says Soria. The key, he says is to "look collected and young but with some sense of history."
Part of the apartment's charm is the living room's French windows. Due to the apartment's location on the second floor, Soria was able to remove the living room drapes that were hung at different heights. Now the windows can shine, while brightening the interiors.
The update mixes old and new while highlighting the couple's fun personalities. It also gives the actors a new appreciation for the design process, as well as their home.
"This apartment is really special," Williamson says. "Now we're even more in love with this place."
Tips for renters from Orlando Soria's book "Get it Together! An Interior Designer's Guide to Creating Your Best Life"
1. Experimenting is key.
2. Follow your heart but choose wisely.
3. Organize your space for conversation.
4. Embrace eclecticism.
5. Art can be a great way to bring color into a rental without losing your deposit.
6. Opt for glass in smaller spaces.
7. Thrift until your eyes bleed.
Twitter: @lisaboone19
For an easy way to follow the L.A. scene, bookmark L.A. at Home and join us on our Facebook page for home design, Twitter and Pinterest.
ALSO:
After years spent traveling the world, this filmmaking family puts down roots in Pasadena
He created the ultimate bachelor pad in this Hollywood rental
Photographer Gray Malin and his husband aim for a picture-pretty but comfy home