After years spent traveling the world, this filmmaking family puts down roots in Pasadena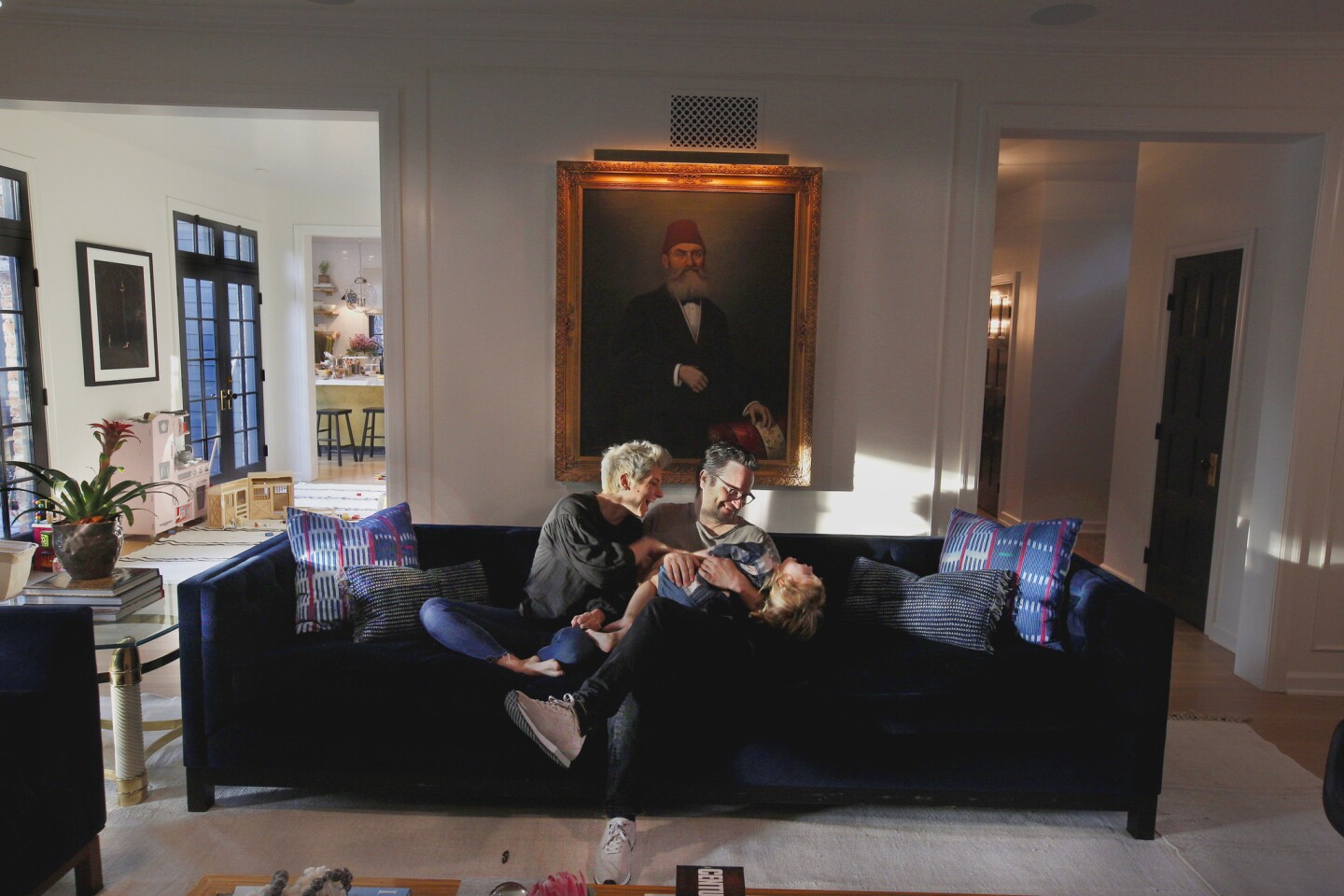 Sarah Wetherbee , Emre Sahin and daughter Leni at home in Pasadena. The couple bought the dated and dark Georgian-style home in Pasadena in 2015 and proceeded to give it a modern makeover.
(Kirk McKoy)
The house before it was remodeled.
(MLS)
White and black details on the exterior of the house were swapped for a bright green door and black trim.
(MLS)
Classic window shutters in black were added to the front of the house to give it a modern feel. The door was painted Benjamin Moore Seaweed.
(Kirk McKoy )
The entryway before.
(MLS)
The balustrade's wood spindles were replaced with metal to give the entryway a more contemporary feel. A new skylight on the second floor bathes the first floor in light.
(Kirk McKoy )
A wall-mounted blue peacock from Cody Foster greets visitors in the entryway.
(Kirk McKoy )
The living room before.
(MLS)
The home's floorplan allows for ease of movement.
(Kirk McKoy )
Floor to ceiling custom built-in bookshelves house the couple's many books.
(Kirk McKoy )
Modern swing arm chandeliers add a mid-century element to the living room.
(Kirk McKoy )
Floor to ceiling bookshelves house the couple's many books.
(Kirk McKoy )
Books and mementos from Turkey.
(Kirk McKoy)
The television is concealed behind the double doors above the fireplace. Designer Deborah Rhein-Gleiberman removed the red brick fireplace tile and replaced it with modern black and white tile.
(Kirk McKoy )
The coffee table is oversized to house books, accessories and mementos.
(Kirk McKoy )
Emre Sahin reads to his daughter Ruby, 2, in the living room.
(Kirk McKoy )
An antique church bench serves as a bookshelf.
(Kirk McKoy )
Leni Sahin, 6, and Ruby Sahin, 2, play in the breezeway. Artworks by writer Dave Eggers are installed on the wall, at left.
(Kirk McKoy)
Doors were installed in the living room to provide easy access to the outdoors.
(Kirk McKoy)
The kitchen before.
(MLS)
The new black and white kitchen features a custom hood and range from La Cornue.
(Kirk McKoy)
Ruby Sahin, from left, Sarah Wetherbee and Emre Sahin at the new marble island featuring ample seating and storage and a second sink for washing vegetables. Custom cabinets stained in Benjamin Moore's Midnight Dream are softened by walls lined with white subway tile.
(Kirk McKoy )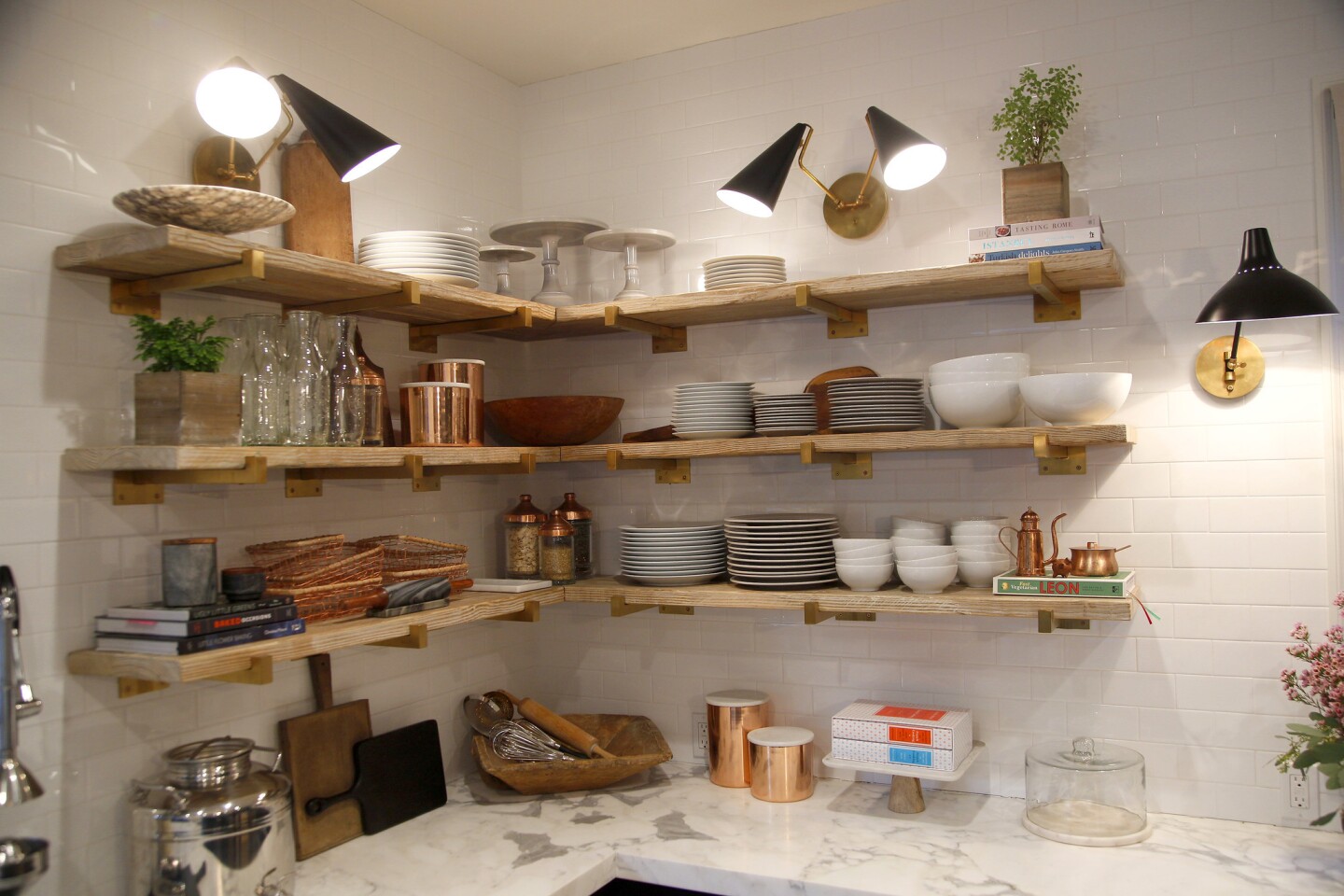 Open shelves and brass accents in the kitchen.
(Kirk McKoy )
Coffee central.
(Kirk McKoy )
The sunny breakfast room is framed by steel doors and windows that overlook the backyard.
(Kirk McKoy )
The breakfast room.
(Kirk McKoy )
The dining room before.
(MLS)
White walls make the dining room appear bigger than it is. Vintage throne chairs were stripped and reupholstered in Turkish silk velvet. A sisal rug adds texture to the wood floors.
(Kirk McKoy )
A pair of vintage brass lamps are paired with new custom shades in the dining room. Wooden troughs are used as planters. The window frames throughout the house are painted a dark color for extra drama.
(Kirk McKoy )
A collection of vintage accessories in the dining room.
(Kirk McKoy )
An antique bar cart rests underneath a photograph by Slim Aaron.
(Kirk McKoy )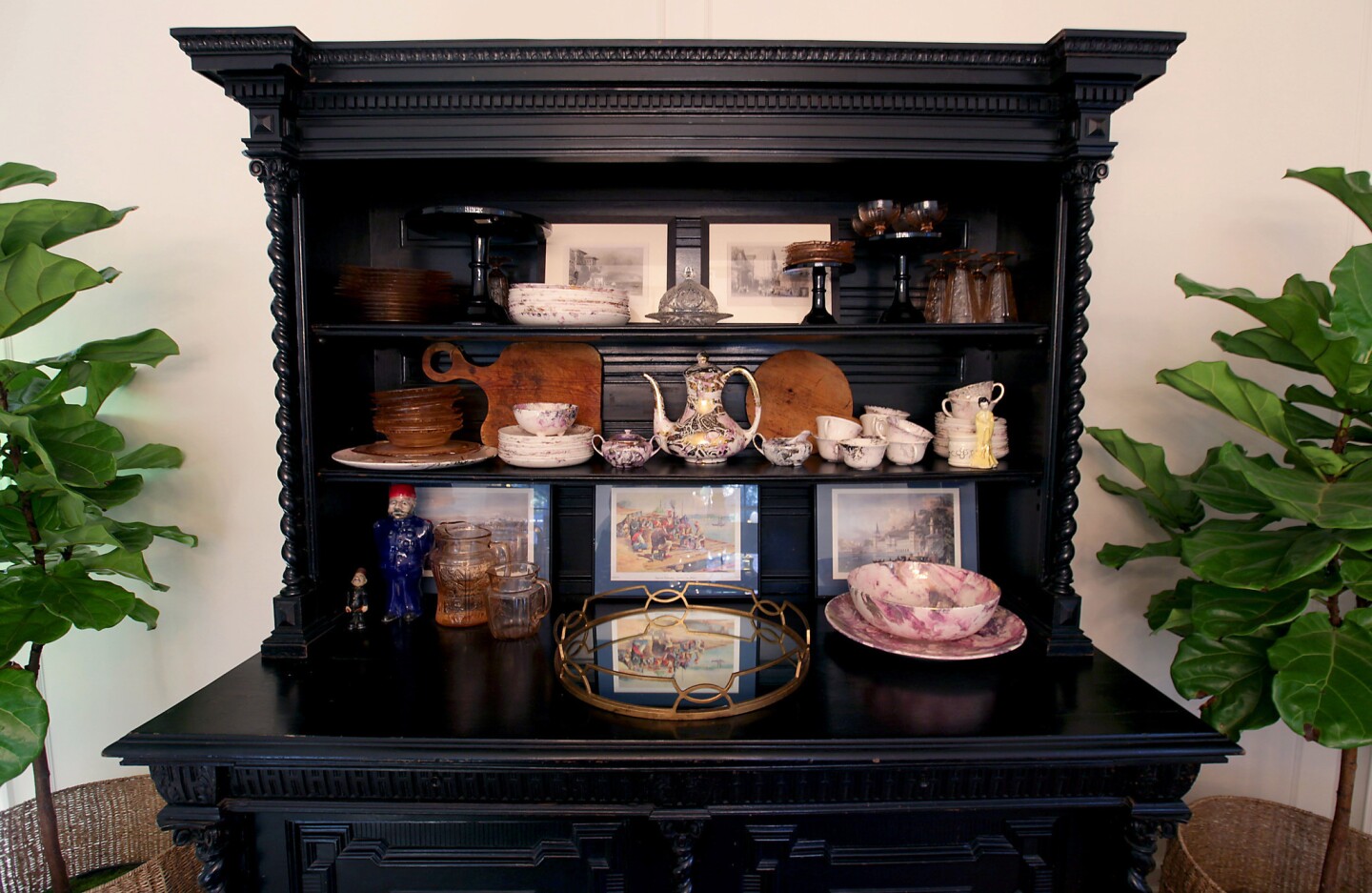 An antique European hutch with hand carved details anchors the dining room.
(Kirk McKoy )
Leni Sahin, left, and Ruby Sahin in their second floor bedroom.
(Kirk McKoy )
The girls' bedroom on the second floor was formerly a sunroom.
(Kirk McKoy )
Pink tile from Turkey makes a statement in the girls' bathroom.
(Kirk McKoy )
A wallpaper-lined bookshelf in the hallway outside the girls' room houses an assortment of children's books.
(Kirk McKoy )
Cement tile, which spills in to the breakfast room, sets the stage for a vibrant outdoor dining area.
(Kirk McKoy )
A view of the back of the house before the remodel.
(MLS)
Leni and Ruby Sahin enjoy their Pasadena backyard.
(Kirk McKoy )
Filmmakers Sarah Wetherbee and Emre Sahin have traveled the world producing documentaries for Netflix ("Shot in the Dark"), the History Channel ("Cities of the Underworld," "The Hunt for the Zodiac Killer") and National Geographic, but their most personal project to date is based in Pasadena.
"So much of our life was spent traveling and not putting down roots," Wetherbee says. "We were on the road half the year."
As their family grew to include daughters Leni, 6, and Ruby, 2, their desire for roots prompted them to look for a home in Los Angeles.
"We've always felt like we were temporarily staying somewhere," explains Wetherbee, who is originally from New Hampshire and met husband Sahin, who was born in Istanbul, at Emerson College in Boston.
They began their search with a distinctly California ideal in mind, picturing themselves in a sun-filled Midcentury Modern home with clean lines. They were drawn to Pasadena in the hope that the city's tree-lined streets would provide their daughters with room to roam.
The stately 1930 Georgian-style home they purchased in 2015 was nothing like what they had envisioned. "It felt old-fashioned and dark," Wetherbee says. Still, the Pasadena home's sense of history resonated with two filmmakers whose careers are largely based on documenting the past.
"This home was for all of us and could evolve with us," Wetherbee says. "We immediately felt like it would be a place we'd want to come back to."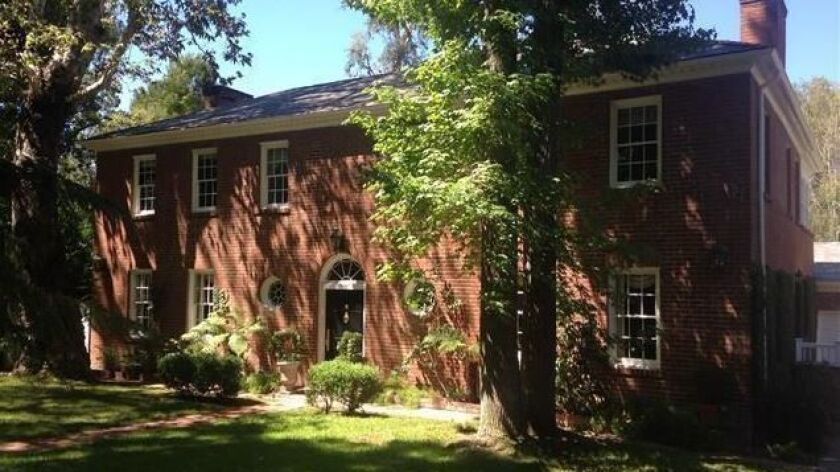 Working with interior designer Deborah Rhein-Gleiberman, the couple transformed the dark and dated home into something warm and contemporary by mixing old and new: antiques and heirlooms with modern furnishings, art and accessories.
The renovation was about creating a timeless, family-friendly sanctuary. "We didn't want it to be precious," Wetherbee adds.
While architect Kevin Oreck gave the home a workable layout in keeping with the history of the home, Rhein-Gleiberman helped to create interiors that are deeply personal and reflect who they are.
The couple, whose Karga 7 production company has an office in Istanbul, has incorporated multiple references to Turkey in decorating their home, including a 1883 oil painting of a Turkish businessman, military caricature paintings and a ceramic Ottoman wrestler.
Small details such as white walls, graphic wallpaper in the powder and laundry rooms, and pink tile in the girls' bathroom are paired with broad changes such as steel industrial doors that recall a London brownstone and a second-floor skylight that bathes the two floors in light.
To help create better flow, walls were removed and ceilings were exposed. A sun room became a bedroom for the girls and a breezeway was added. Before the remodel, the kitchen was dark and enclosed with cherry cabinets. Now the black and white kitchen opens to a sunny breakfast room overlooking an outdoor patio, garden and pool. Standing at the kitchen's marble island, the couple can watch their daughters playing outside.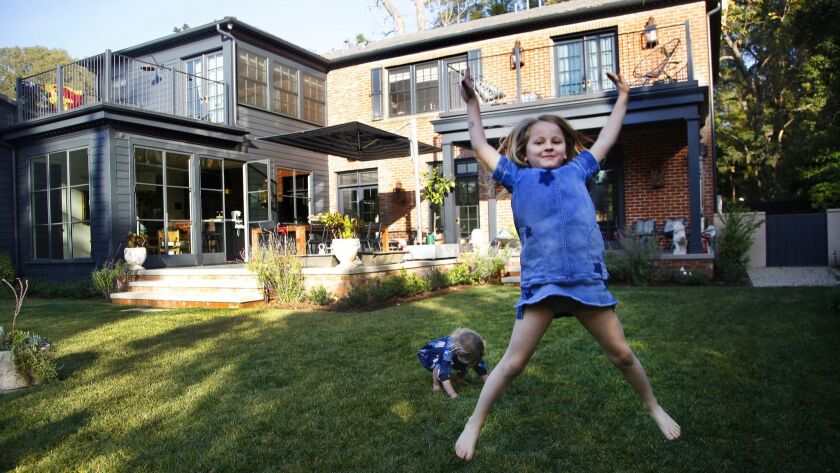 The interiors have a quirky sensibility courtesy of a blue peacock wall mount, industrial trough sinks and a Jonathan Adler lucite hippo sculpture. Even artworks, including antique paintings by unknown artists, a photograph by Slim Aarons and witty bird paintings by writer Dave Eggers, will leave you smiling.
Outside, the home's brick exterior is greatly improved courtesy of a new door painted Benjamin Moore Seaweed green and by swapping white dentil molding for black. New shutters on either side of the 10 windows, also painted black, are dramatic and give the stately home a modern feel.
The project took two years, but the result is everything the couple had hoped for: an update that honors past, present and future.
"This house is 15 years worth of ideas," Wetherbee says. "It was truly a labor of love. It's the house that I want my kids to grow up in."
Twitter: @lisaboone19
For an easy way to follow the L.A. scene, bookmark L.A. at Home and join us on our Facebook page for home design, Twitterand Pinterest.
ALSO:
Before & After: A modernist home goes from dark and dismal to filled with light
Before & After: A massive front lawn is transformed into an inviting, low-water landscape
---