The Middle Ages: Hiking club takes on Lake Hollywood, then discovers a bar where the American Dream still drinks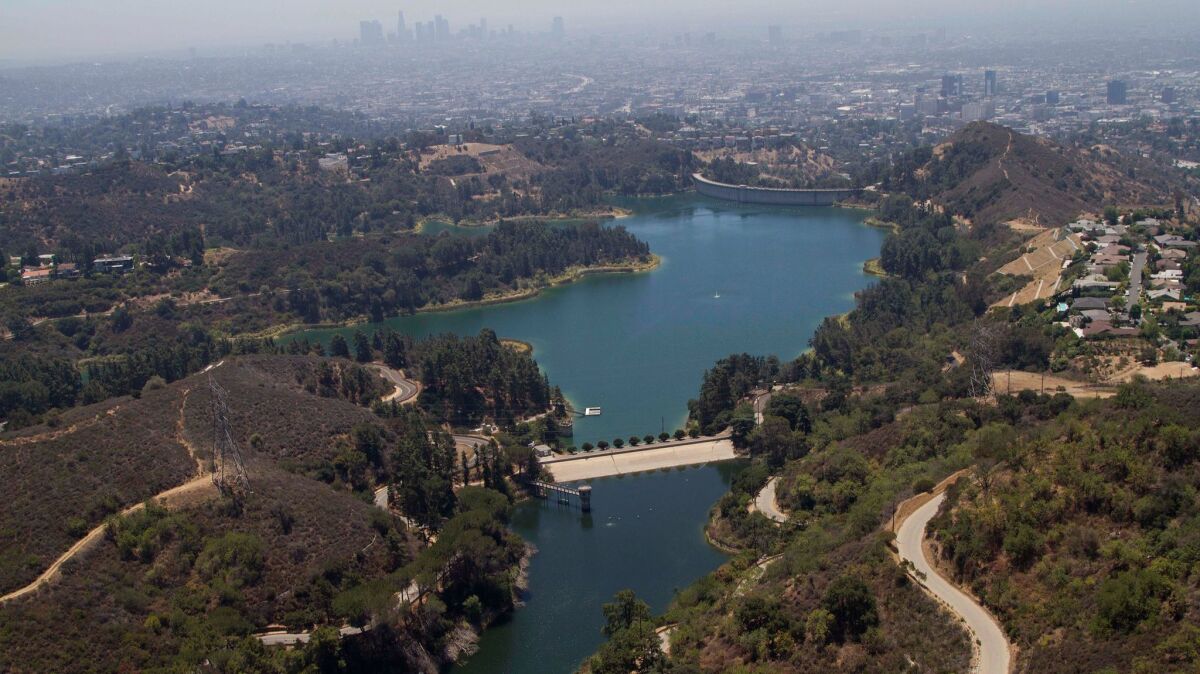 Leadership certainly has its drawbacks. Just look what Hawkeye and Trapper did to Henry Blake on "MASH."
That's why leading the Happy Hour Hiking Club is such a dubious distinction. A collection of Times readers, illiterates, malcontents and goofballs, the club meets once a month for hiking and hydration.
"It's a drinking club with a hiking problem," one of the mouthier malcontents once explained.
That could become our motto. If we ever adopt a motto. As clubs go, we don't fuss over bylaws and institutional philosophies.
You can only imagine the sort of acerbic anarchists that attracts. Besides, we're based in a big city, an incubator of willfulness and distrust. Honestly, it's probably what I like best about the place.
"Are there snakes?" someone asks before we head out on our latest hike.
"Everywhere you look," I answer.
You can only imagine the sort of acerbic anarchists this hiking club attracts. Besides, we're based in a big city, an incubator of willfulness and distrust.
This day, we are off to explore another of L.A.'s flirty little secrets: Lake Hollywood, off Barham Boulevard in the shadow of the Hollywood sign.
You didn't know there was a giant lake perched on the edge of Hollywood and surrounded by hipsters posting on Instagram? Well, now you do.
Madonna used to live near here in one of the castles on the hill. The story of "Chinatown" was based on Mulholland Dam and the lake, an active reservoir for the city of L.A.
"You're a very nosy fellow, kitty cat. Huh? You know what happens to nosy fellows? Huh?" says Roman Polanski before knifing Jack Nicholson's nostril.
Seriously, try to find a better movie than "Chinatown." Then try to find a better urban hike than Lake Hollywood.
Now, the only requirements for the Happy Hour Hiking Club are that you have to be really good looking and incredibly smart. A Nobel Prize will help, and we'll even accept an Oscar winner now and then.
A mere Emmy? Forget about it.
Even my wife, Posh had to apply three times and then demurred when she heard about the spanking tunnel for newcomers.
(In truth, there is no spanking tunnel. We just mention it as a way to weed out wives without a sense of adventure.)
Our club's general philosophy is the philosophy of L.A. itself: Achievement is nothing if you don't have the incredible looks to back it up.
In our defense, we often waive that requirement for the Happy Hour Hiking Club. My buddy Big Wave Dave meets the achievement-attractiveness requirement, though just barely. For guys like Billable Bob, my attorney, we've instituted a quota and scholarship program.
Then there's me, of course — no one's idea of eye candy.
It's a humbling place, L.A. In any group of 60 or 70 hikers, you will find someone more talented than you … funnier, sexier, smarter, richer.
Anyway, this three-mile Lake Hollywood hike goes very well under a cloudless sky on the second day of what promises to be an amazing autumn (Did you hear "Will & Grace" is back?).
Sure, there are a few casualties, and my buddy Bittner bailed at the last minute. But by any other measure, this hike was a semi-success, which is always what I look for in any social occasion suffering under the crush of undue expectation.
As if the day could get any better, off we go to Burbank for a brew or two.
It's no secret that Burbank may be America's finest small city: An early aerospace hub, it helped win World War II. In the charming bungalows of Disney and Warner's, they crafted such classics as "Fantasia" and "Casablanca."
For decades, thanks to Carson and Leno, America went to bed with Burbank.
Blue collar to this day, Burbank features a set of saloons on Magnolia Boulevard where the American Dream still drinks. We settle in, this hiking club, the way the Visigoths settled into the Roman baths.
Our venue, Joe's Great American Bar & Grill, has what I like in a cultural outpost: a black ceiling and Christmas lights up all year long.
First time here and I totally love this elegant piece of old plywood. There's an ancient Frank Sinatra booking photo in the hallway, and the names of locals are chiseled on the restroom wall. Good luck finding that at the ritzy Langham.
I love Joe's bar so much I order two sampler platters and then make plans to move here. Because you have to embrace true love when you find it.
The hiking club's other motto: Love doesn't come along every day. Sometimes you have to wait a week.
And as Hawkeye Pierce, the patron saint of romance, once observed:
"Without love, what are we worth? 89 cents. 89 cents' worth of chemicals walking around lonely."
Or hiking, as it were.
For info on the Happy Hour Hiking Club, email Chris.Erskine@latimes.com
ALSO
I linger too long over lighthouses
A tailgate with tri-tip and so much more
My guitar gently weeps for Chicago