The Middle Ages: A toast to New Orleans, the place it all began for us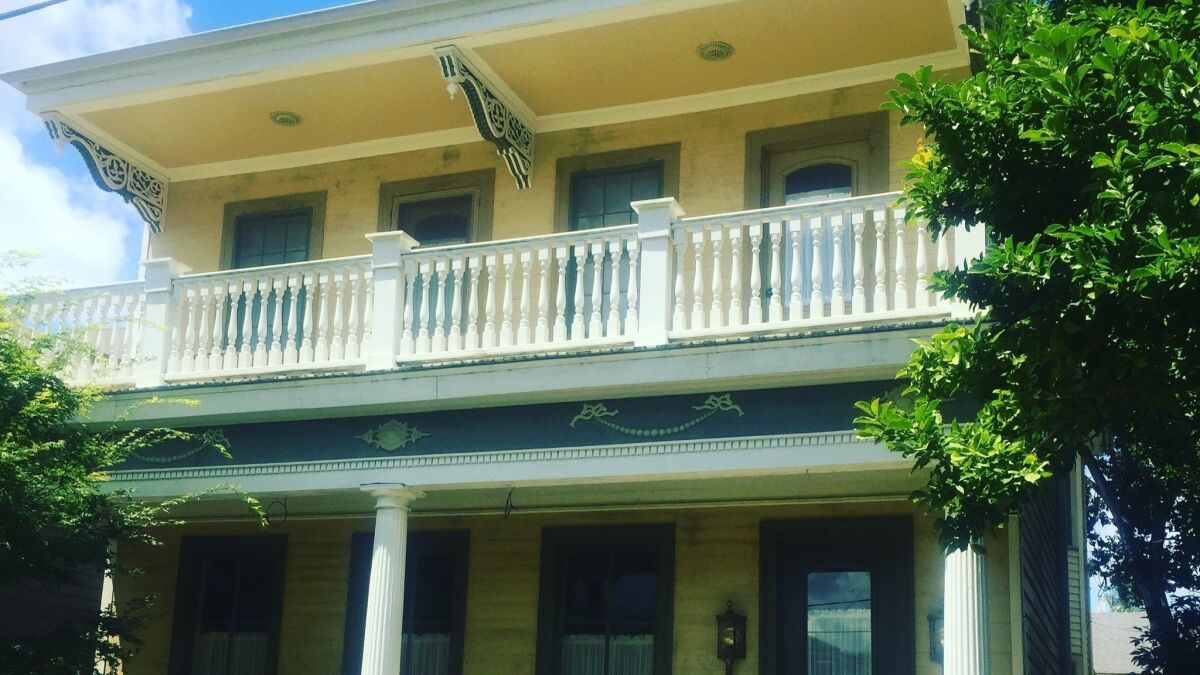 Reporting from New Orleans —
For our family vacation, we go off in search of a place with old brick and creaky floors, which leads us here to New Orleans, a colorful gumball machine of a city. Cranky. Sweaty. Silly. Succulent.
Yes, this city is me.
I am a man with mismatched socks, and I often miss a belt loop or two, so it's a wonder I wind up anywhere I set off to go. But our journey here goes very well, once we escape LAX, which has become like travel prison to me, a jet-age Alcatraz.
When we finally reached the airport, all the long-term lots were full – flier beware! – and probably will be for most of the summer. We squeezed into a hotel garage, wondering whether the car would still be there when we returned.
Honestly, men go bald over stuff like this.
The TSA agent patted me down, as they always do… well, because I'm hot, I guess, and I take decent care of myself.
"I'm using the back of my hand, OK?" the agent warns before frisking me.
I'd rather be kicked to death by unicorns. But sure.
We splash down, finally, in New Orleans. Banging good time to visit too because it's constantly warm, bordering on insane, and the humidity clings to you like aphids to a marigold. In minutes, I'm sweaty as a glass of lemonade.
"A beignet a day!" insists my daughter Rapunzel.
At least I think that's what she said. There's English and then there's the language my daughters speak, which is as indecipherable to me as the sounds of a rotary motor. I have one buddy (Reynolds) who says his teen daughter will not speak to him except to interrupt him in mid-sentence.
So it is with daughters.
But I'm a dad, so I roll with it. The lovely and patient older daughter couldn't make the trip, but the other family members are here, including Posh, who the kids have taken to calling "the Creole Queen" because, ostensibly, she's "as reliable as an old riverboat."
There is a little too much joshing around going on, actually. Rapunzel and the little guy have never been to New Orleans, so they're like pirates on shore leave. I'm kind of a maniac too — the very act of traveling just makes me high.
On vacation, just give me a perch — maybe a park bench or a bar stool — where I can watch other tourists stroll by. I will quickly conclude that everyone in this crazy world is having similar problems and that all we can hope to do is try to grow a little and move on.
Of all the places to ponder such things, New Orleans is the best. Three hundred years ago, it was founded on arranged marriages and broken promises. It probably shouldn't exist at all. It burns down. It floods. In summer months, it stews in its own juices.
I ask you: Is this any kind of place to bring a family? Of course it is.
New Orleans is the real deal, the most authentic and artful American city. I prefer old towns like this, at once elegant and a little frayed.
It also boasts these 20-piece street bands that blast riotous jazz off the old brick walls, in long improvisational symphonies. Playing jazz at a high level is like speaking five languages at once. And these dudes play it for tips.
The only thing that can match the music here is the food — a peppery gumbo, a miso-lacquered duck, a pork belly eggs Benedict so good it almost makes me weep.
Indeed, we drop a small car payment on brunch at Commander's Palace, a cathedral to decadent eating. We ride the ancient street cars, and one clammy morning, the ferry to the other side of the Mississippi River.
The ferry takes us to where we once lived — an old Victorian neighborhood in the Algiers neighborhood. The house we bought then had no kitchen, and 19th century wiring that we rethreaded one outlet at a time.
Like New Orleans, the renovation was equal parts agony (the soupy weather) and ecstasy (the food, the people).
Our first two kids were born while we lived in this rambling old house, with five bedrooms and four fireplaces and no place to wash your hands — at least initially. We scraped and patched and grunted and bled. Eventually, the old place was pretty livable … almost grand.
The son who was born here is gone now but not entirely; we just can't see him, that's all.
We sure can feel him, though. And we brought a few ounces of his ashes with us, then scattered them delicately at the base of a bush in front of our very first house, the one where he was launched.
A poignant moment but not altogether sad. After all, he'd come home again.
We all had.
Erskine will discuss and sign his new book "Daditude," a collection of his favorite Times columns, at 2 p.m. July 14 at the Barnes & Noble in Aliso Viejo. He will also appear at Beach Town Books in San Clemente at 2 p.m. July 21.
Twitter: @erskinetimes
Get our L.A. Goes Out newsletter, with the week's best events, to help you explore and experience our city.
You may occasionally receive promotional content from the Los Angeles Times.