All the LAX parking lots are full and your flight is in an hour. Here's what to do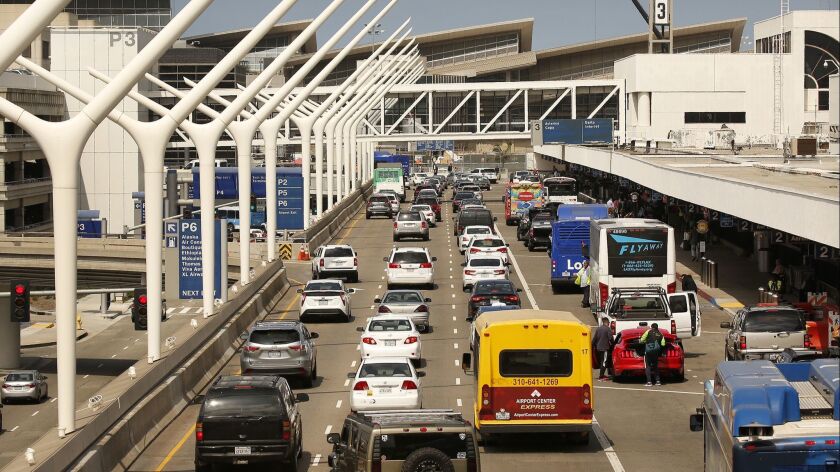 Do you pray? Because that might help. Or check this tip sheet, which contains solutions to your airport parking problems, to be sure you'll never find yourself in this situation again. We'll tell you later about a last-ditch save.
Lot C, the main long-term lot, has been turning away travelers for much of the summer. Private lots also have been maxed out, so don't expect to just drop in and find a spot, even at some of the bigger garages.
You can blame the crunch on the holiday, but airport passenger traffic is up 5% and parking spots are disappearing because of construction.
Bottom line: Reservations at a private lot are now a must during summer travel season, as well as major holidays.
Here's how to make parking go fairly well.
Lot C
This large lot, at 6221 W. 96th St., is the cheapest option, but construction and various other activities have slashed available slots.
Note that it does not accept reservations, but you can check out how full it is at this site. For comments or complaints on Lot C, email landsidecomments@lawa.org.
If the "LOT FULL" sign is up, some travelers say, they drive around the sign, and wait for spots to open.
Private lots such as WallyPark
The big advantage here: reservations. (Frequent travelers also use the private lots for premium valet service closer to the airport.)
Like Lot C, all provide shuttle service to the terminals. The 10 private lots within a mile of the terminal are often double or triple the price of Lot C. But the ability to reserve a spot in advance is the real draw.
What you'll pay
Lot C costs $12 per 24 hours, making it the cheapest long-term lot. High-end valet service at some private lots can cost $50 or more per day. Self-park service at private lots generally costs $12-$20 a day. Rates may increase or decrease according to demand.
How to reserve a spot
The Airport Parking Reservations website searches multiple private lots for the best prices and provides options to make a reservation.
How to check on availability
This LAX website keeps tabs on how full Lot C is. It also provides pricing and directions. About 4,700 more parking spaces are on the drawing board and expected to be available by 2021, as is an automated people mover (2023).
That last-ditch solution…
If all long-term lots are full, your final option is one of the short-term lots in the terminal loop. Best bet: Lot 1, which tends to have the most-available spaces. Other short-term lots fill up more quickly and have been near capacity all week.
Daily rates for short-term spaces are $30, but that probably beats missing your flight at a time of year when rebooking is extra tough. Check here to see vacancy rates at short-term lots, which offer 8,300 spaces.
A sampling of private lots
WallyPark Premier, 9700 Bellanca Ave., (310) 337-1944. Note: Premier is the more-affordable of the two WallyPark options. WallyPark Express, (310) 645-6600, is closer to the terminal but more expensive.
Park 'N Fly, 6351 W. Century Blvd., (310) 417-3566.
105 Airport Parking, 898 N. Sepulveda Blvd, El Segundo, (866) 330-7275.
Joe's Airport Parking, 6151 W. Century Blvd., (310) 670-0290.
The Parking Spot, with two locations, 9101 S. Sepulveda Blvd., (310) 846-4747, and 5701 W. Century Blvd., (310) 642-0947. The Sepulveda location is slightly closer to LAX.
---
Get inspired to get away.
Explore California, the West and beyond with the weekly Escapes newsletter.
You may occasionally receive promotional content from the Los Angeles Times.