Fall gardening: All the L.A. plant sales you don't want to miss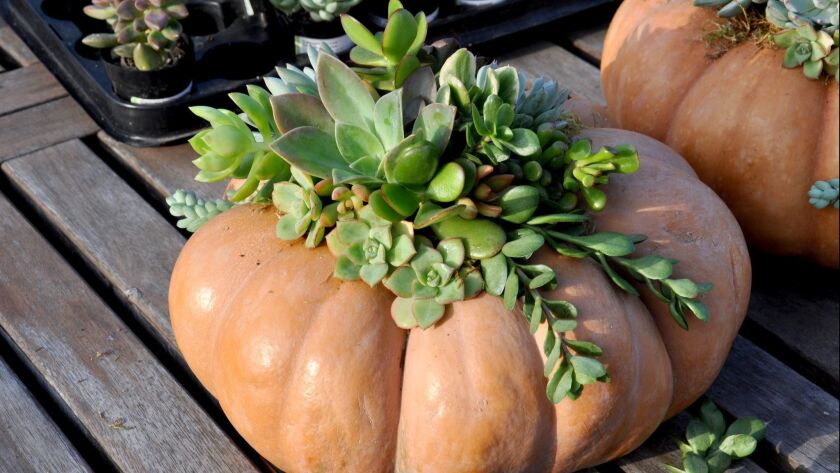 Attention gardeners: If you've been longing to go native, grab your wallets and start browsing the region's abundance of fall plant sales, where the theme du jour is California-friendly, drought-tolerant native plants.
Admission to the sales is free unless otherwise noted. Let us know about any sales we've missed — email us at home@latimes.com, and we may include them in an upcoming Saturday section. Happy planting!
For the record:
9:00 PM, Oct. 02, 2018This story was updated to correct the discounts available at the Theodore Payne Foundation for Wildflowers & Native Plants Annual Fall Sale Oct. 25-27.
Oct. 13
South Coast Botanic Garden Fall Plant Pop Up
The garden's volunteer propagation team has grown plants for this sale, including salvia, cuphea, plectranthus, California natives, cactus and succulents, fairy garden plants, pelargonium, African basil, bromeliads, and tillandsia. Flats of small succulents for terrariums, make-your-own succulent driftwood and pumpkins planted with succulents will also be available. 9 a.m. to 5 p.m., 26300 Crenshaw Blvd., Palos Verdes. southcoastbotanicgarden.org
Oct.13-14
California Native Plant Society's Native Plant Sale Weekend
Wide selection of native plants, including perennial wildflowers, irises, mints, sages, berries, hummingbird and butterfly plants, shrubs, perennials and trees, as well as wildflower seeds and many books for adults and children. Members get 10% discount and early (9:30 a.m) admission on Saturday only. Proceeds support the Los Angeles/Santa Monica Mountains Chapter of the California Native Plant Society. 10 a.m. to 3 p.m. each day, Sepulveda Garden Center, 16633 Magnolia Blvd., Encino. Volunteers needed to help set up on Friday and take down on Sunday, lasmmcnps.org
Oct. 19-20
Los Angeles County Arboretum & Botanic Garden Fall Plant Sale
Look for California-friendly, drought-tolerant and low-water plants, landscaping and ground cover plants, herbs, scented geraniums and succulents, plus a used book sale at the Arboretum Library. The sale is featuring a hard-to-find silvery drought-tolerant shrub from Australia called Pearl Bluebush (Maireana sedifolia), 9 a.m. to 4 p.m. each day, 301 North Baldwin Ave., Arcadia. arboretum.org
Oct. 20
Friends of UC Riverside Botanic Garden Fall Plant Sale
Large selection of California-friendly perennials, shrubs, bulbs and wildflower seeds, plus demonstrations by UC Master Gardeners and other volunteers. Local vendors will also sell garden supplies. Members get early admission 8 to 10 a.m. General admission 10 a.m. to 4 p.m. Free parking in Lot 13; shuttles available between Lot 13 and gardens. 900 University Ave., Riverside. gardens.ucr.edu
Oct. 20-22
San Diego Botanic Garden Fall Plant Sale
California natives, cactuses, succulents, fruit trees, bromeliads, subtropicals and house plants on sale. Many plants were propagated at the San Diego Botanic Garden (a.k.a. Quail Botanic Garden) by horticulturalists, docents and other volunteers. 10 a.m. to 4 p.m. Oct. 20-21, and 9 a.m. to noon Oct. 22, when all remaining plants are half-price. Free with $18 ($12 seniors/active military) admission fee to garden on Oct. 20, or $5 admission fee to the garden on Oct. 21-22. sdbgarden.org
Oct. 25-27
Theodore Payne Foundation for Wildflowers & Native Plants Annual Fall Sale
Billed as "the region's largest and most interesting selection of California flora," the foundation's sale includes locally sourced plants for local gardens, easy-to-grow native plants for beginners, a special crop of unique and rare plants, plus native bulbs and seed. Members get 15% off plants, seed, bulbs and TPF wear, nonmembers get 10% off. 8:30 a.m. to 4:30 p.m. each day, 10459 Tuxford St., Sun Valley. theodorepayne.org
Oct. 26-28
Huntington Library Fall Plant Sale
This three-day sale features manzanita, salvia, buckwheat, ceanothus, desert mallow, herbs, cactuses and succulents, bulbs, water-wise Southwestern gems such as Texas ranger, tecoma, and chocolate daisy; plus an assortment of Australian natives ideal for our local climate, including grevillea and callistemon. If you live in the foothills or canyons, check out the selection of fire-wise grasses, shrubs and ground covers. Free with $25 admission fee to the grounds on Oct. 26, $29 admission fee on Oct. 27 and 28. 10 a.m. to 5 p.m. each day, 1151 Oxford Road, San Marino. huntington.org
Oct. 27
Rancho Santa Ana Botanic Garden Grow Native Nursery Fall Plant Sale
The garden's nonprofit nursery reopens on Oct. 27 with its annual fall plant sale of California native and water-wise plants. Members enter at 8 a.m., regular hours 9 a.m. to 4:30 p.m., 1500 North College Ave., Claremont. rsabg.org
Nov. 3-4
Fullerton Arboretum California Native Plant Sale
More than 100 varieties of native plants plus Mediterranean climate and low-water plants propagated by arboretum staff and volunteers. Horticulture staff available to help with planning a native garden that will attract butterflies, bees, and birds. Free parking. Members only 9-10 a.m.; regular hours 10 am. to 4 p.m. each day, 1900 Associated Road, Fullerton. fullertonarboretum.org
Horticulture Department at Fullerton College Fall Plant Sale
California natives and drought-tolerant plants, herbaceous perennials, flowering shrubs, vines, succulents, shade and house plants, tomatoes and winter vegetables. No credit cards; free admission and parking. 9 a.m. to 4 p.m. Nov. 3, 10 a.m. to 3 p.m. Nov. 4, at Lemon Street and Berkeley Avenue, Fullerton. horticulture.fullcoll.edu/FallPlant.shtml
---