Life, etc.: The music of the Grateful Dead lives on. So does its fashion influence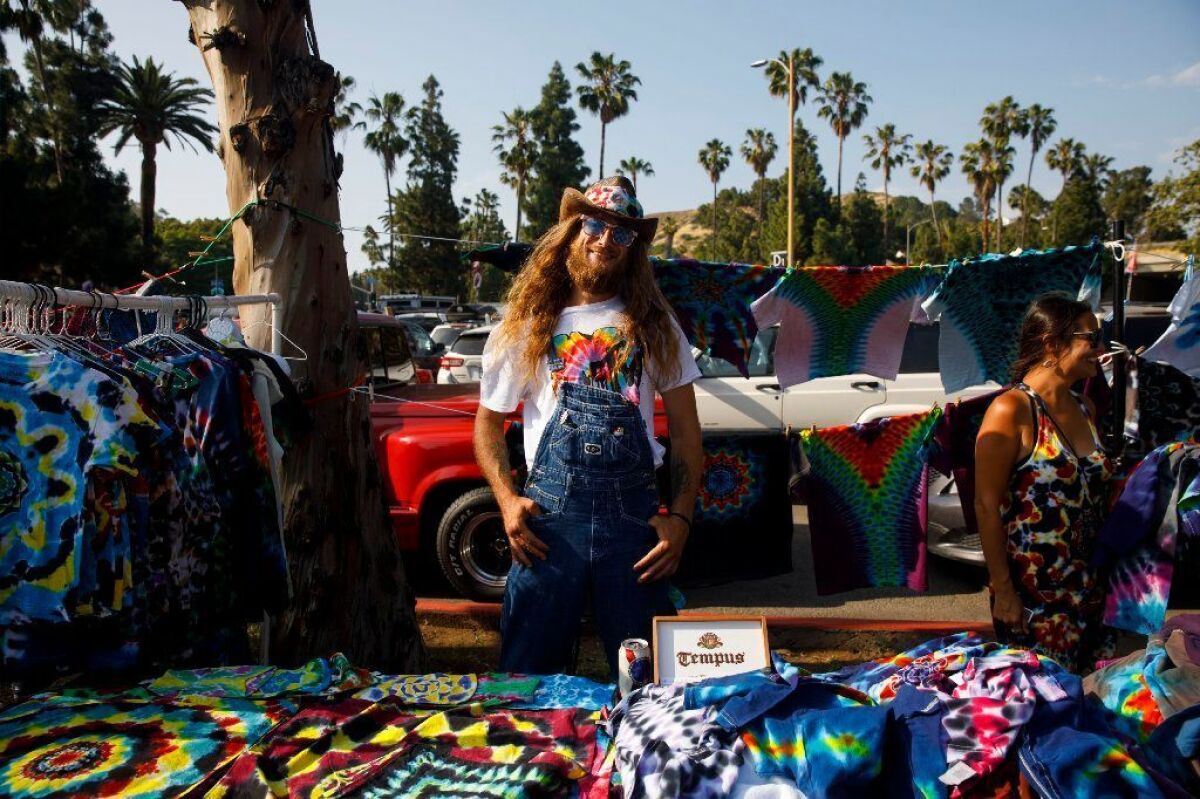 A few hours before the Grateful Dead reboot band Dead & Company took the stage for its first show at the Hollywood Bowl earlier this month, hundreds of concertgoers transformed the venue's parking lot into a kind of tie-dyed bazaar. Unofficial vendors lined the perimeter of the lot hawking homemade wares that ranged from customized tour T-shirts and stickers to edible goodies with varying psychoactive properties.
Deadheads first began selling bootleg merchandise at scenes like this — known as "Shakedown Streets" to the initiated — at least as far back as the 1980s. From the beginning, the Grateful Dead was famously lax in enforcing its intellectual property rights and trademarks, allowing fans to create their own designs using the band's expansive iconography.
Over the past few years, as the revitalized Dead & Company has filled arenas across the country, a new generation has begun putting its own spin on the "lot art" tradition. Having built influential followings on Instagram, these younger Heads have unwittingly helped turn the Grateful Dead aesthetic into a bona fide fashion trend, which is now crossing over into the worlds of streetwear and even high fashion.
Among the most popular of these DIY designers is Los Angeles-based Online Ceramics. Founders Elijah Funk and Alix Ross, both 29, combine the Dead's skeleton-and-roses imagery with an experimental punk ethos, adding their own unique symbols and characters into shirt designs.
"We're bent through a new lens," said Funk in an interview alongside a small mountain of tie-dye tees outside the Hollywood Bowl. "We're a new generation with other influences and access to all different types of music and information.
"I feel more inclined to put in weird references and cartoons or try new things because I never felt the need to make anything that looked official."
Funk and Ross, former art students originally from Ohio, began selling Dead-inspired apparel online shortly before following Dead & Company on its first tour in 2016. (The band now consists of Grateful Dead members Bob Weir, Mickey Hart and Bill Kreutzmann, with John Mayer, Oteil Burbridge and Jeff Chimenti.) Mayer, the band's guitarist, spotted the graphic tees on Instagram and began posting about them himself, eventually persuading the band to offer limited runs of Online Ceramics gear on its official site.
With Mayer's support, Online Ceramics evolved into something of an in-demand streetwear brand, available at boutiques such as Union on La Brea Avenue and Dover Street Market in the Arts District. Funk and Ross, along with fellow Dead-inspired designer Philadelphia-based Jeremy Dean, even scored features in taste-making style publications such as GQ and Highsnobiety.
It wasn't long before the fashion establishment picked up on streetwear's penchant for tie-dye.
"We saw it from many designers in their lines this spring," said Roseanne Morrison, fashion director for trend forecasting agency the Doneger Group. "It was pretty universal, from Prada to MSGM."
Morrison said that designers are harking back to 60s-era fashion in part as a reaction to the constant tumult of politics and current events. "The whole hippie attitude is really impacting our social media and culture," she said.
She added that the crafty authenticity of tie-dye also reflects a larger trend toward more handmade styles. Morrison pointed to designer denim brand R13, which has begun adding the Dead's instantly recognizable skull and lightning bolt "stealie" patch to jackets and shirts.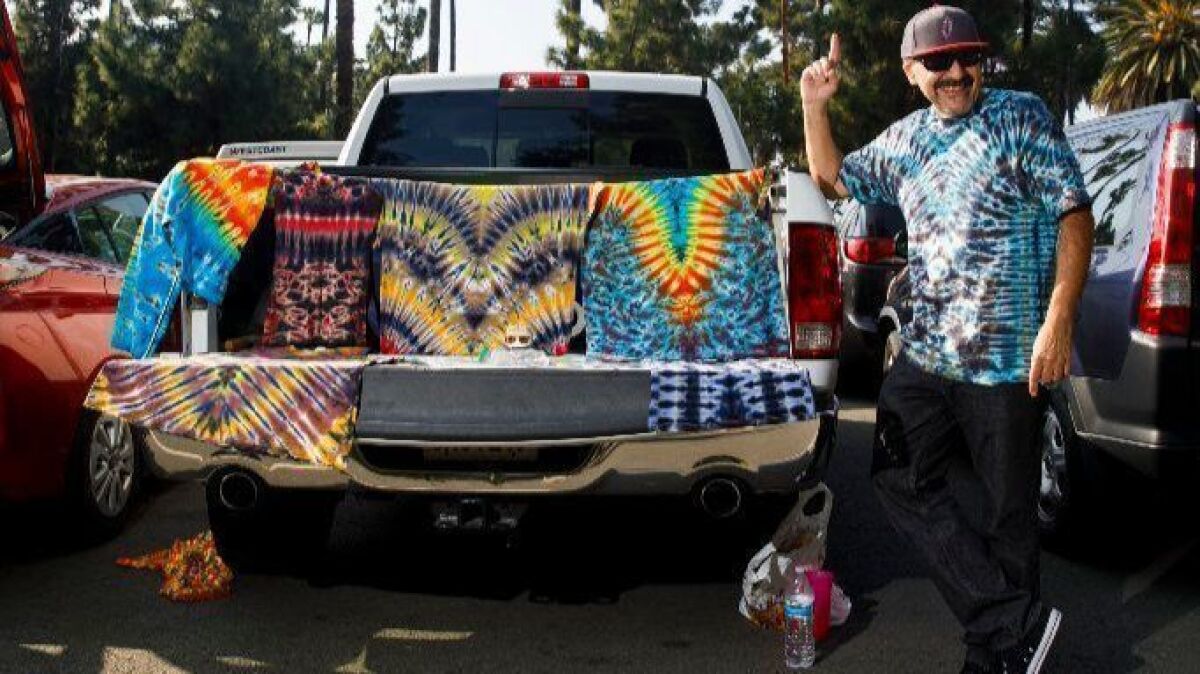 Funk said that although he never set out to become a fashion influencer, he's not surprised by the renewed interest in Grateful Dead style, noting that culture has a way of continually revisiting the past for inspiration.
"This time it's just been branded a little more from the inside and less by people from Gap or whoever to sell tie-dye shirts," he said. "This has come from people who are here and are in this world."
Kyrié Joyce, a 29-year-old artist from Brooklyn who will be selling shirts outside Dead shows throughout this summer tour, credited Funk and Ross with inspiring fellow artists to experiment with new styles and influences.
"Everything [in the lot] looks so different — it's a personal style that you infuse with the Grateful Dead," she said, "and it speaks to different people."
Ruben Perez, 36, a Koreatown apparel designer who sells shirts and stickers outside shows, used to play in punk and metal bands before a "peaceful evolution" brought him to the Dead. Like Online Ceramics, he incorporates that harder-edge background into many of his designs. One shirt depicts the band members hanging upside-down beneath the words "Shakedown Street" displayed in a skate-punk font, an homage to the classic album art from Venice hardcore legends Suicidal Tendencies.
Perez, who goes by "Rubenowsky" on Instagram, said the platform has facilitated an international network of people interested in the lot art scene. One popular account, called From the Lot, has gained over 46,000 followers posting designs from the past and present.
"Now there's all kinds of dudes and women making stuff," he said. "And having the community on Instagram really keeps everyone connected."
In Southern California, many Deadheads are expanding this newfound community offline. Sean Heydorff, 46, a graphic designer from Pasadena, founded L.A. Dead Night in 2016. The monthly hangout features local Dead tribute acts at Pasadena's Old Towne Pub.
"We all get to be Deadheads — the bar lets us be us," he said. "It's much like [a Dead show] but more condensed and one night only."
Most in the lot seemed to welcome the fashion world's current infatuation with the Dead, with few appearing concerned about whether the trend eventually will pass. For Funk of Online Ceramics, it's the scene Deadheads have built around the band's shows that will not fade away.
"I always say that it feels like an anime convention, where people finally get to be around others who love anime too," he said. "It's the same thing here. You get to really feel something with another person — it's this cool secret club that you get to be a part of."
---
Get our L.A. Goes Out newsletter, with the week's best events, to help you explore and experience our city.
You may occasionally receive promotional content from the Los Angeles Times.