Fashion is having a seriously psychedelic moment
Dries Van Noten has taken a liking to prints from decades past as seen during its spring/summer 2019 menswear show as part of Paris Fashion Week last June.
(Peter White / Getty Images)
Prada is one of several brands to embrace the hippie-dippy looks and prints of the 1960s as seen during the brand's men and women's spring/summer 2019 collection fashion show in Milan, Italy, in June 2018.
(Miguel Medina / AFP / Getty Images)
Another look from Prada's men's and women's spring/summer 2019 collection fashion show in Milan.
(Miguel Medina / AFP / Getty Images)
A flower-power print at Prada's show of its men's and women's spring/summer 2019 collection.
(Miguel Medina / AFP / Getty Images)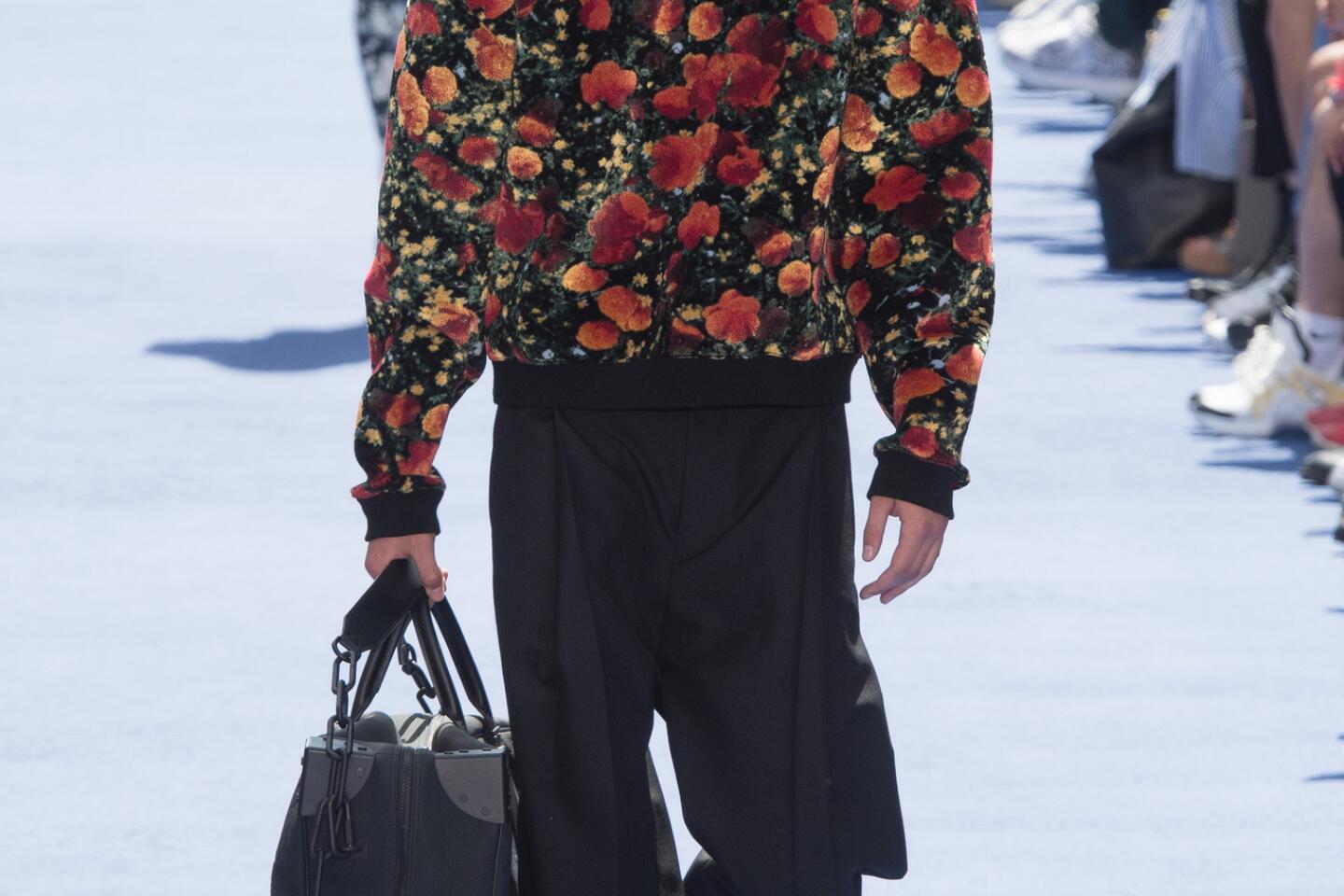 A bright print in the Louis Vuitton menswear spring/summer 2019 show at Paris Fashion Week in June 2018.
(Victor Boyko / Getty Images)
Clothes from the spring/summer 2019 menswear collections appear to be revealing that many of fashion's major players are on the same inspirational wavelength, which might be best summed up with a line from a 53-year-old Bob Dylan song: "Everybody must get stoned."
These counterculture references from decades past have turned up left and right — in the turtlenecks decorated with flower power florals and hallucinatory hippies-in-nature illustrations at Prada; in the phantasmagorical "Wizard of Oz"-inspired graphics (including poppies) at Louis Vuitton; and in the chromatic, undulating prints at Dries Van Noten.
If fashion designers are having a psychedelic moment, can you blame them? After all, once-illicit drugs have taken center stage in the zeitgeist of late as culture, retail and politics shift.
Earlier this spring, Barneys New York, for example, opened an upscale space in its Beverly Hills store to sell cannabis paraphernalia in response to marijuana legalization, which is spreading, state by state, across the country.
Denver legislators voted this spring to decriminalize the use and possession of hallucinogenic magic mushrooms, and this week Oakland became the second U.S. city to do so. This comes on the heels of stories of Silicon Valley tech employees "microdosing" psychedelics in hopes of hacking their work routines and food guru Michael Pollan's 2018 book, "How to Change Your Mind," which makes a case for the use of psychedelic drugs such as LSD and psilocybin mushrooms for therapeutic and medicinal reasons.
So it shouldn't be a major surprise that designers, who interpret cultural moments and transform them into jackets and pants, want to take consumers on a far-out trip.
"There's this open acceptance in men's fashion right now — this feeling that there are no rules," said Matthew Marden, style director at Esquire magazine. "I think what goes along with that is that people are more open to experimenting in every possible way. It's a very anti-establishment feeling based on what's happening politically in the country these days. It's similar to the youthquake of the late 1960s but in a modern way."
It also doesn't hurt that the spring/summer season is usually when fashion labels let loose and embrace bold colors and patterns. "It's always when brands and designers feel like, 'Let's go crazy,'" Marden said. "It's like the reins are off."
Examples popping up run the gamut from Tom Ford's trippy moiré cocktail jackets and David Hart's groovy '70s-inspired suiting to the Rococo floral-paisley mash-ups at Versace and the luxe baja hoodies and cashmere tie-dye sweaters by the Elder Statesman's Greg Chait.
Other tie-dye pieces have turned up at Comme des Garçons Homme Plus, Helmut Lang, Zara, Urban Outfitters and other labels. Cult L.A. brand Online Creamics released new hand-dyed shirts to coincide with Dead & Co.'s summer tour, and streetwear label Supreme dropped a capsule collection earlier this spring featuring mind-bending prints (a collaboration was with Japanese artist Sekintani La Norihiro).
"Street culture has been referencing the counterculture for a few years now," said Josh Peskowitz, Moda Operandi's men's fashion director. "You can see it in the now-near ubiquity of tie-dye and the resurgence of interest in the Grateful Dead and Dead & Co. The true psychedelic references have increased as the awareness of psychedelics has proliferated as a mainstream thing."
On its website, Moda Operandi has a fashion feature called Free Ride, in which a model wears tie-dyed knits, patchwork and paint-splattered jeans and luxe Army-surplus finds. The looks are accompanied by a playlist, which includes songs from the Beach Boys and Fleetwood Mac.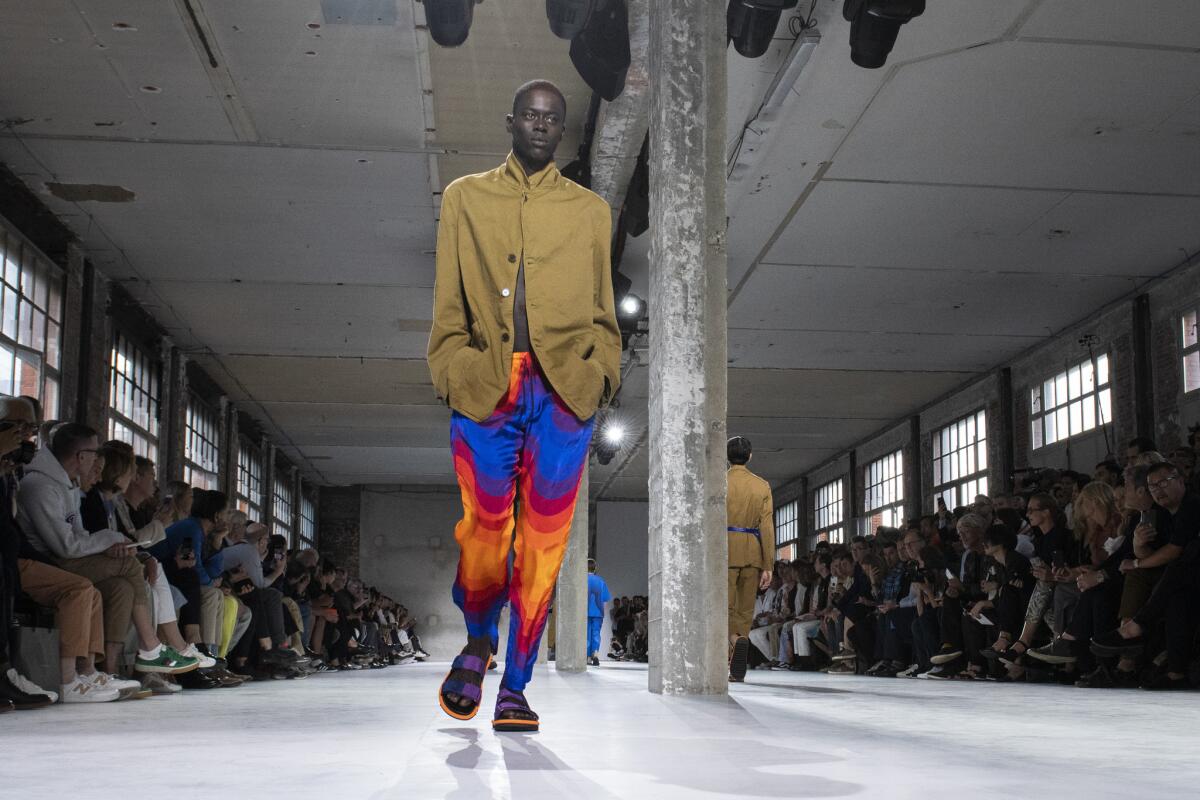 Esquire's Marden said cultural touchstones — think Woodstock or the Manson family murders — have also helped reignite a fascination with the counterculture revolution of the late 1960s, a time when drugs and free love were embraced by a young, liberal generation.
As for why designers and brands are returning to the bohemian styles of the 1960s again, Roseanne Morrison, fashion director at New York trend-forecasting agency the Doneger Group, said there are parallels in culture and politics between the turbulent '60s and today. "What I think is so interesting is we have politics that are trying to pull us back to the 1950s in terms of the male role and limiting rights for women," she said. "Then we have this other segment of society that's very much free and open and progressive. There's this dichotomy there that's becoming more and more apparent."
Chris Gibbs, co-owner of the menswear store Union on La Brea Avenue, said he has been concerned about the state of the world. "I find myself being very frustrated, confused and a bit sad by the current events of the day," said Gibbs, who started an in-house brand last year that has offerings this season such as tie-dye T-shirts featuring a mouth with an LSD tab on the tongue and mushroom illustrations.
"Maybe we all just want to trip a bit and get far away from the racism, sexism, classism and ... Trumpism that surrounds us," he said. "So maybe it's wishful thinking."
Or perhaps this nostalgic return to the summer of '69 has more to do with the state of the Golden State. After all, there's an innate California-ness to the current psychedelic movement. The counterculture movement has deep roots from the granola-crunchy vibe of San Francisco's Haight-Ashbury to the chilled-out Abbot Kinney habitués of Venice of old.
"There's this creative class that's really booming [in California]," Morrison said. "It's an exciting time to be in L.A. It's part of that hippie culture, but it's so much more. It's because it's the creative center of the country right now."
As men's fashion continues to evolve and grow and become more casual, guys are experimenting.
— Josh Peskowitz, Moda Operandi's men's fashion director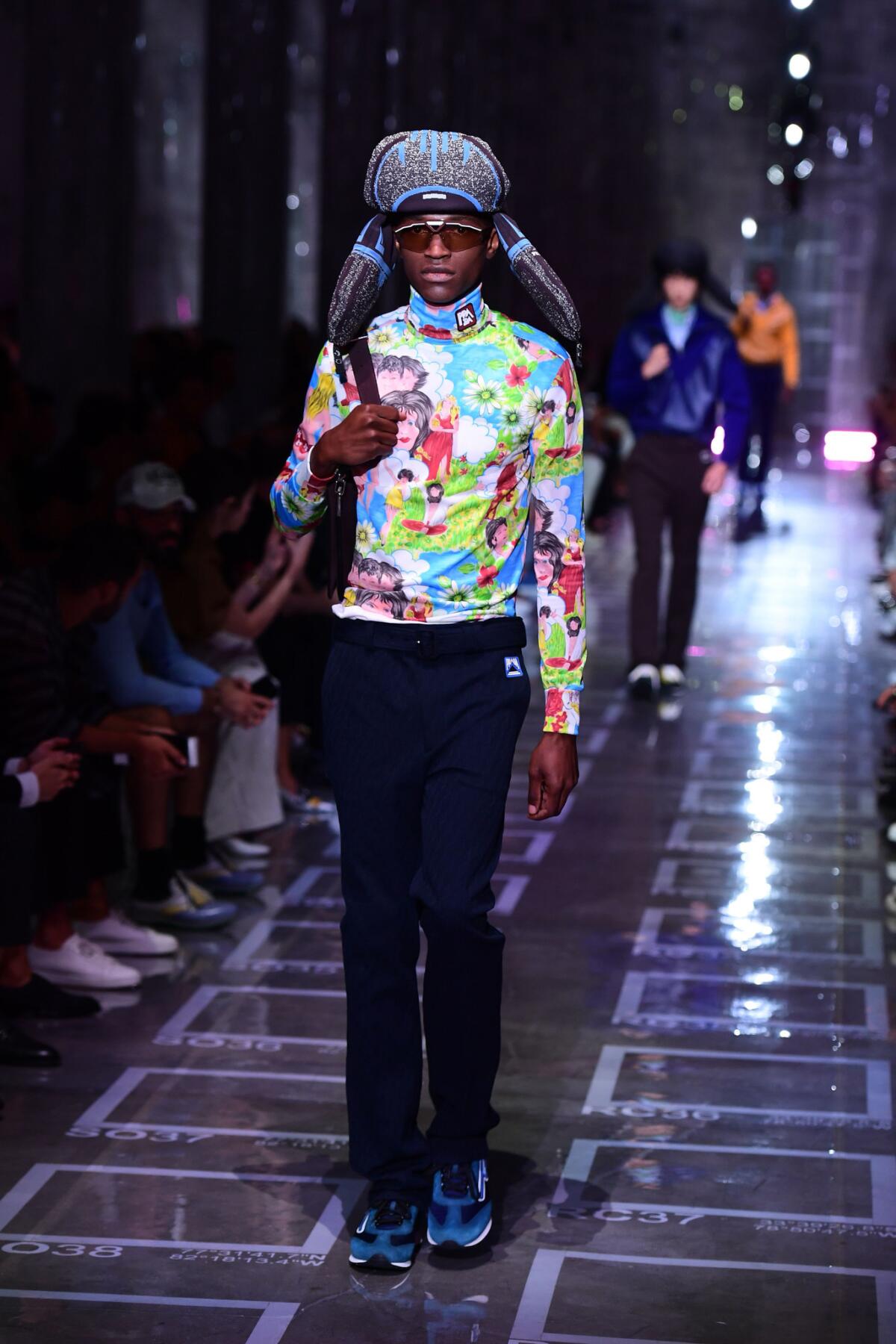 Peskowitz said L.A., particularly "the sepia-toned fantasy of 1960s and 1970s L.A.," is important and influential in terms of pop culture.
"So much of what now dominates our culture — from hippies to surf and skate to the [beatniks] to rock music to personal computers — either originated in L.A. or flourished there," he said. "As men's fashion continues to evolve and grow and become more casual, guys are experimenting. And the laid-back look of the Southern California of old is a better place to start than most."
However, it might not all be peace and love underneath those flower-power T-shirts and tie-dye socks. In the same way that writer Joan Didion was able to intuit the darker corners of the hippie movement, this current expression of hippie-dippy flower power appears to have an edge to it.
"There's this tension that's really insane between those who are trying to pull us backward and others who are recapturing the 1960s and everything it stood for," Morrison said.
Marden agreed, saying: "There's this excitement, but it's back-ended with this nervousness. Everyone's very trepidatious."
Also, he said it's possible that people today are witnessing history on a loop. "What follows this type of thing is, like, a full-on me, me, me, me sort of thing," he said, referencing the Me Generation of the 1970s. "So now, it's like: What's going to happen next?"
Maybe the runway will reveal it.
For fashion news, follow us at @latimesimage on Twitter.
Get our L.A. Goes Out newsletter, with the week's best events, to help you explore and experience our city.
You may occasionally receive promotional content from the Los Angeles Times.