Returning to my childhood home, and memories of my late father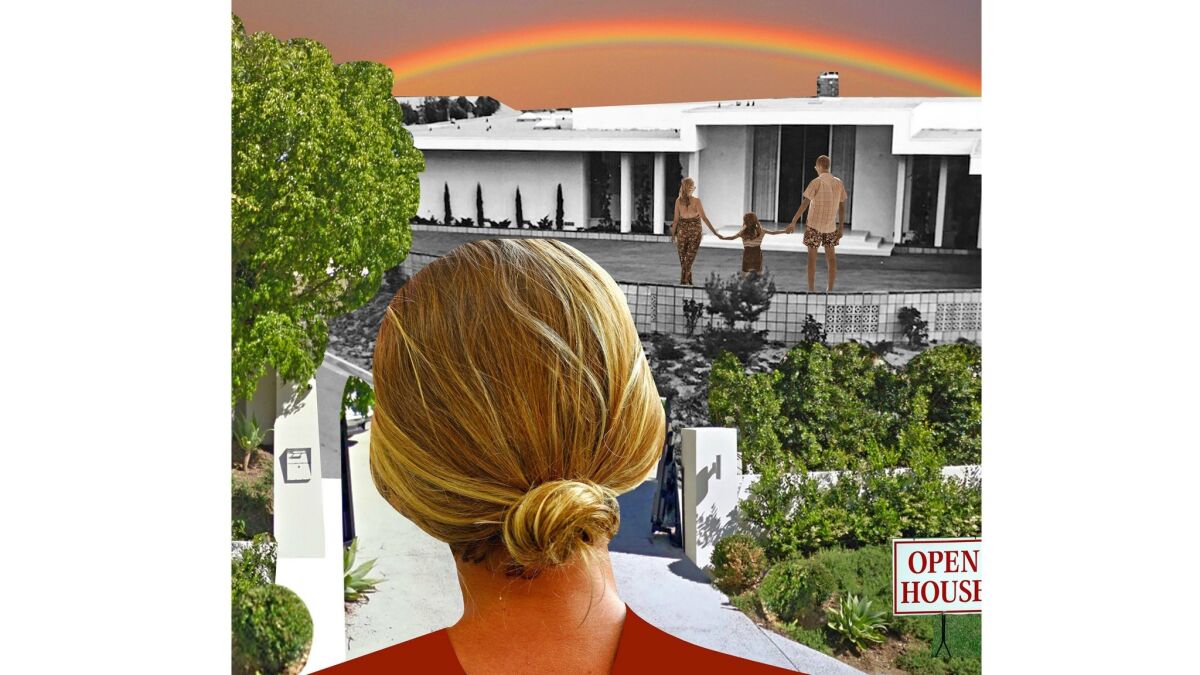 They say you can never go home again. Well, I disagree.
Thirty-seven years ago, my father died from pancreatic cancer. It was the day after my seventeenth birthday.
The six-week nightmare, from diagnosis to death, plunged my life into a state I no longer recognized. Although it was summer, it seemed the sunlight refused to shine through the tall windows facing our grassy backyard. Regardless of the L.A. heat outside, inside was bleak and shadowy.
The walls, once witness to boisterous family dinners, barbecues, birthday, pool and slumber parties, became painted in grief. We tiptoed through the hallways and my parents' bedroom without making a sound so my dad could rest. Sometimes his reflexive hiccups were the only sound.
A year after my father passed, we sold the home that my parents built in the hills while my mother was pregnant with me. Packing up my childhood home and all the memories it contained was painful, not to mention daunting.
I had saved everything: crumpled notes passed in class, fading fortune cookie fortunes, a plethora of Barbies replete with flashy wardrobe, board games with missing pieces. And then there was my precious record collection: a smorgasbord of disparate musical tastes ranging from Kool & the Gang to The Partridge Family.
For a long time afterward, I struggled to remember the good times we had in our home — family game nights where someone always cheated at Monopoly (usually me), late-night summer swims and Herb Alpert & the Tijuana Brass wafting through the house — since the memories were so tainted with our loss.
For the past 30 years, once a year, I've made the drive up the long steep road to our old home. I've parked my car outside the black iron gate and peeked through the slats, so I could see the blacktop of our wide front yard where we'd spend hours doing relay races and playing tag until our mom summoned us for dinner.
I always fought my desire to ring the doorbell, greet the new owners and walk through the house one last time, fearful that the memories would overpower me and tear at the wound again.
Filled with fear, I stopped short at the driveway pushing away my longing, as if I was brushing crumbs off my sweater. And each time I resigned myself to the fact that I probably would never step inside my childhood home ever again.
Then, one night, we agreed to go out to dinner with new friends — a lovely couple we kept running into from our neighborhood. The conversation was effortless and drifted to a discussion about our kids.
I shared that both of my kids are in their 20s, my daughter was working in advertising, my son was attending graduate school. They told me they have a son in his 30s who is married and remodels houses in the area. He had just completed a home in the hills, they said, and the wife mentioned the street. I felt a rush through my body. "That's the name of the street I grew up on. What is the address?"
A quick text to her son and seconds later, she showed me his answer. I felt my heart catch in my chest. It was my home.
The following Sunday was a broker's open house and we were welcome to come by, her son told us. I was beside myself that I would finally be able to see my old home, but I was also torn by mixed feelings. Would it be painful? What would my old bedroom look like? Would I cry?
The sun was shining brightly that Sunday, but I still felt a darkness hovering in my soul. I knew it would look different since it had just been remodeled. What I didn't know was how I would feel seeing it for the first time in decades..
To my awe and delight, the bones of my old home were intact, but the inside was modernized. White, airy, the rooms were flooded with light, and vibrant jewel-toned artwork canvassed the walls. It was beautiful and breezy, the complete opposite of the 1970s home that had the shag carpeting and bold geometric prints of my parents' generation.
I stood in the den where my father used to love to read and smoke his pipe in his leather easy chair. It was the room we all piled in to watch the "Movie of the Week" and football games. The very same place where my sister and I held our dance-a-thons with our neighborhood friends.
But it had gone through a makeover. The dark wood paneling and shiny silver and blue metallic wallpaper of its day were gone. Bright white walls that reflected warm beams of sunlight stood in their place.
They had removed the wall between the den and our kitchen creating a great big open space perfect for seating, dining and cooking. Glossy white cabinets had replaced the dark brown cabinets my mother had meticulously stained herself. In the place where our oval white Formica kitchen table used to stand — dominating our world — there now sat a sleek rectangular wooden table with modern white leather chairs.
My bedroom, where I used to spend hours playing school with my imaginary students or giving my army of Barbies my untrained version of a makeover, looked smaller. The uber-feminine bubblegum pink tiled bathroom I shared with my sister had gone through a transformation: It was now slick and ultramodern, all white and gray and chrome.
The house — my house — was so beautiful, so tastefully decorated that it was as if someone sprinkled fairy dust over it. There was no room for sadness or darkness in this magnificent space.
It made me want to celebrate, to throw a party. I left feeling a lightness in me that I hadn't felt in years.
On the drive back to my current home, I released the memory of my former home that was loaded with despair and gave myself permission to let go of the grief and accept the wonderful gift that I'd been given.
What was always a lovely home had become truly majestic.
My dad would have loved seeing it. In my mind, I imagine him relaxing among the splendor in his easy chair — letting in the light, once again.
The author is a writer in Los Angeles. Her website is carpoolgoddess.com. Find her on Twitter and Instagram @carpoolgoddess.