Bring your A-game: Tips for tailgating like a pro as football season nears
September kicks off football season. As the Trojans, Bruins, Rams and Chargers bring their talent, preparation and passion to the gridiron, the question is: Are your tailgating skills equally as fired up?
Whether you plan to start up your first pre-game party or hope to take existing skills to the next level, we've gathered tips and gear designed to make you look and feel like a tailgating MVP.
"The first thing is to have a game plan. You don't just want to show up and expect to find parking and tailgating space," said Megan LaGrow, co-founder of Los Angeles-based Tailgater Concierge, a service that takes care of all your tailgating needs. "You have to get an understanding of the school [or stadium] you're at and know what your options are."
This means prepaying for parking when possible, scouting the area beforehand so you know where to set up, being aware of rules and regulations (check team websites) and communicating the details to everyone in your party.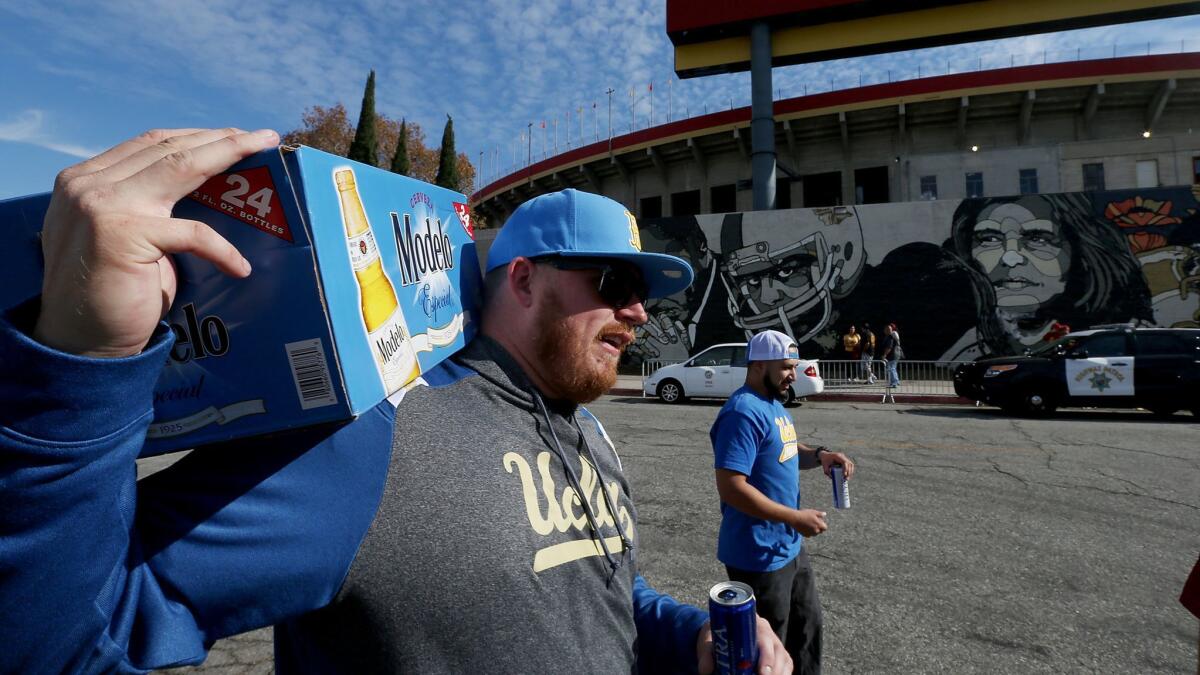 "At USC, you can work with the school to rent out an area [for tailgating] on campus," said LaGrow. "At UCLA, it's first come, first serve parking and you tailgate at your car … but you could strategize [with friends] about where to enter the parking lot at the Rose Bowl with hopes of ending up in the same area."
Tailgating permits with reserved space at USC start at $20 and must be requested at least three weeks before game day. To register, go online at: https://crue.usc.edu/tailgate.
For setup, consider using a distinctive pop-up tent, large helium balloon or rally pennants to help friends find you.
General consensus advises arriving about four hours — or even earlier — before game time. "You don't want to be showing up two to three hours before the game, sitting in an hour of traffic and then feel rushed in the tailgate process," said LaGrow, "get there four to five hours early and enjoy the time with a big group."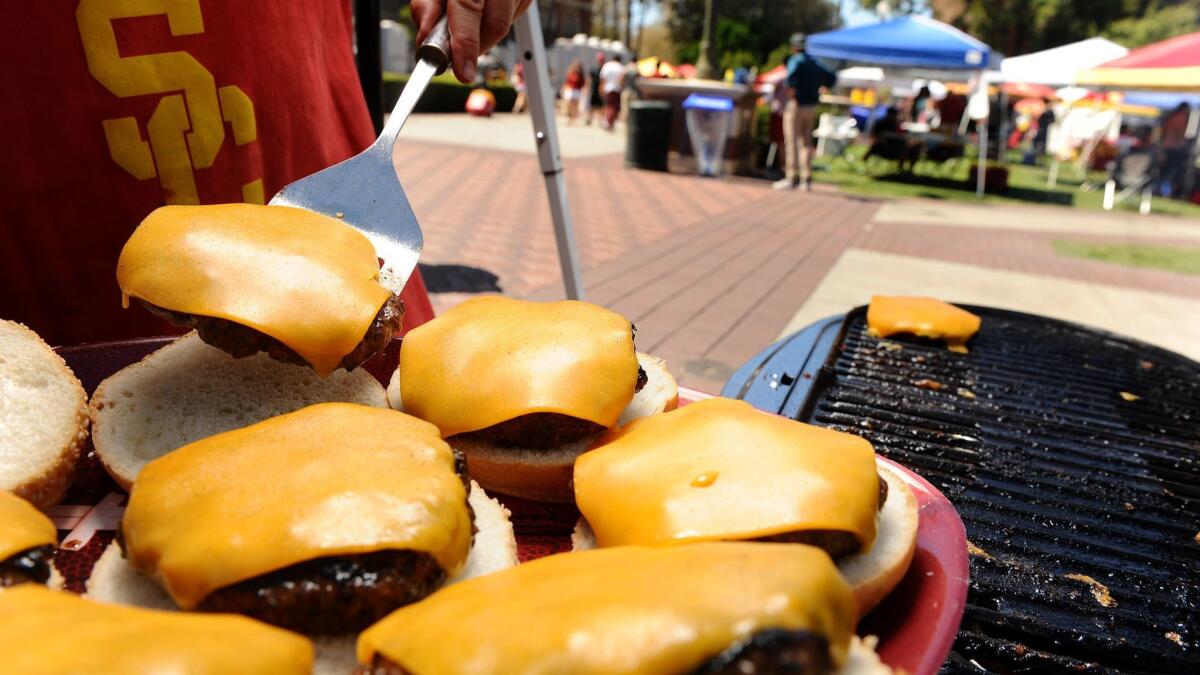 Simple menu items prepared ahead of time work best. "No one wants to be standing there all day cooking extravagant meals … finger food, something that is easy for guests to stand up and eat is definitely the way to go," said LaGrow. "Don't overcomplicate things."
Grab a football, pack a wireless speaker and bring along a giant Jenga, ladder ball or corn hole game. "Definitely bring some sort of entertainment," said LaGrow, "you want to make it a fun, full day." Satellite TVs are also a hit. Zach Gano, director of the western region for Tailgate Guys, a national tailgating service, said, "A lot of people like to add a flat-screen TV, the bigger the better, to their tailgate … whether it's to watch pre-game or other college or NFL games taking place around the league."
In addition to the basics (food, drinks, table, chairs, ice chest, cups, plates, silverware, trash bags, grilling/cooking/serving utensils, fire extinguisher if using a grill or generator), consider upgrades such as: portable phone chargers, a portable grill, pop-up tent, empty plastic bin to bring home dirty dishes, labels for multiple coolers (to avoid unnecessary opening), frozen water bottles to keep inside coolers, small generator, wireless speaker, decorations in team colors, portable satellite TV, wet wipes, hand sanitizer, paper towels, can opener, sunscreen, first aid kit and jumper cables.
Don't forget lots of ice — and a corkscrew or bottle opener.
Oh, and put your tickets at the top of the checklist.
"Something my family always loves," said LaGrow, who has been tailgating Trojan games since before she could walk, "is to over-bring food, over-bring drinks and then post-tailgate for an hour or two. It's a great way to talk about the game, hang out and avoid sitting in an hour of traffic … it's a great way to end the day on a positive note."
Love the idea of tailgating, but dread the prepping and schlepping? Hire a crew to set up the basic gear or provide a spread with all the bells and whistles. That's where tailgating services in the Los Angeles area come in. Tailgater Concierge packages start at $495. Tailgate Guys packages start at $550.
Although anyone from private parties to large corporate groups can hire a turnkey tailgating service, Gano said it especially makes sense for fans coming in from out of town. "They're not able to bring their tent, chairs, coolers, tables … so instead they're going to be able to just show up."
"It all comes down to having fun, showing up, wearing your team gear and being supportive," said LaGrow. "That's the whole vibe … it's about having a great time."
Bonnie McCarthy contributes to the Los Angeles Times as a home and lifestyle design writer. She enjoys scouting for directional trends and reporting on what's new and next. Follow her on Twitter @ThsAmericanHome
ALSO
How designer Nate Berkus blended old and new in his L.A. kitchen remodel
They found a real estate unicorn: A house with great 'bones,' ready for decorating
You've never seen a kitchen island sink like this
How online art galleries are serving up talent — and sales — without the 'tude
Get our high school sports newsletter
Prep Rally is devoted to the SoCal high school sports experience, bringing you scores, stories and a behind-the-scenes look at what makes prep sports so popular.
You may occasionally receive promotional content from the Los Angeles Times.