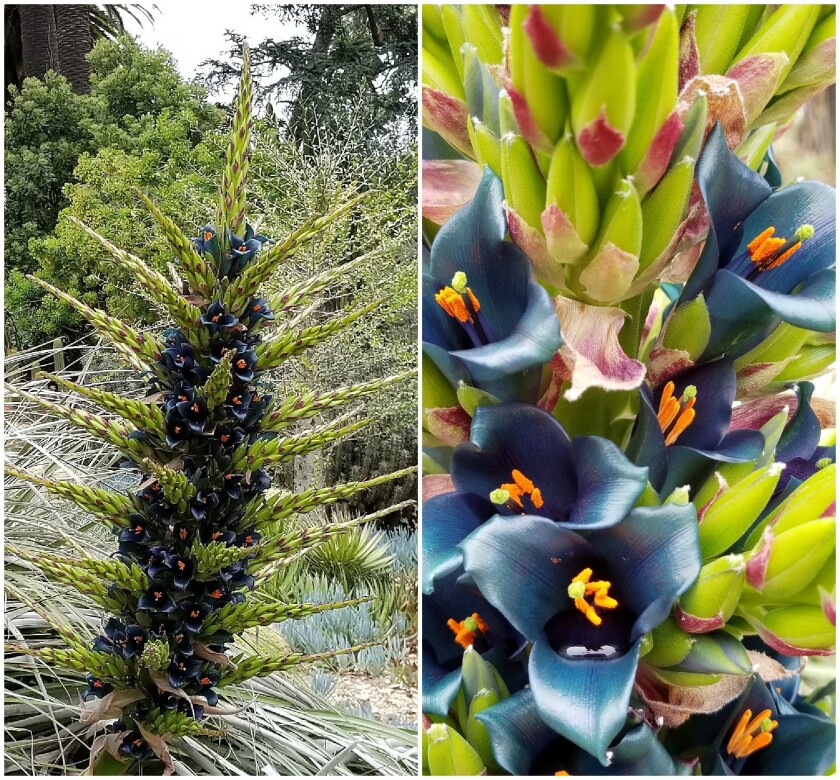 Some plants are just crazy … demurely holding their blooms for decades until finally, one day, they just explode with color.
Such is the case with the exotic, slow-growing puya plant, now blooming for the first time in more than 20 years at Rancho Los Alamitos Historic Ranch and Gardens in Long Beach.
And when we say bloom, we're not messing around. No shy little flowers for this hardy bromeliad that grows in the high reaches of the Andes Mountains throughout South America, according to the Bromeliads.info website.
No, this plant sends up huge stalks of lime green buds that erupt into deep-throated, gunmetal-blue flowers with electric orange stamens (a flower's private parts).
The blooms are so rare that staffers at Rancho Los Alamitos have never seen it happen, said spokesperson Donna Skinner, "and we have people who have been here more than 20 years. We are still learning about the puya."
Skinner said each outward radiating spike will bloom gradually, so they expect it to stay in bloom through the end of June.
Rancho Los Alamitos is open 1 to 5 p.m. Wednesday through Sunday at 6400 E. Bixby Hill Road in Long Beach. (Guests enter at the Bixby Hill residential security gate at East Anaheim Road and Palo Verde Avenue.) Visitors may tour the gardens with a docent or opt for a self-guided tour. Admission and parking are free. rancholosalamitos.com/
---