For home-improvement show hosts, a paradox: Every house but their own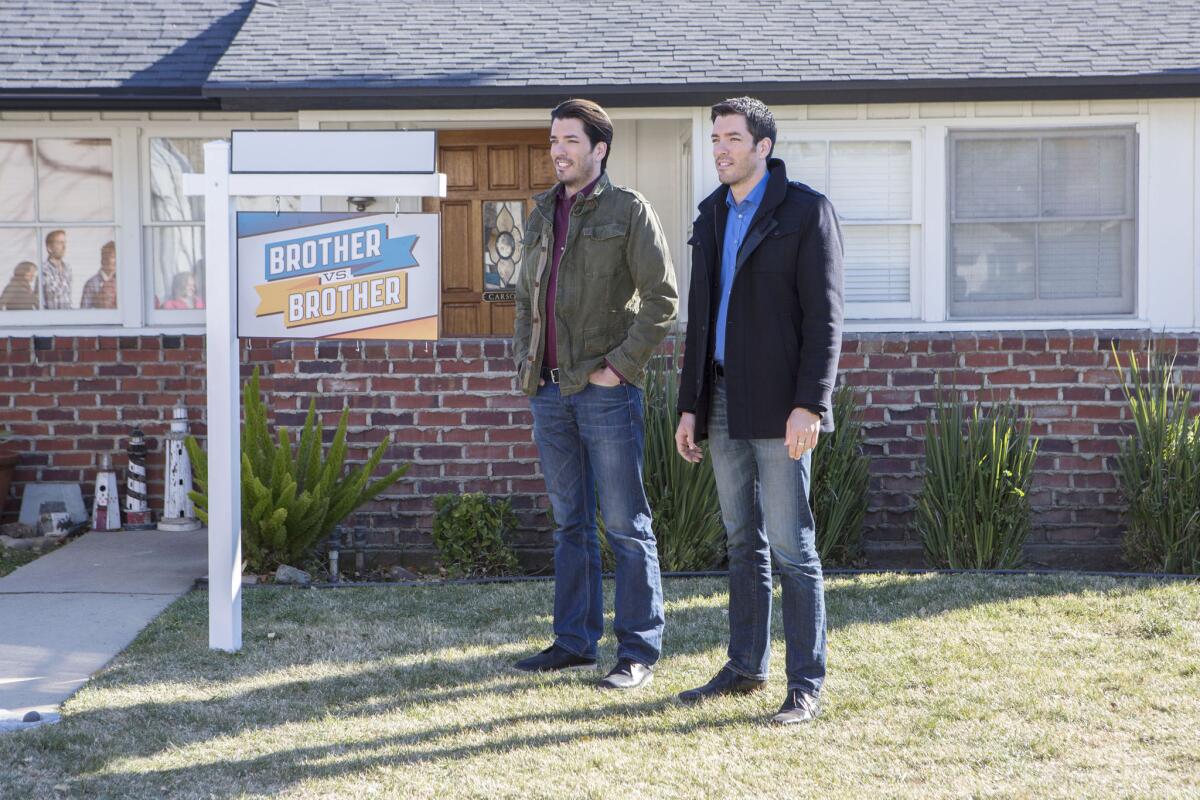 For twin brothers Drew and Jonathan Scott, fixing up houses and selling them started when they were 17-year-olds in Canada. Now Drew (the real estate agent) and Jonathan (the licensed contractor) exercise their skills as the stars of "Property Brothers" and several other HGTV shows — but at a cost.
"It's not a bad problem to have," they say almost in unison. "We no longer take on clients. We just host the show."
------------
FOR THE RECORD:
Home show hosts: In the Saturday section on Sept. 6, an article about hosts on home improvement television incorrectly referred to Tom Silva as the host of "This Old House." Kevin O'Connor is the host and Silva is the general contractor on the show. —
------------
As the home improvement television market grows, show hosts often become overnight TV successes, creating unforeseen issues in their personal businesses — making or breaking the very thing that led to success in the first place.
There are close to 180 shows in development currently, and many are hiring hosts, according to Allison Page, general manager of HGTV and DIY Network. "We are looking for that perfect combination of aspirational and attainable," she explained. "The host has to be relatable."
And, she said: "It can be life-changing for people."
Every host is different. Some manage to hold on to their real estate brokerages or construction companies. Others, like the Scotts (who were both involved in the entertainment industry, as well as real estate, before HGTV came along), forgo their own businesses because shooting schedules get in the way.
For the Scott brothers, television commitments mean 52 renovations a year, and they hire building crews in each city. "We don't have time for our own business anymore, but we try to boost others with the success of ours," Jonathan Scott said. "We hire local businesses that are interested in construction as a career, not just being on TV. It's where I think we have the most impact."
Moontower Design Build in Austin, Texas, was hired to assist the "Property Brothers" on one of their renovations. Jeff Munoz, a partner in the construction company, said that as soon as the episode aired, they were slammed with business. "We had no idea what to expect, and this far exceeded our expectations," he said. "It put us on the map."
For other hosts, such as Nicole Curtis of "Rehab Addict," television hasn't changed much.
A 20-year construction business veteran in Detroit and Minneapolis, Curtis has a passion for saving old houses. "We go on with the day-to-day, show or no show," she said. "It's my business and my money — there just happens to be a guy with a camera following me around."
She noted that the popularity of the program has given her an edge in terms of saving old homes. "Because people know me, I can encourage a lot of people to send emails to save endangered houses," she said. "We've crashed a lot of servers," she said proudly.
Tom Silva, general contractor of PBS' "This Old House," admitted that keeping his family construction business (Silva Brothers Construction) going and filming the show has been a juggling act. "Of course being on the show has helped our business," he said. "But I never wanted to give my own business up. It was my father's before me, and it's meaningful. The show is just an offshoot of what I love to do in my life."
For his colleague Kevin O'Connor, who hosts "Ask This Old House," it was a different story. He was in finance when he sent a renovation question to "This Old House" about a duplex he and his wife were working on, having no idea there was a new show in the works. "They sent a film crew out along with Tom Silva, and I was blown away," he said. "When they called and wanted to talk with me personally, not my wife, I was convinced they wanted to get me to invest or get financial advice. I couldn't believe it when they asked me to host the new show." He gave up his job in finance immediately.
For "Fixer Upper" stars Chip and Joanna Gaines and their four kids, television has been game-changing. Located in Waco, Texas, their company, Magnolia Homes, combines real estate sales, a renovation business and a retail shop that specializes in home décor. They were "discovered" through Joanna's decorating and lifestyle blog.
"We were terrified and not really sure if we were going to work on camera with our four kids," Joanna Gaines said.
"I was terrible and the kids were acting crazy the day they came to shoot us," Chip Gaines added.
The show follows the Gaines family through the renovation process and typically incorporates all of their skills, such as helping a client find a home to buy, renovating the property and decorating. They have a regular crew that assists them.
But the show has become so popular that they have given up the renovation part of their business to focus on the other aspects.
"We still sell real estate, although a lot of our friends didn't ask us to sell their homes because they thought with the show, we weren't doing that any longer, but the most surprising turn has been our shop," Joanna Gaines said. "We have been inundated with business and can't keep up."