Do you want to grow marijuana at home? New L.A. classes show you how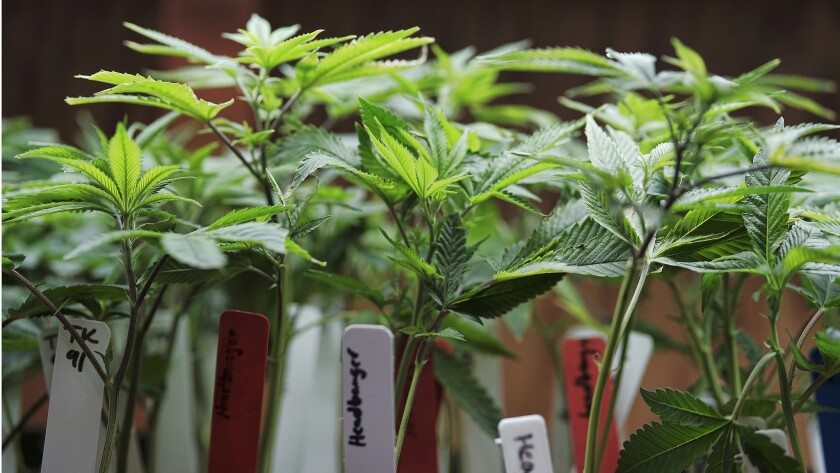 Californian gardeners can mix marijuana with their marigolds these days, thanks to the passage of Proposition 64. It allows individuals 21 and older to grow up to six plants, as long as the plants are not accessible to the public and as long as their their municipalities haven't restricted cultivation.
In the city of Los Angeles, the law is enforced as written, said Los Angeles Police Department Rampart Division Officer Joel Certa, so home gardeners over 21 are OK to plant six or fewer marijuana plants in a secluded part of their yard. He cautions that other jurisdictions may have different rules, however, so check with your local law enforcement agency.
Assuming you've got the green light, how do you proceed?
Enter Fig Earth Supply, a Mount Washington nursery, with its first-ever classes in "Cannabis Cultivation for the Home Grower."
"The world and its mother wants to grow this stuff, but they don't know what to do," says Conor Fitzpatrick, chief of operations.
The two-part evening classes taking place June 13 and 14 are focused on the casual grower and limited to 15 students, he said. Interest has been brisk, with 12 registration requests on the first day, Fitzpatrick said. Based on the response, they're already planning a second set of classes for June 27 and 28.
The classes cost $95 apiece ($175 for both) and will cover everything you need to get growing, Fitzpatrick said, from choosing the right plants and propagating or growing from seed to pest management and harvest techniques.
Fig Supply won't be selling marijuana plants or supplies, Fitzpatrick said, but the instructor — said to be a former manager with one of L.A.'s biggest marijuana growers — will bring a few plants for demonstration purposes.
Fitzpatrick said the instructor does not use his real name because "he wants to keep a low profile because there's still a little bit of stigma to this industry."
---