10 things you need to know about legalized pot in California
Reporting from Sacramento —
At 62 pages long, Proposition 64 is a detailed and complicated document that spells out how California will regulate and tax the growth, transportation and sale of marijuana for recreational use.
Although Californians will be able to possess and grow marijuana immediately if it passes, people will not have a place to legally buy nonmedical marijuana until stores are licensed — and the state has until Jan. 1, 2018, to begin issuing retail licenses. State officials estimate it will take up to a year to develop the regulations that will be applied to those who grow, transport, test and sell cannabis.
Here's what we do know so far about what legalizing pot would look like in California based upon what is outlined in the ballot measure.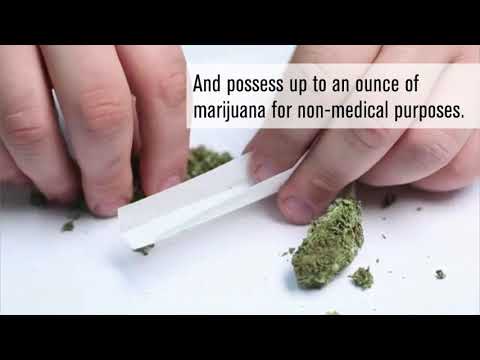 Voters on Tuesday approved Proposition 64, which would make California the most populous state in the nation to legalize the recreational use of marijuana.
1. You'll have to be an adult to legally smoke pot.
Dubbed the Adult Use of Marijuana Act, the initiative would allow people who are 21 and older to possess, transport and buy up to 28.5 grams of marijuana for recreational use.
That expands on existing law that allows cannabis use for medical purposes.
For those who don't want to buy pot from special marijuana stores, the initiative would allow adults to grow and use up to six marijuana plants. Medical marijuana patients may still possess the quantities necessary to meet their medical needs, even in excess of the 28.5 gram limit.
2. Don't plan on lighting up just anywhere.
You won't be able to light up a marijuana joint on the sidewalk or in a bar. Under the ballot measure, marijuana still cannot be smoked in public places, unless it is allowed by a local ordinance.
In addition, marijuana cannot be smoked in places where state law already prohibits tobacco smoking, including restaurants and theaters.
And smoking pot would still be outlawed within 1,000 feet of a school, day-care center or youth center while children are present.
Fines are also possible for those caught smoking weed while driving a motor vehicle, boat or aircraft.
3. Want to smoke marijuana in public? There's a fine for that.
People busted smoking marijuana in public can expect to face a fine of up to $100. Those caught smoking pot in a place where tobacco smoking is prohibited or near a school can be fined up to $250.
Minors who violate the rules will be required to complete four hours of a drug-education program or counseling, and up to 10 hours of community service.
4. Kids will not be able to buy pot under Proposition 64.
Proponents of Proposition 64 say the ballot measure was written to keep pot out of the hands of minors.
It would prohibit the sale of marijuana to nonmedical users under age 21. Medical marijuana can still be used by people under 21. In addition, cannabis products could not be designed to appeal to children or to be easily confused with commercially sold candy.
Marijuana products also would have to be packaged in child-resistant containers, and pot shops would be prohibited from allowing anyone under 21 years old on their premises.
5. You won't see commercials for weed on TV.
The initiative would bar the marketing of marijuana products to minors, which means ads would not be able to use symbols, language, music or cartoon characters aimed at appealing to those who are underage.
In addition, marijuana could not be advertised on billboards located along an interstate highway or state highway that crosses the border of any other state. Such ads also would not be allowed within 1,000 feet of day-care centers, schools providing instruction in kindergarten or grades 1 through 12, playgrounds or youth centers.
Federal law will continue to designate marijuana as an illegal drug and federally regulated television and radio states are not allowed to advertise illegal drugs.
If federal law should ever change, Proposition 64 includes a provision that requires broadcast, cable, radio, print and digital marketing only be displayed where at least 71.6% of the audience is reasonably expected to be 21 or older.
6. If you want to sell weed, you're going to have to tell the state.
Want to open a pot shop? You will need a state license. Want to grow marijuana for others? You'll still need a license.
Those who grow, process, transport or sell marijuana must get a state license, and pay a fee — that hasn't been set yet — to cover the cost of the state processing and enforcing the licenses.
Local governments could also require operators to obtain a license, and businesses would not be able to sell marijuana within 600 feet of a school, day care center or youth center.
Those running shops must undergo a background check to obtain a state license, and they can be denied if they have felony convictions involving violence, fraud, drug trafficking or selling drugs to a minor.
7. If you sell pot, you'll have to abide by state rules and regulations.
Who is in charge? A state Bureau of Marijuana Control inside the state Department of Consumer Affairs would be given the job of creating, issuing, renewing and revoking state licenses for the transportation, storage, distribution and sale of marijuana.
Marijuana growers will have to get a license from the state Department of Food and Agriculture. Those who want to form businesses to manufacture and test marijuana products would be licensed and overseen by the state Department of Public Health.
The state agencies must begin issuing licenses by Jan. 1, 2018. An existing bureau set up for medical marijuana has already begun drafting regulations that would be needed before licenses could be issued.
8. Selling pot without a license will come with penalties — fines and jail time.
Selling marijuana without a license can result in a misdemeanor charge with penalties of up to six months in jail and $500 in fines.
In addition, selling marijuana or engaging in any other commercial activity in regard to the drug without a license comes with civil penalties of up to three times the amount of the license fee for each violation.
Illegal operators could be ordered by courts to destroy the marijuana involved in the violation.
9. Marijuana will be taxed by the state — and possibly by cities and counties.
Proposition 64 would allow the state to impose a 15% excise tax on the retail sale of marijuana. In addition, the state would be able to levy a cultivation tax on growers of $9.25 per ounce for flowers and $2.75 per ounce for leaves.
The ballot measure also would let cities and counties to impose their own taxes to cover costs of services, including enforcement.
Medical marijuana patients would be exempt from paying state sales taxes.
10. California could make lots of money on pot sales. Here's how it could be spent:
State analysts estimate state taxes could generate up to $1 billion annually to be used for expenses including:
Covering the state's cost of running the program and enforcing its regulations
Allowing state universities to research and evaluate the impact of Proposition 64 on issues including health and safety
Enabling the California Highway Patrol to develop processes for determining when a motorist is impaired by marijuana use
Programs to reduce driving under the influence of marijuana
Grants to local health departments and community-based nonprofits for job placement, mental health treatment, drug abuse treatment and legal services for low-income communities
Youth programs, including drug education, prevention and treatment
Programs to prevent and reduce environmental damage from illegal marijuana producers
To read the article in Spanish, click here
Follow @mcgreevy99 on Twitter
ALSO
Before Proposition 64, simple possession of marijuana was already decriminalized
Proposition 64 would legalize recreational use of marijuana though it's illegal under federal law. How will that work?
Younger voters overwhelmingly favor marijuana measure, which is likely to pass, poll finds
Get our Essential Politics newsletter
The latest news, analysis and insights from our politics team.
You may occasionally receive promotional content from the Los Angeles Times.