Want to become a beekeeper and raise chickens? Here's your chance
Once a lawn, this front yard is now filled with California natives, cuttings from a friend's drought-tolerant garden and a California pepper tree and pink trumpet tree, which were free, courtesy of the City Plants Parkway Tree Program.
(Mar Vista Green Garden Showcase )
Formerly a dead lawn, this front yard now features a gravel path, lounge area, water feature, and a raised bed.
(Mar Vista Green Garden Showcase )
The Learning Garden at Venice High will be open to the public as part of the Mar Vista Green Garden Showcase.
(Katie Falkenberg )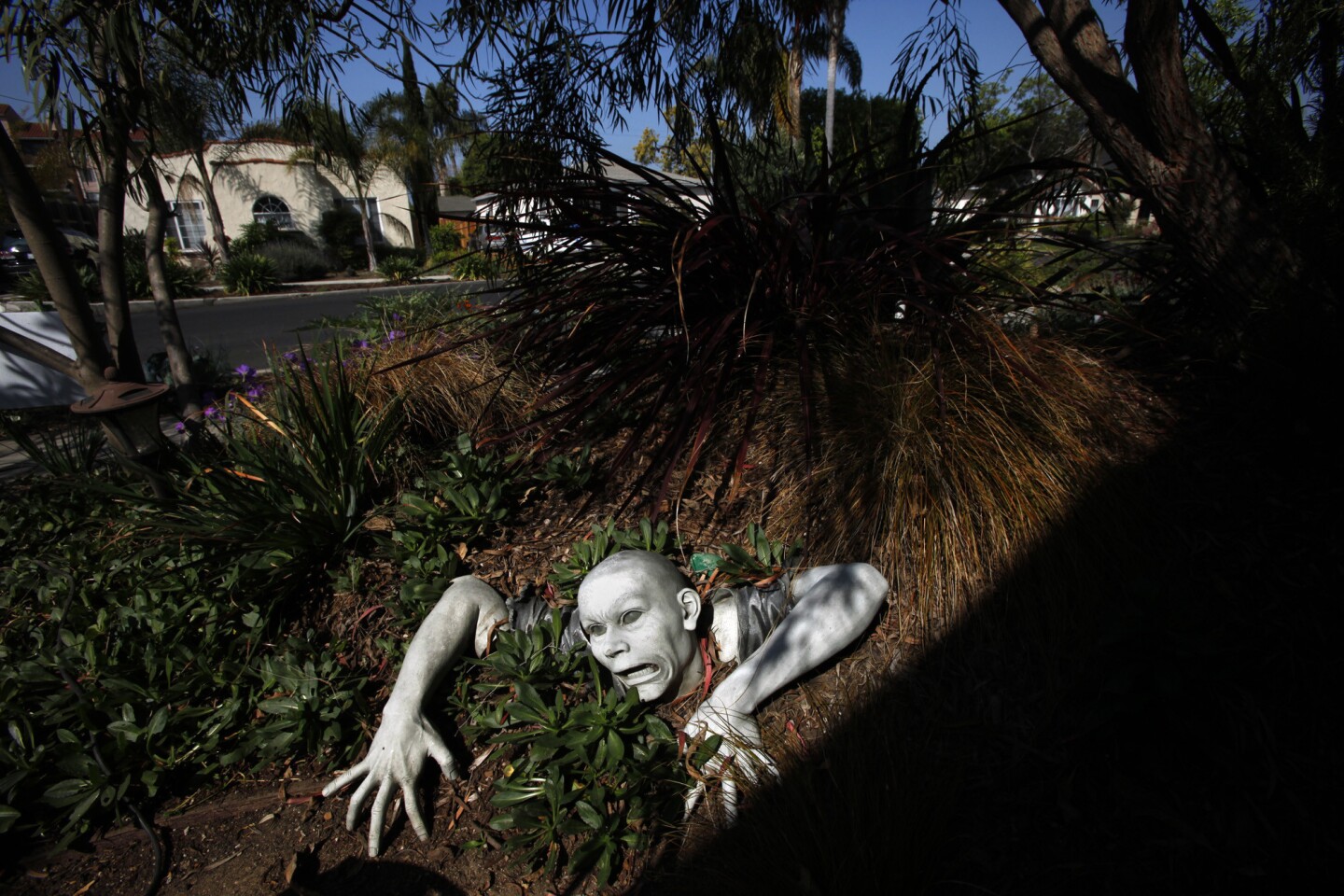 Be sure to look where you walk at the Mar Vista Green Garden Showcase on April 28.
(Genaro Molina)
On an average residential lot in Mar Vista, these homeowners have created their own urban farm with chickens, bees and a vegetable garden.
(Mar Vista Green Garden Showcase )
Maybe you're curious about beekeeping or attracting monarch butterflies to your yard. Or perhaps you want to know how to raise chickens, grow your own food or simply save water on drought tolerant landscaping?
To help Los Angeles homeowners see the endless benefits to sustainable gardening, the nonprofit Green Communications Initiative and the Mar Vista Community Council are sponsoring the Mar Vista Green Garden Showcase on April 28.
Following a two-year hiatus, the free garden tour returns prompted by the 23 homeowners who will open their gardens to the public and share tips on everything from composting and rain barrels to ocean-friendly plants and California-friendly landscaping.
Notable among the gardens this year is the one belonging to landscape designer Lisa Fimiani, former executive director of the Friends of Ballona Wetlands and currently a fellow in the Center for Urban Resilience at Loyola Marymount University. Fimiani's garden is a mix of new California natives and some nonnative plants introduced years ago by the home's original owners. Walking into the garden, visitors will notice a few plaques on the gate: The garden is a Certified Wildlife Habitat (a garden that provides food, water, cover for wildlife); a bee and butterfly-friendly Xerces Pollinator Habitat; and a Monarch Waystation, which includes at least two types of Milkweed, the "host" plant for monarchs.
Additionally, experts from the Seed Library of Los Angeles, Los Angeles Audubon Society, Honeylove, Selva International and more will be dispensing information at gardens throughout the day. And if you want to take a walk through an outdoor educational lab, stop by the Learning Garden at Venice High School, the designated information center for this year's tour.
What: The Mar Vista Green Garden Showcase
When: 10 a.m. to 4 p.m. April 28
Where: Garden addresses are listed on the tour website, including past tours.
Cost: Free
Info: marvistagreengardenshowcase.blogspot.com
ALSO:
A Japanese-influenced remodel in Mar Vista brings the outdoors in
See it: A patchy lawn is remade as showstopping urban meadow
---