Space-saving tips for decorating a very small apartment
With just 350 square feet to work with, Kyle Schuneman selected furniture and decor that would keep the space feeling open and harmonious.
(Katie Falkenberg / Los Angeles Times)
This coffee table is one example of choosing furniture that serves dual purposes. Not only does the table act as storage for books, but its lift-top design allows it to function as a place to eat as well.
(Katie Falkenberg / Los Angeles Times)
Slim floor lamps take up little space and provide task lighting over the couch. Wall sconces are another alternative to space-eating table lamps.
(Katie Falkenberg / Los Angeles Times)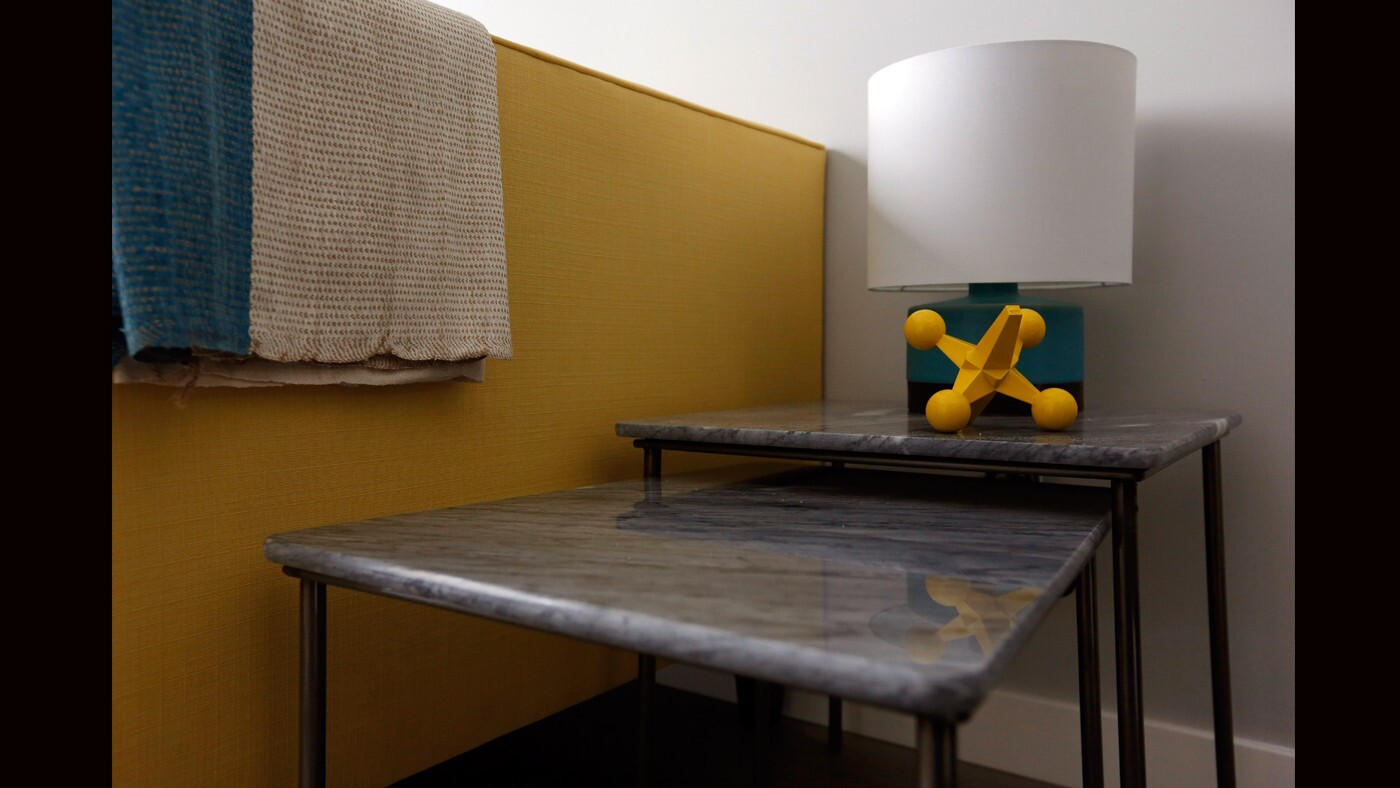 Nesting tables can offer more surface area when needed.
(Katie Falkenberg / Los Angeles Times)
The patterned ottoman can serve as a desk chair when working or as an extra chair when company arrives.
(Katie Falkenberg / Los Angeles Times)
With micro-apartments on the rise, micro-decorating is following right behind. More and more people are finding themselves in tighter spaces and aren't forgoing design for the smaller footprint.
On a recent project, I was challenged to design a 350-square-foot apartment and make it function and feel like a large house, allowing for all the usual activities: a place to sleep, eat, work and entertain.
Figuring out how a space needs to function is critical. Once you know this, you can identify what furniture you need and then can strategize to make those pieces look beautiful and operate harmoniously.
To accomplish this, I first select furniture that is hardworking and can be used for dual purposes. In the recent project, I used:
• A sleek desk placed under a wall-mounted TV to double as a media stand.
• A patterned ottoman slid under the desk to function both as a desk chair and an extra seat for guests.
• A lift-top coffee table that, when raised, allows visitors to eat at the sofa, eliminating the need for a designated dining area.
• A set of three nesting tables on the side of the sofa, offers another great way to have multiple surfaces in place of a single one.
Second, I steer clear of sacrificing surface area when possible. Surfaces in micro-decorating are in high demand, as every inch of real estate needs to be used thoughtfully. That's why I like to:
• Keep lighting off surfaces as much as possible.
• Utilize wall sconces next to beds, which frees up necessary space on nightstands.
• Use slim floor lamps in living areas, as it provides task light while keeping side tables free for other items.
Third, I like to build atmosphere and ambience through glass objects. The airy feeling of glass objects helps to give the illusion of open space.
Schuneman is a designer and the author of "The First Apartment Book: Cool Designs for Small Spaces."
---