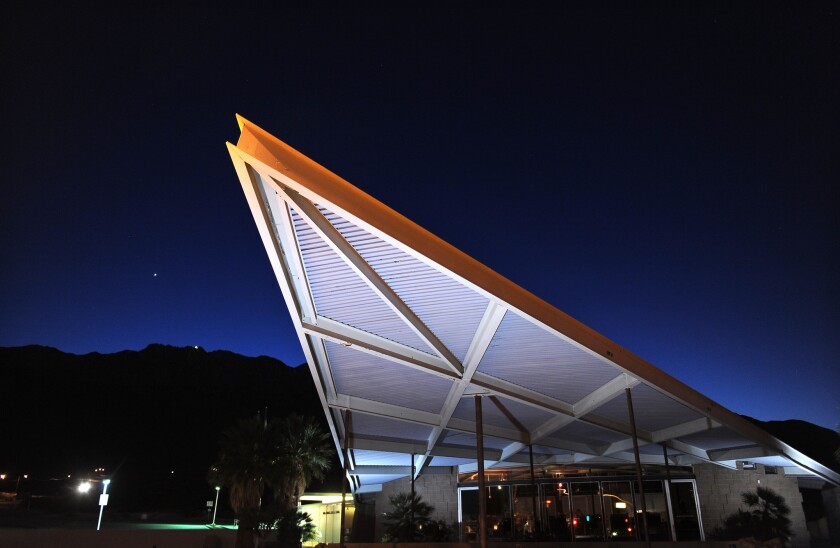 Every February, thousands of Modernist fans from across the country flock to Palm Springs for Modernism Week, a 10-day celebration of midcentury architecture and design that takes place Feb. 11-21 this year. So be advised: Events sell out. But if you do a little research — as we have done — you'll find plenty of events to choose from at www.modernismweek.com. Here is a list of 10 events, in no particular order, that are still available as of our deadline.
1. Hotel Lautner
Who doesn't like to peek inside a luxury hotel room? Not to mention one designed by famed architect John Lautner, who crafted midcentury marvels like Chemosphere and the Elrod House. Tour the 1947 desert hideaway-turned-Hotel Lautner from 1 to 4:30 p.m. Feb. 14. $45. 67710 San Antonio St., Desert Hot Springs. www.hotellautner.com
2. Danny Seo
Popular eco-friendly designer and TV personality Danny Seo will discuss how to create design solutions that will simplify your life in "Do Just One More Thing." 11 a.m. to noon Feb. 14. Free. Modernism Week CAMP (community and meeting place), 333 S. Palm Canyon Drive, Palm Springs. www.dannyseo.com
3. Modernism Show
The annual show will feature more than 80 dealers from around the world, including experts in furnishings, fine art and decorative objects. New dealers this year include Royle of Miami and Pierre Anthony Galleries of New York City and Miami, both showing American and European midcentury furniture; and the Butler & the Chef from San Francisco, specializing in vintage French and European industrial design. Los Angeles dealers include Danish Modern NoHo, Dragonette and Reform Gallery. Show hours: 10 a.m. to 6 p.m. Feb. 15; 10 a.m. to 5 p.m. Feb. 16; 10 a.m. to 4 p.m. Feb. 16. Palm Springs Convention Center, 277 N. Avenida Caballeros, Palm Springs. $20; includes repeat entry. www.palmspringsmodernism.com
4. Vintage Trailer Show
Tour more than 50 restored vintage travel trailers in the parking lot of the Hilton Hotel, 400 E. Tahquitz Canyon Way, Palm Springs. 10 a.m. to 4 p.m. Feb. 20. $10 to $25.
5. Shag
Meet artist Josh Agle, better known as Shag, during a cocktail party celebrating tiki culture at — where else — the Polynesian-inspired Caliente Tropics Hotel, 411 E. Palm Canyon Drive, Palm Springs. 8 to 11 p.m. Feb. 12. $125. www.modernismweek.com/event/details/249349/ Shag also will attend a release party for his newest limited edition serigraph, "Primal Cuts," from 7 to 10 p.m. Feb. 13 at Shag: The Store, 725 N. Palm Canyon Drive, Palm Springs. Free. www.shagthestore.com
6. The Female Factor: Women in Design
Pamela Fiori and Steven Stolman moderate a panel discussion with designers Laura Kirar and Thomboy Properties' Jackie Thomas and DeeAnn McCoy, followed by a cocktail party at a private residence. 3:30 to 7 p.m. Feb. 20. Modernism Week at CAMP, 333 S. Palm Canyon Drive, Palm Springs. $100. www.modernismweek.com/event/details/249374
7. Double Decker Bus Tours
Experience Albert Frey's 800-square foot Frey House II, William Krisel's House of Tomorrow, Richard Neutra's Kaufmann Desert House and Donald Wexler & Rick Harrison's Steel Development Houses from the comfort of a double decker bus. Tour runs about 21/2 hours. 8:30 a.m. to 4:30 p.m. Feb. 14-21. $85. www.ticketderby.com/event/?id=249061&mode=
6. Christopher Kennedy Showcase
For the third year, designers Christopher Kennedy, Martyn Lawrence-Bullard, Patrick Dragonette, Jamie Durie and Kelli Ellis, among others, will transform the rooms of a home located on the fairway of the Indian Canyons Golf Resort. Take a tour of last year's show house here. 10 a.m. to 5 p.m. Feb. 13-21. $45. 1330 E. Murray Canyon Drive. www.thechristopherkennedycompound.com.
8. Eichler panel, film and tour
Joseph Eichler experts Monique Lombardelli, architect Cory Buckner and Troy Kudlac (developer of Desert Eichlers) will discuss Eichler's history and his legacy today, followed by the film "People in Glass Houses: The Legacy of Joseph Eichler." Immediately following the film, tours will begin at the first 21st century Eichler neighborhood, where you can see two recently completed Desert Eichlers. Follow on to South Palm Springs, where you will tour the first Desert Eichler. 10 a.m. to 4 p.m. Feb. 13. $35 to $50. Modernism Week at CAMP, 333 S. Palm Canyon Drive, Palm Springs. www.modernismweek.com/event/details/249218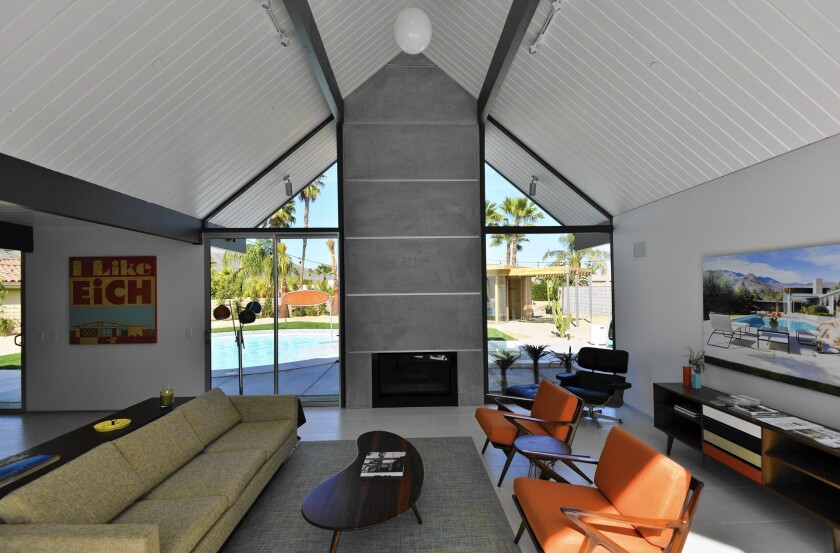 9. An afternoon (and evening) with Mad Men
Spend an afternoon with the "Mad Men" creative team as creator Matthew Weiner and his associates discuss sets, costumes and the making of the show. Guests include set decorator Claudette Didul, prop master Ellen Freund, costume designer Janie Bryant and fashion designer Trina Turk. David A. Keeps and Madeleine Brand handle moderator duties. 2 to 5:30 p.m. Feb. 18. $75 includes complimentary entrance to the Palm Springs Art Museum, 101 N. Museum Drive, Palm Springs. Following the lectures, mingle with Weiner and his team at "Mad Men Affair at the Abernathy House," a poolside party at a 1962 pavilion-style house designed by architect William Cody. 6 to 8:30 p.m. $175. www.modernismweek.com/event/details/249277
10. Group bike ride
With its wide and often deserted streets, Palm Springs is the ideal place for a leisurely bike ride. Join the Hot Purple Energy-sponsored, self-guided Architectural Tour bike ride through the Tennis Club, Old Las Palmas, and Vista Las Palmas neighborhoods. Maps will be handed out at the starting point at the CAMP and notable homes will be highlighted. 10:30 a.m. to 1:30 p.m. Feb. 13 and 20. hotpurpleenergy.com/event/hot-purple-energy-modernism-bike-ride. Free. There will be bikes available to rent for $35 from Big Wheel Tours. To reserve a bike, email gotouring@bwbtours.com.
Twitter: @latimeshome
ALSO:
Inside a Palm Springs getaway that's modern, hip -- and still kid-friendly
Photos: Inside our favorite desert homes and retreats
In Palm Springs, a renovation to meld midcentury, modern, light and art
Living on the edge in a Midcentury Modern home in Palm Springs
---