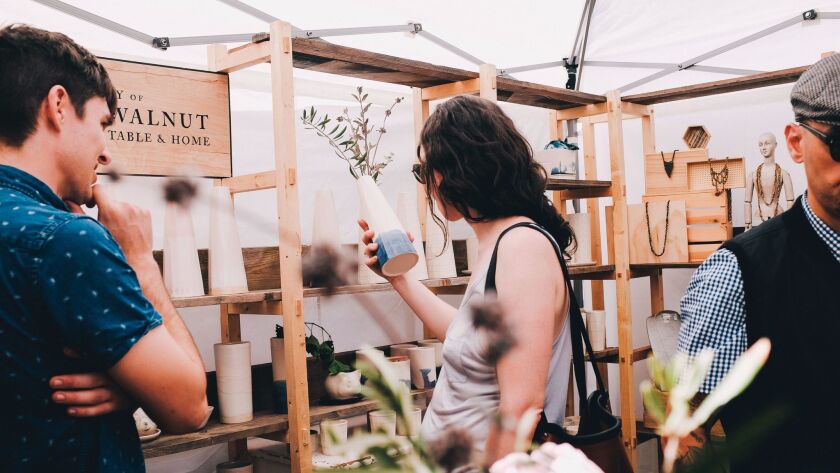 With Internet shopping becoming the norm, the Renegade Craft Fair serves as an opportunity to meet designers face-to-face and shop for handmade goods that you would normally find at online marketplaces like Etsy.
Following several years at Grand Park, the alfresco craft fair returns to the recently redone Los Angeles State Historic Park north of Chinatown. The event will feature more than 200 vendors, among them ceramists, woodworkers, clothing and jewelry designers, as well as DIY workshops, food trucks and the Yarnover Truck.
New additions include a special seating area courtesy of Los Angeles-based furniture designer Bend Goods and a Design Milk showcase highlighting the work of Oregon woodworker Kyle D'Auria for Deoria Made.
And if you can't make the summer version of the biannual event, don't worry. The winter craft fair returns to the park on Dec. 9-10.
What: Renegade Craft Fair
When: 11 a.m. to 6 p.m. July 8-9
Where: Los Angeles State Historic Park 1245 N. Spring St., downtown L.A.
Admission: Free
Info: renegadecraft.com
Twitter: @lisaboone19
For an easy way to follow the L.A. scene, bookmark L.A. at Home and join us on our Facebook page for home design, Twitter and Pinterest.
ALSO:
A new Pasadena boutique is dedicated to nothing but indoor house plants
70s style is back at the new Nico & Bullitt boutique in Echo Park
Local artisans focus on reclaimed wood for handcrafted works
Heather Taylor sees beauty in the imperfect
---