A tiny Atwater Village cottage expands, but just a little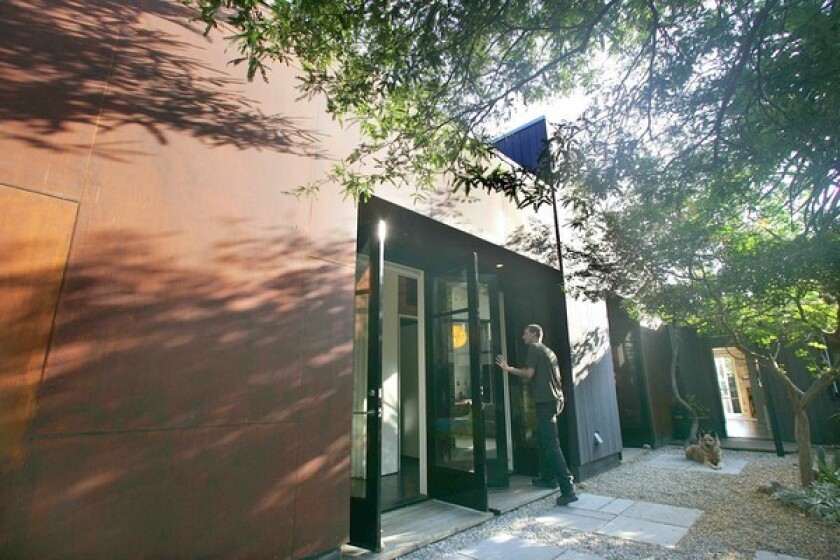 When architect Rebecca Rudolph and her husband, designer and builder Colin Thompson, bought a 1923 cottage in Atwater Village, they faced more challenges than the 500-square-foot home's size. "It was basically a tear-down," Rudolph says.
But the couple didn't want to demolish the house. They renovated it instead, first adding new windows and doors. A few years later, they built a detached 300-square-foot office in the backyard.
Today, nine years after purchasing the 6,500-square-foot property for $139,000, the house has evolved with Rudolph and Thompson's family, which includes daughters Rei, who's almost 4, and Marni, who's 1 1/2. The couple recently designed and built a second bedroom, a second bathroom, a living room and carport -- often using unconventional and inexpensive materials.
The living room floor is concrete slab stained black, the effect softened by a rustic touch on the wall: fence boards from their backyard recycled as interior paneling. Because the new master bedroom is at the front of the house near the street, the couple decided against traditional windows in favor of a giant skylight that provides sunshine while preserving privacy and quiet. Rudolph and Thompson designed the skylight, which is made of 500 pounds of steel and resembles a James Turrell light sculpture. Says Rudolph: "It's my favorite thing in the house."
Though the couple has more than doubled the dimensions of their living quarters, the footprint is a modest 1,150 square feet. (The detached office's 300 square feet are not included in the home's square footage.)
"It was partly financial," says Rudolph, adding that they spent about $150,000 on the addition. Thompson did much of the work, and subcontractors did the foundation, electrical, plumbing, roofing and cabinetry. "We just didn't feel like we needed that much space. And we really wanted to keep the yard," Rudolph says.
The couple, both 36, met when they were students at the Southern California Institute for Architecture in L.A. Their design sensibility is not always the same -- Rudolph prefers more glass -- but they both wanted a house that was connected to the outdoors. With so many doors leading to outdoor rooms, the couple made interior living spaces feel larger and created a floor plan that flows with ease. The home's connection to the outdoors gives it a breezy California Modernist sensibility. But Rudolph is quick to point out that it differs from some other contemporary homes in key ways.
"There aren't floor-to-ceiling walls of glass or sliders," she says. "We wanted it to feel enclosed as well as open to the outside." In other words, open but intimate.
---