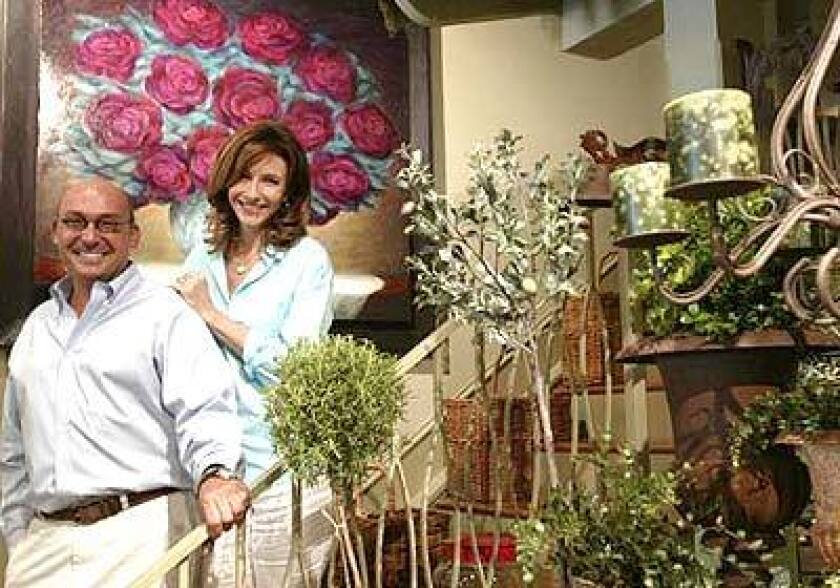 Special to The Times
When she is stressed, Mary Steenburgen says, "l let my mind drift to my porch on Martha's Vineyard." That's where the actress found the inspiration to open Porch, her new Santa Monica store, with Newport Beach designer Dan Marty, who created her East Coast haven five years ago. Retail may be stressful for some, but not Steenburgen. Despite her role as mom Helen Girardi on CBS' "Joan of Arcadia," she leapt at the opportunity to create a calming botanical boutique. (Supportive hubby Ted Danson helped drape moss around the store.) Porch is packed with French bistro chairs, mossy English garden concrete statuary, shell-studded birdbaths, Asian and Indian accents, wrought-iron candle holders and oil paintings by David Settino Scott. On a recent trip to her home state of Arkansas, she returned with homemade preserves ($15). "Mary has an eye for quirky, magical things," says Marty, shown with Steenburgen above. That's one way of putting it. "My friend Jon Favreau says the store looks like the inside of my brain," Steenburgen admits with a laugh. "I like to think of it as a place where you can take off your watch, take a deep, green breath and forget about time." 1311A Montana Ave.; (310) 260-3924.
*
SEEN
Art makes itself right at home in Pasadena
*
A house isn't a home — not when you move out, erect plywood partitions throughout and call it an exhibition space. In "West of Rome," a series of art projects in nontraditional gallery settings, Olafur Eliasson transforms the Escher- GuneWardena-designed Jamie Residence into a veritable fun house of reflecting light and glass. The Danish artist requested a residential environment for the installation's light projections (a dangling disco ball of sorts in the kitchen, rotating rings in the living room), reflecting chimes, and rainbow-colored walls in the bedrooms — all inside a Modernist home atop a Pasadena hillside. 11 a.m. to 6 p.m. Thursdays through Saturdays, noon to 5 p.m. Sundays, through May 31. 1472 Inverness Drive; (323) 807-2254.
*
SAVE
Line up or log on for these big sales
*
Did someone say "for sale"? Wait, four sales? Artemide and Ron Rezek, longtime fixtures in lighting, are having a one-day warehouse sale with discontinued lines and floor samples — including the Logico Micro table lamp shown here — up to 85% off. Bargain hunters, brace for competition. "People start lining up an hour or more before we open," Artemide sales manager Tom Anderson says. Hours will be 10 a.m. to 6 p.m. Saturday at 4200 Sepulveda Blvd., Culver City; (310) 836-1572. Nearby you'll find Boom, the geometrics-giddy contemporary furnishings store that often has samples marked down 20%. It's at 3239 Helms Ave., L.A.; (310) 202-1697. If Provençal is more your provenance, get to Pierre Deux in Beverly Hill before its sale on French fabrics (20% to 50% off) bids adieu Monday. Head to 222 N. Rodeo Drive; (310) 274-4115. Or stay home and enter "organic" in the search window at https://www.frontgate.com to see eco-friendly bed and bath linens in fresh spring greens and blues, and at a wallet-friendly 30% off.
*
DATES
Calling all collectors
*
For $500,000, some think you can't get much house in L.A., but you can put up a good front. The 15th century facade of a Venetian palazzo carved from red marble will be offered by Europa Antiques and Fine Art of Summerland for half a million dollars at the L.A. Antiques Show on Friday. The 10th annual exhibit features more than 60 dealers, lectures and demonstrations. Collectors can see tribal artifacts from Papua New Guinea, such as the 55-inch Mendi painted wooden shield circa 1930, shown here. "You can still get masterpieces for a fraction of what it would cost for Native American and African pieces," says Oceanic Art's Michael Hamson, a Palos Verdes Estates dealer who's selling the shield for $6,000. The show runs through Sunday at Barker Hangar at the Santa Monica Airport; (310) 455-2886; https://www.losangelesantiqueshow.com .
Additional reporting by Times staff writer Lisa Boone
---