16 Images
Stephen Orr's 'Tomorrow's Garden' and modern, sustainable landscapes
Stephen Orr's new book, "Tomorrow's Garden: Design and Inspiration for a New Age of Sustainable Gardening" [
Rodale Books
] looks at a range of landscapes where designers balance green goals with good looks. "I want to do the right thing for the environment within the realm of our economic circumstances," said Orr, formerly garden editor for House & Garden and Domino magazines, now gardening editorial director for Martha Stewart Living. "But at the same time, I want things to be beautiful." Among the gardens he chose to highlight: designer Barry Campion's Venice garden, where a fishpond is surrounded by a low wall made from the jack-hammered bits of the old driveway.
(Stephen Orr)
On a large property near San Francisco, Roderick Wyllie and James Lord of Surface Design constructed a walkway using staggered stone strips interspersed with low groundcovers and stones. It can handle large volumes of rain without sending the runoff into the nearby storm drain.
(Stephen Orr)
Los Angeles designer Jay Griffith frames the seating areas of a backyard with big stands of blue-green
Agave attenuata
, striped aeonium, Mexican blue palm and oxblood red
Euphorbia cotinifolia
. The plants set up a soft structural division of space that contrasts nicely with the hard edges of the pavers.
(Stephen Orr)
Designer Emmanuel Donval of Napa made a vertical pocket garden out of metal roof jacks and planted the vents with a mixture of colorful succulents.
(Stephen Orr)
A wider view of Donval's design, which stands amid a collection of salvaged metal, tires and commercial signage. The driveway becomes a gravel cactus garden with a surreal edge.
(Stephen Orr)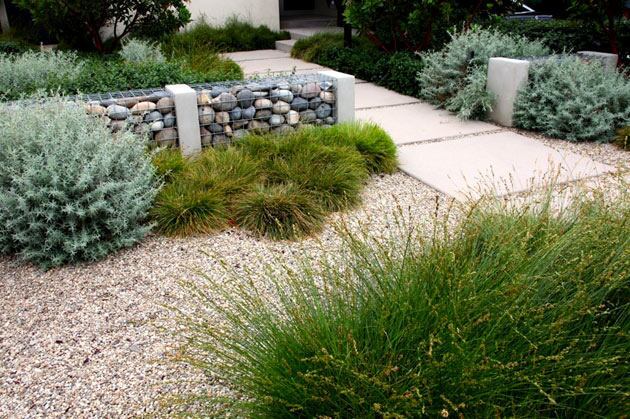 In a Venice garden designed by Jeff Pervorse of Bent Grass Landscape Architecture, the goal was permeability – providing places for rainfall to percolate into the ground rather than runoff into the street. The garden's low walls are made of gabions, stone-filled metal cages. The design provides a sense of separation for a small yard.
(Stephen Orr)
Gabion walls also appear in the Napa garden of Donval, who used them to retain an elevated patch of lawn.
(Stephen Orr)
Once an ersatz English cottage garden, Carolyn Bennett's new backyard has true desert plants such as a large, spherical dasylirion and several kinds of agaves. Mediterranean-climate plants, including chalky blue succulents, salvias and silver artichokes line the edges of a path made of local Santa Barbara stone and give the garden a looseness reminiscent of the foreign gardens she once tried to replicate.
(Stephen Orr)
No lawn mower is needed in this backyard designed by Beth Mullins in San Francisco -- just some occasional clipping to keep the groundcover in bounds.
(Stephen Orr)
Instead of formal hedges, large clumps of loose-looking plants divide designer Judy Kameon and Eric Otsea's garden in the Elysian Park neighborhood of Los Angeles.
(Stephen Orr)
At the request of her San Francisco clients, Mullins designed a labyrinth of drought-tolerant Berkeley sedge,
Carex divulsa
. The sedge doesn't need much water, and Mullins said it requires clipping or thinning only three times a year -- whenever it gets to be about 2 feet tall.
(Stephen Orr)
In Ojai, landscape designer Paul Hendershot created a family gathering place under a cool canopy of fruitless mulberry trees. Mulberries are fairly tolerant of drought once they get established, but their aggressive roots are large and shallow. Hendershot set up a watering system for the trees that irrigates them deeply once a week, keeping the roots from growing too near the surface.
(Stephen Orr)
Behind his Venice studio, designer Sean Knibb has created a low-water modular garden with plants set off by rough, crushed stone in larger-than-usual size. The plant mix includes boxwood, a screening hedge of ficus, dusky-colored roses, waving
Verbena bonariensis
and gaura.
(Stephen Orr)
Along this sidewalk, recycled concrete forms an entry rug with low-water
Dymondia margaretae
planted in between.
(Stephen Orr)
Venice homeowners Dan Seaver and Will Speck worked with landscape architect Mark Tessier to add a boardwalk from the garden gate to the front door, passing over a newly graveled area planted with grasses, phormium and kangaroo paw. Instead of a ratty lawn, they have a patchwork of succulents.
(Stephen Orr)
In Seaver and Speck's backyard, landscape architect Tessier had the idea to add six African sumac trees to shade an elegant outdoor dining room. He left enough space for a vegetable garden and a bit of lawn for the clients' young daughter.
More profiles:
100 California homes and gardens in pictures
Gardening scene:
Follow future headlines via a Facebook page dedicated to
gardening in the West
(Stephen Orr)