Havens: Susan Orlean and R.M. Schindler, a love story in two chapters
In case you are not among her several thousand followers on social media, Susan Orlean has been teaching herself kintsugi, the ancient Japanese art of mending broken pottery with gold. And learning to play the ukulele. She's also been posting pictures of her 32-city book tour for "The Library Book," her New York Times bestseller about the 1986 fire at the Los Angeles Central Library. And documenting her restoration of Los Angeles Historic Cultural Monument No. 860 — a modernist landmark designed by the Vienna-born architect Rudolph Schindler that also happens to be her new home.
Somehow it's not surprising that Orlean's Instagram images of the multi-angled house — built in 1946 for Mischa Kallis, an art director for Universal Studios, on a hillside lot in Studio City — look professional, including the ones photobombed by her Welsh springer spaniel, Ivy. But try telling her that. "It's actually tricky to photograph," says the apparently tireless writer, settling (briefly) on a low, slatted sofa alongside her husband, John Gillespie Jr., a financial executive, in their view-intensive living room. "Every angle is different. It's hard to get a sense of how it fits and how it feels."
(If Orlean, a New Yorker staff writer known for her quirky subjects and discursive style, were profiling herself, here's where she might dispense a crisp appraisal along the lines of: She has hair the color of a lightly oxidized penny, an easy laugh, and a disarming manner that comes in handy when writing about girl bands and racing pigeons.)
Behind the couple, a wall of windows looks out on a broad sweep of sky, two mountain ranges furred green by the recent rains and, in the middle distance, the turrets and ramparts of Hogwarts Castle at Universal. The vista brings to mind a line from "The Library Book," which like many Orlean narratives, expands concentrically to touch on any number of peripheral subjects, such as, here, Los Angeles itself: "In Los Angeles your eye keeps reaching for an endpoint and never finds it, because it doesn't exist."
"It does feel like you can just keep going and going here," Orlean says. "Coming from Europe, it must have been incredibly liberating for Schindler to see open space and say, 'I'm going to make a house that's all about saying it's new.' There's a kind of invention that's always in the air."
Also in the air, on this storm-scrubbed March afternoon: the melodic ringtones of Orlean's and Gillespie's phones and, from the entry courtyard, where workers are restoring a brick terrace, whining buzz saws and the strains of classic rock radio. It's the latest phase of a renovation spanning, Gillespie notes, "1 ¾ years and counting." While his wife takes a call, Gillespie offers a quick tour of the work that remains to be done outside: landscaping ("with metal railing so inebriated guests won't fall down the hill"), swimming pool installation and garden shed/Orlean work studio conversion.
Susan Orlean at the LA Times Festival of Books: Orlean appears at 10:30 a.m. on April 14 in conversation with The Times Deputy Managing Editor for arts and entertainment Julia Turner. »
It was the writer's last book that brought the couple (who were married in 2001, the second nuptials for both) to California from the East Coast in 2007. While she researched "Rin Tin Tin: The Life and the Legend," her biography of the canine film star, they stayed in a series of Airbnb rentals in scenic parts of the city (Malibu, Venice, the Hollywood Hills) with their then-infant son, Austin. They also began to lust after their own place here. Although (or maybe because) she grew up in a traditional suburban house in Shaker Heights, Ohio, Orlean, like Gillespie, is a fan of modern architecture: One of the couple's first dates was a pilgrimage to Fallingwater, and the house they built for themselves in New York's Hudson Valley is a Wright-ian study in stone, glass and wood. So when they started their house hunt, they set their sights on the city's trove of midcentury gems.
One day their real estate agent showed them a sculptural 1,500-square-foot residence in Studio City with the jutting profile of an ocean liner — the Roth House, built, like the Kallis House, by Schindler in 1946. "We thought, 'Oh, my God, whatever this is we want it,'" says Orlean, rejoining us in the living room with a plate of lemon-pistachio and honey-cornflake doughnuts. "We really only learned about Schindler after buying the house."
At this point the pair could probably write a monograph on the architect.
L.A. Times Festival of Books is back! Check out the lineup for our massive literary event launching April 13 and 14 at the USC campus. »
R.M. Schindler, as he is frequently referred to, studied under the modernist pioneer Adolf Loos at the Vienna Academy of Fine Arts before coming to the U.S. in 1914, and then moved to Los Angeles in 1920 to work on Frank Lloyd Wright's Hollyhock House. Two years later he built his most famous residence, the Kings Road House in West Hollywood, a radical indoor-outdoor communal structure that he and his wife, Pauline, shared with, among others, architect Richard Neutra and his wife, Dione. (It ended badly, with the Schindlers divorcing, and Schindler and Neutra — whose own trailblazing efforts received far more attention than his compatriot's — becoming estranged.)
"Suddenly we were doing house swaps with other Schindler owners, going to look at their houses and having them come to ours," Orlean recalls. "It's like joining a secret society, in a way." A few society members they've gotten to know: fashion guru Cameron Silver (Elliot House, Los Feliz), KCRW host Madeleine Brand (Bubeshko Apartments, Silver Lake), design merchant Larry Schaffer (McAlmon House, Silver Lake). "These aren't houses that sell to hedge fund managers," Gillespie observes.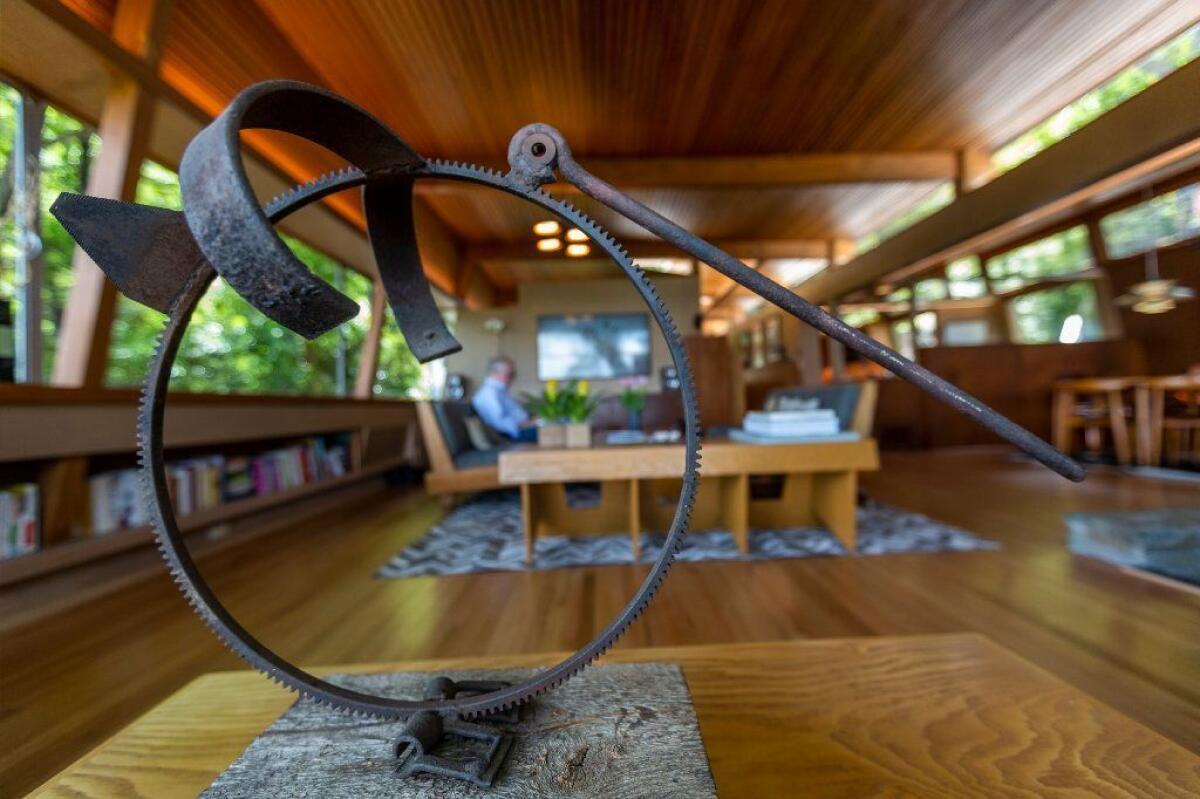 In 2011, after Gillespie was asked to help with a tech startup here, the couple moved into the Roth House full time. Austin started elementary school, where one of his first assignments was to interview a city employee. He chose a librarian, and Orlean drove him to the Studio City branch of the Los Angeles Public Library, an excursion that reignited her own childhood passion for libraries and ultimately inspired "The Library Book" — a typically immersive project involving three years of research and two years of writing.
During that period, Austin grew, the galley kitchen and dining nook in the Roth House began to feel a bit cramped for the parties the couple love to throw, and Orlean "casually expressed" her desire for more space. "Once you've lived in one of these houses you don't want to live in a normal house," she points out. Happily, around this time the Kallis House came on market. In addition to being nearly twice the size of the Roth House, the Kallis House has a V-shaped plan, walls and ceilings that angle every which way like a giant piece of origami, and a funky skirt of split-stake fencing, all of which mitigate against the residence being mistaken for a normal house.
(On its website, the Los Angeles Conservancy identifies the Kallis House as "one of Schindler's most-cited works, beloved as a dramatic illustration of the architect's design philosophy both indoors and out.")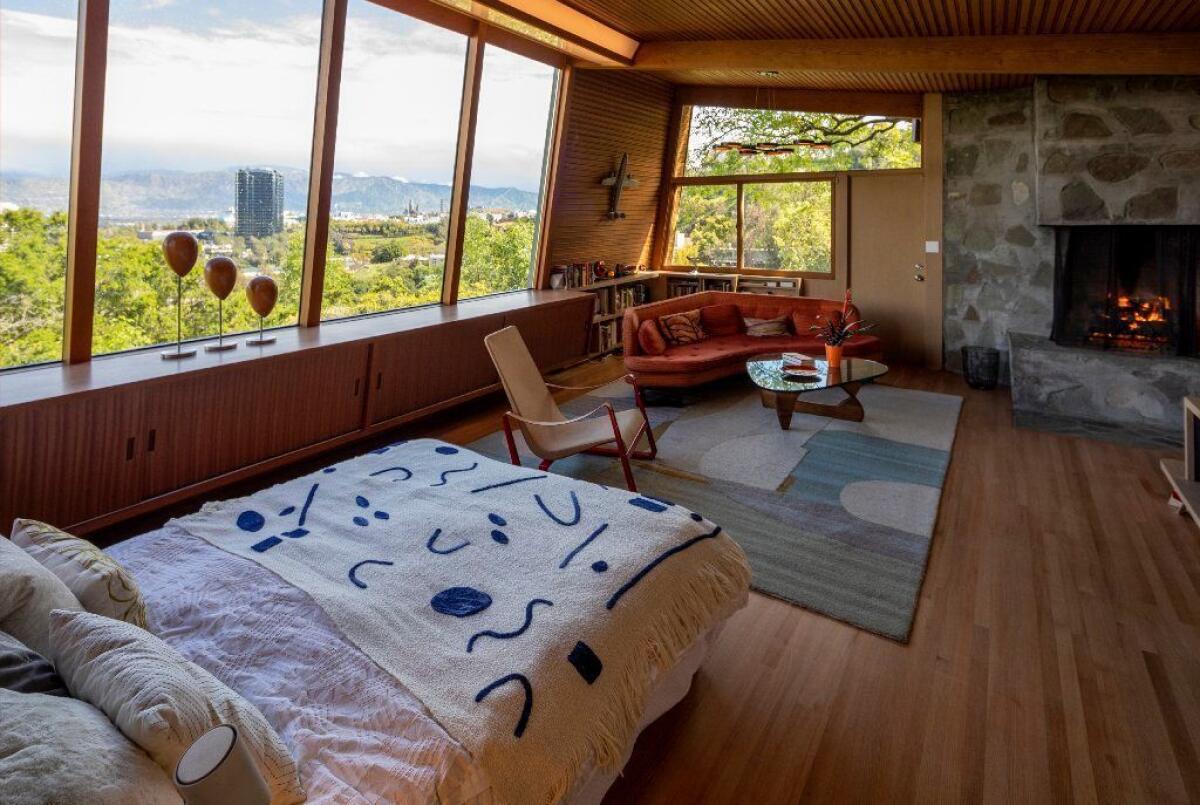 The usual flip side of finding an "untouched" architectural treasure is that the place is falling apart. The Kallis House was no exception: Its foundation was crumbling, and one side of the house had slid 6 inches down the hill. Much of the wood was rotted. Several coats of gray paint concealed what Orlean and Gillespie discovered, in an old photo, was a wealth of warm woodwork — mahogany, Douglas fir, plywood. The second owners of the house (Kallis' cousin Jacqueline Sharlin, a concert pianist, and her husband) had remodeled the kitchen in the 1960s and taken out a set of dramatically slanted windows in Kallis' art studio when they converted it to the master bedroom. (They also hired Schindler associate Josef Van der Kar to enclose the outdoor terrace connecting the studio and the living room.)
Armed with the original blueprints from the Schindler archives at UC Santa Barbara, the couple enlisted Jeff Fink, a contractor and architect who has restored 10 Schindler structures, including the Roth House, to shore up the foundation with 15-foot caissons, scrape the layers of paint off all the wood (this alone took four months), refinish the plywood with earth-tone stains, replace yards of oatmeal-colored carpeting with red oak hardwood, gut and rebuild the kitchen after the original design, and reconstruct the pitched windows in the bedroom.
After that, furnishing the place was a breeze. Like most Schindler structures, the Kallis House was endowed with numerous built-ins. The couple also were able to acquire the original living room furniture from the Sharlin estate. And the angular pieces they had procured for the Roth House are equally at home here. They made a few purchases, like a master bed that looks like a built-in and a large dining table and dining chairs that echo the origami folds of the house. Personal collections animate the rooms — the couple's Warhol silkscreens, Orlean's assortment of globes, Austin's prized Mad magazine covers.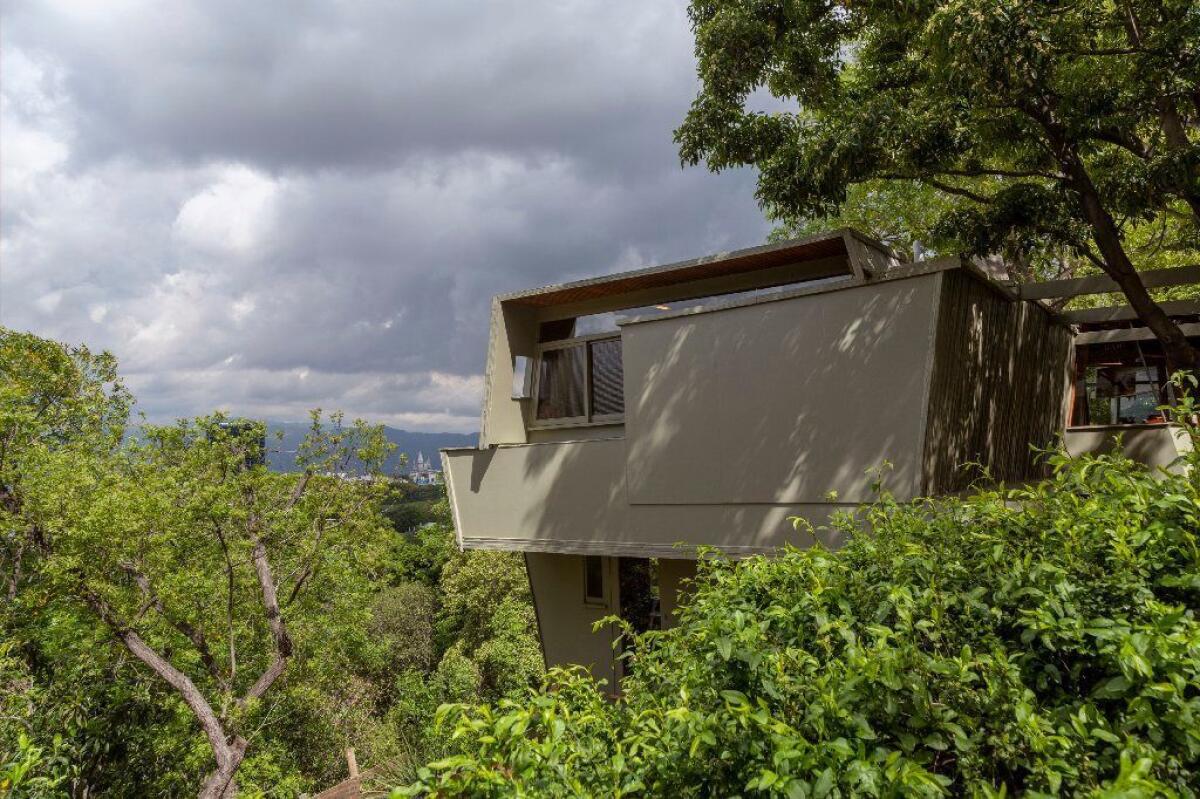 "To be honest, I don't remember doing anything over the last couple of years except finishing the house and finishing the book," Orlean says. Of course, both projects seem to have taken on a life of their own. (Having just returned from a book signing in New York, Orlean was preparing to leave for one in Canada.) She and Gillespie look forward both to settling into the house and to sharing it, hosting gatherings that sound much like the salons held by the Schindlers, the Kallises and the Shalins.
"They're always entertaining and welcoming people in," says David Kwong, a magician and New York Times crossword puzzle constructor. "Whenever I make dinner plans with them it turns into this big roundtable of writers, food bloggers, actors and producers."
Orlean is also anxious to get back to writing. In fact, she's kicking around an idea for a book about writing. She'll also be collaborating on the TV adaptation of "The Library Book." Although it's the first adaptation she's worked on, she's no Hollywood newbie. Meryl Streep played the author in "Adaptation," Spike Jones' film version of her book "The Orchid Thief," and "Blue Crush," based on her magazine piece about surfer girls in Maui, is a hardy perennial on cable. Currently "Rin Tin Tin" and two old New Yorker pieces are being developed as features. "I love the idea of working with other people," the writer says of taking a more hands-on approach to entertainment projects. "I hope it'll all just be an interesting balance."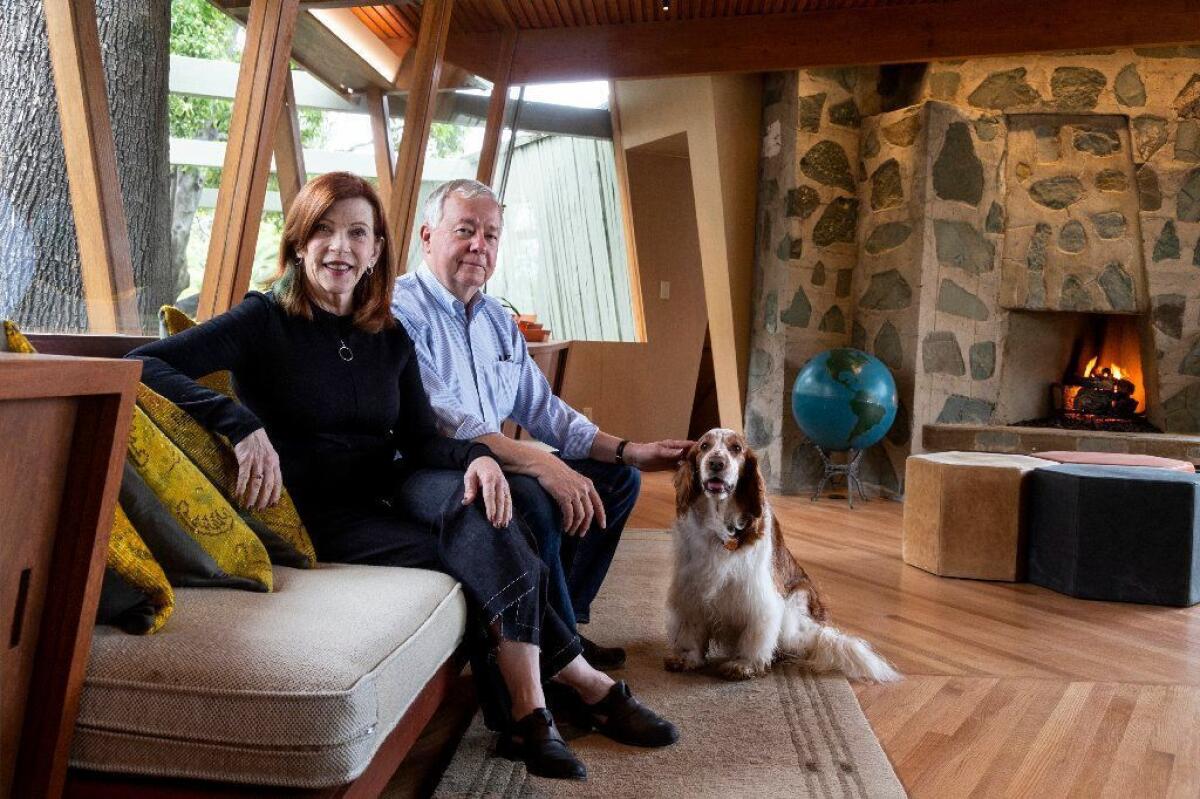 Either way, she and Gillespie have found their personal equilibrium here — in this part of the world, in their anything-but-normal perch within it. "We don't plan to move again," Orlean flatly states. "You can bury me in the courtyard."
Get the latest news, events and more from the Los Angeles Times Book Club, and help us get L.A. reading and talking.
You may occasionally receive promotional content from the Los Angeles Times.