Q&A with interior designer and 'Collected Cool' author Jay Jeffers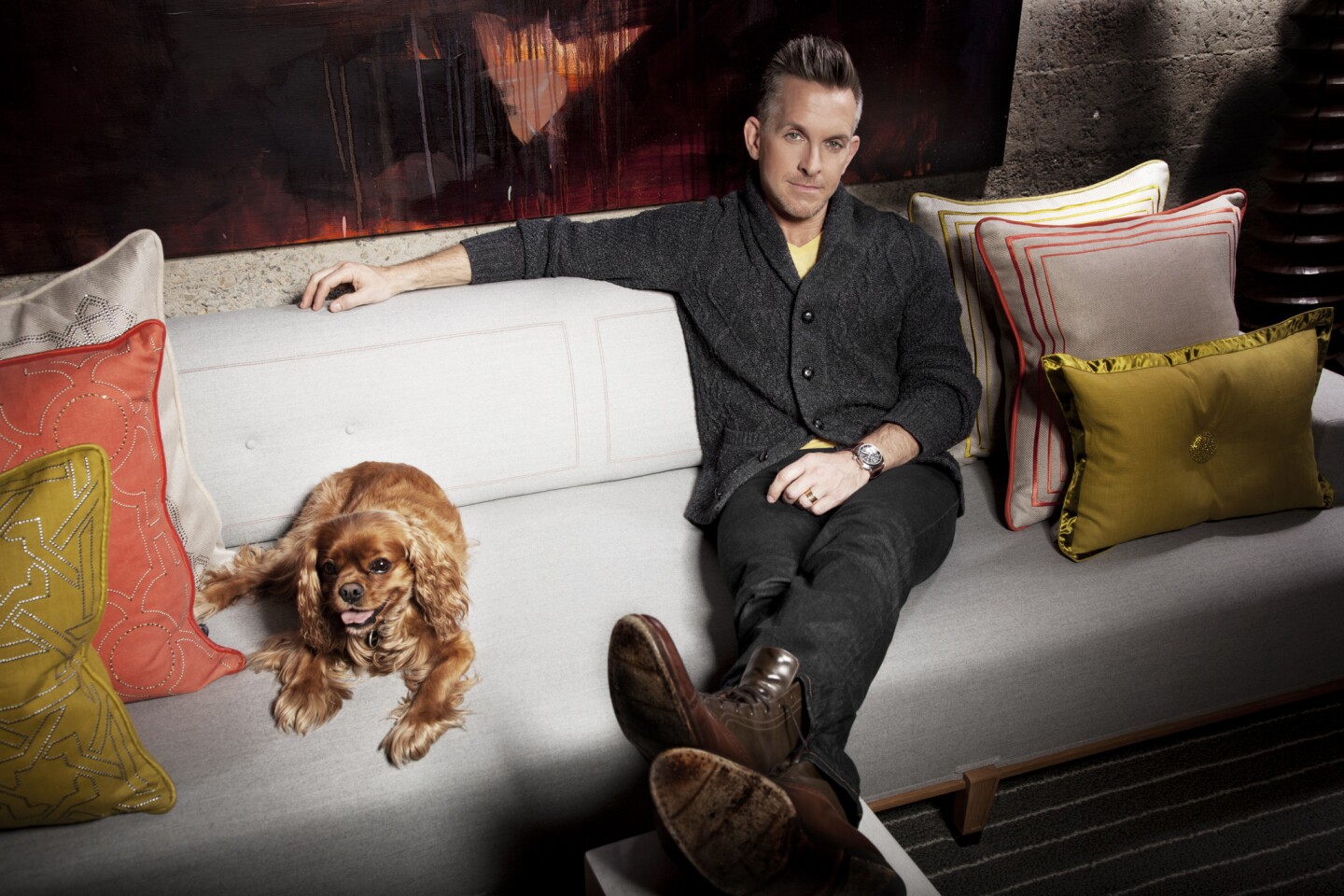 Interior designer Jay Jeffers poses with Kingsley, a Cavalier King Charles spaniel who is the mascot of Jeffers' San Francisco store Cavalier. Jeffers is coauthor of the new book "Jay Jeffers: Collected Cool" from Rizzoli.
(Jay Jeffers)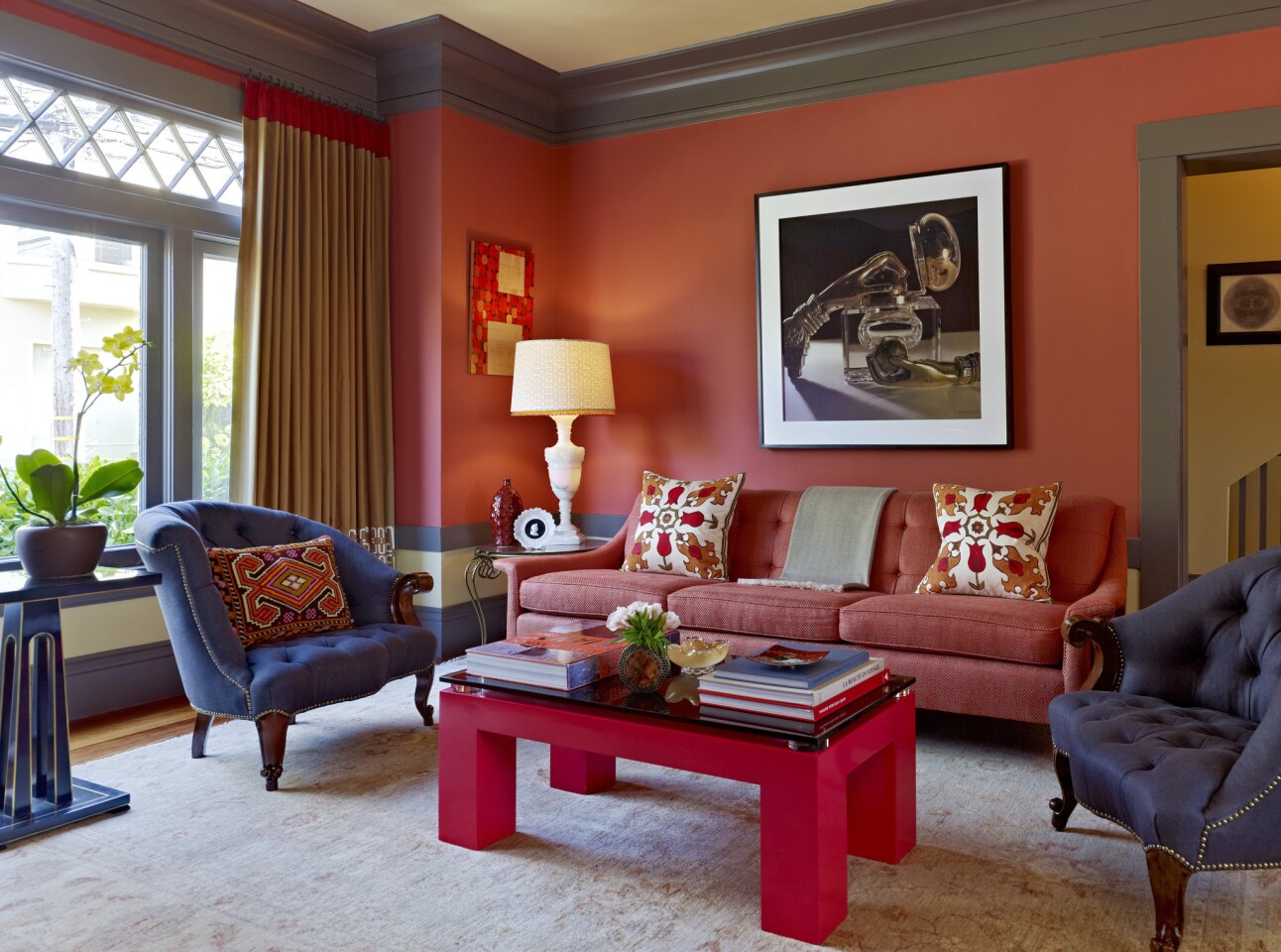 Jay Jeffers' former San Francisco living room derives its bold color scheme from walls painted in Benjamin Moore Persimmon, moldings in a deep taupe and wainscoting and ceiling in white. The taupe was inspired by a hotel in Amsterdam, and the white is used on walls in adjacent rooms to tie the spaces together.
(Joe Fletcher)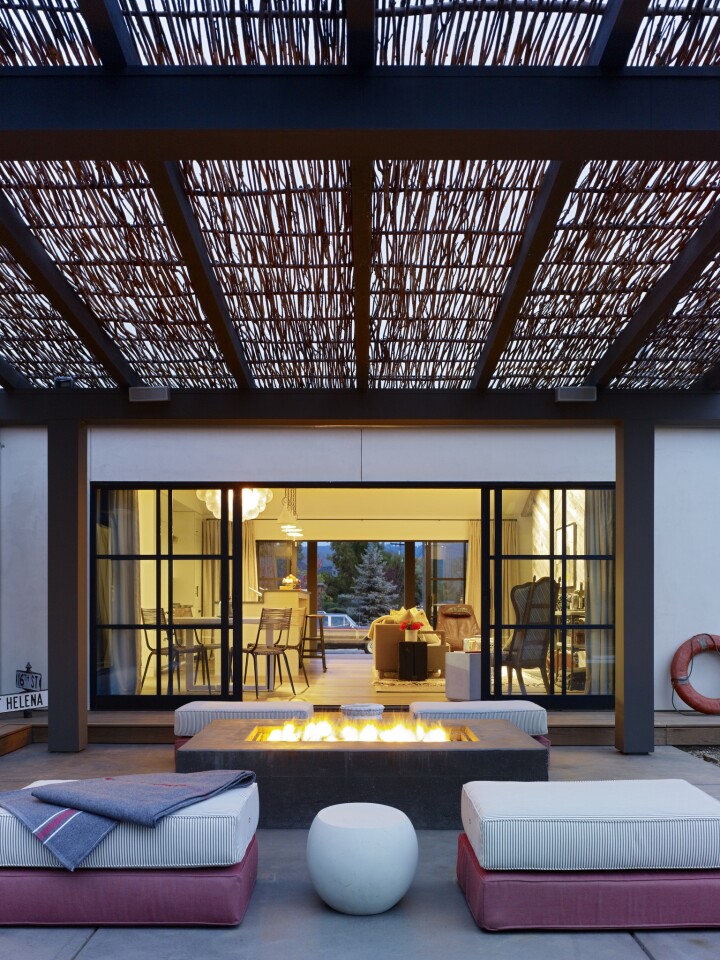 Jay Jeffers took a 1962 house in St. Helena, Calif., down to the studs with architect Shay Zak. They opened it up to create two master suites on opposite sides of the house and an outdoor space covered with an awning made from willow branch fence panels sourced online. "I often find things that I'm not sure will work, but I'm willing to try it and see," Jeffers says of the DIY awning. For versatile seating indoors and out, he covered stacking floor cushions in outdoor fabric.
(Matthew Millman)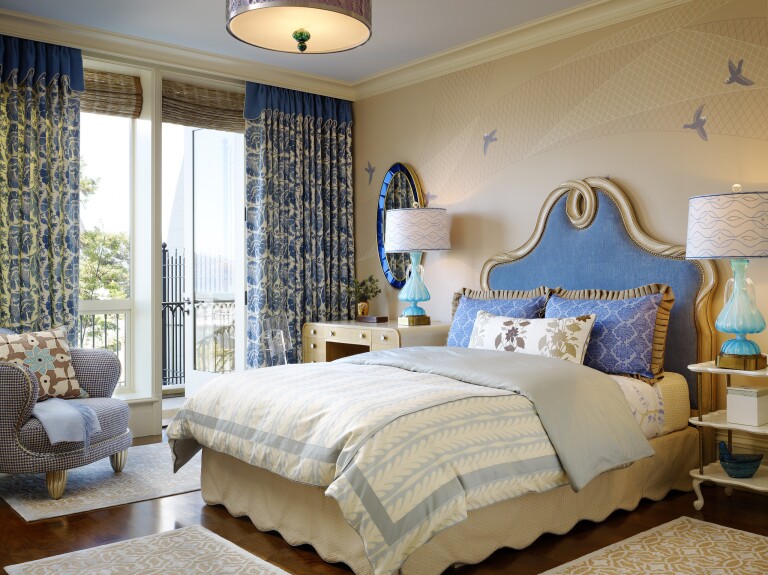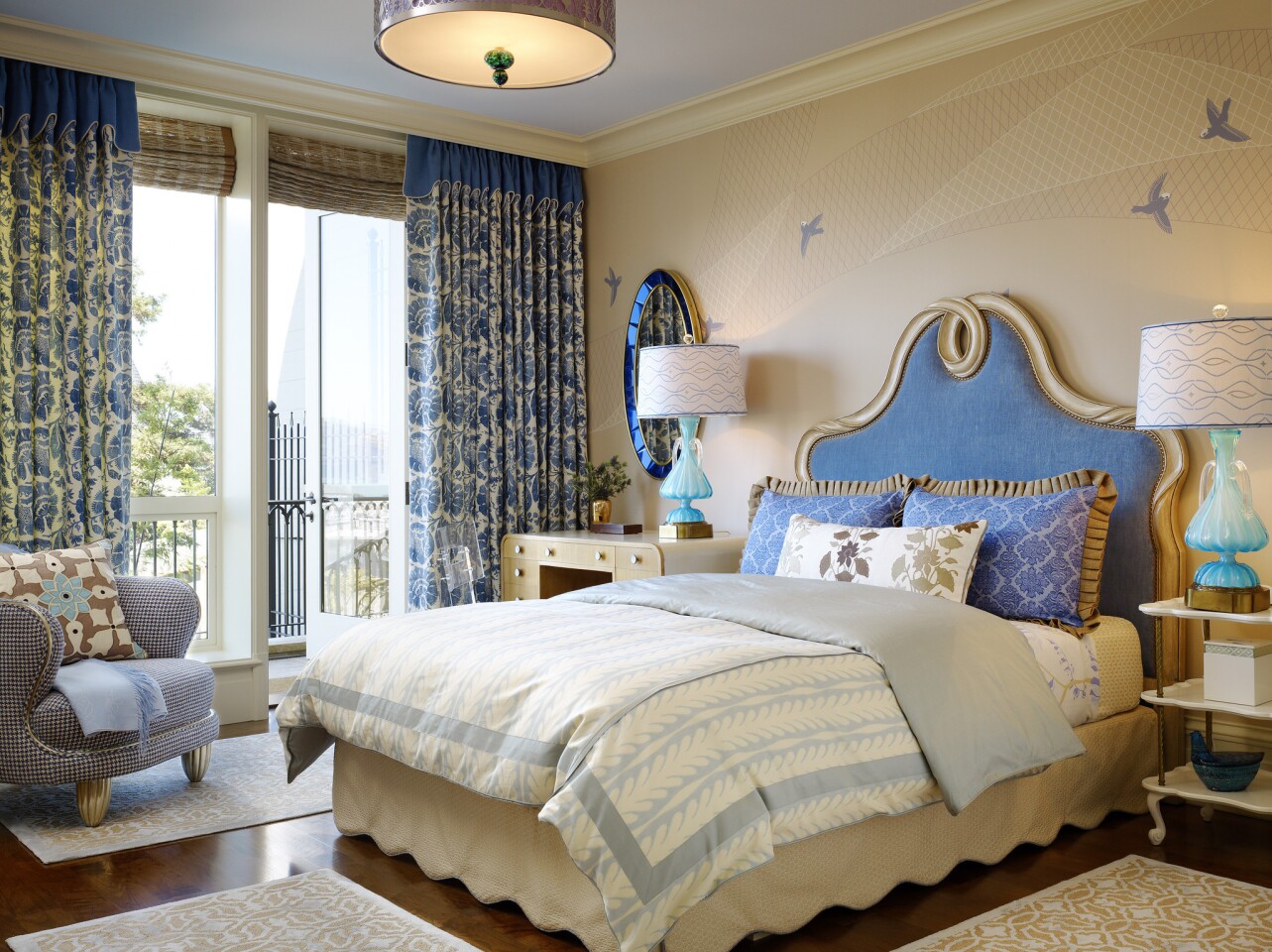 For a young girl's bedroom, Jay Jeffers created a custom headboard as a centerpiece against a wall with Fromenthal Birds and Nets wallpaper. The fabrics are a mix of large- and small-scale patterns in blue and white with brown accents. On the floor, the interior designer used scatter rugs "because the clients have allergies and don't want anything that can't be cleaned easily and collects dust, hence no rug under the bed."
(Matthew Millman )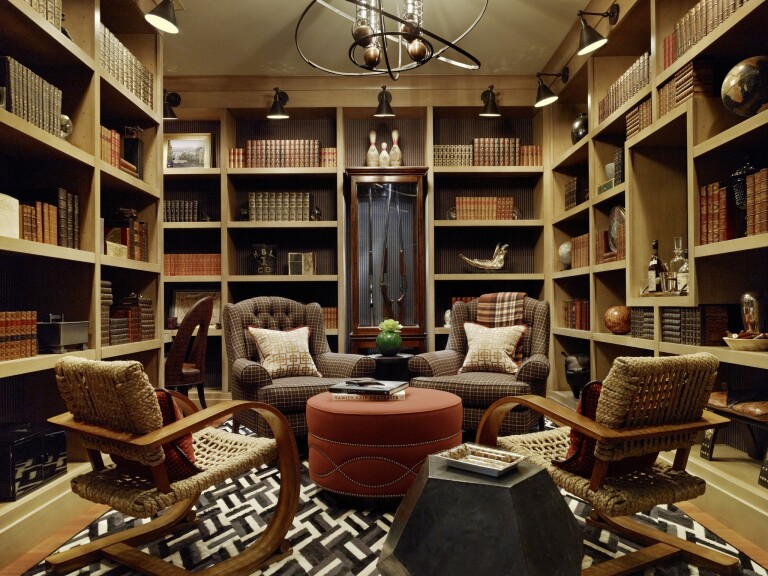 "This is the quintessential man den complete with a bourbon bar right," Jay Jeffers says of this library. The built-in bookcases were made from bleached walnut and oversized to accommodate objets d'art and books in horizontal and vertical stacks. The back walls of the shelves are covered in a pinstriped grass cloth and the hide-on-hair rug is from Kyle Bunting. "I like all the furniture to sit on the rug," Jeffers says. "Nothing looks worse than a room with a tiny rug in the middle."
(Matthew Millman)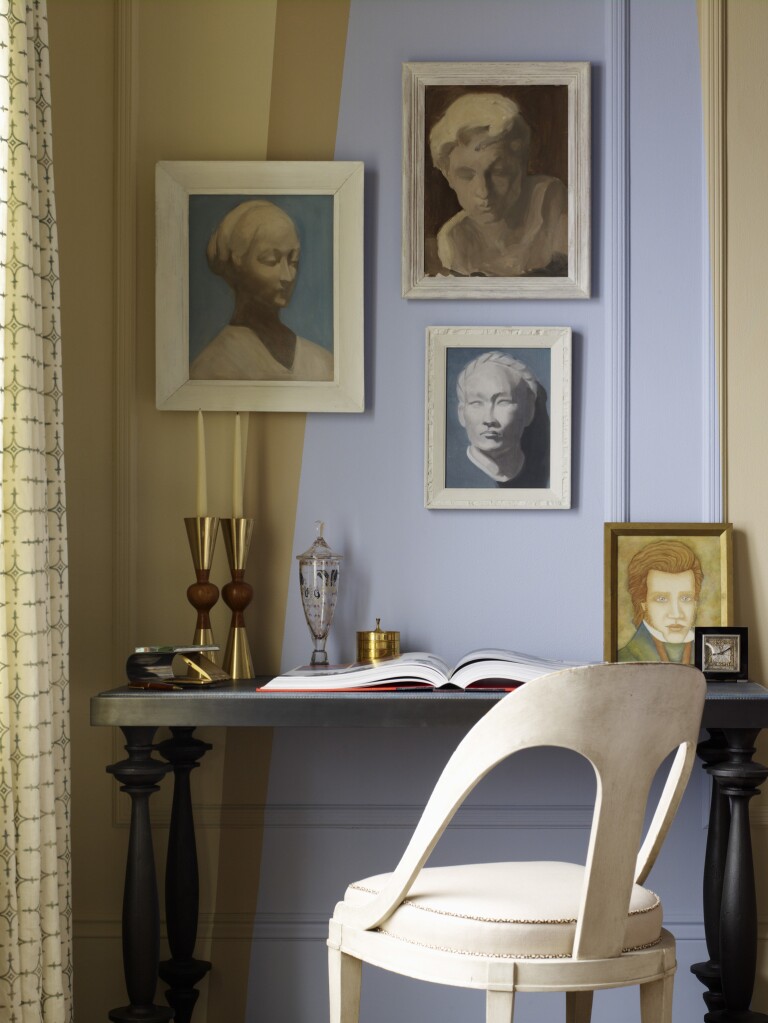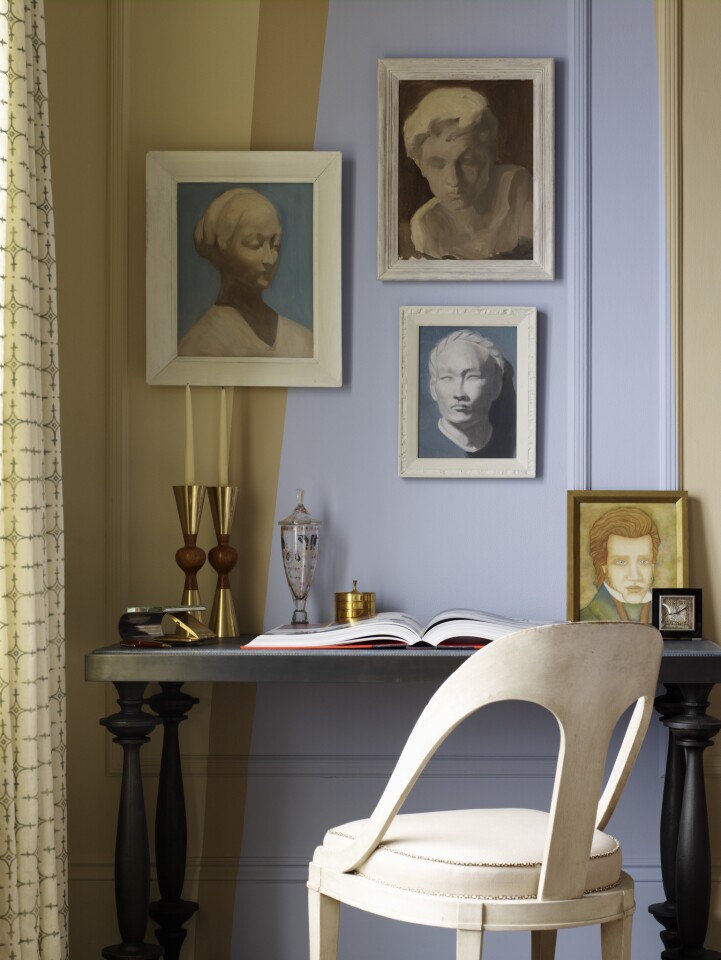 In an old San Francisco home, Jay Jeffers employs trompe l'oeil painting to create the illusion of Mediterranean arches on the walls. "The moldings were all original, and the owner didn't want to change them, so I just chose to ignore them. I loved the idea of creating the arches and what looked like shadows in the room. It made the room feel expansive."
(Matthew Millman)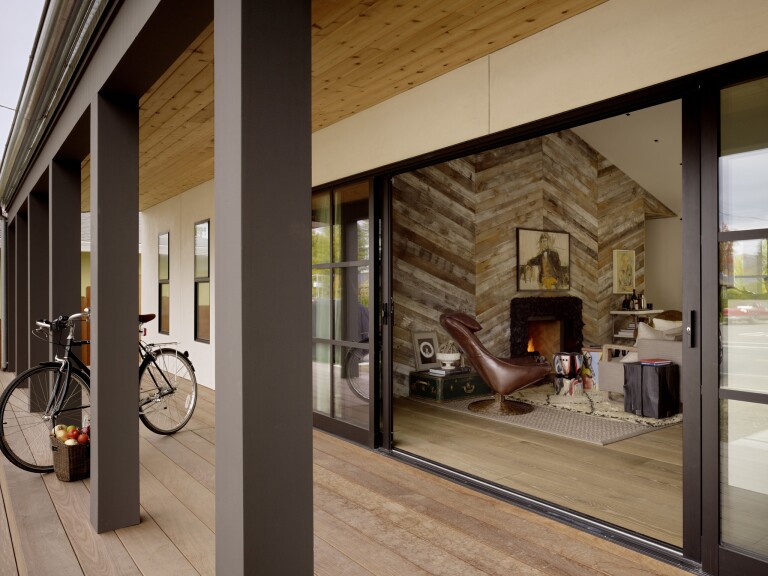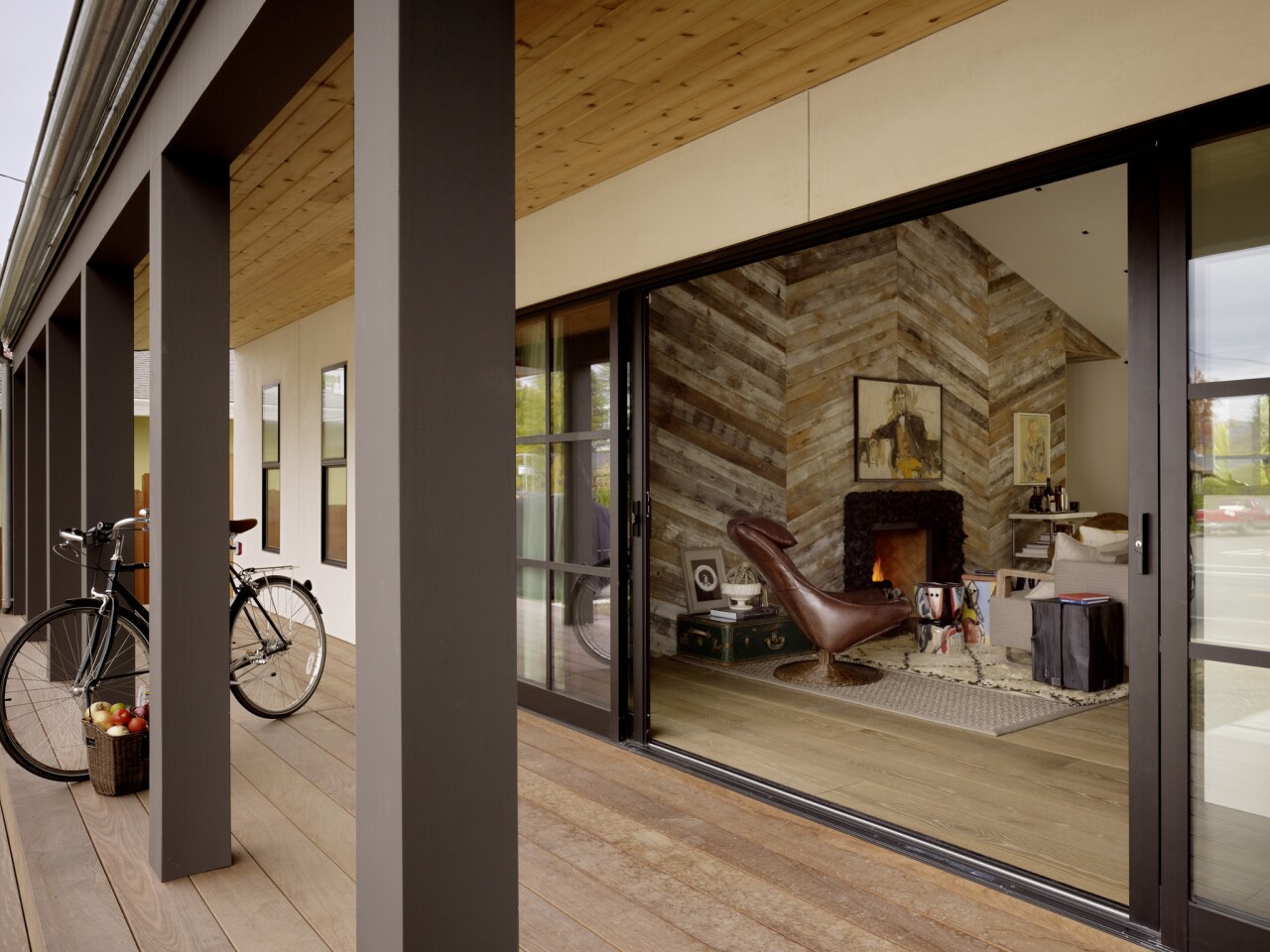 At his St. Helena, Calif., home, Jay Jeffers changed the slope of the roof to cover part of the front porch and added 16-foot sliding doors leading into the vault-ceilinged living room. "I decided to paint the walls white as a test. I haven't lived with white walls in 12 years," Jeffers says. "But I had to get some texture in the space, so I found reclaimed barn wood and created the over-scaled herringbone pattern on the fireplace wall." Beside the hearth, which is made from blackened oyster shells, hand-painted garden stools are by artist Reinaldo Sanguino.
(Matthew Millman )
Black dining rooms, playfully patterned boudoirs, libraries with wallpapered bookcases and cleverly painted moldings. These are some of the try-this-at-home delights to be found in "Jay Jeffers: Collected Cool: The Art of Bold, Stylish Interiors" (Rizzoli, $55), the first book from San Francisco interior designer Jay Jeffers and written with Alisa Carroll, editor of San Francisco Cottages & Gardens. Having created city and country homes throughout the U.S., including a midcentury L.A. pad for skateboarder Reese Forbes, Jeffers considers the book an expression of his personal design philosophy.
"I want every home to feel collected," he said. "The furniture, accessories, art and personal objects should come from different periods and be of different materials. And a collection of any sort speaks to the inhabitant; these things are the soul of the house."
PHOTOS: 'Jay Jeffers: Collected Cool'
In an interview with L.A. at Home, Jeffers, who owns San Francisco home decor boutique Cavalier with husband Michael Purdy, talked about his own homes and decorating for others.
How do you make collections look cool?
Oftentimes, clients want to spread things throughout the home, but a collection is so much more impactful if it is grouped in one location and edited to be only the best pieces. If you have a collection of 50 mortars and pestles, let's choose the best 15. And if all 50 of them are amazing, then let's design a specific case for them.
What do you collect?
My husband, Michael, and I collect vintage creamware that we keep in an etagere in our dining room in St. Helena. We also have developed a collection of portraits. This was not intentional. I just started buying paintings, photography and sketches, and one day someone came into our home and said, "How long have you been collecting portraits?" It was an "Aha" moment.
Aside from gray trim I don't see a lot of that color in your rooms. What are your go-to paint shades?
I do love a warm gray because just about any colors work with it, but I tend to use it sparingly. For several years, I loved persimmon and oranges. Before that: acid green. Today, it's a dusty blue or a deep, deep forest green. Treat smaller rooms with drama -- dark paint makes rooms intimate. Even black. So many people are afraid of it, but I did a dining room in black and it's the sexiest room ever.
In an age of cocoon bedrooms, why are your bedroom designs so lively?
I especially get that if a client has kids, their bedroom can be the quiet, serene escape. But I have clients that might work, eat dinner, play games with the kids and watch TV in their bedroom, so why not give the bedroom a personality? At home, I put some of my favorite furniture and objects in the bedroom. It's nice to be surrounded by pieces with great memories that make me feel good.
Lightning round: What quick fixes can transform a home?
The ceiling is the most forgotten part of the home. Lacquering it in a bright color is fantastic, especially in dining rooms. Adding a color or wallpaper to the back of shelves is a nice way to get a little bit of color or pattern for someone who might think doing the entire room would be too much. Put dimmers on every light -- even under-counter lights in the kitchen. And remember: A fantastic interior is a layering process, and those layers should include scent -- fresh, clean, natural candles—and sound. I put speakers in every room, including the powder room and dressing rooms.
ALSO:
'Ray Eames: In the Spotlight' at Williamson Gallery
Is your home earthquake-ready? How to prepare for the big one
Removable paneling can add interest to a bare-bones apartment
JOIN THE CONVERSATION: @latimeshome | pinterest.com/latimeshome | facebook.com/latimeshome | facebook.com/latimesgardenar
---