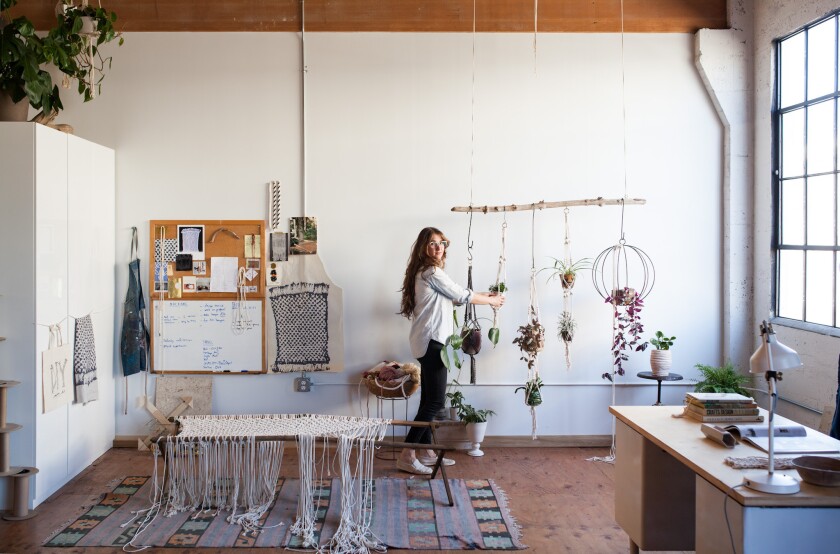 Few contemporary comebacks in the realm of decorative arts have been as surprising as that of macramé. One of its practitioners, Portland, Ore.-based artist, writer and stylist Emily Katz of Modern Macramé, is returning to Los Angeles to teach a series of workshops.
Katz's brief self-described "macramé tour" in April was so popular at three L.A. area Urban Outfitters locations that she's back by demand. Hands-on macramé wall hanging instruction will take place at Otherwild in Echo Park on Wednesday, Jan. 14 from 6:30 to 9:30 p.m. (held in collaboration with Women's Center for Creative Work) and at Communal in the downtown Arts District on Saturday, Jan. 17 from 2 to 5 p.m. Florist Heather Williams' Twig & Twine flower and gift shop in East Hollywood will host a macramé plant hanger class on Sunday, Jan. 18 from 5 to 8 p.m.
"Empowering people to make something beautiful for their own home is better than making it myself," Katz said this week via telephone from Pioneertown, one of her stops along a West Coast road trip. Each of the three events costs $150 per person, and includes materials and a screen-printed tote bag featuring one of Katz's designs. (She also has driftwood in tow from Oregon to bring to the wall hanging classes.) Her own handiwork will be available at a trunk sale at Communal after the workshop wraps up. Prices range from $88 to $400.
Katz engages participants to "find creative inspiration" while learning a simple technique that's accessible to complete beginners and those whose experience of knotting is limited to having made friendship bracelets in elementary school. "People look at it and think it's complicated, and it can be," Katz explained. Yet an uncomplicated approach allows fiber arts makers "to work free-form, and everything comes out looking different."
The modern element primarily refers to Katz's preference for using white and cream-colored cotton rope, but she offers other materials such as vintage yarn, cordage and hand-dyed rope for an infusion of color. Furthermore, chances are the final products won't be juxtaposed with burnt orange shag carpets.
Given Katz's interest in various disciplines and her past collaborations with Portland artisans, macramé has proved to be a medium that's conducive to cross-pollination. On her last trip to L.A., for instance, she met local ceramicist Ben Medansky, who gave her some clay-based pieces to incorporate into her work.
"I'm trying to take macramé to different creative areas," Katz said.
Twitter: @latimeshome

---