Bohemian Haskell Collection latest addition to hip 17th Street in O.C.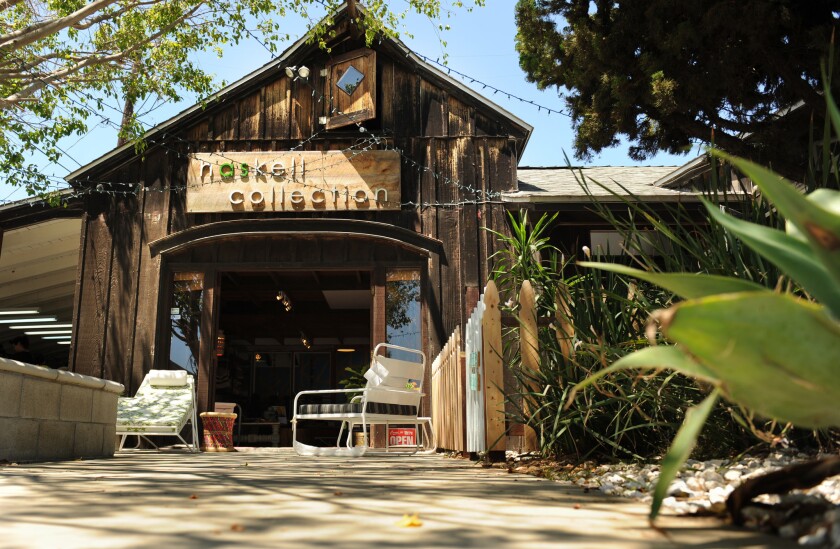 It's a sweltering hot day in Costa Mesa and the power has just gone out at the Haskell Collection, a new retail space along an increasingly popular stretch of 17th street.
In a true Murphy's Law moment, the power dies just as co-owner Andrew Stoneman is about to swipe a sizable credit card sale. But Stoneman's not sweating, even as shoppers continue to come in, look around, sit down and chat with one another as he checks the fuse box next door.
Stoneman's calm state is undoubtedly related to the charming -- and storied -- wooden clapboard house where he and wife Laura Haskell recently opened their first brick and mortar store. "The daughter of the original owner told me they lived in the house and her dad would host sailors here to play poker," Haskell says of the home, which had been vacant for about 20 years.
The couple have been designing and producing their own line of sustainable outdoor furniture and accessories for several years, but Haskell wanted a place to share her collection of vintage textiles and one-of-a-kind thrift store finds as well.
The new store exudes a relaxed, modern bohemian vibe with colorful hand-painted walls and Indian block prints that suit Haskell's ethnic repertoire. On a recent visit, the store was filled with vintage finds, including an embroidered pouf from India, African baskets, Moroccan rugs, kantha throws, Mexican blankets and a delicate pair of white-washed terra cotta pendants from the '60s.
Haskell explores local flea markets and refurbishes pieces for the store, including a pair of sling chairs from the '70s and a bright red cane-backed barrel chair from the '60s. She also stocks selected furnishings from the couple's Midcentury-inspired outdoor collection and hopes to add California crafts such as ceramics, macramé and weavings.
Locals know that 17th Street has experienced a renaissance over the past few years, but much of it has been food-related. Haskell hopes to change that. "Our store is definitely not the norm for this area," she says. "I just hope that we find a niche here. And that people will enjoy it and make new discoveries."
The Haskell Collection is at 445 E. 17th St., Costa Mesa. Tuesdays-Saturdays, 11 a.m. to 5 p.m. (949) 945-8928.
Twitter: lisaboone19
MORE:
Post recession: Starting over in Costa Mesa
Home decor stores multiplying at South Coast Collection in O.C.
A Drybar founder finds room to roam in Costa Mesa home transformation
---