Worm farmer recycles furniture maker's sawdust into garden soil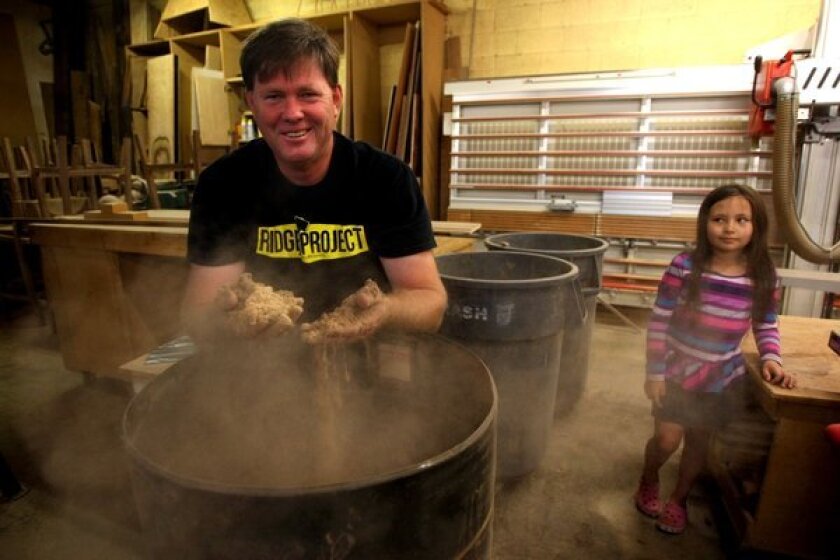 Furniture maker Cliff Spencer's workshop in Marina del Rey is a long way from where Paul Vander Werf lives near Trona, northeast of Ridgecrest, Calif. In Trona, the area averages fewer than 4 inches of rain a year. The topsoil is high desert hard pan that bakes in summer and freezes in winter. When filmmakers want a location to convey a world without water, they go to Trona.
Vander Werf moved to the high desert after 10 years in rainy Hawaii, so he wanted solutions to the difficult growing climate. An answer came during a class organized by the Southern California Garden Club when a UCLA Extension instructor told him, "Feed the soil, not the plant."
When it comes to feeding soil, you can do little better than worm castings — "like a flu shot for your plants," Vander Werf said.
Which makes Vander Werf something of a one-man inoculation clinic. What started as a plastic tub of worms in his laundry room has grown into 5,000 square feet of raised worm composting windrows, or mounds, in his side yard. He feeds the worms with ingredients diverted from landfills, material he collects from hundreds of miles around — Las Vegas, Bakersfield, the Ridgecrest Regional Wild Horse and Burro Reserve (a fairly new discovery).
"They generate about 10 tons [of manure] a day out there," he said with satisfaction. "I picked up about 50,000 pounds in January — 25 truckloads."
One of his most interesting stops is three hours away, in Marina del Rey, where he collects bags of sawdust from Spencer's workshop. Vander Werf likes the shavings from the recycled wine oak that Spencer uses to make furniture, doors and cabinetry.
To the worms, the sawdust is as delicious as raked leaves. The worms eat sawdust mixed with everything else Vander Werf throws into his mix: kitchen scraps, 4,000 pounds of coffee grounds a month, 400,000 pounds of shredded paper every year.
He has dubbed the operation Windy Acres Worm Beds, but he doesn't sell the compost. He said he just wants to spread the word about soil health. His recycling of seemingly useless material has persuaded Spencer and his wife, Leigh, to bring some sawdust home too, she said. "We do our own worm composting at home now, inspired by him."
ALSO:
Grow your own cotton? It's possible
Edible substitutes for ornamental plants
Bike group recycles restaurant scraps into compost gold
For an easy way to follow the L.A. scene, bookmark L.A. at Home and join us on our Facebook page for home design, our Facebook page for California gardening, our Twitter feed and our Pinterest page.

---