Actress Janet Leigh Dies at 77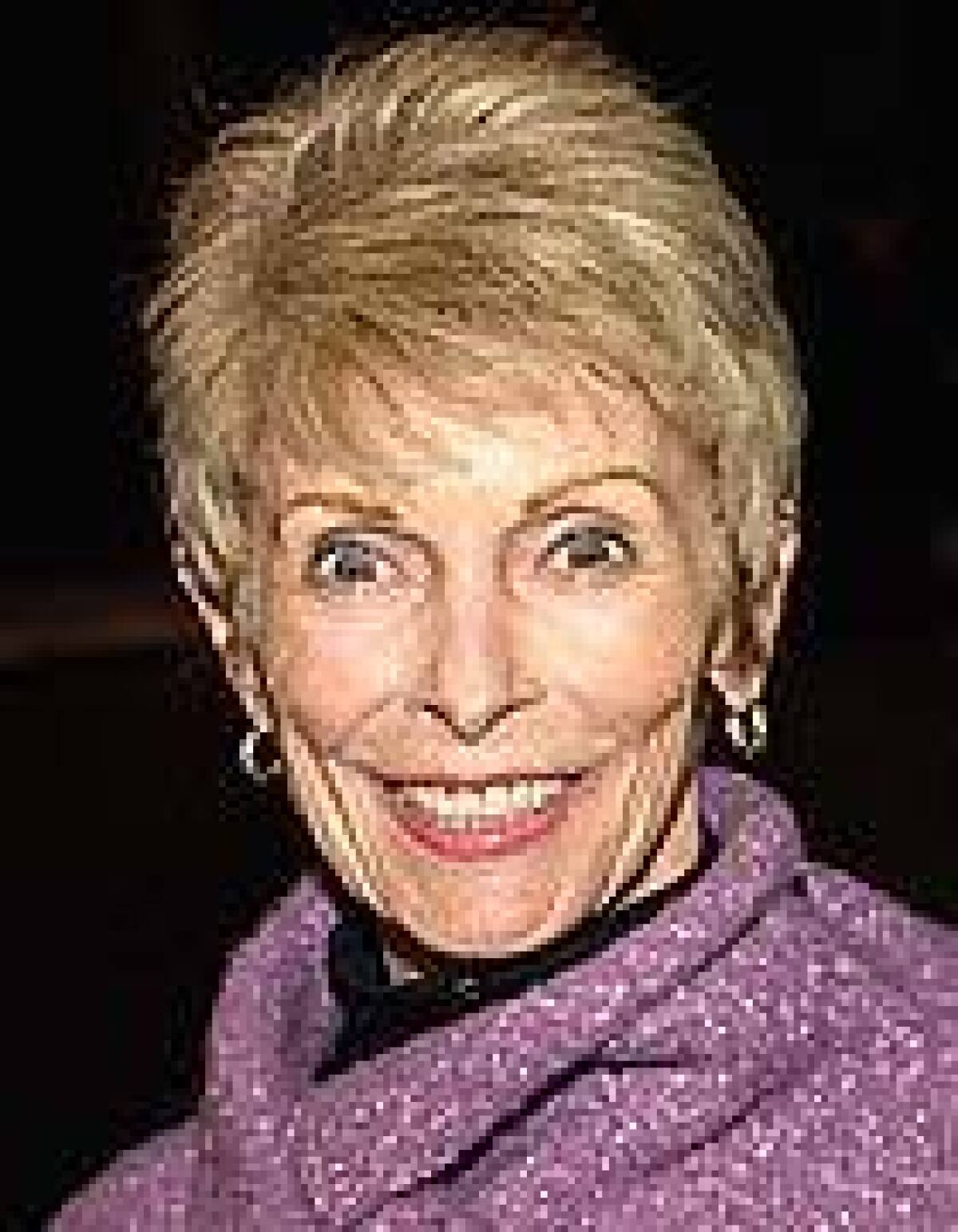 Times Staff Writer
Janet Leigh, the actress who turned the mundane act of getting clean in a shower into one of cinema's most enduring images of gore and horror, died Sunday with her family at her bedside. She was 77.
The actress' husband, Robert Brandt, and her daughters, actresses Kelly Curtis and Jamie Lee Curtis, were at their mother's side when she died at her home in Beverly Hills. Leigh had suffered from vasculitis, an inflammation of the blood vessels, for the past year.
"She died peacefully at home," Heidi Schaeffer, a spokeswoman for Jamie Lee Curtis, told the Associated Press.
For almost six decades and more than 60 films, Leigh helped define the range of women's roles in Hollywood. Playing young ingenues opposite the most important leading men of the 1940s and 1950s, such as Errol Flynn and James Stewart, to her work in gritty dramatic roles with Frank Sinatra and Paul Newman in the 1960s, she was a blond icon, whose sexuality was omnipresent without being vulgar.
But it was her work in Alfred Hitchcock's 1960 thriller, "Psycho," that became the defining moment of her career and led to an Oscar nomination as best supporting actress.
She played Marion Crane, an embezzling office worker, hacked to death in her shower by the motel's crazed owner, Norman Bates, acted by Anthony Perkins. In Hitchcock's hands and with Leigh and Perkins, what could have been a quirky slasher film was elevated to popular culture.
In a series of interviews, called "The Girl's Guide to Getting Hitched," part of a Halloween festival honoring Hitchcock that was broadcast on cable's WE: Women's Entertainment, Leigh recalled getting an envelope from Hitchcock one day with Robert Bloch's novel "Psycho" inside, along with a note from the director telling her to consider the role.
"So I read it and I called my agent immediately and I said, 'Yes.'"
In her first scene in the film, Leigh is shown on a bed in just underwear. "That was very hot stuff," she recalled. "We had censors, but they didn't think anything about a bathing suit, but the fact you had on underwear.... The connotation meant it was sexual."
By today's standards, Leigh's role seems tame, but in the America just coming out of the repressed 1950s, it was like being plunged into an icy bath, shocking and mind-numbing all at once. There were rumors she was naked in the shower scene, but she actually wore moleskin to simulate nudity.
Leigh wrote in her 1995 book, "Psycho: Behind the Scenes in the Classic Thriller," that the filming was easy until the last 20 seconds when she had to express total horror as her character was being slashed to death.
When asked if it was true that she doesn't take showers, she told interviewers: "It's actually, honestly true. And not because of the shooting of it. It was the seeing of it. It never dawned on me how truly vulnerable we are. But that's what Hitchcock did. A shower. A bird. All these things that are absolutely ordinary, he made extraordinary," she said in an interview quoted on the IMDb website.
" 'Psycho' gave me very wrinkled skin. I was in that shower for seven days — 70 set-ups. At least, he [Hitchcock] made sure the water was warm," she said.
Born Jeanette Helen Morrison on July 6, 1927 in Merced, Calif., Leigh was an only child, according her biography posted on IMDb.
Her father was working the desk at a ski resort where her mother worked as a maid, according to the website, when retired MGM actress Norma Shearer saw a picture of Janet and used her influence to get a screen test at MGM. That led to her first starring role in the 1947 film "The Romance of Rosy Ridge," and a run as a contract player in the Hollywood system.
From there, her career included: "Little Women" (1949), "Angels in the Outfield" (1951), "Scaramouche" (1952), "Houdini" (1953) and the Orson Welles' classic "Touch of Evil" (1958).
In 1962, she again demonstrated her range, starring in the paranoid Cold War political thriller, "The Manchurian Candidate," with Sinatra. The following year, she did a cinema about-face and danced in the musical comedy "Bye Bye Birdie."
She was teamed with Newman in "Harper" (1966). She also starred in a number of made-for-television movies.
Leigh was married four times, her first at 14. It was later annulled.
At the height of her fame in 1951, Leigh again dipped into Hollywood storybook lore and married her third husband, the actor Tony Curtis, with whom she had Jamie Lee Curtis and Kelly Curtis.
"Tony and I had a wonderful time together; it was an exciting, glamorous period in Hollywood," she once said. "A lot of great things happened, most of all, two beautiful children."
She married Brandt, a businessman, in 1962.
Information on funeral services was pending, but Schaeffer said Leigh had requested that .donations be made to the Motion Picture and Television Fund.
Times wires services contributed to this report.
Get our L.A. Goes Out newsletter, with the week's best events, to help you explore and experience our city.
You may occasionally receive promotional content from the Los Angeles Times.