12 Images
125th Anniversary Fashion Gallery
1890s
: The bicycle was all the rage in Los Angeles, but bloomers had yet to be embraced by these coeds.
(LAT Photo Archive)
1910s
: Ladies donned their finest even to ride the streetcar. The furry hand warmer ended up as a status symbol for socialites, who, though rich, still took public transportation.
(LAT Photo Archive)
1920s
: Jazz babies wore bell-shaped cloche hats pulled down over the ears, breasts were bound and waistlines were dropped, while hemlines shot skyward. Mary Janes and T-strap shoes enhanced those newly exposed gams.
(LAT Photo Archive)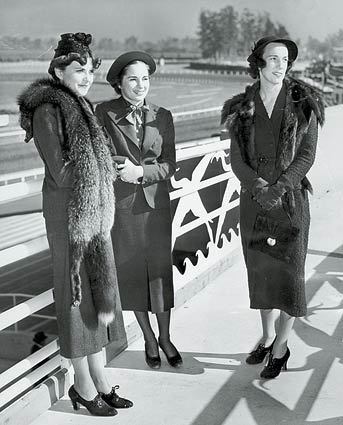 1930s
: Stocks weren't the only thing to fall in 1929: hemlines did too. Those who could afford it wore fur slung over one padded shoulder (think Joan Crawford). At the same time, L.A. designer Louella Ballerino, inspired by Latin American styles, created popular off-the-shoulder blouses and skirts that were featured in Vogue and Harper's Bazaar.
(LAT Photo Archive)
1940s
: Women took on more than just men's jobs in World War II; they adopted their style of dress. Katharine Hepburn and other stars sported tailored suits, while ordinary women cut their husbands' ensembles down to size and pinned their hair back as they took to the factories.
(LAT Photo Archive)
1950s
: Most schools banned jeans until the '70s, but some students at Bellflower High did wear dungarees with rolled-up cuffs. Girls' skirts were voluminous, with hemlines grazing the ankle. L.A. designer Juli Lynne Charlot made huge felt skirts, some appliquéd with poodles.
(LAT Photo Archive)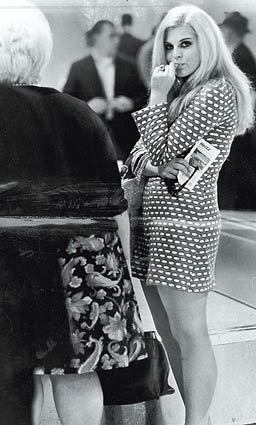 1960s
: Polyester double-knit fabric, which came in vibrant hues and bold prints, found its way into almost everyone's closet. The new miniskirt became a staple, and women completed the look with heavy eye makeup and bleached-blond hair. Sunglasses were a must-have.
(LAT Photo Archive)
1970s
: These Fairfax High School boys were on the cutting edge of the denim revolution. Men and women cut, spliced and patched to create a new fashion statement.
(LAT Photo Archive)
1970s:
In contrast, "Saturday Night Fever" encouraged men to dress up, like this 1976 Beverly Hills gentleman.
(LAT Photo Archive)
1980s
: Punk went mainstream as MTV exported Cyndi Lauper and Boy George to the masses. These girls from Redondo Union High School pair Chinese flats with bobby socks and fishnets, liberally apply eyeliner and embrace the asymmetrical haircut.
(LAT Photo Archive)
1990s
: Surf, skate and urban cultures collided and created a menswear trend—with little coaching from designers.
(LAT Photo Archive)
2000s
: Uggs, suede boots worn by surfers in the old days to keep their feet warm, were back as a status symbol, worn no matter the weather. Surfwear achieved haute couture status, with Chanel's runway models in 2002 carrying surfboards with the Chanel logo.
(Gary Friedman / LAT)