Five women accuse actor James Franco of inappropriate or sexually exploitative behavior
It should have been a pure moment of triumph for James Franco. He collected one of Hollywood's top prizes at the Golden Globe Awards on Sunday, validating an untraditional career in which he's been a bankable leading man, Ivy League academic and eccentric auteur.
But as he stood on the ballroom stage, some were paying more attention to the Time's Up pin on his lapel than the gold statue he picked up for his turn in "The Disaster Artist."
It "was like a slap in my face," said Sarah Tither-Kaplan, a former acting student at the film school Franco founded who went on to appear in several of his productions.
Tither-Kaplan is one of five women who, in interviews with The Times, accused Franco, 39, of behavior they found to be inappropriate or sexually exploitative. Four were his students, and another said he was her mentor.
In some cases, they said they believed Franco could offer them career advancement, and acquiesced to his wishes even when they were uncomfortable.
"I feel there was an abuse of power, and there was a culture of exploiting non-celebrity women, and a culture of women being replaceable," said Tither-Kaplan, who was one of many women who took to Twitter on Sunday night to vent anger over Franco's win and his support of Time's Up, the initiative combating sexual misconduct in Hollywood.
She told The Times that in a nude orgy scene she filmed with Franco and several women three years ago, he removed protective plastic guards covering other actresses' vaginas while simulating oral sex on them.
Two other student actresses also recounted negative on-set experiences. Both said Franco became angry when no women, while at the shoot, would agree to be topless.
Franco's attorney, Michael Plonsker, disputed all of the women's allegations and directed The Times to Franco's comments Tuesday night on "The Late Show With Stephen Colbert."
"Look, in my life I pride myself on taking responsibility for things that I have done," he told Colbert. "I have to do that to maintain my well being. The things that I heard that were on Twitter are not accurate. But I completely support people coming out and being able to have a voice because they didn't have a voice for so long. So I don't want to shut them down in any way."
"If I have done something wrong," he added, "I will fix it — I have to."
A creative force in Hollywood with a reputation for being indefatigable, Franco has acted in several notable films and TV shows over his 20-year career. They include "Freaks and Geeks," "Pineapple Express" and "127 Hours," which netted him an Oscar nomination for lead actor. He's directed episodes of HBO's "The Deuce" — on which he currently stars in two leading roles, playing twins — and served as a producer on films and TV shows including the "The Interview" and the Hulu series "11.22.63."
His affinity for tackling unexpected projects, coupled with a prolific work ethic, have become part of his Hollywood mystique. Over the last decade, he's directed more than two-dozen low-budget indie features and shorts, written books and even turned his experience co-starring on soap opera "General Hospital" into an exhibit at the Museum of Contemporary Art. In 2014, he launched a film school — Studio 4 in Los Angeles and New York — where he taught and mentored hundreds of aspiring actors and filmmakers; both locations abruptly closed last fall.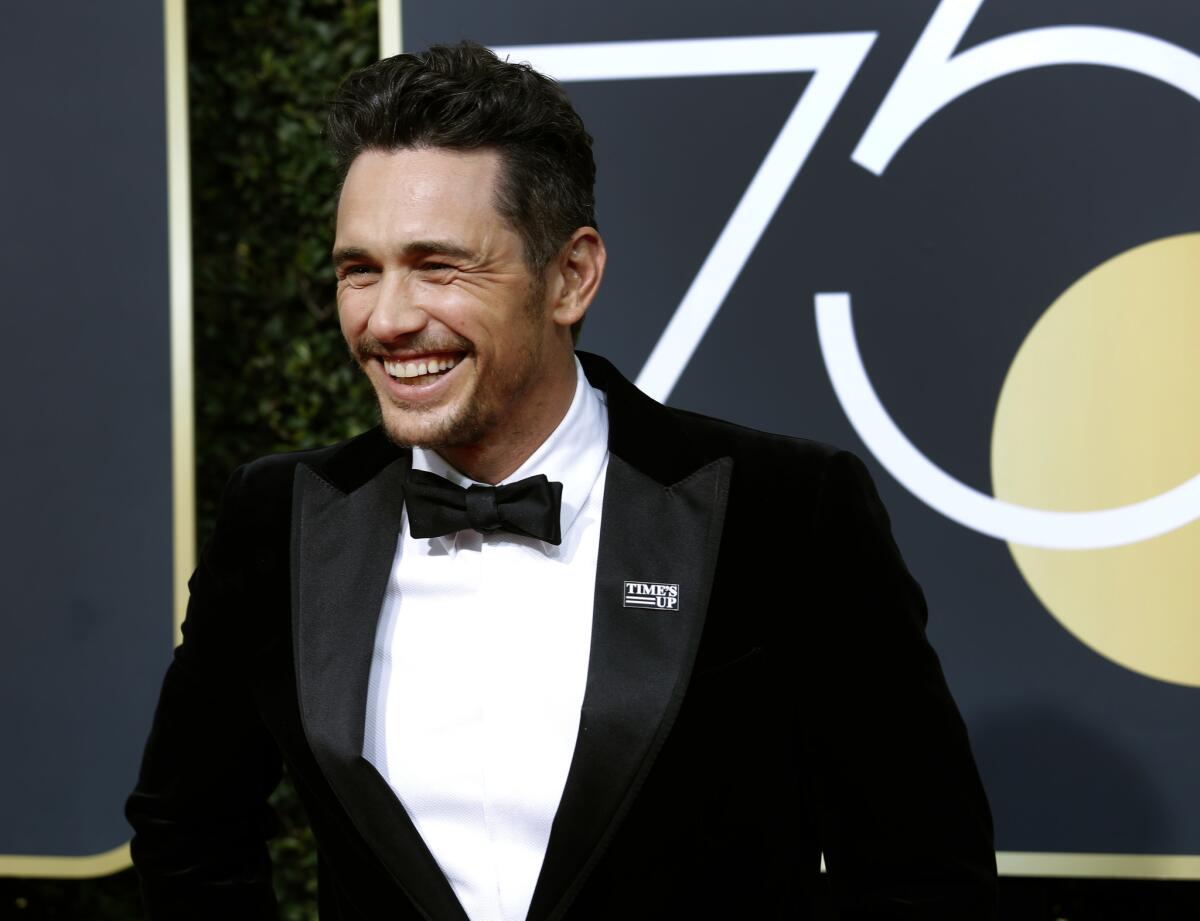 Franco has also attracted attention for controversial behavior on social media. In 2014, he used Instagram to ask a 17-year-old British girl he'd met outside a New York theater if she had a boyfriend and whether she was 18. Even after learning her age, he asked for the name of her hotel and if he should rent a room.
After that episode became public, Franco apologized on ABC's "Live! With Kelly and Michael." "I'm embarrassed, and I guess I'm just a model of how social media is tricky," he said. "I used bad judgment and I learned my lesson."
Teacher-student interactions
Before opening Studio 4, Franco taught at Playhouse West in North Hollywood — a school where he'd received training as an actor.
Two of his former students there said he put female students in uncomfortable situations beyond the normal parameters of acting class.
Hilary Dusome, 33, who took a class from Franco in 2012, said that at first, she found him to be "a really generous spirit" eager to help aspiring actors.
Her feelings shifted after being selected to appear, with a handful of other female students, in what she thought was one of Franco's "art films." Natalie Chmiel, the other student, said she was told the footage would be used in a 7 For All Mankind jeans commercial.
Both women described what they considered to be an unprofessional and hostile shoot at a strip club.
Midway through filming, Dusome said Franco approached the actresses — who wore masks and lingerie — and asked, "So, who wants to take your shirt off?"
When no actresses volunteered, Franco stormed off, Dusome recalled.
"I felt like I was selected for something based on my hard work and my merit, and when I realized it was because I have nice [breasts], it was pretty clear that was not the case," Dusome said. "I don't think he started teaching with bad intentions, but he went down a bad path and damaged a lot of people in the process."
Chmiel, 33, also recalled Franco asking the women if any of them wanted to take their top off, and that he was "visibly angry" when they declined.
"He just took advantage of our eagerness to work and be a part of something bigger," Chmiel said. "We were all these up-and-coming actors who were so hopeful."
Franco did not make the request the women alleged, his attorney said.
Stories from Studio 4
Franco launched Studio 4 in 2014 in association with Playhouse West — famously the home of the late acting coach Sanford Meisner. The North Hollywood school opened first; the New York City outpost soon thereafter. Most of the classes were not taught by Franco, who was also juggling professorial duties at USC, UCLA and CalArts in addition to a busy film schedule.
More than a dozen former students told The Times in interviews that they had a positive experience at Studio 4, where pupils were initially charged a monthly tuition of $300. Many said they were shocked by the school's sudden closure last fall, and did not know why it had shuttered.
Former student Prashant Thakker said Franco put in extra effort to make students feel heard, even meeting with them outside of class hours. "If he felt the class wasn't enough, he would take us writers to a separate venue outside of class. He would keep teaching us over and over again," he said.
But not every student was pleased.
"It was kind of a bummer," said Kelsey Ann Wacker, a New York student. "He was shooting 'The Deuce,' but would come to class, and you were like, 'Did you just fall asleep under your ball cap?' He'd sit at the front and be a grouch. I wish he would have taken more of a responsibility to teach."
One of the things that made Studio 4 different from other acting schools, Franco promised, was its ability to funnel promising talent into the actor's own projects. Indeed, the school's now-closed website said that Franco and his production company, Rabbit Bandini Productions, would "cast roles directly from his classes, and will involve his students in a variety of his film and art projects."
But several students said that these parts were rarely handed out to people in the classes.
"They would tell us that smaller parts in their projects were being held exclusively for students — often they were opportunities for extra work or parts that required nudity," said Devyn LaBella, who spent a year as a student at the NoHo location. "I didn't have agency representation at the time, so I thought, 'Well, I'm not going to be able to get into good auditions, so this might be my opportunity.'"
LaBella said she and classmates uploaded auditions to a website, but no one she knew ever heard back.
Katie Ryan, who met Franco at Playhouse West and took several classes at Studio 4, said the actor "would always make everybody think there were possible roles on the table if we were to perform sexual acts or take off our shirts" in his projects.
She said that for years, she received mass email requests from Franco to audition for roles playing "a prostitute or a hooker."
Franco is "not aware that any of the actions alleged by Ms. Ryan ever occurred," his attorney said.
Vince Jolivette, co-owner of Rabbit Bandini, which ran Studio 4, said in a statement provided by Franco's attorney that "the school was always run professionally."
"Our instructors were excellent, student feedback was positive," he said, noting that they were investigating complaints about the school that are "very inconsistent with the mission."
Some students did appear in Rabbit Bandini productions. In 2015, the company made a deal with digital distributor Maker Studios to premiere two original series spawned from Studio 4. One of the projects was a docu-series that went behind the scenes of Franco's Sex Scenes master class, which taught students about the art of being intimate on camera.
'Red flags'
As part of Tither-Kaplan's experience in the Sex Scenes class, she and her partner created a short film, "Hungry Girl," which shows her topless and was uploaded to the video-sharing website Vimeo. Last year, she discovered images from the film on at least one pornography website.
"Now, if you Google me, you can see me naked," said Tither-Kaplan, 26. "Before I've ever been on TV or before I've ever had any real credits or before any of this — of course I regret that. I don't want that."
The video posted to Vimeo, Plonsker said, was not under the control of the school or Franco. "Any online posting of videos, including if applicable Vimeo, were operated and created by the students to showcase their collective work," he said.
Rabbit Bandini appeared to be aware that the videos had been uploaded. In a May 2015 email sent to Tither-Kaplan and her fellow "Sex Sceners," which was reviewed by The Times, a company employee told the class he "just wanted to let [them] know the films are now up on the Studio 4 Vimeo Channel."
School leadership will be investigating these complaints, Plonsker said, adding: "They are committed to hearing voices of concerns and being receptive to their issues."
In 2015, Franco asked Tither-Kaplan to play a prostitute in another of his projects, the feature film "The Long Home," with a cast that included him, Josh Hutcherson, Courtney Love and Timothy Hutton.
The part required her to perform nude, and she agreed because she considered it a big break. In fact, she signed nudity agreements for each of the films she made with Franco.
But one day on set in May 2015, a producer approached her and other women to ask if they wanted to film a "bonus scene" of an orgy. In it, Tither-Kaplan appeared fully nude, she said. A handful of other women were selected to appear with Franco, who simulated performing oral sex on each of them, Tither-Kaplan said. But in each case, she said he removed a clear plastic guard that covered their vaginas — and continued to simulate the sex act with no protection.
Then, Tither-Kaplan said, she and her female co-stars were asked to appear topless in an unscripted scene and dance around Franco while wearing animal skulls atop their heads. One actress who balked was sent home the next day, Tither-Kaplan said.
"I got it in my head pretty quickly that, OK, you don't say 'no' to this guy," she said.
Another actress who participated in the shoots confirmed Tither-Kaplan's account of the unscripted sequence that led to the departure of an actress. She also confirmed the removal of the plastic guards.
Franco's attorney, Plonsker, said "the allegations about the protective guards are not accurate." He also pointed to numerous social media posts by Tither-Kaplan that reflected a positive experience on the set.
Tither-Kaplan acknowledged those glowing remarks — she said she had been excited about making new friends during production and also wanted to promote her work on a notable project. Still, she said, the negative experiences were "red flags."
In a statement provided by Franco's attorney, Cynthia Huffman, a casting director who worked on "The Long Home," said she did not receive any complaints and that she "personally checked on all the actresses constantly to make sure they were ok and comfortable."
"James is all about giving up and comers, actors and actresses and young filmmakers a break in this business," Huffman said. "I feel horrible that anyone was made to feel uncomfortable but we went to great lengths to make sure all the actresses in the nude scenes felt comfortable and safe."
No distribution deal for "The Long Home" or formal release plans have been announced.
Tither-Kaplan's parents both said their daughter complained about several negative experiences on Franco's projects.
Late last year, after Harvey Weinstein's alleged abuse of women became public, Tither-Kaplan said Franco apologized for making her feel uncomfortable.
"I want to give him credit for at least being open to communicating with me," she said. "I felt that he was still not really taking accountability for the environment on the sets."
'The power dynamic was really off'
Violet Paley, 23, told The Times that when she met Franco in early 2016 she was eager to become a filmmaker and that he had been willing to give her notes on her script.
They had begun a romantic relationship when she said he pressured her into performing oral sex on him — an act she'd never done with him at that point — while sitting in her car.
"I was talking to him, all of a sudden his penis was out," said Paley. "I got really nervous, and I said, 'Can we do this later?' He was kind of nudging my head down, and I just didn't want him to hate me, so I did it."
She began to perform the sex act, but was uncomfortable. To extricate herself from the situation, she told Franco she spotted someone near the car.
Franco's attorney, Plonsker, denied Paley's allegations, calling them "not accurate."
Later, Paley said, she and Franco advanced their consensual sexual relationship. Today, she said she would have handled the encounter in the car differently, especially in the wake of the Weinstein scandal. "I would say, 'No, stop, get out of my car,'" she said. "The power dynamic was really off."
Paley said she told several friends and family members about her encounter with Franco. Five of them confirmed their conversations with The Times.
After Franco won the Golden Globe, Paley expressed her outrage Sunday night, tweeting about their alleged encounter in her car.
Amid social media criticism that her allegations detract from criminal allegations against Hollywood figures, Paley has defended her right to speak out while also acknowledging that her story is complicated by her and Franco's consensual relationship. "It's been hard to come forward about this," she wrote on Twitter.
After the Weinstein allegations were reported last fall, Paley emailed Franco, expressing her anger and sadness over his treatment of her (she provided The Times with a copy of the email). He didn't respond, though they later spoke by phone and he tried to make amends, she said.
He said it was wrong for him to have a sexual relationship with someone he knew to be in recovery for substance abuse, Paley recalled. However, she said he told her he hadn't done "anything illegal" and insisted, "I'm a changed man."
Indeed, just a few months before, he told Out magazine he'd embarked on a "new chapter of my life."
"I was very work-addicted," he admitted, "and addicted to other things — not substances, I got over that a long time ago — but I've recently changed my life."
Amid the Hollywood awards season — already shaped by an industrywide awakening over how women are treated — it is unclear how the allegations will affect Franco's standing. The New York Times on Tuesday canceled a planned event with the actor, citing the controversy. On Thursday, Franco won a Critics' Choice Award but didn't show up to accept it.
Academy Award nominations will be announced Jan. 23.
---
UPDATES:
6:38 p.m.: This story was updated to include Franco's Critics' Choice Award, which he didn't show up to accept on Thursday evening.
This story was originally published at 3 a.m.