Quarterbacks Matt Fink and Jack Sears show progress in Trojans' spring practice finale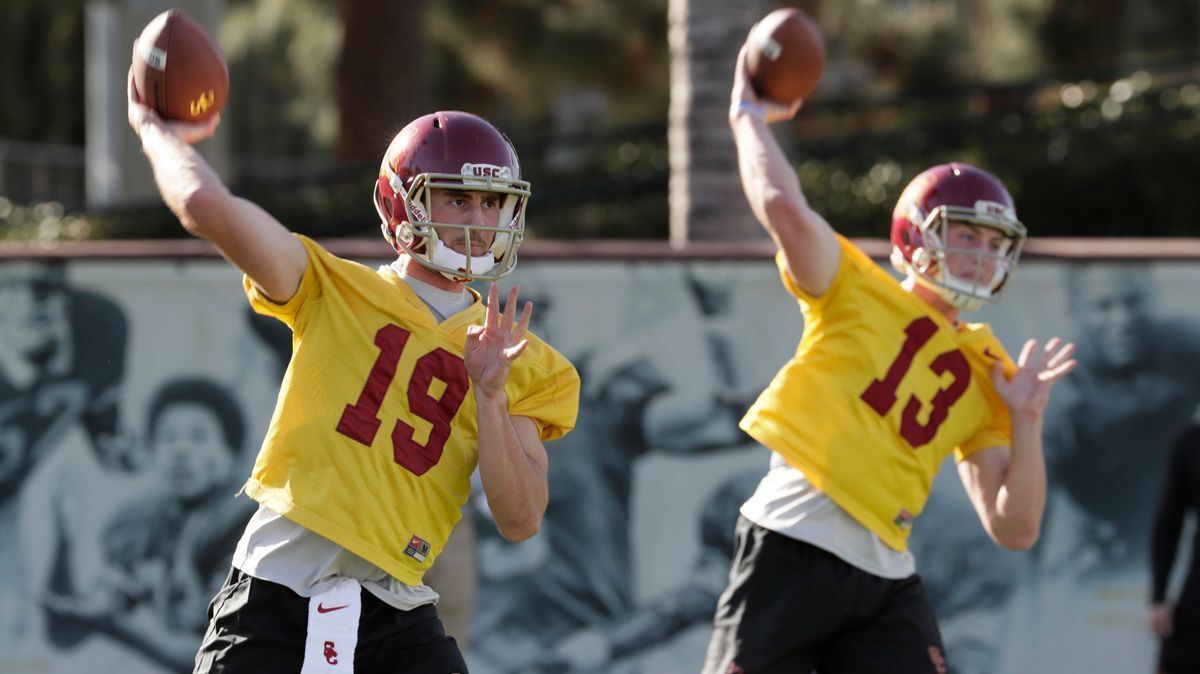 The progress of Matt Fink and Jack Sears was apparent Saturday during USC's spring practice finale at Cromwell Field.
Both quarterbacks operated with relative ease as they took turns running the offense. They completed a majority of their passes and for the first time in several workouts neither turned the ball over.
"The quarterbacks did a nice job," coach Clay Helton said. "The runners ran the ball very well and the play-action game looked good."
As they compete to replace Sam Darnold, Saturday's performance was another positive step for Fink and Sears after uneven performances through the first half of spring, when they struggled with reading the defense and locating receivers.
"We had some hiccups in the beginning," said Fink, a third-year sophomore who has appeared in three games, completing six of nine passes. "But I think timing with the receivers has gotten a little bit better. I've gotten a lot more comfortable in the pocket and a lot more comfortable with our playbook and I can trust our whole offensive unit now."
Said Sears, a redshirt freshman: "It's night and day, just going from running the scout team in the fall to stepping in with the ones and getting all those reps. … Just a lot more comfortable, a lot more chemistry developing."
Offensive coordinator Tee Martin and Helton simplified the offense and have emphasized a run-first scheme to aid the development of the young quarterbacks. Helton also stressed learning over competition this spring in order to give the quarterbacks an opportunity for growth without the pressure of mistakes.
"Both just improved in decision making and accuracy, especially down the field," Helton said. "We did a tremendous job today of decision making — no really forced balls anywhere — and then also just the accuracy part of giving our wideouts a chance to make plays, that's probably the biggest improvement for both kids."
With spring practices complete, competition now will move to the forefront.
Fink and Sears will be joined in June by J.T. Daniels, a highly sought recruit who led Santa Ana Mater Dei High to a 15-0 record and is graduating a year early to enroll in summer courses at USC. Daniels was a constant presence on the sideline throughout the spring.
"Every little bit helps," Helton said of Daniels, who will share repetitions with Fink and Sears during 13 summer workouts that coaches are not allowed to attend.
Helton said that player-run practices will be critical to the quarterbacks' development before training camp opens on Aug. 3.
"We've got a lot of work to do," Helton said. "You've really got to put some great work in right now on film and strength and conditioning, working with your wide receivers, have those player-run practices and then get to training camp and hopefully you're firing on all cylinders by then."
Fink and Sears are eager for the competition to continue.
"I'm excited for what's to come," Fink said.
Etc.
Helton said the defense finished the spring ahead of where he expected it to be. Defensive backs were among the most outstanding and improved position group, Helton said. … Running back Dominic Davis missed several practices this spring after undergoing a procedure to repair a deviated septum. … Receivers Randal Grimes and Keyshawn Young were absent from practices this week to focus on academics. … Tight end Tyler Petite did not practice Saturday because of a hamstring injury.
Follow Lindsey Thiry on Facebook and Twitter @LindseyThiry
---
Get the latest on L.A.'s teams in the daily Sports Report newsletter.
You may occasionally receive promotional content from the Los Angeles Times.