Talanoa Hufanga continues to impress Clay Helton at USC spring practice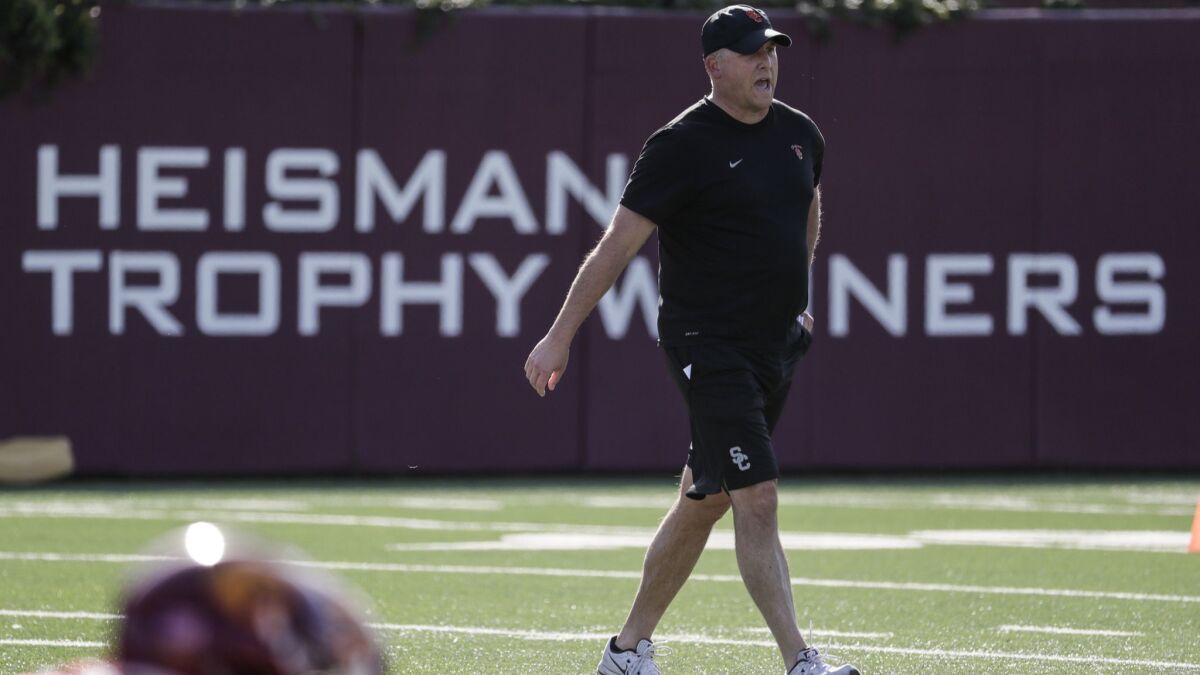 Talanoa Hufanga could be enjoying spring break this week with his high school classmates.
Instead, the talented safety is making a case to earn early playing time at USC.
On Saturday, during the Trojans' second modified scrimmage this spring, Hufanga intercepted a pass by Holden Thomas and nearly grabbed one more.
"Wow," coach Clay Helton said after practice.
It has become Helton's go-to descriptor when asked to evaluate Hufanga, who graduated early from Crescent Valley High in Corvallis, Ore., to enroll in spring courses at USC.
"He's a special talent," Helton said about the recently turned 18-year-old. "He's extremely instinctive."
USC has starter Marvell Tell III returning but must fill the void left by Chris Hawkins, who started every game last season before exhausting his eligibility.
Fourth-year junior Ykili Ross and sophomore Bubba Bolden appear to be front-runners to take over the position. C.J. Pollard and Isaiah Pola-Mao also are competing for time.
And Hufanga is certainly in the mix.
His interception Saturday was his second through nine workouts.
Helton told him he had a great day.
Hufanga, disappointed about the possible interception that he dropped, responded: "Coach, I could have had the other one."
Quarterback performances TBD
Helton said he was excited about how the quarterbacks performed.
That was after last week's modified scrimmage.
On Saturday, Helton sighed.
"I'm going to reserve the right to watch the tape," he said. "My initial gut said that we weren't very good."
Matt Fink threw several touchdown passes during seven-on-seven play. Jack Sears threw two.
But when the scrimmage began, both quarterbacks struggled as passes were batted down and others were nearly picked off.
Sears threw a deep pass that was intercepted by cornerback Jonathan Lockett.
"There were some times when I think we were looking to see things open rather than anticipating and getting the ball there," Helton said. "At this level, with these [defensive backs], if you hesitate, it's an interception or if you hesitate it's knocked down."
Both quarterbacks lack experience — Fink played in three games last season, completing six of nine passes and Sears was a redshirt — and for Helton they, can't gain it fast enough.
"I can't tell you much more live reps we need," Helton said. "Every time that we can get out there and get some live football, it's going to help the quarterback."
J.T. Daniels, a five-star quarterback who led Mater Dei High to a 15-0 season and signed a letter of intent with USC, attended the modified scrimmage and has become a regular observer this spring.
Helton has already declared that the quarterbacks competition will continue into the fall.
That's when Daniels will officially join. In the meantime, he is already becoming familiar with the system.
"He's able to watch film on his own if he wants to," Helton said. "The biggest thing is to be able to see the signals and be able to relay that in your mind and that's what he's working on right now."
Halfway through spring practices, Helton said the defense was ahead of schedule.
The quarterbacks, not so much.
"We need to progress at quarterbacks as fast as humanely possible," Helton said.
Etc.
Defensive lineman Brandon Pili suffered an ankle injury during practice and was sidelined. … Several dozen high school recruits attended practice. … Former USC three-way standout Adoree' Jackson, now with the Tennessee Titans, and receiver JuJu Smith-Schuster, with the Pittsburgh Steelers, attended practice.
Follow Lindsey Thiry on Facebook and Twitter @LindseyThiry
Get the latest on L.A.'s teams in the daily Sports Report newsletter.
You may occasionally receive promotional content from the Los Angeles Times.