At Descanso Gardens, a different kind of winter light show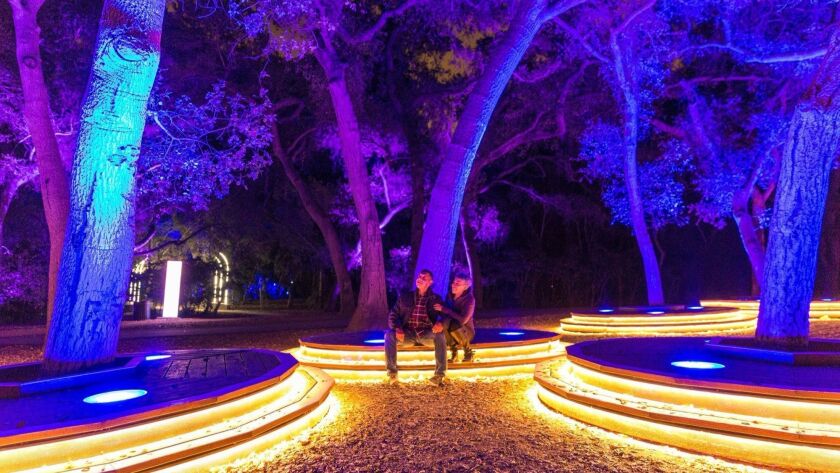 Chris Medvitz has done lighting and concert visuals for Paula Abdul and Lionel Richie. Right now, however, the focus of his attention is a field of 4,000 illuminated artificial tulips at Descanso Gardens, the 150-acre botanical garden in La Cañada Flintridge that, starting Nov. 18, will be home once again to its annual light show, Enchanted: Forest of Light.
"This is driven by a technology called pixel mapping," Medvitz explains of the tulip display, called "Flower Power," whose cascading ripples of color set to ambient music are one of Enchanted's most popular (and highly Instagrammable) attractions. "If you were to look at this from above, each of these dots would correspond to a pixel on a video signal."
"Flower Power" is one of 10 light-driven art installations at "Enchanted," which is returning to Descanso for the third straight year. The event has been a runaway success for the off-the-beaten-path gardens, with total attendance last year topping 130,000 — of which about 70,000, according to executive director Juliann Rooke, were first-time visitors.
"I wanted Los Angeles to come and see and fall in love with us," says Rooke. "So I think we accomplished that."
Though it runs through the holidays, until Jan. 6, "Enchanted" is not a traditional holiday light display — a choice Rooke says she made partially so the event would be welcoming to visitors from all religious and cultural backgrounds, but mainly because she wanted Enchanted to showcase the beauty of Descanso itself.
"We're trying to create something that brings people close to nature," says Rooke. "I wanted it to be about Descanso. If you start inching into holiday land, then it isn't about us as a place."
Rooke began developing the concept for Enchanted about four years ago, when she was Descanso's chief operating officer. She traveled around the country to other public gardens in search of inspiration, and found it at Chicago's Morton Arboretum, which hosts its own nontraditional wintertime light show called Illumination.
"Their trees weren't wrapped with lights," she remembers. "Instead, they were more like rock stars. They were uplit."
To create Enchanted, Rooke hired Lightswitch, the same lighting and visual design firm that works with the Morton Arboretum. That brought in Medvitz, an L.A.-based Lightswitch principal, who instantly clicked with the project.
"We walked the property and walked the property and talked about what mattered," says Rooke. "He did so much research; he was so thoughtful about understanding who we are." When Medvitz presented his design concepts, "he just hit everything. He got right away [that] we weren't trying to create a mall Christmas."
Medvitz acts as Enchanted's creative director and oversees the team that gets the show up and running, a process that keeps him onsite for about six weeks leading up to opening night. "There's some of our crew," he says as an orange electric cart whizzes past, carrying workers up to the "Fantasy Forest," where subtle lighting and a chandelier suspended in the trees suggest the ruins of an ancient castle superimposed over Descanso's extensive camellia collection.
After dark, when Medvitz and his crew stay late to test the lights, "it's just us and the coyotes," he says. Descanso borders a largely undeveloped stretch of the Verdugo Mountains to the south, so wildlife encounters are not uncommon. "There was a deer buck that got startled the other night and ran through the tulips," he says matter-of-factly.
Elsewhere around the gardens, Enchanted's installations include a Japanese garden bathed in blue, wintry light, offset by bright red paper lanterns; a grove of live oaks surrounded by illuminated platforms that change color with patrons' footsteps; and an "ancient forest" of ferns and redwoods that's filled with dramatic uplighting and firefly-like swarms of pinprick lights from strategically placed laser projectors. "This is really epic at night," Medvitz says proudly of the latter display, noting that visitors often compare it to a scene from "Avatar" or "Jurassic Park."
"What's great about this project and kind of unique in our portfolio is that we're actually creating what people are coming to see," says Medvitz, whose other Lightswitch clients, besides the occasional pop star, tend to be trade shows and corporate events. "We're not creating an environment around a car of a video game or whatever's being sold. We're creating the experience."
In addition to his design team at Lightswitch, Medvitz brought in two outside artists to contribute to Enchanted: Jen Lewin, a New York-based artist who specializes in interactive sculptures, and Hyperspace Bypass Construction Zone, an Oakland-based duo who fabricate large-scale geometric shapes stamped in intricate patterns. Lewin returns to Enchanted with "Aqueous," an interlocking series of illuminated pathways, while HYBYCOZO are back with "Celestial Shadows," a collection of their suspended polyhedrons, all spinning and lighted from within to throw gorgeously filigreed shadows over the nearby rose garden and the rapt faces of visitors.
"We love seeing kids play with the spinning shadow pieces," says HYBYCOZO's Yelena Filipchuk. "Although we did have to put up 'Spin Gently!' signs."
Both "Aqueous" and "Celestial Shadows" have appeared at other events and art exhibitions all over the world — including at Burning Man, which Medvitz says helps attract a subset of visitors who might not otherwise think to trek out to a botanical garden in the suburbs.
"The kids that go to those electronic music festivals, they all come with their light-up antennae and vests and stuff," he says. "They're into it. The only thing they complain about is there are no DJs."
"Enchanted: Forest of Light"
When: Nov. 18-Jan. 6
Where: 1418 Descanso Dr, La Cañada Flintridge
Info: descansogardens.org.
---