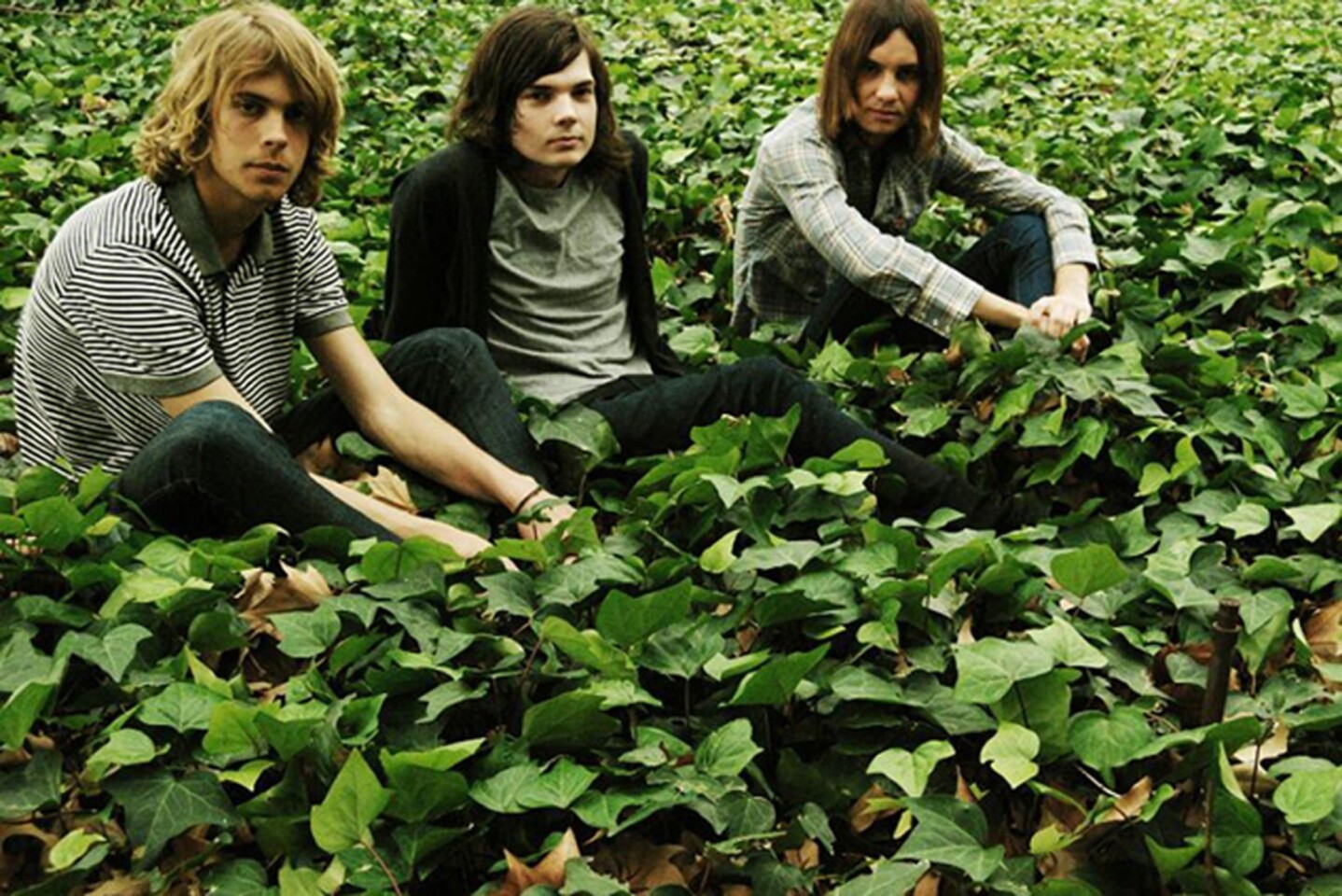 198 Images
Overrated / Underrated 2012: The ups and downs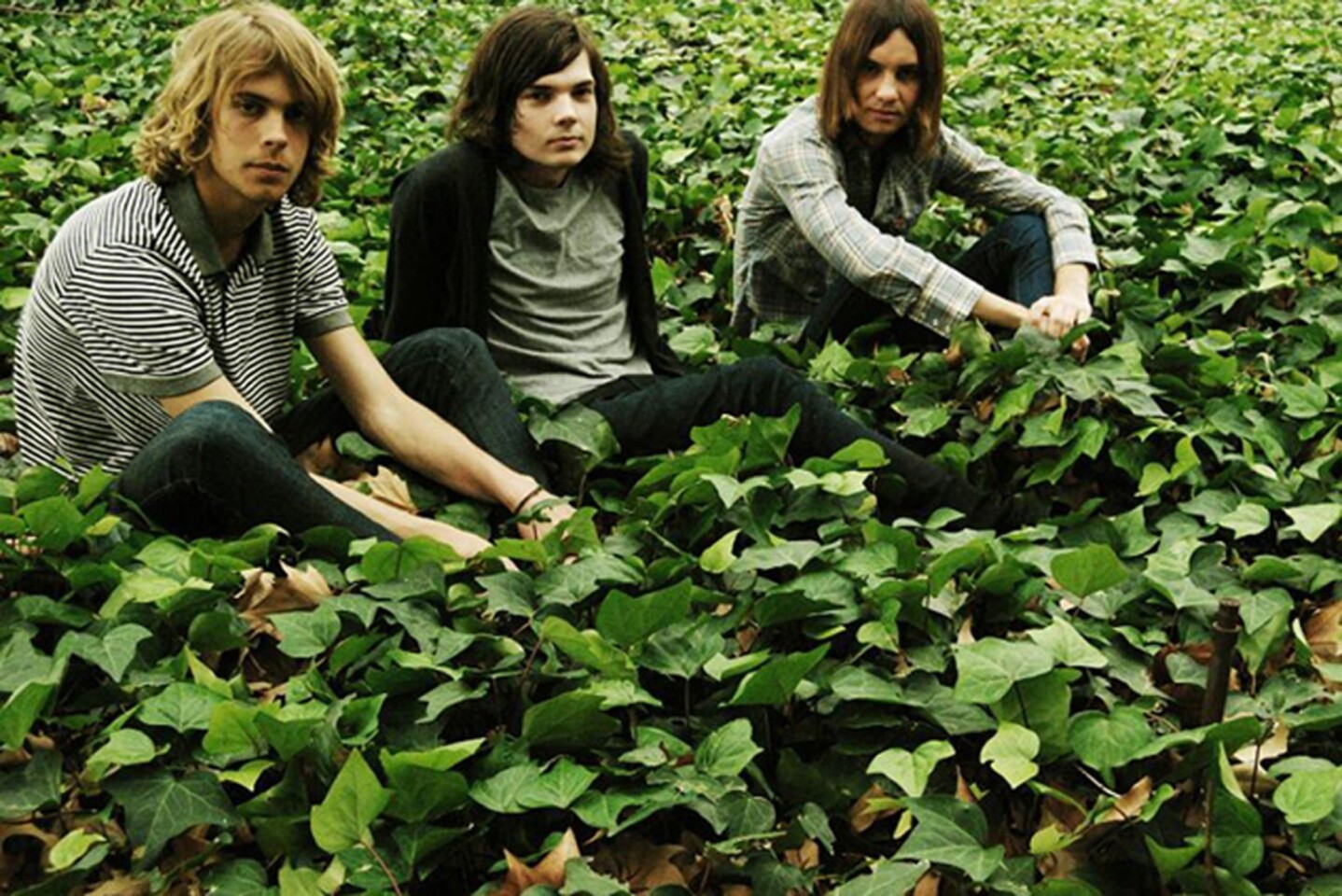 This Australian band led by the alarmingly young Kevin Parker continued to mine a rich vein of classic
psychedelic rock
on its justly acclaimed sophomore album, "Lonerism." But it's never sounded more powerful than this heavy,
three-minute slab of fuzzy stomp-rock
, which seems ripped from some intersection of 1969 London,
Richard Linklater
's "Dazed and Confused" and today.
(tameimpala.com)
It's almost 2013 -- everyone OK? The Earth didn't split open and fold buildings in on themselves like a
Roland Emmerich
movie while we weren't looking? Don't feel bad, all of you who fell in for the books and rumors that the end of the world was coming,— odds are there's a new candidate for triggering the apocalypse calendar right around the corner. Keep an eye on
Justin Bieber
, that's all we're saying.
(ORLANDO SIERRA, AFPGetty Images)
A buzzed-about documentary from this year, this story of the Chinese artist-activist exposed the passion that's made
Ai Weiwei
a celebrated figure worldwide. First-time director Alison Klayman didn't dig too deeply into personal details, but with a story this compelling, even the broadest strokes examining the power of art and the individual against oppression are inspiring.
(Peter Macdiarmid / Getty Images)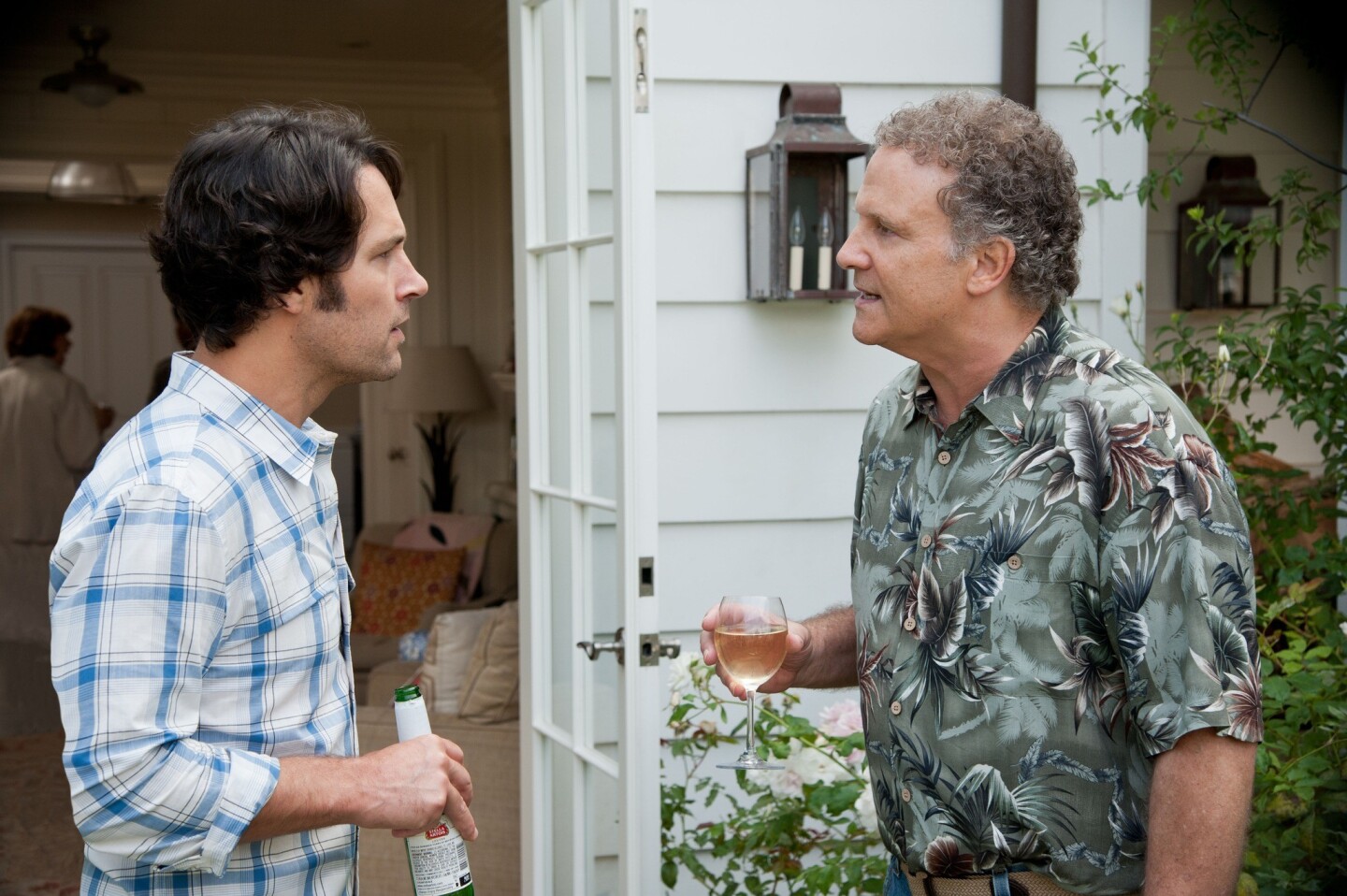 While it's possible that Apatow may have delivered his "Citizen Kane" with "This Is 40," its 134-minute running time points to his Achilles' heel as a filmmaker -- not knowing when to say "cut." "40-Year-Old Virgin" was a comparatively brisk 116 minutes, but all his films since have steadily cruised passed two hours. Do we need to get him back on "Freaks and Geeks" to remember the power of compression?
(Suzanne Hanover / Universal Studios)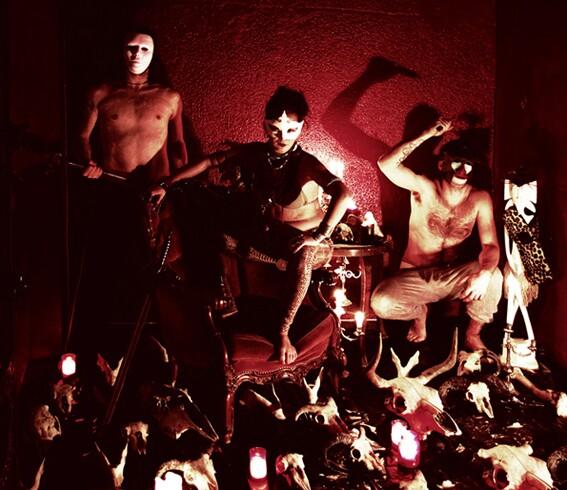 Can you take a band seriously with a mythology that references voodoo and a decades-long history as a collective from a village in northern Sweden? Frankly, when the music is this addictive, yes. An mix of '60s-era
psychedelia
, Fela Kuti-inspired Afrobeat and fuzzy krautrock,
Goat's debut
was one of the most exuberant, left-field listens of 2012, whether its back story is true or not.
(Handout)
Though you still can hear the Emmy drumbeat continuing, the honeymoon is over for this Showtime series after a frustrating second season.
Mandy Patinkin
still does elegant work, but anyone who doesn't recognize this show flirting with skittering off the rails has a penchant for delusion to rival the show's two central characters. Is this series genuinely good, or just better than so much that's out there?
(Showtime)
The city has hosted "Rocky,"
Tom Hanks
' first Oscar-winning role and a particularly mean-spirited FX comedy that leads us to believe that it's somehow always sunny (really, it's not). The City of Brotherly Love has flourished in pop culture when given the chance, and a fittingly brusque, sports-obsessed turn in "The Silver Linings Playbook" cements it as an underused character we need to see more often.
(The Weinstein Company)
Like a visual Twitter for shutterbugs, the photo app has earned a big enough profile to be referenced on
"Saturday Night Live"
and tapped by celebrities as a way to remain in the public eye. But with a hastily walked-back terms-of-use update that would've allowed users and their photos to show up in ads, the service showed the kind of disregard for privacy that only its owner — Facebook — could love.
(Lionel Bonaventure / AFPGetty Images)
: As we head into next year, keep an eye on cable companies as the call for a la carte television steadily grows louder. Internet options such as
Hulu
,
Netflix
and
iTunes
already allow TV viewers to follow the shows they want, and while companies struggle with simply keeping the home team on the air, technology is changing the game. And ultimately, consumers are winning.
(Michael Robinson Chavez / Los Angeles Times)
If there's a theme to the social media era, it's how addicted we've become to sharing thoughts on the Lakers, our favorite show or any unexpected concert moment. As fascinating as we all are to everyone at every waking moment, let 2013 also spell some time for thoughts and conversation -- with people right next to us! -- that may not require a global footprint.
(EPA)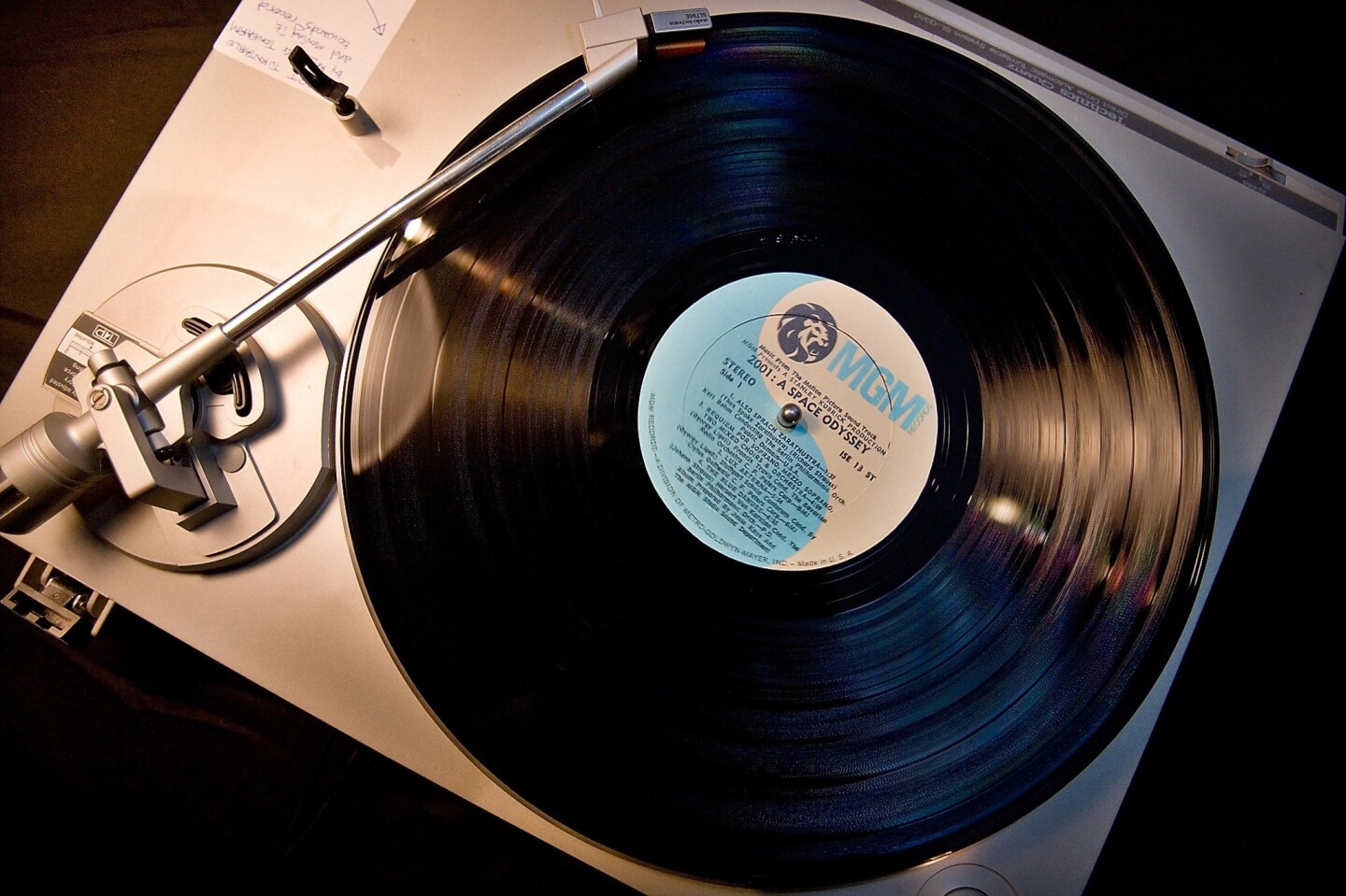 Prepare yourselves: The cloud is here. And while it's intoxicating to consider the shelf space that can be liberated with all our favorite music floating in some nebulous hard drive over our heads, is there any substitute for buying something and savoring it? As convenient as media has become to find and consume, it's worth remembering to appreciate these things as well.
(Troy Maben / AP)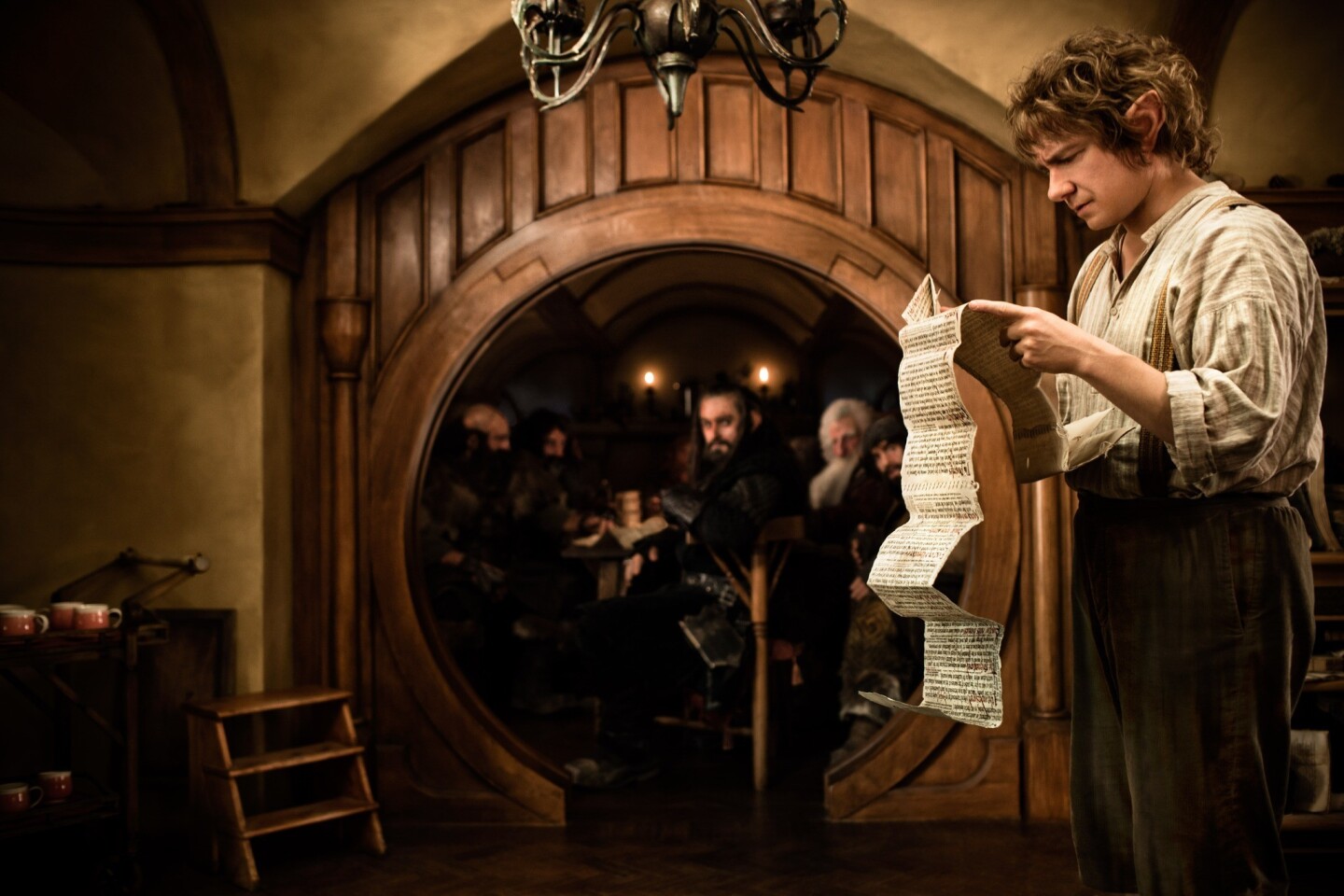 Entertainment must evolve, which is part of why filmmakers and studios are clamoring for the "next big thing" that draws a line between the high-definition home theater experience and a (potentially lucrative) trip to the movie theater. But for all the talk of 3-D and higher frame rates, ultimately we buy a ticket for a good story more than a good show.
(James Fisher, AP)
Part of FX's improv-fueled ensemble series "The League," the acerbic Kroll is a bright spot on a show that at times skews too broad and frat-humored. It's no surprise that Kroll is a standout, however, given his character-rich stand-up, which includes outrageous, rapid-fire alter egos Fabrice Fabrice and Latin radio host El
Chupacabra
. His sketch show coming to
Comedy Central
next month should multiply the chances to look inside his twisted head.
()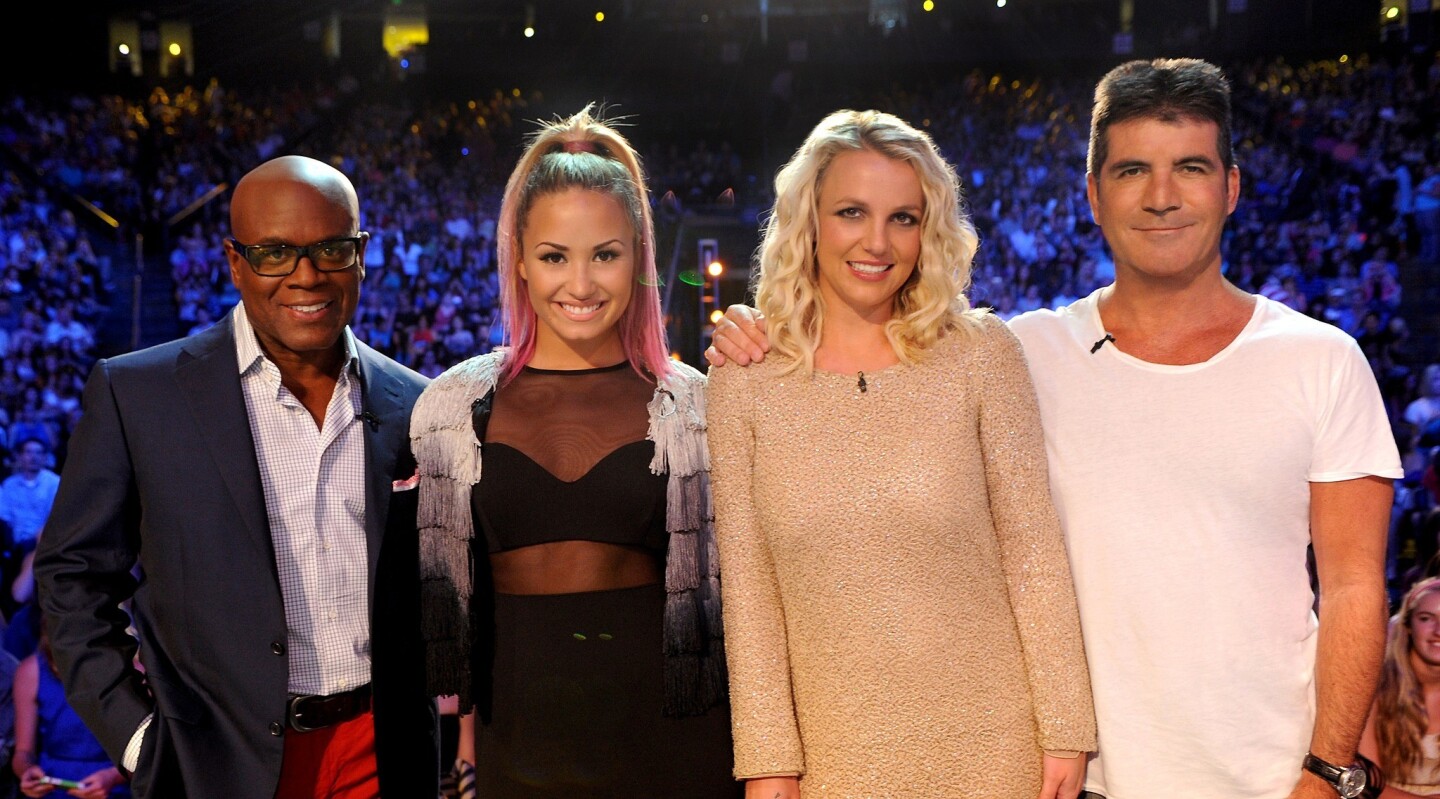 Maybe the most hummable train wreck on TV, this heir to the
"American Idol"
franchise feels like the original but louder, flashier and overall more unpleasant. The whole show is packaged with the lead-fisted subtlety of a pro wrestling broadcast, and the traditional infighting at the judges table has been amplified to meaner heights with
Simon Cowell
. And that's not even mentioning the music, which seems more shallow and cynically driven than ever.
(Ray Mickshaw / AP)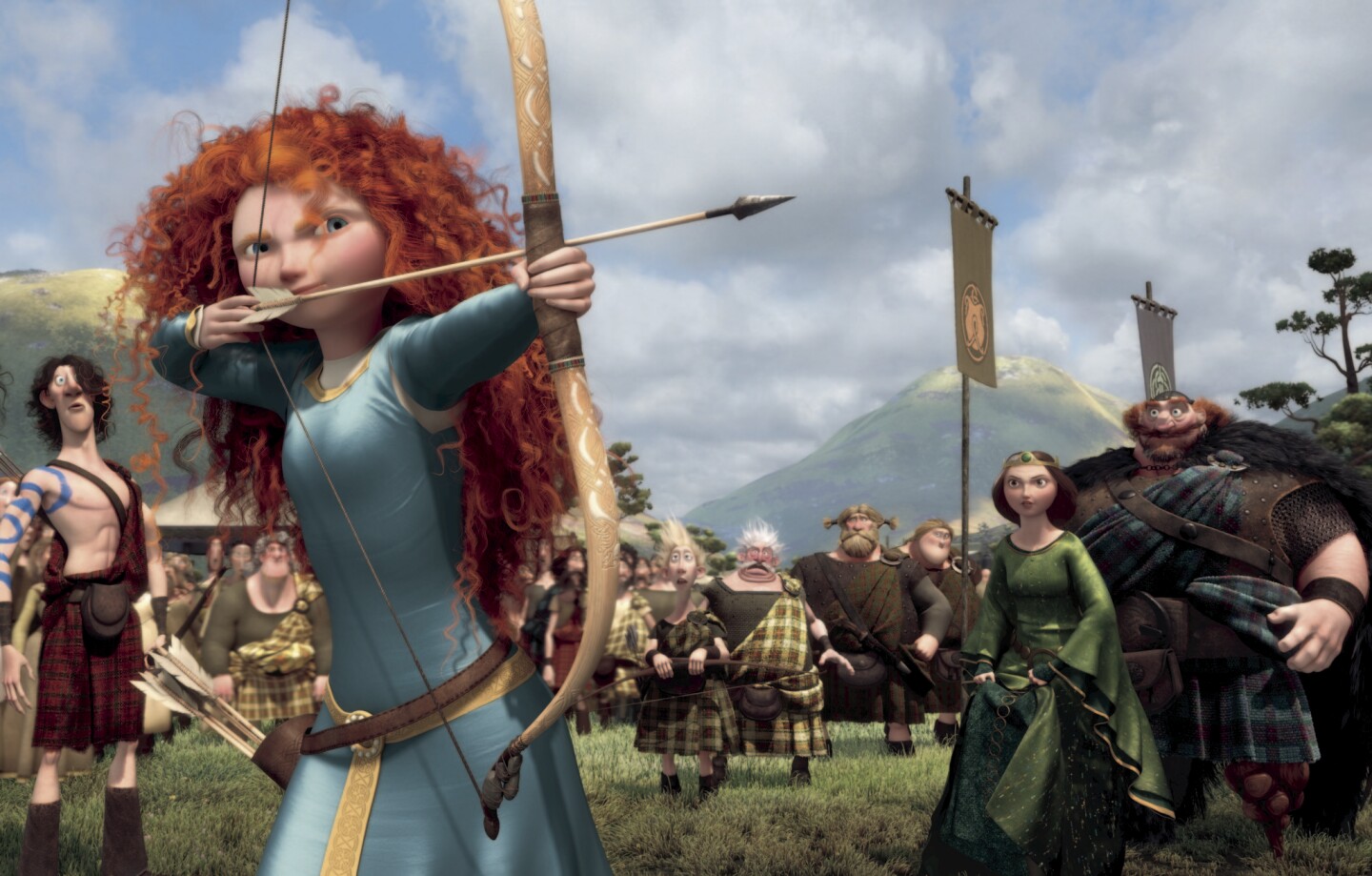 Possibly the least "event"-oriented
Pixar
film ever released, this straightforward, ginger-hued fairy tale deserves credit for what it doesn't do. An agreeably simple but sweet story of teen rebellion with a female empowerment twist (particularly in the "every princess wants a prince" Disney universe),
"Brave"
manages to be quick, warm-hearted and smart — all things Pixar so readily gets right when not concerned with creating toys as well as movies.
(Pixar / Disney)
Remember when the finale of
Christopher Nolan
's man-in-black trilogy was considered a dark horse contender for a best picture Oscar? Then, well, the movie was released. Now on DVD, its flaws are even more apparent on the small screen, as apart from a tidy conclusion and a surprisingly barbed turn from
Anne Hathaway
as Catwoman, the movie is mostly a smug, strangely joyless effort that goes on too long.
(Ron Phillips, Warner Bros.)
The world of TV comedy is a land of low expectations, but this newcomer from the producer of "The New Girl" has enough promise to encourage optimism. Its premise of mismatched siblings raising a kid may not be the freshest, but it makes up for it in execution, starting with an agreeably goofy cast rounded out by the charmingly goofy
Dakota Johnson
and Groundling alum
Nat Faxon
, who has the thick-headed physical chops of
Will Ferrell
.
(Jennifer Clasen / AP)
: An ambitious import that seems to exist only to find out if
Ethan Hawke
can survive a movie while primarily speaking French, this film wastes a Parisian setting and a promising premise by mistaking a convoluted plot for intrigue. The story of a wayward American writer with a dubious past, the film's left-field twists and possibly imaginary characters add up to less of a film than an exercise, one that ends only in frustration.
(ATO Pictures)
Given the scene-skipping poetry of this movie's unprintably titled source material (a beautifully tragic memoir by writer Nick Flynn), there was reason to be skeptical of its journey to the big screen. And despite an underwhelming turn at the box office, director
Paul Weitz
delivered an affectionate and moving adaptation, helped by a cast that includes an affectingly shellshocked
Paul Dano
and a gruffly understated
Robert De Niro
.
(David Lee / Focus Features)
A somewhat baffling approach to TV viewing, this idea has surfaced in a number of publications showing people are actively watching shows they do not like. "The Newsroom," "Smash" and the recent
"Liz & Dick"
are among the shows that have benefited, which is really just a snarkier way of calling something a guilty pleasure. But despite all this mock appreciation, Nielsen has yet to announce plans for an ironic ratings category.
(Melissa Moseley / AP)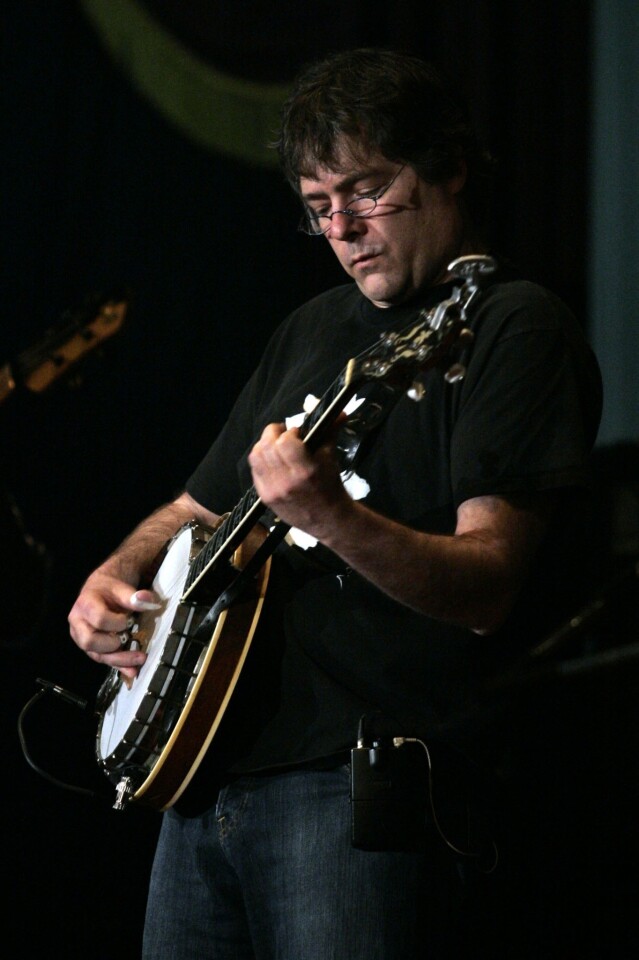 The field of jazz banjo is fairly narrow, and even though Fleck has long flirted with fusion in his recordings, this pairing with a band that includes pianist Marcus Roberts and drummer Jason Marsalis finally brings his seemingly unconventional leanings into focus. The aptly named album "Across the Imaginary Divide" is intricate and joyfully swung, and the group's stop at Catalina this week should be equally sharp.
(Brian Tietz / AP)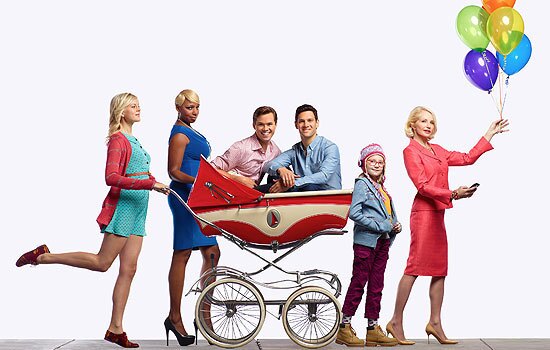 This series from
"Glee"
creator
Ryan Murphy
deserves the accolades it's received for offering a warm depiction of a loving same-sex couple for national audiences, but is it too much to ask that the series remember to be funny while breaking all that new ground? Too often Murphy confuses shock humor for wit with the cartoonish
Ellen Barkin
character, and the series mostly proves that gay characters can lead dull family sitcoms too.
(Fox)
A jingoistic example of Cold War-damaged '80s action cinema, the original "Red Dawn" enjoyed a cult following thanks to an over-the-top script and unintentionally comic casting with
Patrick Swayze
, C. Thomas Howell and
Charlie Sheen
as a teenage militia. Now with a sort of "Friday Night Lights" meets "Rambo" reboot (sorry, Adrianne Palicki), this unwelcome flashback proves that on-screen fear-mongering never goes out of fashion.
(Ron Phillips / Film District)
"Saturday Night Live"
has been a punching bag for years as every cast tries to find its own footing, but McKinnon has shown promise among the latest comic crop. Showing a remarkable (if not terrifying) gift for physical commitment in a last-call sketch with Louis C.K. and offering goofily spot-on impressions of
Ann Romney
(pictured) and
Penélope Cruz
, McKinnon has the fearless chops to carry on the legacy of the departed
Kristen Wiig
.
(NBC)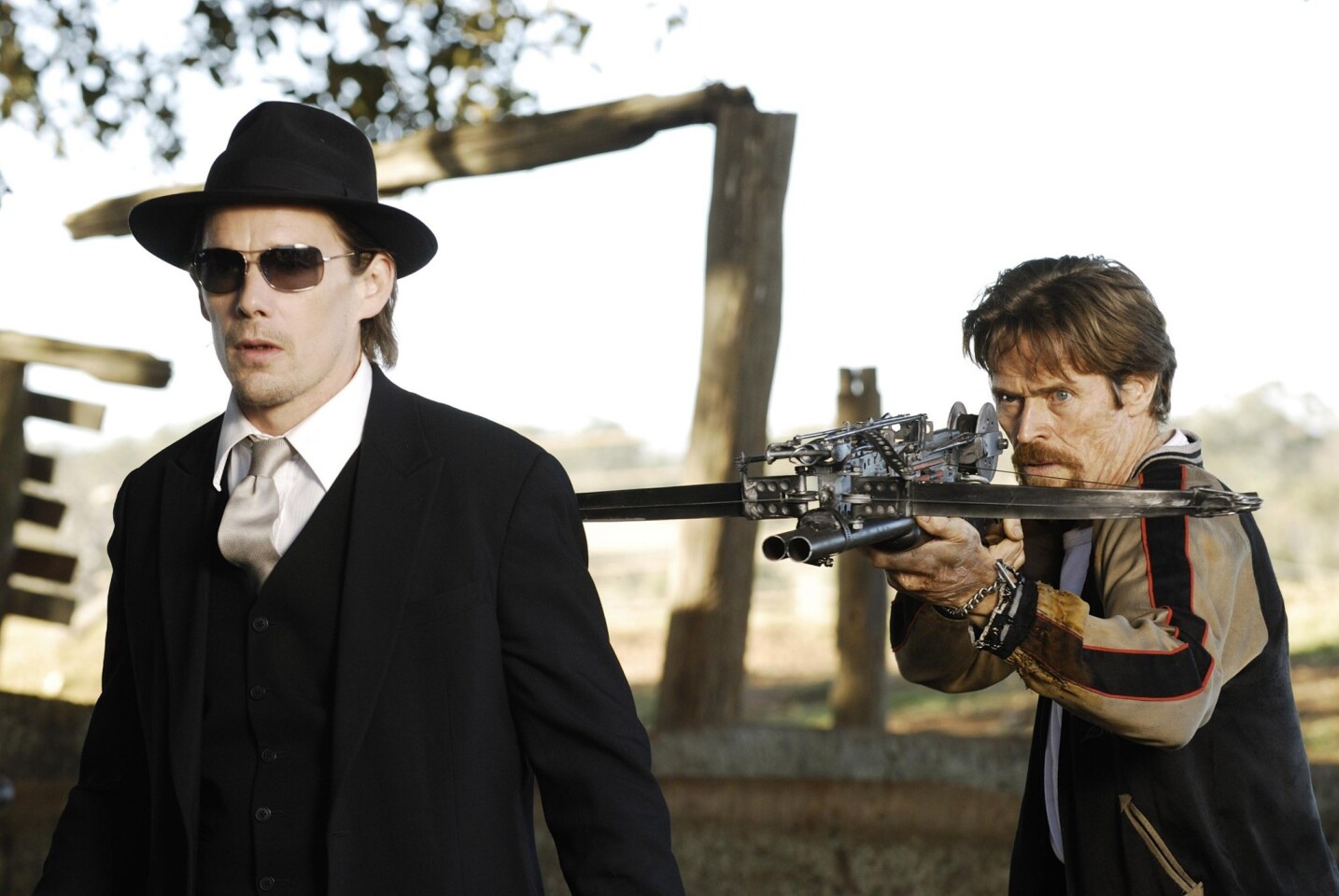 With "Twilight" mercifully drawing to a close, fang-ophiles looking for cheap bloodsucking thrills should tread carefully while considering this film, streaming on Netflix. Though the movie earned praise for flipping the premise on its head by imagining a society dominated by vampires, ultimately it grows progressively sillier as it struggles to live up to its ideas, wasting Ethan Hawke and an oddly wooden Willem Dafoe.
(Ben Rothstein / Lionsgate)
The latest Bond installment is raking in the cash with its mature themes and another impeccably tailored turn from the granite-faced Daniel Craig. But connoisseurs know that any action movie is only as good as its villain, and that's what makes Bardem's turn as the twisted Silva all the more vital. Giggling and flirting through every scene, Bardem unveils a new, fun wrinkle to his bad-guy arsenal, first honed in "No Country for Old Men."
(Francois Duhamel / AP)
This gorgeous singer is a tabloid force of nature (particularly through the lens of the ongoing saga with her controversy-courting ex-boyfriend/assailant, Chris Brown), and her constant media presence would be a lot easier to take if there were interesting music left in its wake. But all we have is icily overproduced, mostly generic pop that's indistinguishable from much of the pop charts, and no amount of significance read into its depressing backstory adds any depth.
(Charles Sykes / Invision / AP)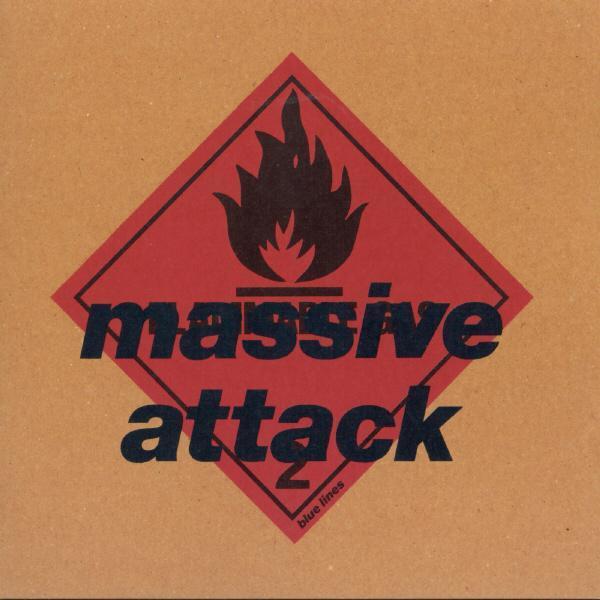 As many landmark '90s albums pass their 20th anniversary, the debut from this Bristol, U.K., group is justly celebrated this month with a deluxe reissue. Though Massive Attack is too-quickly summarized as founder of the trip-hop sound of its day, "Blue Lines" captures something far more timeless, particularly in the chugging menace of "Safe From Harm" and the nocturnal funk of "Be Thankful for What You've Got."
()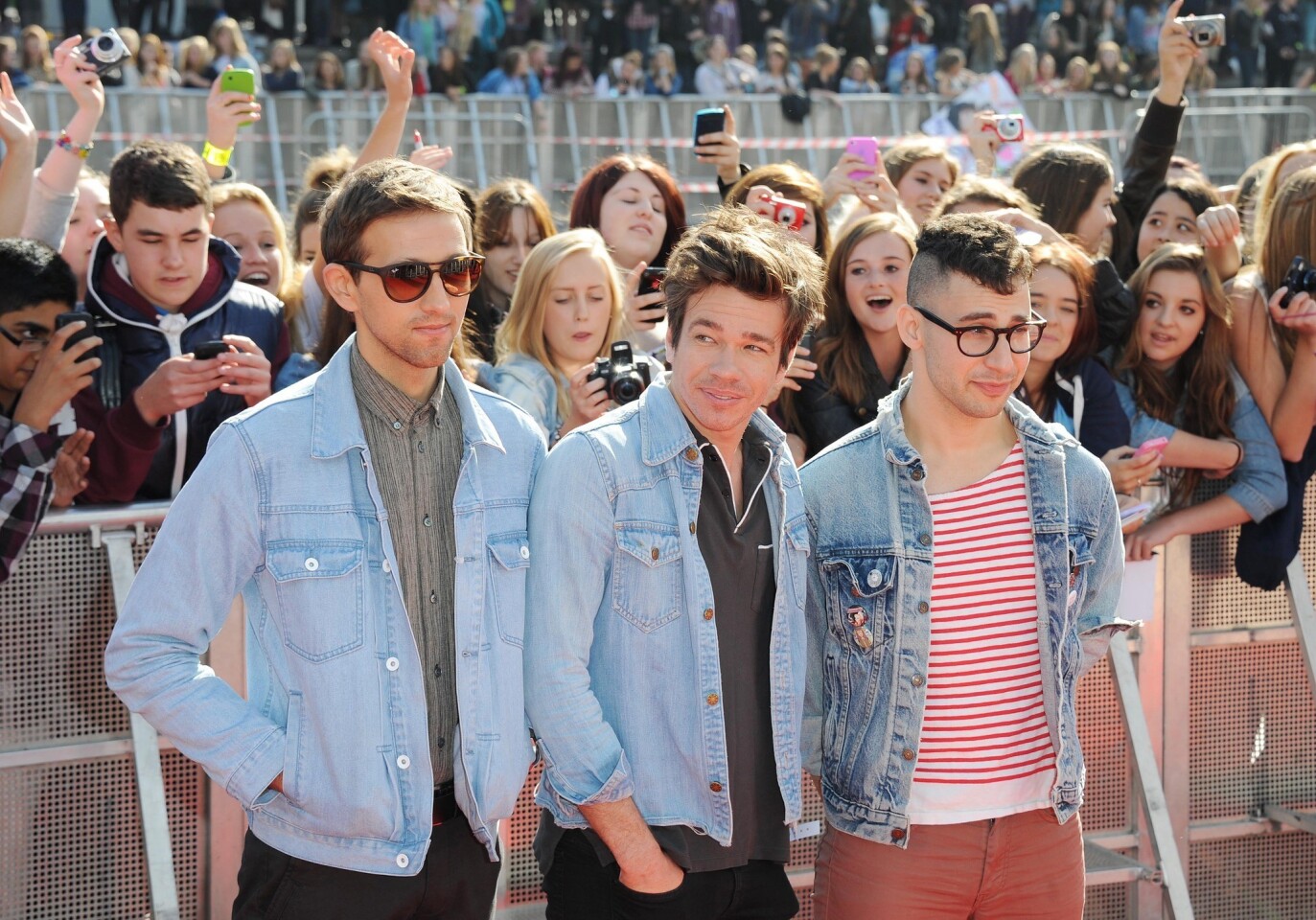 Just look at this band's name. Isn't it adorable in its preference for lower-case letters and a matter-of-fact period at the end? But despite impressive sales for the album "Some Nights," the typographically humble group is just being honest — there's just not much reason for excitement in the band's melodramatic melodies and yelping, electro-tweaked vocals from Nate Ruess (formerly of the Format). May we suggest a new grammatical flourish, such as "Fun?"
(Stuart Wilson / Getty Images)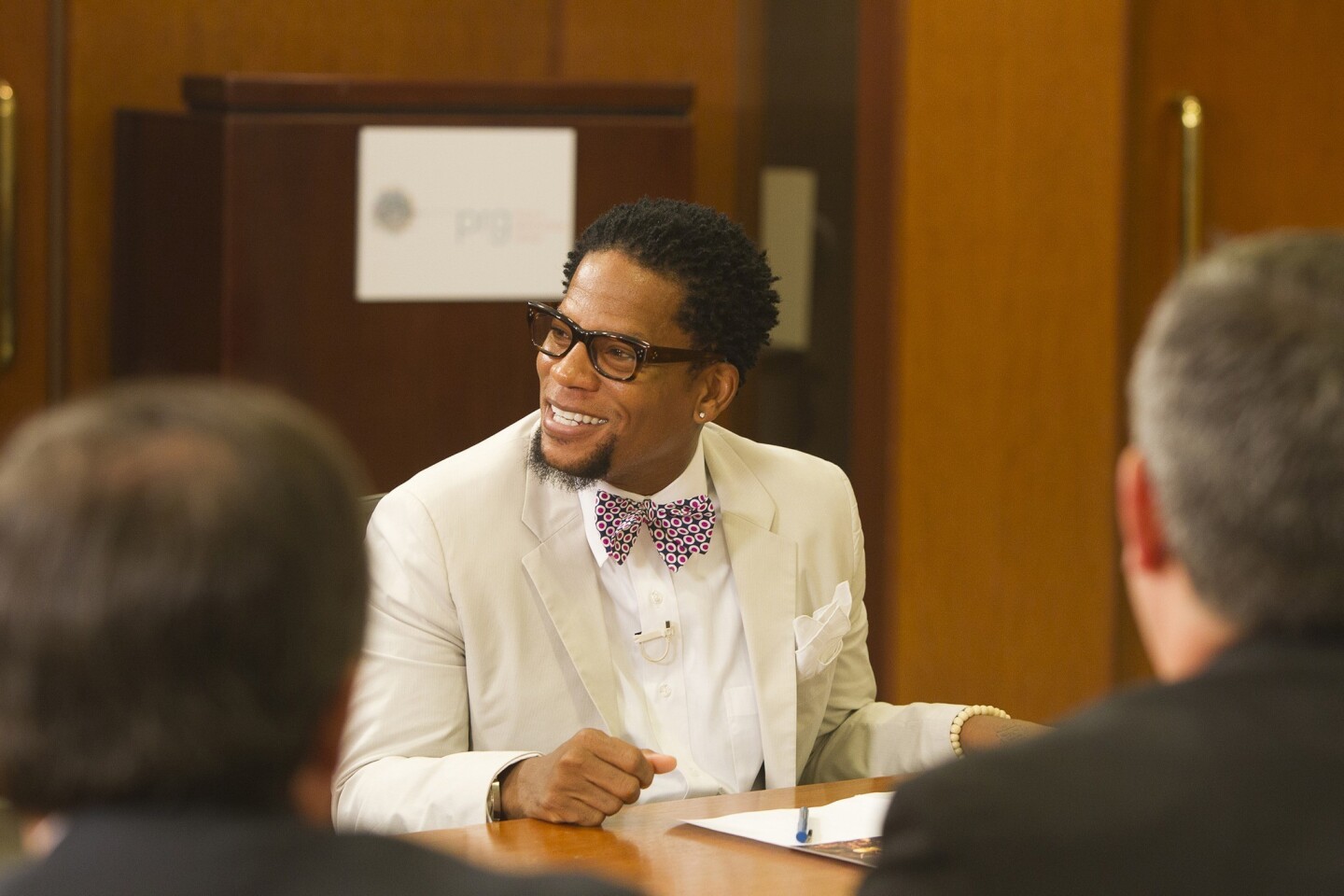 Star of his own '90s sitcom and regular on "Real Time With Bill Maher," Hughley hasn't been a large pop cultural presence of late except occasionally guest-hosting "Who Wants to Be a Millionaire." But his comic eye remains sharp, particularly on his new quasi-documentary "The Endangered List" on Comedy Central, which posits that black males deserve protected status. It's biting satire, particularly given that the numbers behind his claim are no joke.
(David Hathcox / Comedy Central)
Now that some time has passed since the
Lucasfilm
-Disney wedding, fans need to remember a key point about the future of this franchise: It really doesn't concern you. Whether Jar-Jar gets a musical montage or if Yoda becomes a theme park greeter, the trilogy that you treasured as a kid has been rebooted and wrung out for profit so many times it barely exists anymore. It's a money-making fairy tale and a nice memory, nothing more.
(Handout, Getty Images)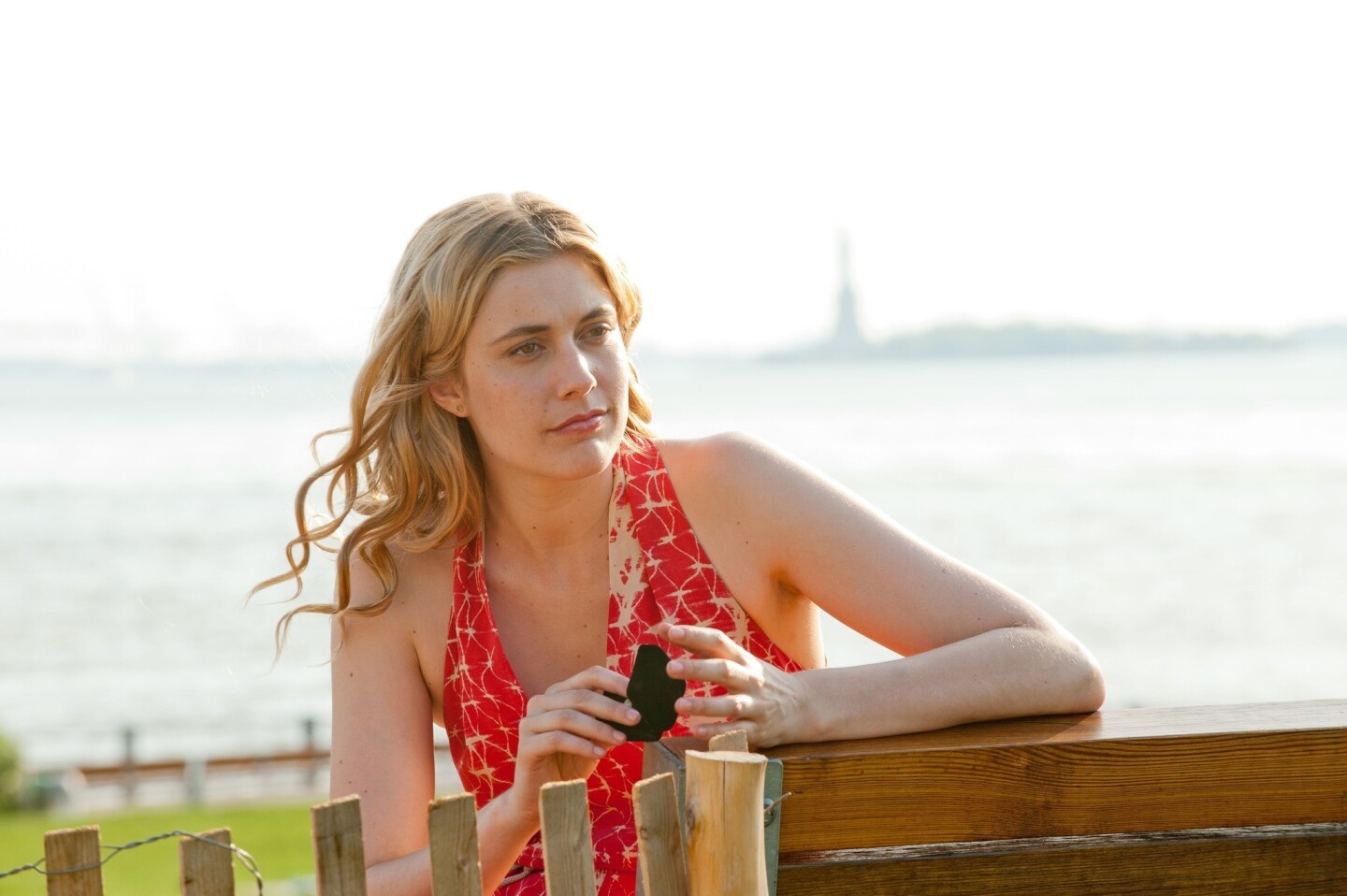 This indie comedy was supposed to be the next step in Greta Gerwig's rise to stardom, but negative reviews unfortunately derailed its rise. Though the movie is far from perfect, there's something refreshingly, even sweetly real in Gerwig's selfish title character as she fights through an array of bad decisions after a breakup. Lola has all the raw awkwardness of someone from Lena Dunham's universe but with less of a self-immolating edge.
(Myles Aronowitz / Fox Searchlight)
Though the comics can offer sharp takes on current events, superheroes are an awkward fit with the real world. The latest is a new issue of Superman that finds Clark Kent departing the Daily Planet because of declining journalistic standards. Never mind how easy that was for Kent (he's got a pretty good night job), but considering that only a pair of glasses kept Superman's coworkers from cracking his secret identity, maybe journalism wasn't that paper's strength.
( AP)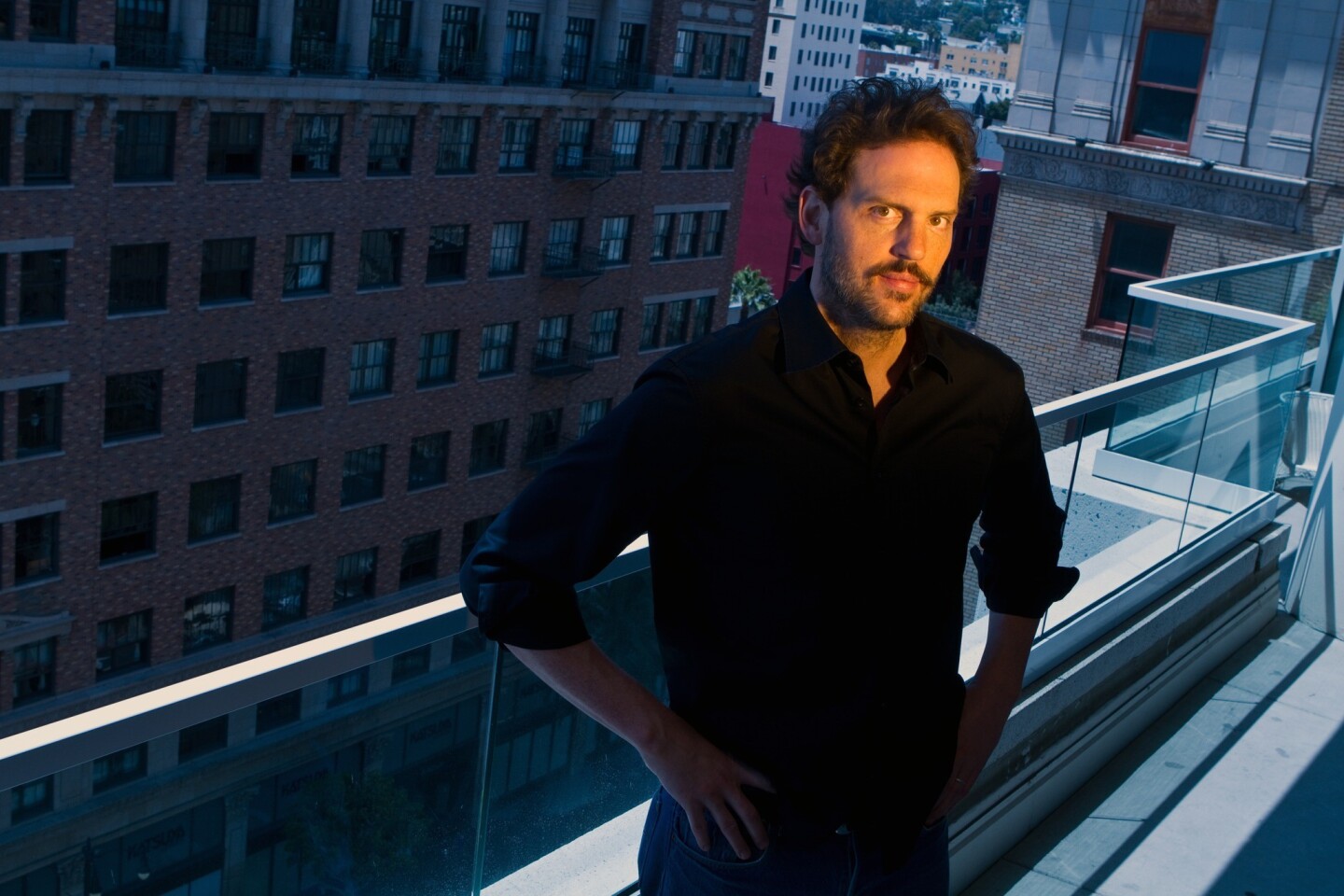 Other than its Portland, Ore., setting, there¿s not much to differentiate this NBC show from the raft of supernatural-leaning shows that hit the airwaves in the post-"Harry Potter" era. But Weir Mitchell stands head and shoulders above his costars and his show's middling special effects as the dryly sensitive Monroe, a reluctant werewolf who whiles away his time among adventures as a foodie, cellist and cozy sweater enthusiast.
(Irfan Khan / Los Angeles Times)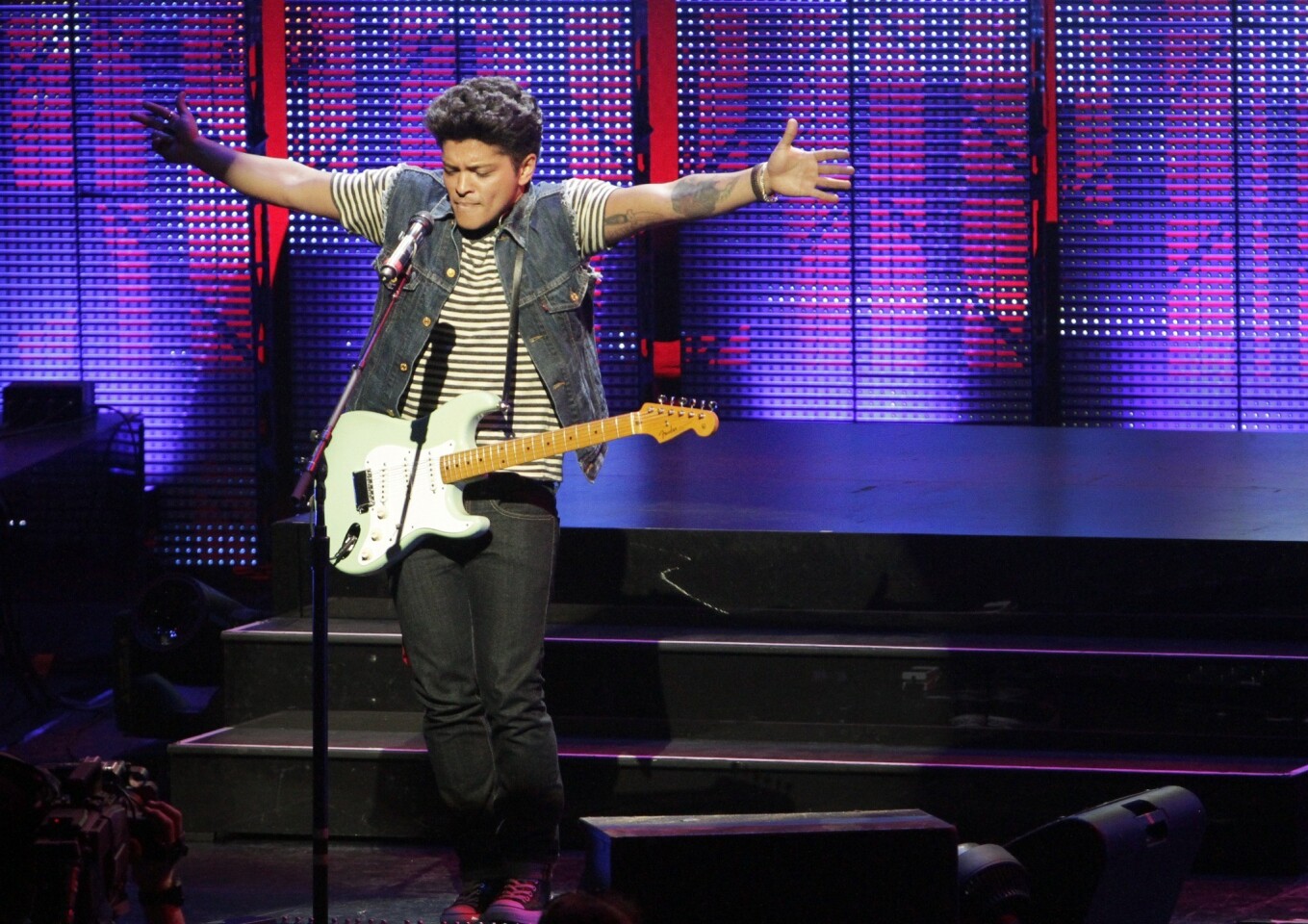 As Usher and even Justin Bieber have proved, the world needs young singers to step into Michael Jackson's shoes as princes of pop. And despite a promotional push that included a puzzling (and not very funny) double-dip into hosting and performing as musical guest on "Saturday Night Live," there just doesn¿t seem to be much new to be heard from Mars. Is it a good sign when an "American Idol" cover of his "Runaway Baby" outshines the original?
(Lawrence K. Ho / Los Angeles Times)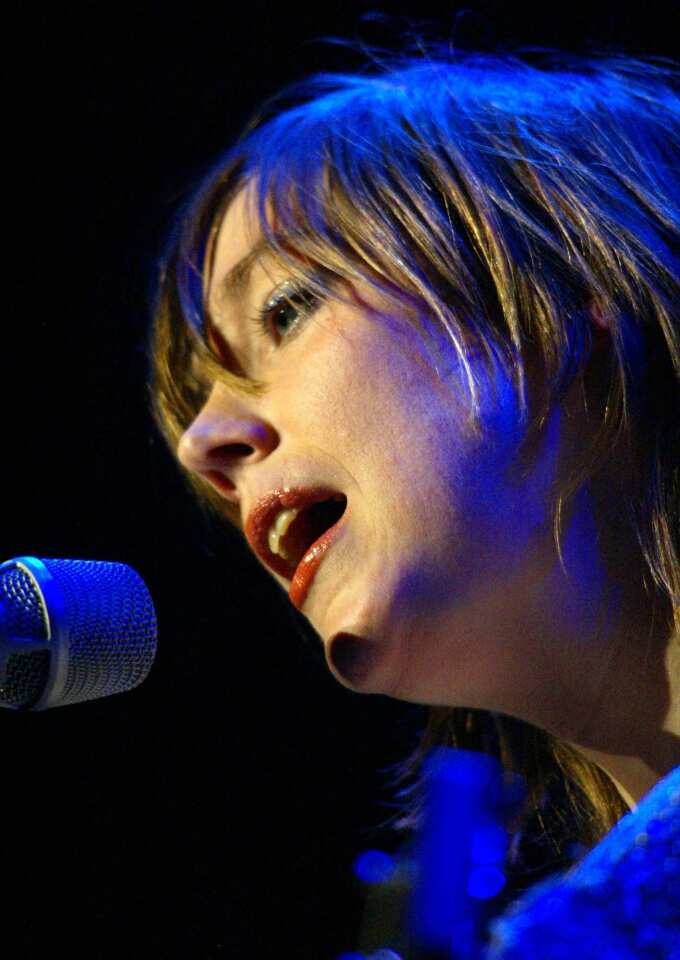 Though occasionally compared with Beck early in her career for her dalliances with electronics, Orton's latest album is a purely organic affair. Backed by a crack yet understated band that includes drummer Brian Blade and guitarist Marc Ribot, the breathy-voiced Orton turns to elements of vintage British folk for a sunlit, woodsy collection buoyed by gentle guitar and strings that sound richly bittersweet any time of year.
(Lawrence K. Ho / Los Angeles Times)
There are few filmmakers who pair comedy with self-aware adventure quite like Wright, who gave us the terrific "Shaun of the Dead" and the underrated "Scott Pilgrim vs. the World." But in taking on a superhero obscurity in "Ant Man," Wright is showing a troubling tendency to take on projects that seem tough to make and tougher to sell. All we want is more movies from you, Edgar ¿ why are you making it so hard on yourself?
(Piper Ferguson)
Despite glowing reviews and a killer cast, "Seven Psychopaths" still underperformed at the box office, and maybe writer-director McDonagh is partly to blame for being just too difficult to sum up in a trailer. A twisted, self-aware blast led by a witty Colin Farrell, "Seven Psychopaths" is sharp enough to earn McDonagh another screenwriting Oscar nod, but he keeps being presented as something akin to an Irish Tarantino. He's so much more.
(Carolyn Cole / Los Angeles Times)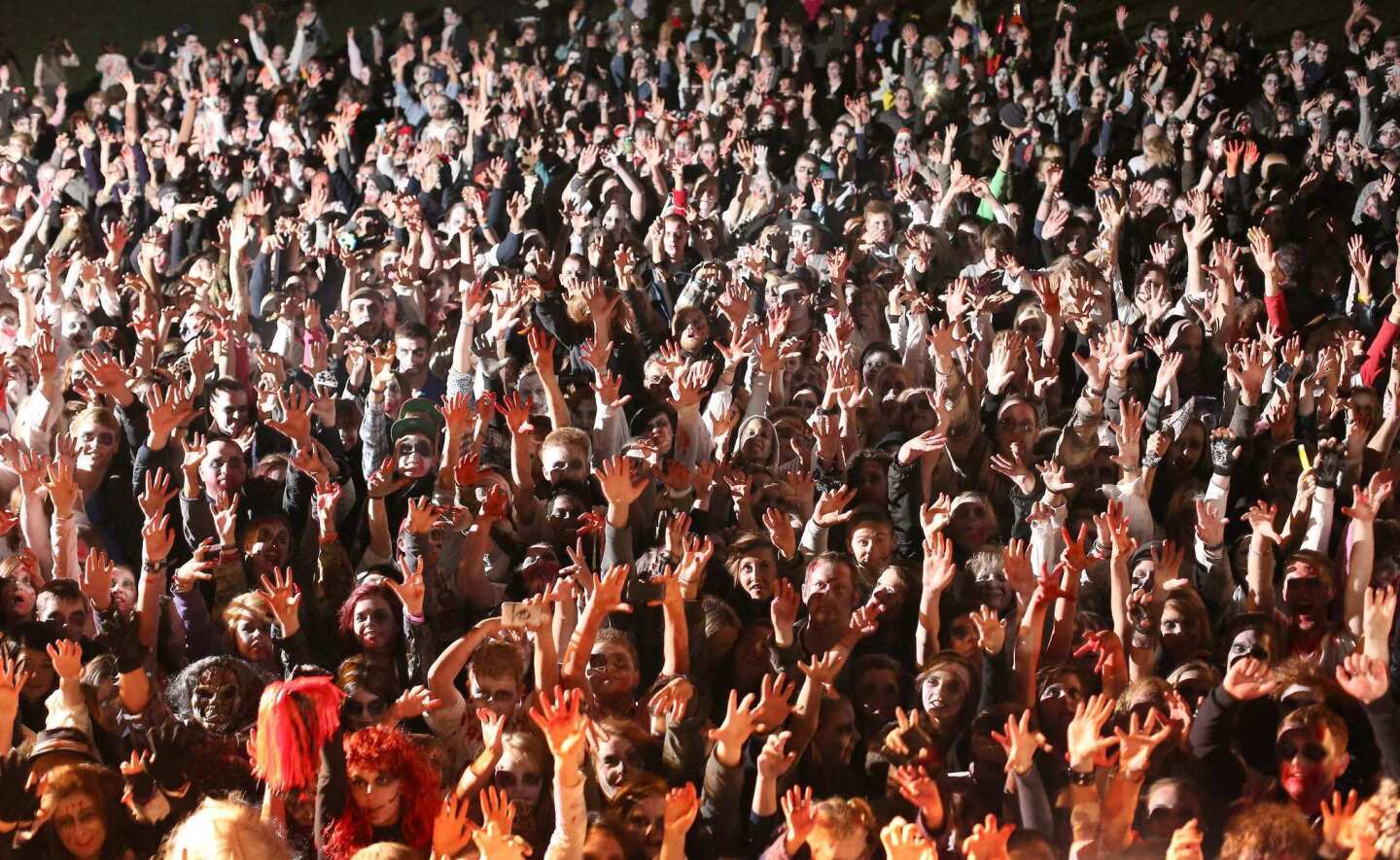 It's been proven with the success of AMC's "The Walking Dead" that there's money to be made with this former horror fringe-dweller, but we've reached a saturation point. This Halloween has seen a number of local zombie-themed events, and a counter-terrorism event in San Diego even hosted a zombie drill, which makes almost as much sense as an Easter Bunny hunt. Can Hollywood get back to run-of-the-mill maniacs with axes soon, please?
(Peter Macdiarmid / Getty Images)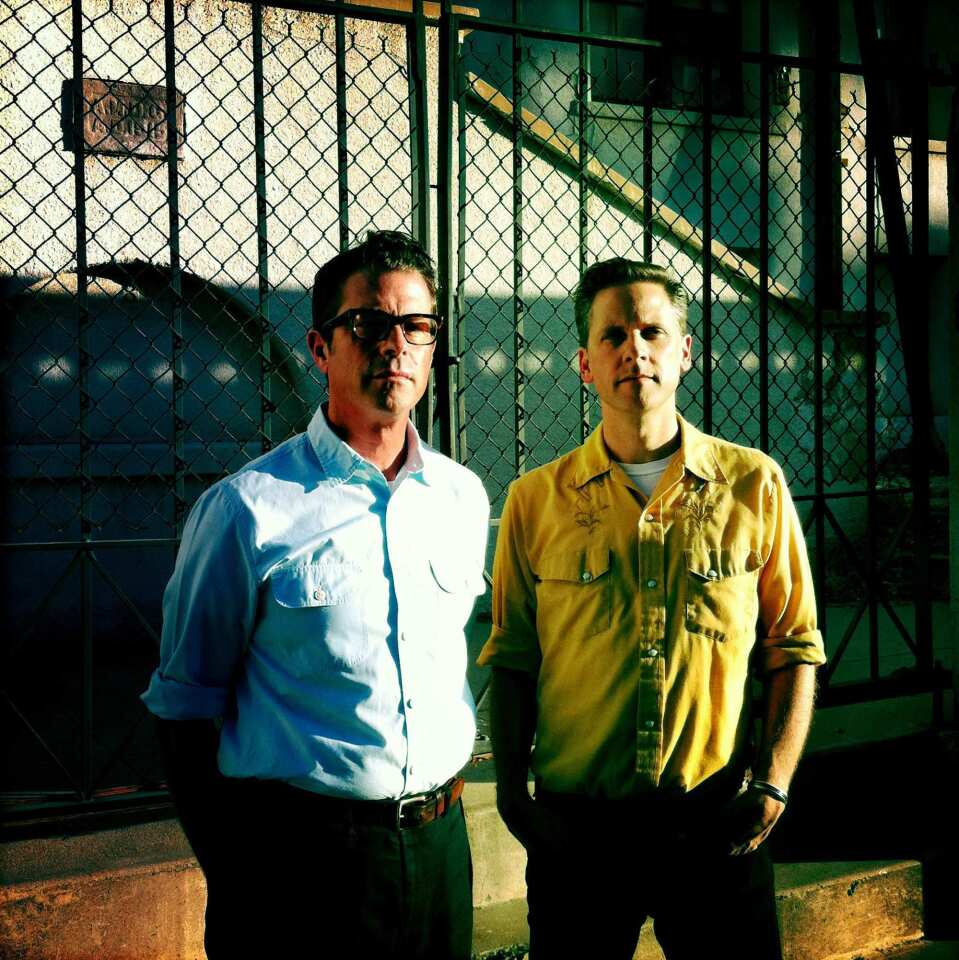 Few bands are as steeped with the sound of its geography as this project led by guitarist Joey Burns and drummer John Convertino. Based in Tucson, the long-running band has built a career out of mining the sounds of the Southwest for a lush and at times noirish take on borderless rock. The band's rich new album, "Algiers," was recorded in New Orleans, but you can feel the world warmly tilt to the dustier climates with every listen.
(Jairo Zavala)
Now that smartphones have made great strides in capturing the freakishly famous on video, footage is readily available anytime someone gets a little green in public. First Justin Bieber learned the dangers of dairy last month, and now Lady Gaga had a digestive incident of her own onstage in Spain. We just need a third incident and it's a trend: Getting sick will officially replace the sex tape as the new low-budget career boost.
(Ian Gavan / Getty Images)
There's not a whole lot to say about this soapy "Dallas"-meets-CMT TV drama (other than it's a pleasure to see Connie Britton back in her element after the campy "American Horror Story"), but Boothe is at his villainous best as the show's J.R.-like patriarch and power broker, Lamar Wyatt. Growling and gleefully chewing scenery, Boothe flexes the same sinister air as his steely turns in "Tombstone" and "Deadwood."
( ABC)
The Garden State's been the butt of jokes for years, but now the pop culture pendulum has swung the other way. It's not that shows like the mercifully cancelled "Made in Jersey" and its predecessors "Jersey Shore" and "Real Housewives of New Jersey" give the state an inflated sense of self (New Yorkers will surely ensure that doesn't happen), it's that an overabundance of Jersey unfairly prevents so many other states from branding themselves with annoying stereotypes too.
(Matt Sayles / AP)
It's a gorgeously filmed meditation on the mentor and protege dynamic and the rise of a cult, and features an acting tour-de-force from
Philip Seymour Hoffman
and
Joaquin Phoenix
, whose posture alone is twisted in such a puzzle of demented humanity he's practically the embodiment of the border between beast and manhood. And at the helm is Paul Thomas Anderson, one of the few filmmakers unafraid to allow you to leave the theater with more questions than answers.
(The Weinstein Company)
Days before the release of the band's 20th album, "Monster," a few questions hang in the air. First, how odd must it be to slap on white face paint and platform boots at the age when many have shifted into golf and grandparenting? Second, how does a band that seemed like a lab invention tailor-made for '70s teenagers still resonate in 2012? Does the demand for big, dumb rock songs about the act of rocking never run dry?
(MIGUEL SIERRA, EPA)
After a 2011 that found him releasing three eclectic albums, trumpeter Douglas looked inward with his latest, a recording dedicated to his late mother. A lush collection of hymnals and elegies reworked into widescreen jazz, "Be Still" is highlighted by the crystalline,
Alison Krauss
-like vocals of bluegrass singer Aoife O'Donovan, but it's Douglas and a nimble band that shines through with a record crafted for the autumnal golden hour.
(Joe Giblin / Associated Press)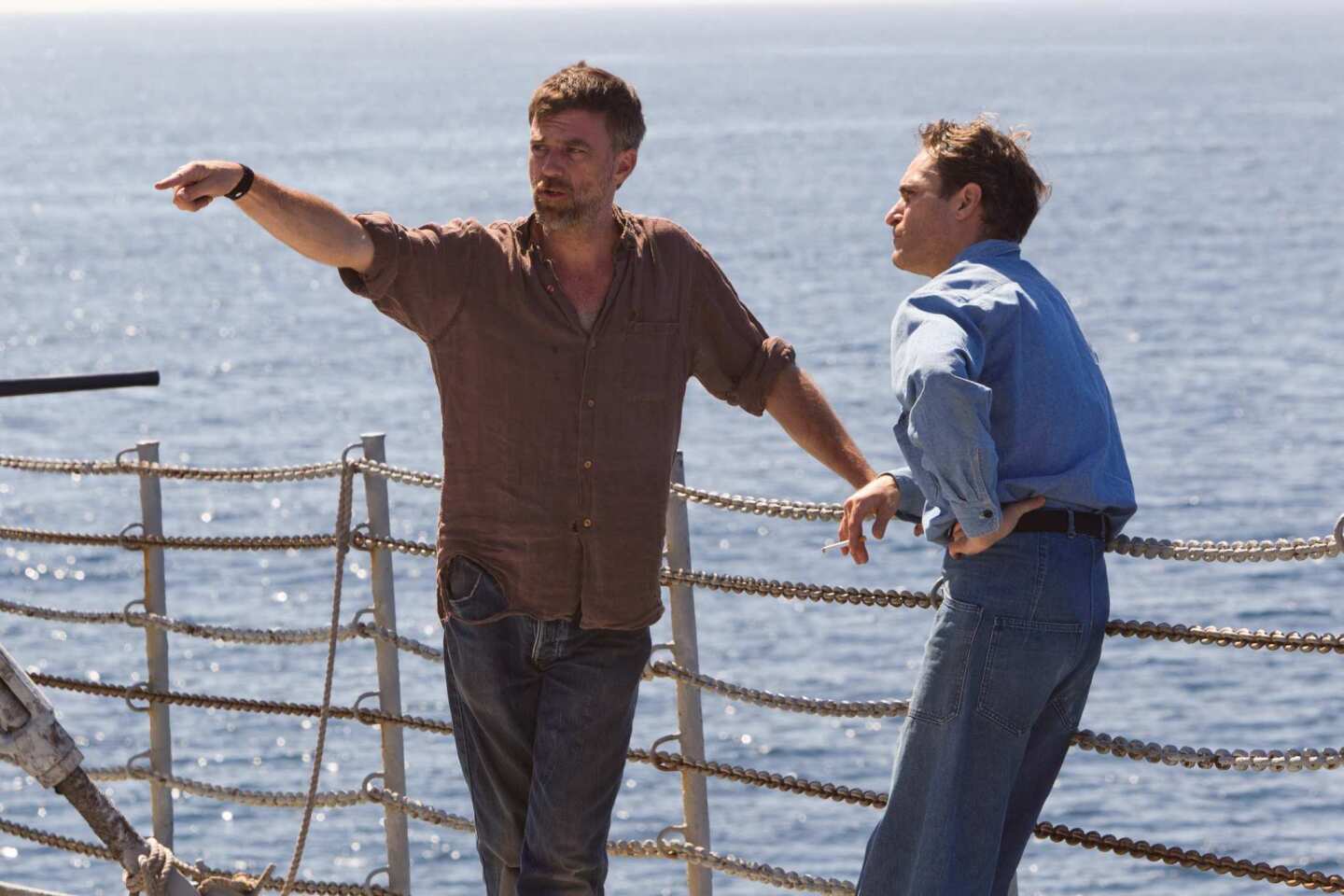 An overblown story of a man who begins the film as a violent drunk and — more than two hours later — stays that way. The latest from Paul Thomas Anderson is long on auteur ambition and Oscar-baiting performances but ultimately short on story or characters that inspire any sympathy. (But as much as Anderson's well-shot ride feels hellbent on not working for everyone, finding out whether it does is worthwhile after a lazy Hollywood summer.)
()
A fixture in the underground music scene since the '80s with performances that reveled in a nihilistic, nearly unbearable intensity, this band's masterful new album is like hearing the Book of Revelations set to music. Joined by indie rock fixtures Karen O, Low and Akron/Family, Swans frontman Michael Gira (pictured) sounds like Nick Cave crossed with a fallen preacher on a cathartic double-album that carries the power and nuance of a spiritual journey.
()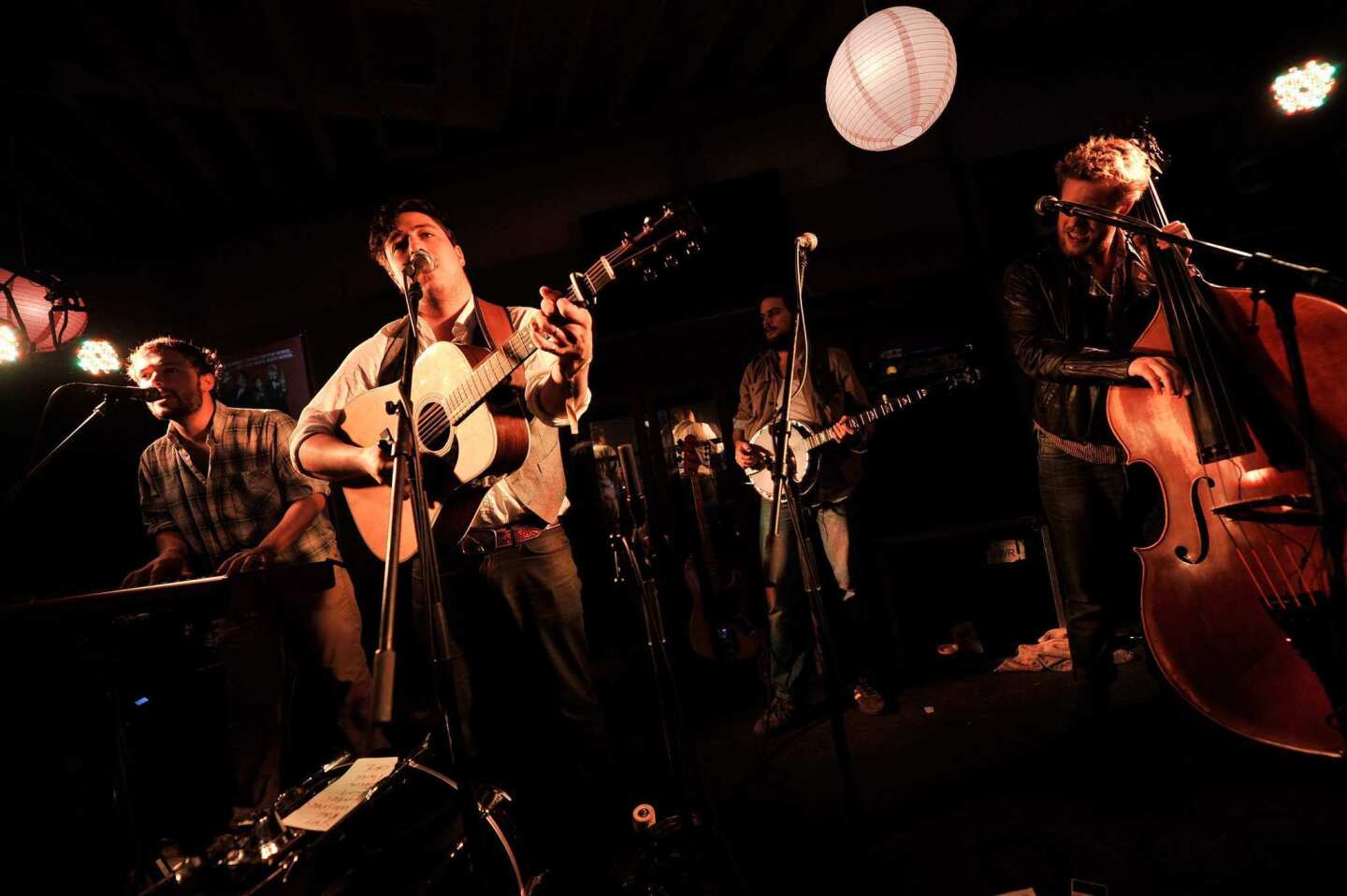 With rustic harmonies and rousing melodies, all the ingredients are in place for this nouveau-folk band to win over the hardest musical heart. So why do so many of this U.K. band's pleasant songs fade into the background? Maybe it's the overabundance of breezily sincere emoting from leader Marcus Mumford or the inescapable feeling that all the earnestness in the world can't overcome the sense this music isn't saying anything new.
(Gareth Cattermole / Getty Images for Guinness)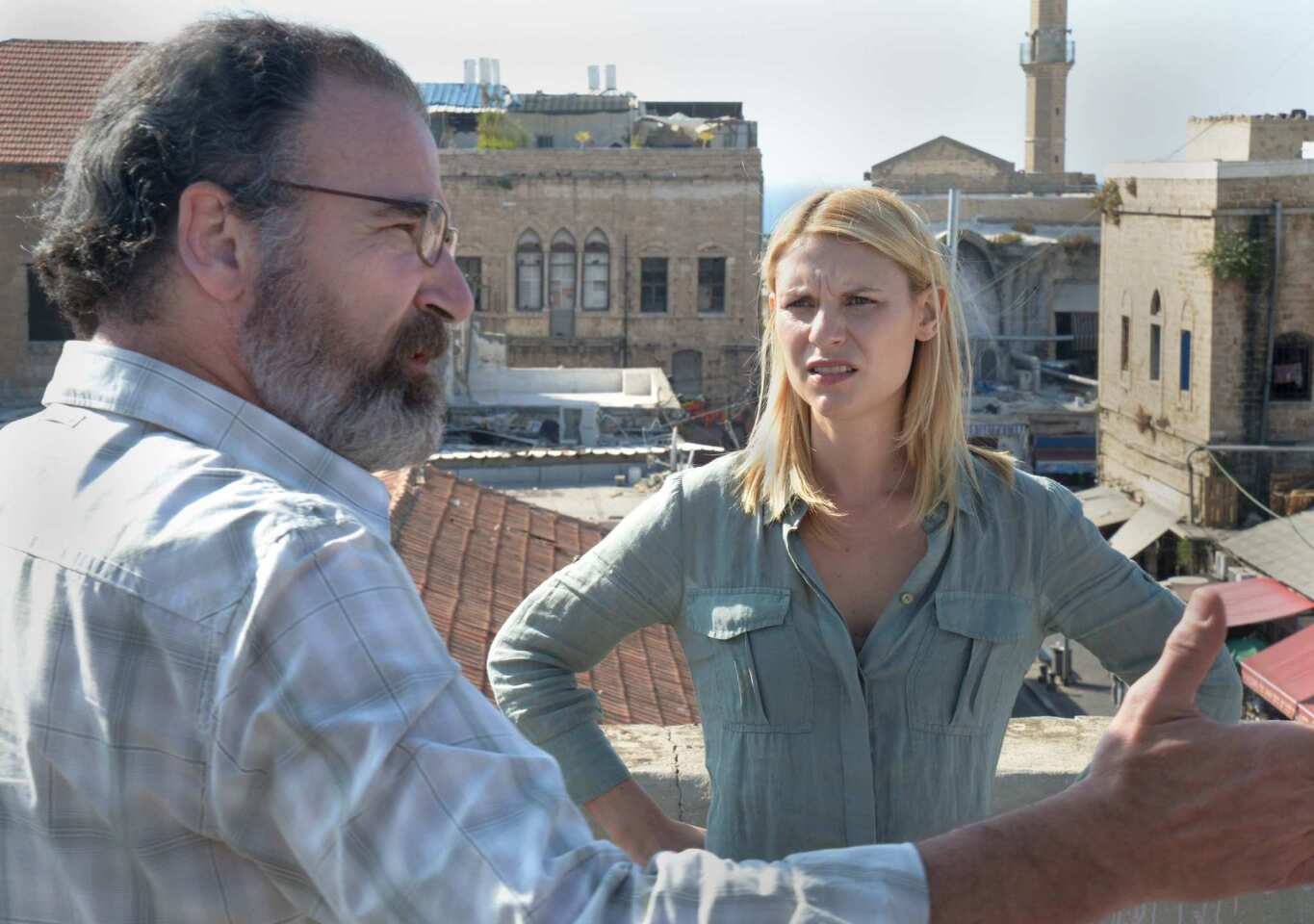 After being all but crowned the next "Sopranos" after multiple wins on Emmy night, this show is dangerously close to veering into the other side of this category, particularly given a few nagging plot holes in an otherwise standout season. Still, winner
Claire Danes
was right to single out Patinkin, who does more with a beard-shrouded glare and an intensely mumbled question than most actors do with a full-scale emotional outburst.
(Ronen Akerman / Showtime)
As easy as it is to root for Kaling after her witty run on "The Office," her new show isn't yet the immediate winner that the avalanche of hype would indicate. There's no arguing Kaling's comic chops, charm or taste in guest stars, but aren't there fresher issues for her smart, professional character than just finding a man? Sure, sitcoms have rules to follow, but Kaling seems more capable of subverting them than this.
(Greg Gayne / FOX)
One of the bright spots in the comedy podcast explosion, this show led by "The State's" Kevin Allison adds an element of the storytelling hit "The Moth" by inviting comics to share stories never intended for the public. Sometimes, the results are as simple as raw material from comics whose style already tilts toward storytelling, while others, such as Michael Hirstreet's account of a first love strong enough to cause a brain hemorrhage, are irresistibly poignant.
()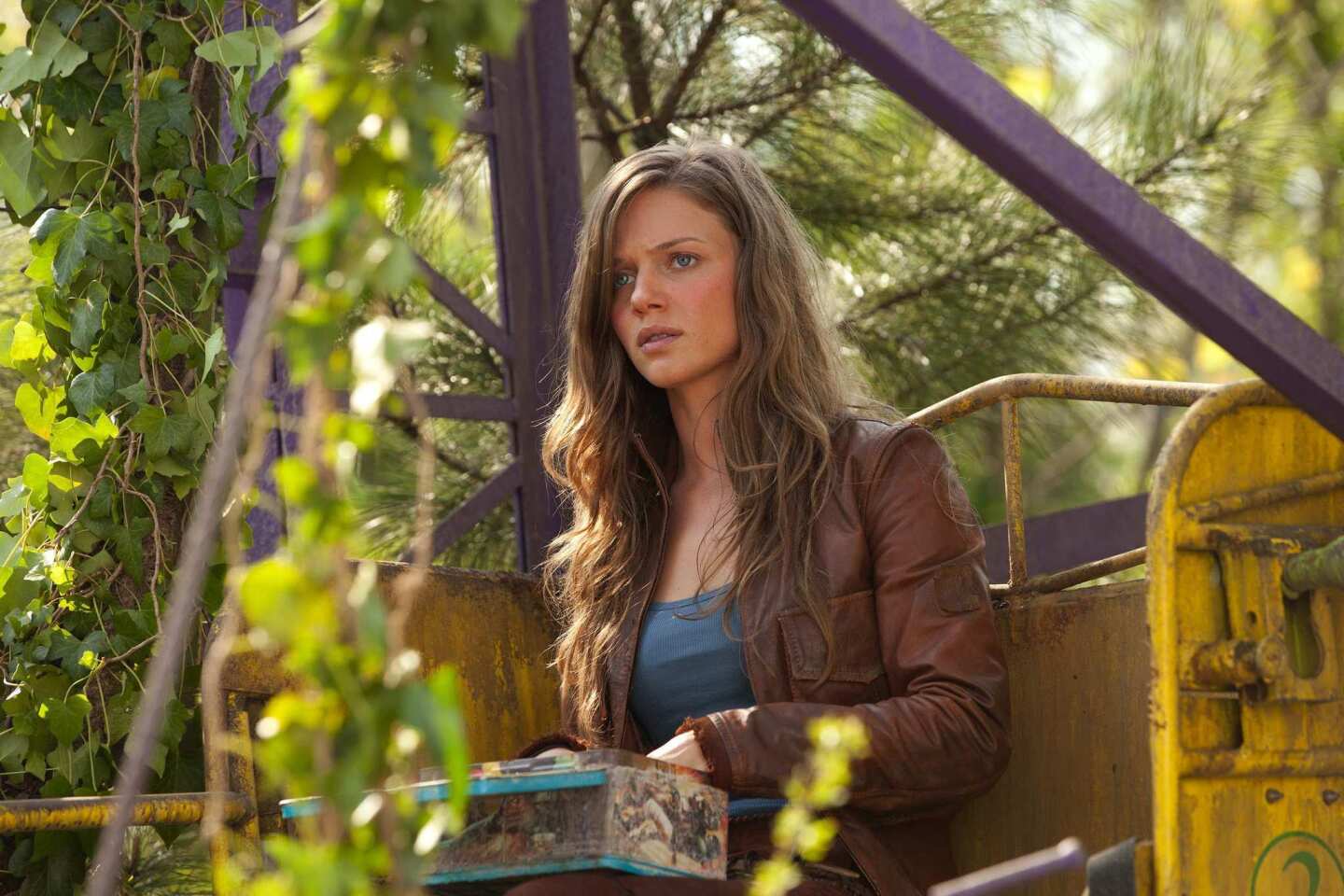 Not many fall shows sound genuinely new on paper, which may be why the first episode of this intriguing newcomer fell so flat. After an opening that dramatically set up a global power outage with shades of Cormac McCarthy, a couple of teen catalog models take center stage and the cliches pile up fast, along with ham-handed attempts to echo "The Hunger Games." Shouldn't a show called "Revolution" be less conventional?
(NBC)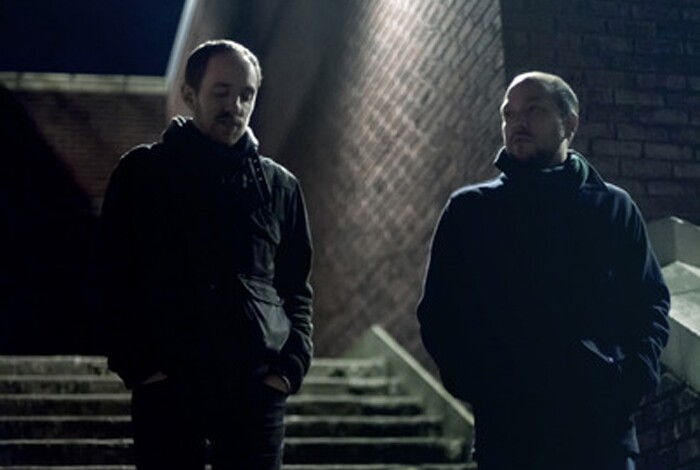 Once an atmospheric and yelpy guitar rock band, this Oregon duo made the leap to pop craftsmen with a new album. Occasionally recalling the dramatic sweep of British bands such as James and early
Coldplay
, Helio Sequence makes music primed for the wide open spaces. Try the addictive "Downward Spiral," which rides an insistent beat and echoing vocal for a song that makes sadness sound positively anthemic.
(Sub Pop)
In the Internet era, pop culture topics seemingly exist on two settings: invisible or inescapable. The latest beneficiary is Psy, the amusingly self-effacing Korean rapper behind "Gangnam Style," a techno-pop trifle/dance craze that went from
YouTube
to
"Saturday Night Live"
in roughly five minutes. Now that Psy has signed a record deal, you have to wonder which catchy phenoms his career will mirror most: Baha Men or Los del Río?
(Chung Sung-Jun / Getty Images)
Those names may not make any sense, which is fine, because there's no way to describe a comedy show hosted by a pair of sock puppets in a way that will make sense. Cult favorites from
MTV
during the try-anything '90s, the twisted creations of musician-director Liam Lynch are back and reviewing imaginary video games on
YouTube
. Like a hilarious, hallucinogenic take on "
The Muppet Show
," "Sifl & Olly" still — thankfully — makes no sense.
(MTV)
This week brings the full-length album from the voice of summer's earworm "Call Me Maybe," and one question springs to mind: Why? Her single become so inescapable that you've probably heard six cover versions on top of the original, and it's not like that kind of lightning strikes twice. More to the point, unless this is a concept album (fingers crossed!), how does anything she sings need to be longer than three minutes?
(Charles Sykes/Invasion/AP)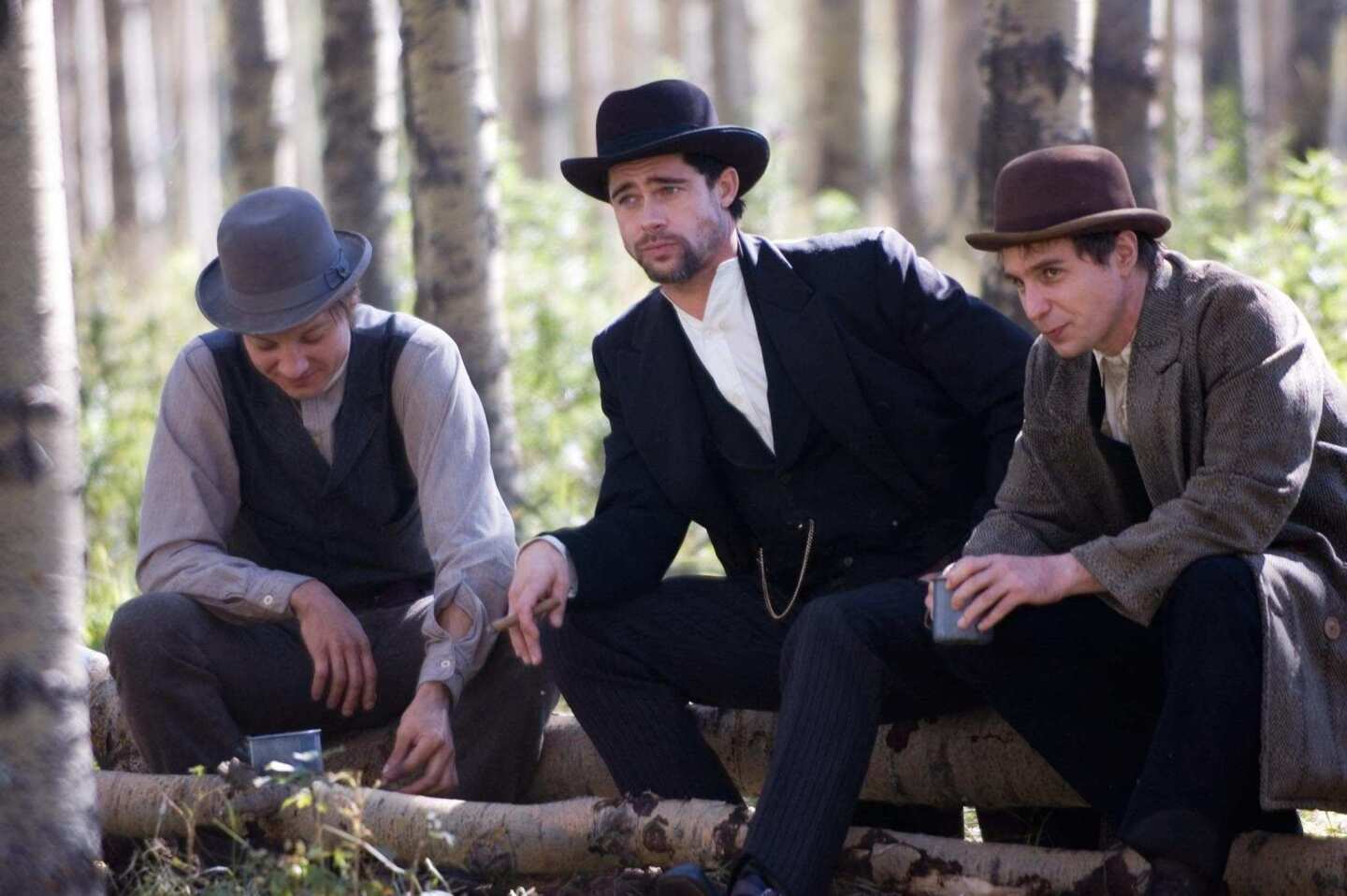 With filmmaker Andrew Dominik teaming with
Brad Pitt
on
"Killing Them Softly"
next month, it's worth revisiting their last collaboration from 2007. Framed by haunting music by Nick Cave and Warren Ellis, the lush artistry of cinematographer Roger Deakins burns this gothic western into your memory, and unsettling turns by Pitt,
Casey Affleck
and the ever-antsy Sam Rockwell will keep it there.
(Warner Bros. Pictures)
What does the 2008 movie "Definitely, Maybe" have in common with recent indie films
"Hello I Must Be Going"
and
"Rid of Me"
? All are playing on a sense of unearned familiarity among music fans in a savvy twist of marketing. Are Oasis fans likely to fall in love with a
Ryan Reynolds
rom-com? No more than
Phil Collins
or
PJ Harvey
fans will necessarily relate to the latter two examples, which odds are sound much better on paper.
(Universal Pictures)
It's easy to rack up genres in attempting to describe this Berkeley-based ensemble. Chamber-gypsy-jazz-folk? Sure, let's start there, but the group's latest album, "The Rain Is a Handsome Animal," adds poetry to the mix with lyrics taken from the works of
e.e. cummings
. Featuring an evocative, percussionless mix that includes Ben Goldberg's twisting clarinet, Rob Reich's accordion and the violin (and lilting voice) of Carla Kihlstedt (pictured), Tin Hat utterly shines.
(Eric Parsons / For The Times)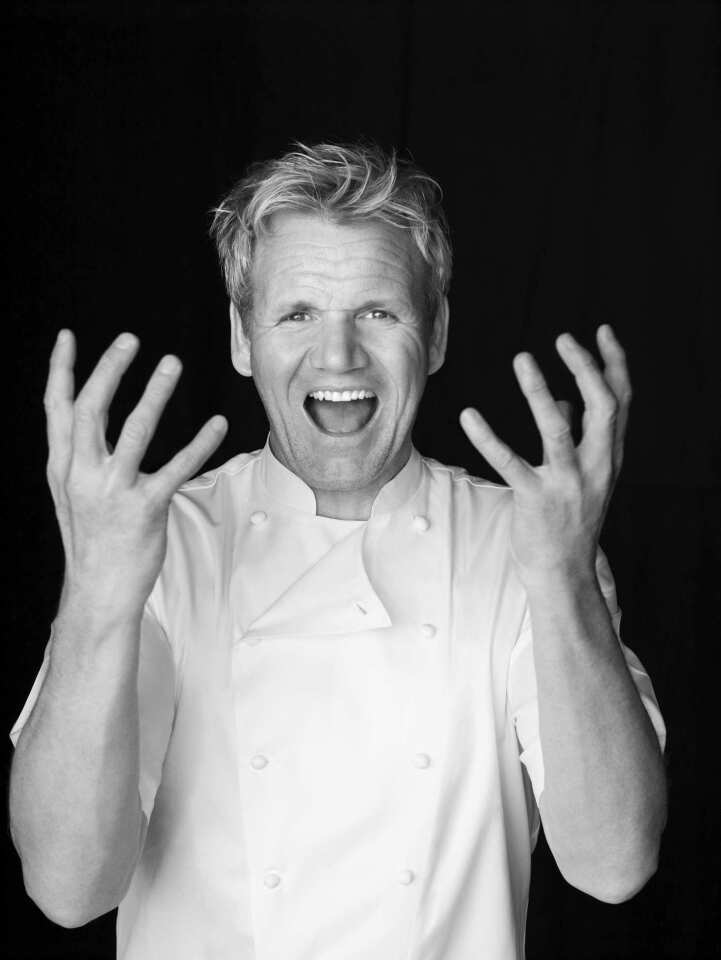 Life's apparently gotten so good for traveling celebrity chef and taskmaster Gordon Ramsay that he has branched into berating hotel management for not doing things properly in this unnecessary and overblown spin-off. You have to wonder whether Ramsay will eventually get a show allowing him to bark at people from every profession. Think of it — baristas, bankers, congressmen, network executives — the possibilities are surely (and sadly) endless.
(Brian Bowen Smith/FOX, xx)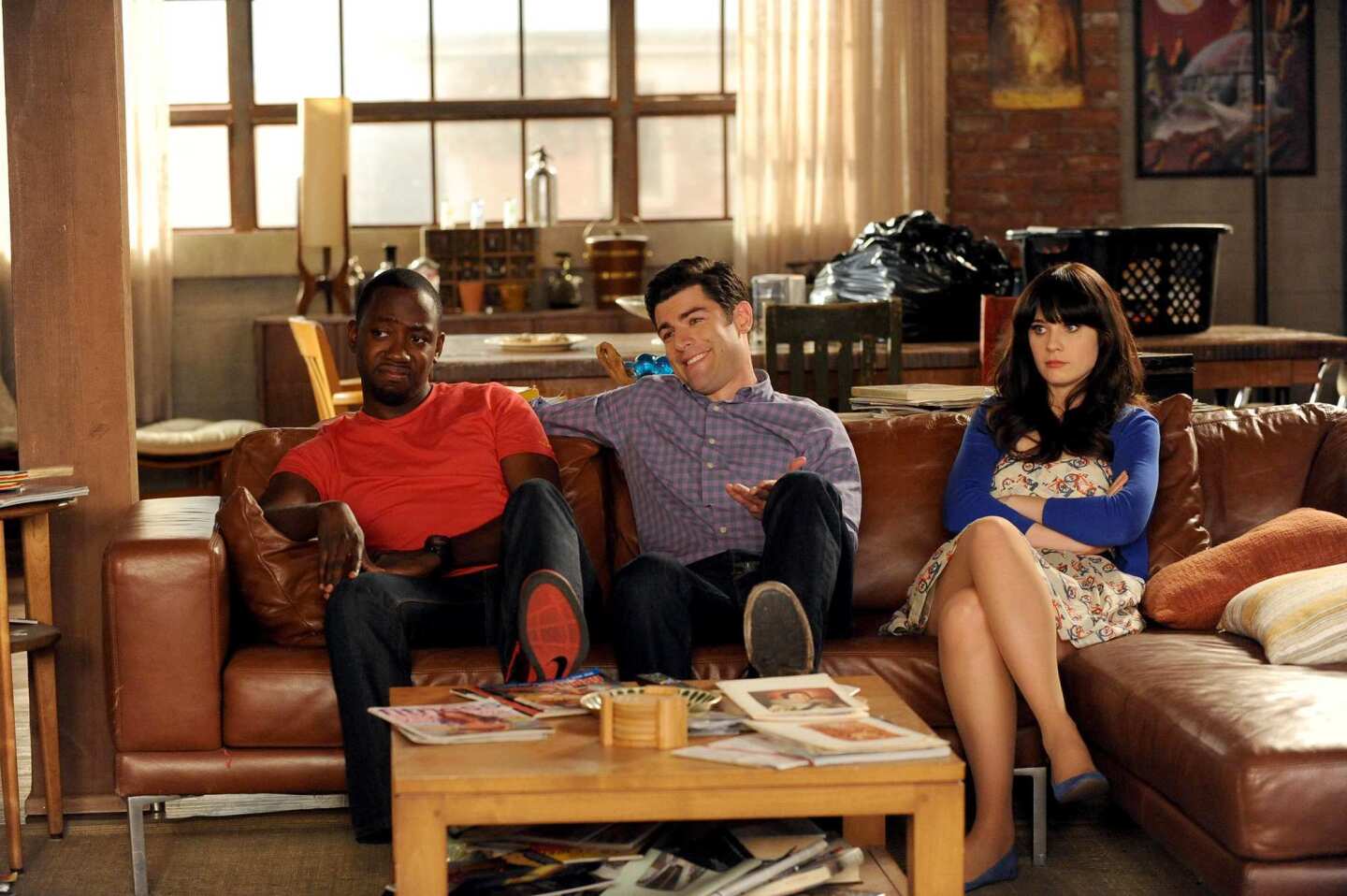 A serious case of Zooey fatigue resulted in not giving this show a fair shot in its first season, but once you get past the "adorkable" shtick (which, to Deschanel's credit, is mocked pretty regularly), there's a solid comic ensemble at work. Though there are some tired sitcom trappings that could still be scrapped, there's fine timing on display here, particularly with Jack M. Johnson's manic Nick and the Emmy-nominated Max Greenfield.
(Patrick McElhenney / FOX)
By the time you read this sentence, it's possible that this film brought to you by the "marketing visionary" behind the Teletubbies will already have disappeared from theaters. Here's a tip for future visionaries: Don't bring up the fact that your movie was made in the spirit of selling consumers something. Even though that tends to be true most of the time, at least have the courtesy to pretend it's not on billboards.
(Matthew Mitchell / Associated Press)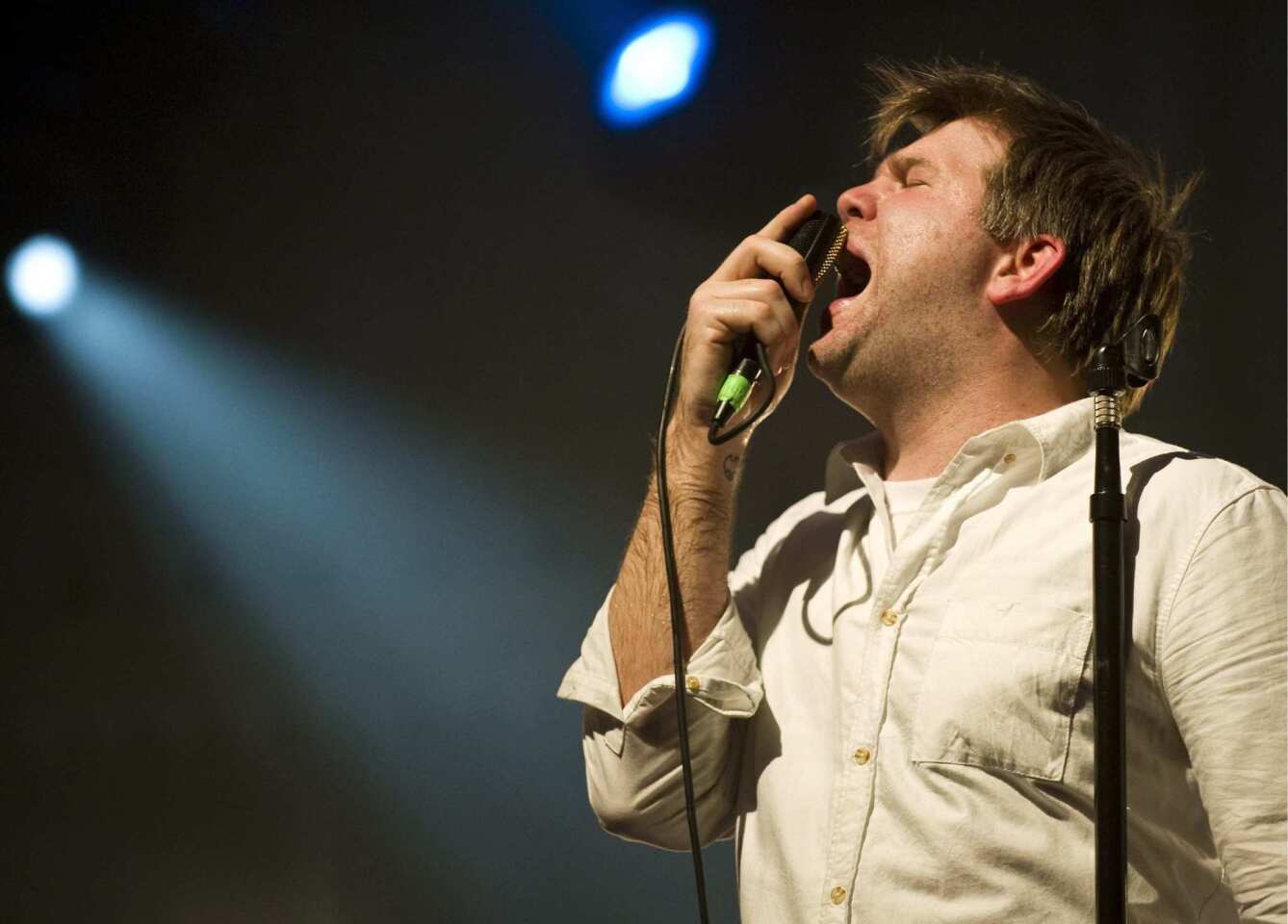 Some might best remember this song as the soundtrack for a twitchy Ray Liotta near the end of "Goodfellas," but it made a welcome recent cameo in the excellent LCD Soundsystem documentary
"Shut Up and Play the Hits"
during one of the band's final shows. In bandleader James Murphy's hands the song gets a swirling dance-rock update, but the original's guitar-and-bass drive remains intact and timeless.
(Marten Van Dijl / EPA)
With a new album due this week, this Baltimore-born group satisfies a key requirement for being an indie rock heir to the Grateful Dead by being utterly baffling to those who aren't onboard. With the group's signature mix of swirling
psychedelia
, restless rhythms and electronic burbles around chattery, nonsense vocals, "Centipede Hz" will be adored by those already following the band far out, and maybe it sounds best from there.
(Brian van der Brug / Los Angeles Times)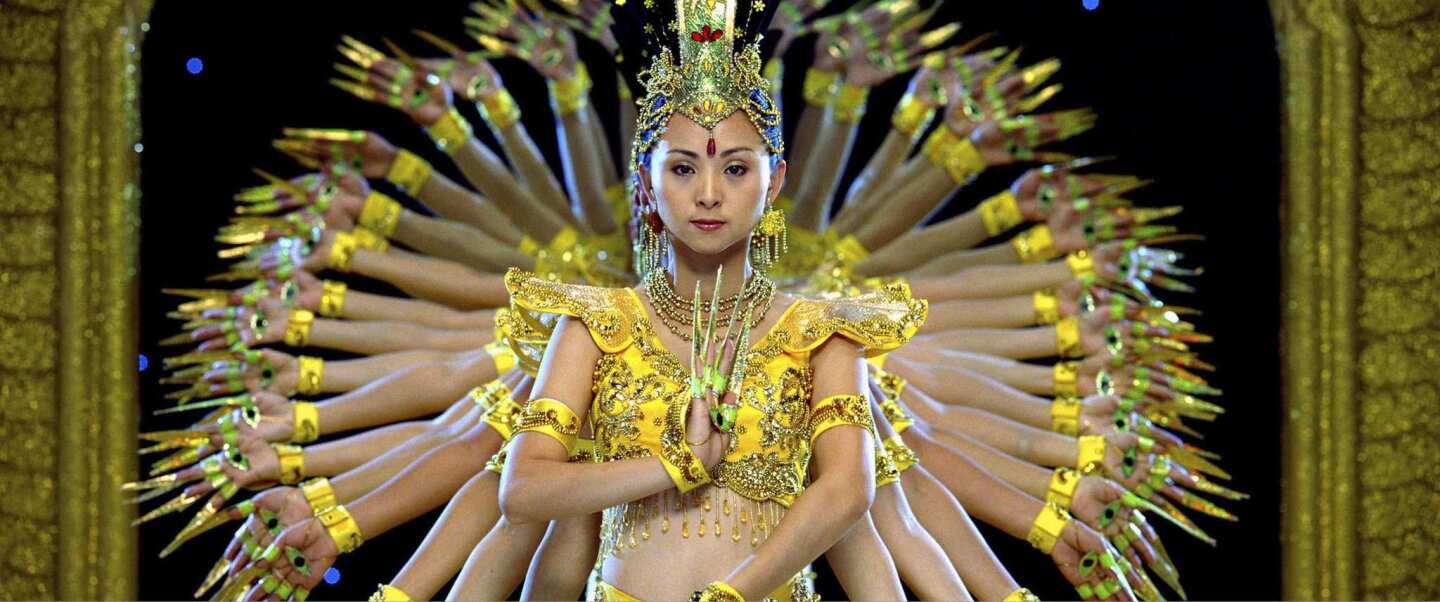 With its 70-millimeter sequel "Samsara" trickling into theaters (pictured), it's a splendid time to revisit Ron Fricke's remarkable previous outing, which stands the test of time (particularly in high definition). Full of jaw-dropping visuals, "Baraka" is maybe the richest, most transformative tour of the world you can take without leaving your house, with vivid depictions of nature, spirituality and industrial decay. No dialogue is spoken, and none is needed.
(Ocilloscope)
You can't blame
NBC
for trying to recapture the days of
"Friends"
and "must see TV," but this new series with
Matthew Perry
seems mostly content with just providing a familiar face in a familiar format. Turning to the typical formula of combining misfits in a small space (this time in a group therapy session), this show on first impression doesn't offer more than mean-spirited one-liners and sports cameos. Perry — and the rest of us — deserve more.
(Jordin Althaus, xx)
Given the overabundance of travel shows mutating and reproducing on TV, maybe it's fitting that the most unique of the bunch exists only online. Levitch will sound familiar if you caught his starry-eyed turn in
Richard Linklater
's "Waking Life" or 1998's "The Cruise"; here, he's perfectly in his element leading tours of unconventional sites such as Chicago's former Hobo College, sometimes while talking with inanimate objects.
(Frederick M. Brown / Getty Images)
Has anyone noticed that there are a lot more "legends" being declared these days? Admittedly, this promotional crutch may be a side effect of a generation of rock stars advancing into their AARP-eligible years, but let's consult Webster's before we start branding too many more singers. Sorry, "Sparkle,"
Whitney Houston
hasn't been gone long enough to earn the badge yet, and frankly,
John Legend
, you're on thin ice too.
()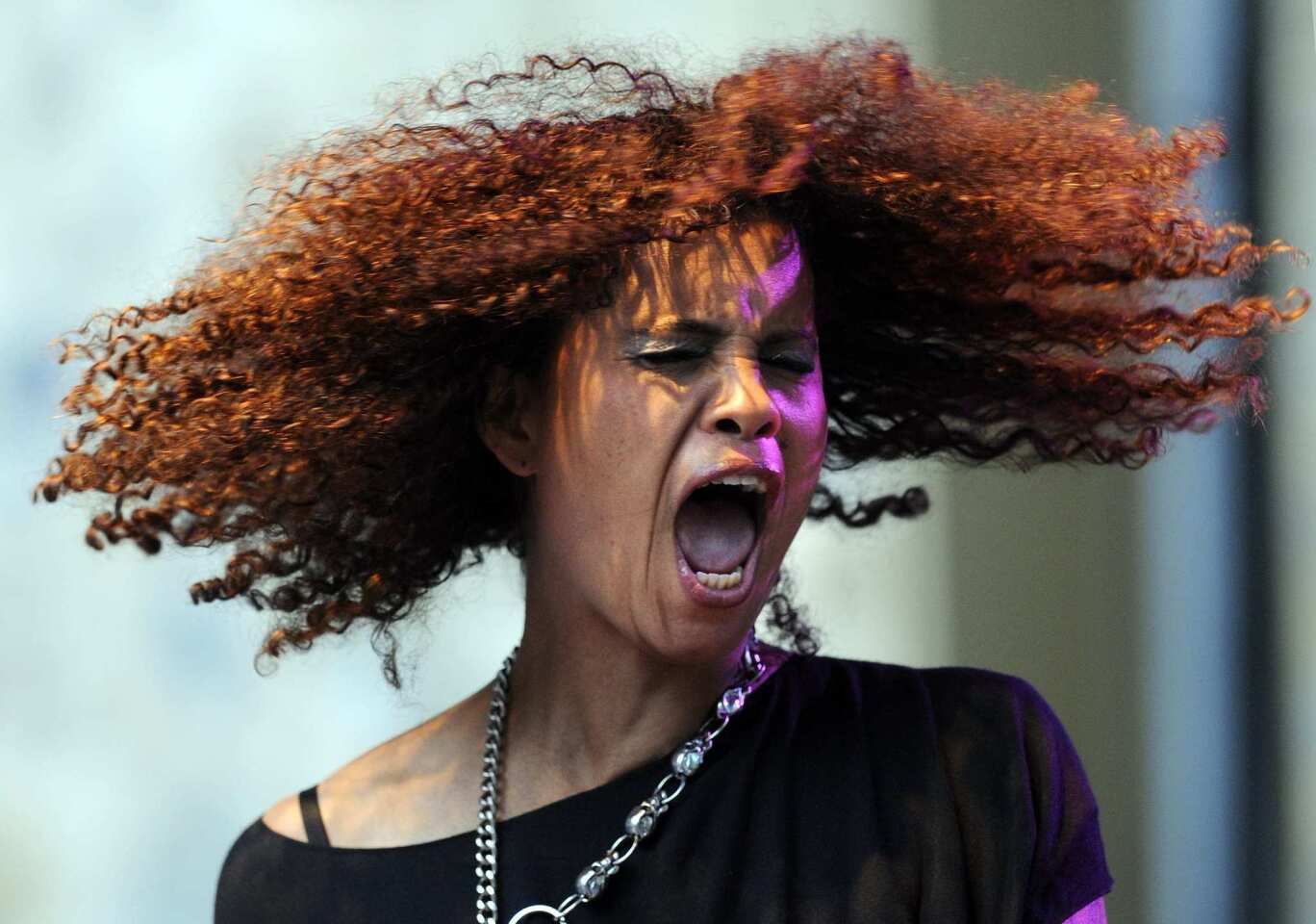 You might remember Cherry as creator of the nearly inescapable "Buffalo Stance" back in the '80s, but a better reference point for her latest work is fiery jazz trumpeter Don Cherry (her stepfather). A ferocious mix of Neneh Cherry's soulful vocals and powerful European free-jazz combo the Thing, this project mixes original music and songs by the Stooges,
Ornette Coleman
and Suicide into something new and bracingly alive.
(RAFA RIVAS, AFP/Getty Images)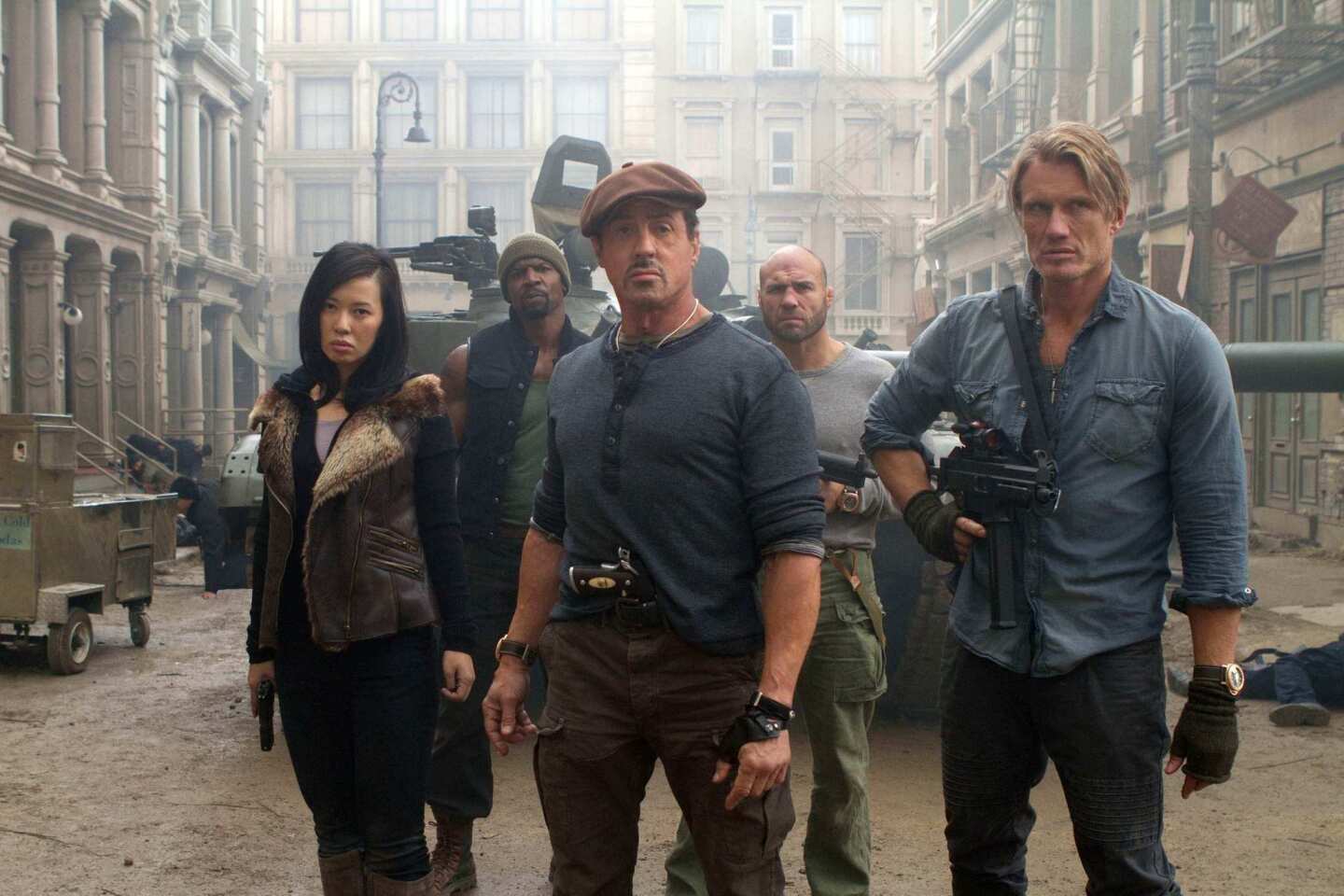 Is it fair to knock a film if it seems already aware of its own inessentialness? Even this movie's name admits to its own disposability, but for all the fleeting thrills that came from seeing Hollywood invent an action hero retirement plan on the fly with this movie's first, it's hard to imagine there's more fertile ground to be tilled asking these vintage actors to return in all their alarmingly fit glory. On the bright side, it seems to keep everybody involved from running for office.
(Frank Masi / Associated Press)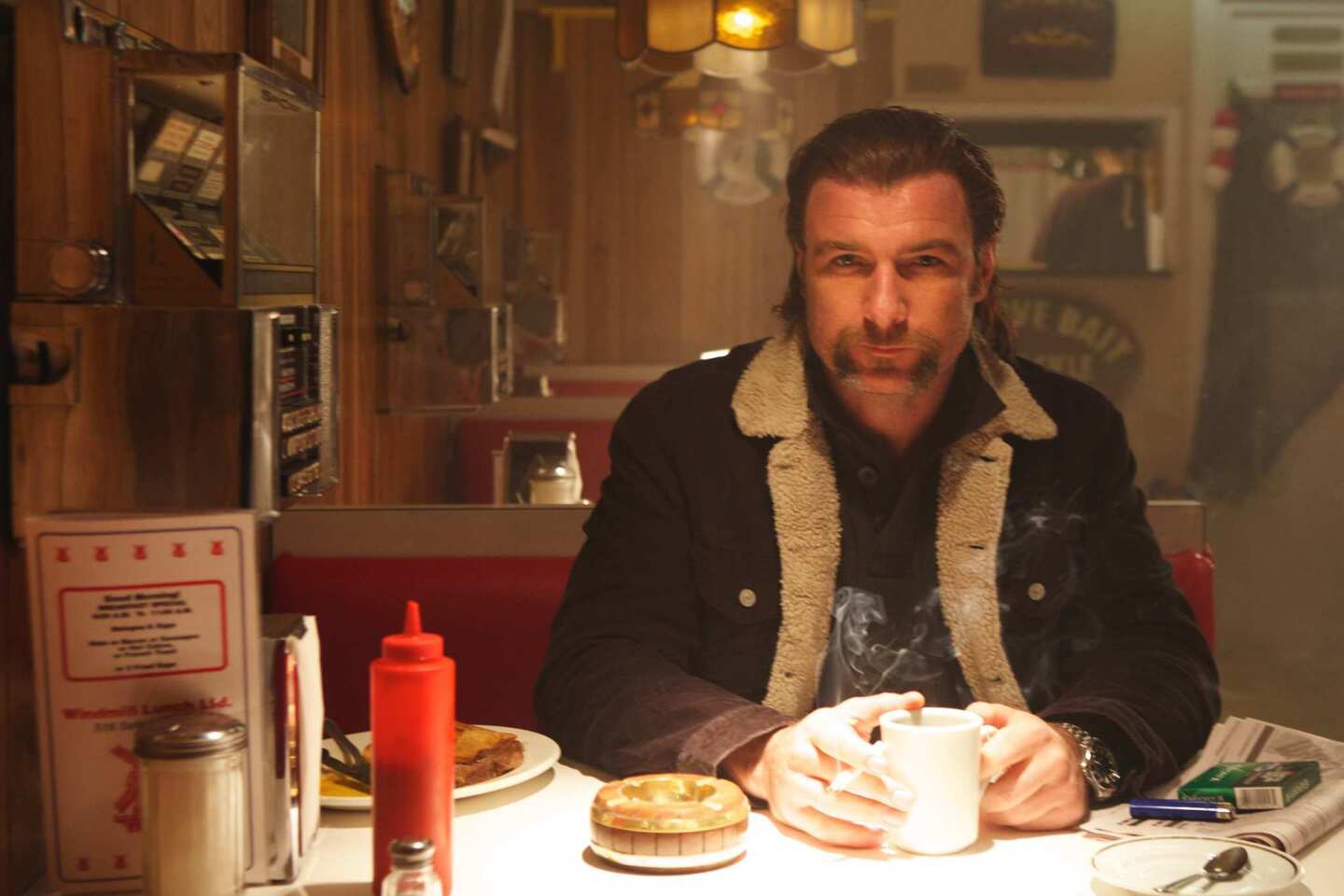 Let's be clear, "Goon" is not a very good movie. Particularly when compared to the wickedly funny "Slap Shot," which remains the pinnacle of the sports comedy genre (plus, check out
Paul Newman
's remarkable '70s wardrobe). Still, Schreiber, best known for steely-eyed Shakespeare productions and stone-serious documentary narration, is a blast to watch in a handlebar mustache and hockey mullet. He shoots, he scores
(Magnet Releasing)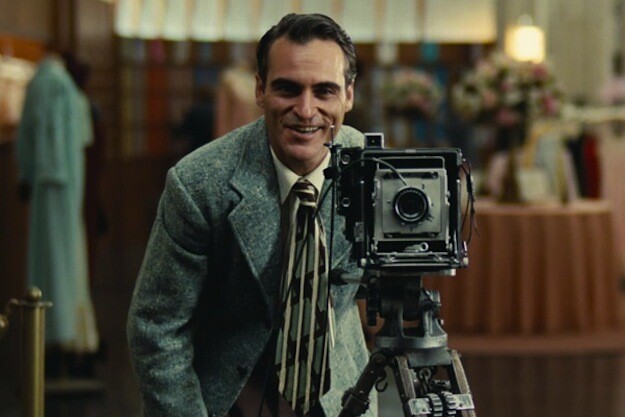 Shrouded in secrecy during its production, writer-director
Paul Thomas Anderson
's latest movie about a mysterious quasi-religious figure starring
Philip Seymour Hoffman
and
Joaquin Phoenix
may be the most heavily buzzed of the year. So why diminish the effect of that mystery by releasing more clips after a suitably mysterious trailer? The film remains that much more provocative otherwise. Don't spoil it.
(The Weinstein Company)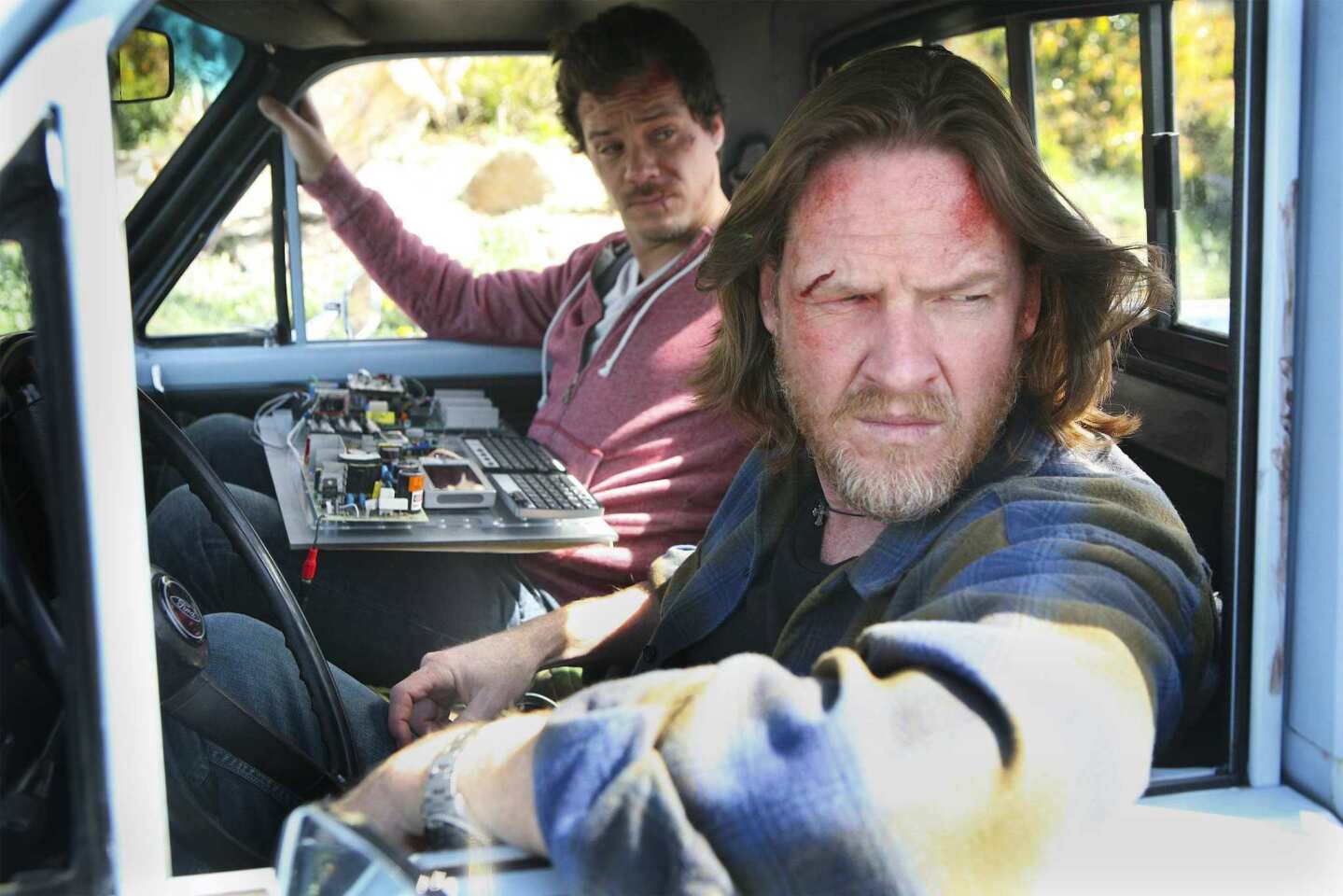 A top-tier "that guy" character actor who started flexing his comedy chops in twisted "Jimmy the Cab Driver" promo spots for
MTV
before eventually graduating to "Grounded for Life" on Fox in the '00s, Logue is overdue for another platform of his own. The closest he may have come was FX's "Terriers," a rumpled, smart and gone-too-soon P.I. story set in San Diego that deserved better than becoming one of the safest bets streaming on
Netflix
.
(FX)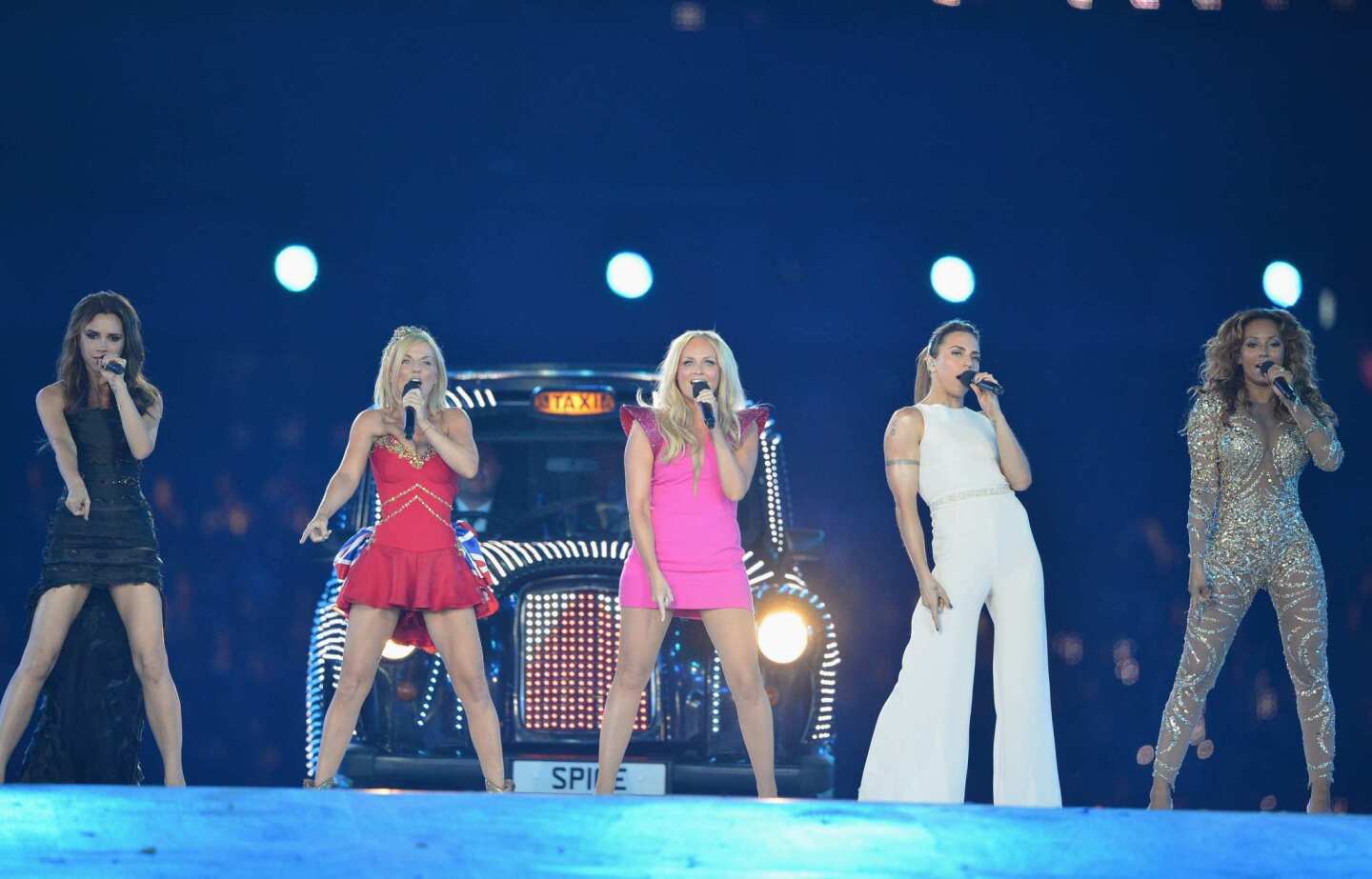 Beloved by a generation for extolling the virtues of "Girl Power" (as long as that power included small outfits and five distinct personality types), Sporty, Scary, Ginger, Daffy and Sneezy (or however they're known) were back in the spotlight during the scattershot closing ceremony of the London Olympics. Now before things get out of hand, please leave us to today's pop stars who seem only preoccupied with making boys call them — wait, is this progress?
(Jeff J Mitchell / Getty Images)
The leader of indie rock band Grandaddy, the Modesto-born Lytle earned raves in the early '00s for albums such as "Sumday" and the recently reissued "The Sophtware Slump," a lushly atmospheric record that questioned the technology age with vintage synthesizers and sweetly sad melodies. After a breakup, Grandaddy is on tour with a stop at the Fonda on Aug. 13; hopefully, these shows and a new solo album will bring Lytle back to prominence.
()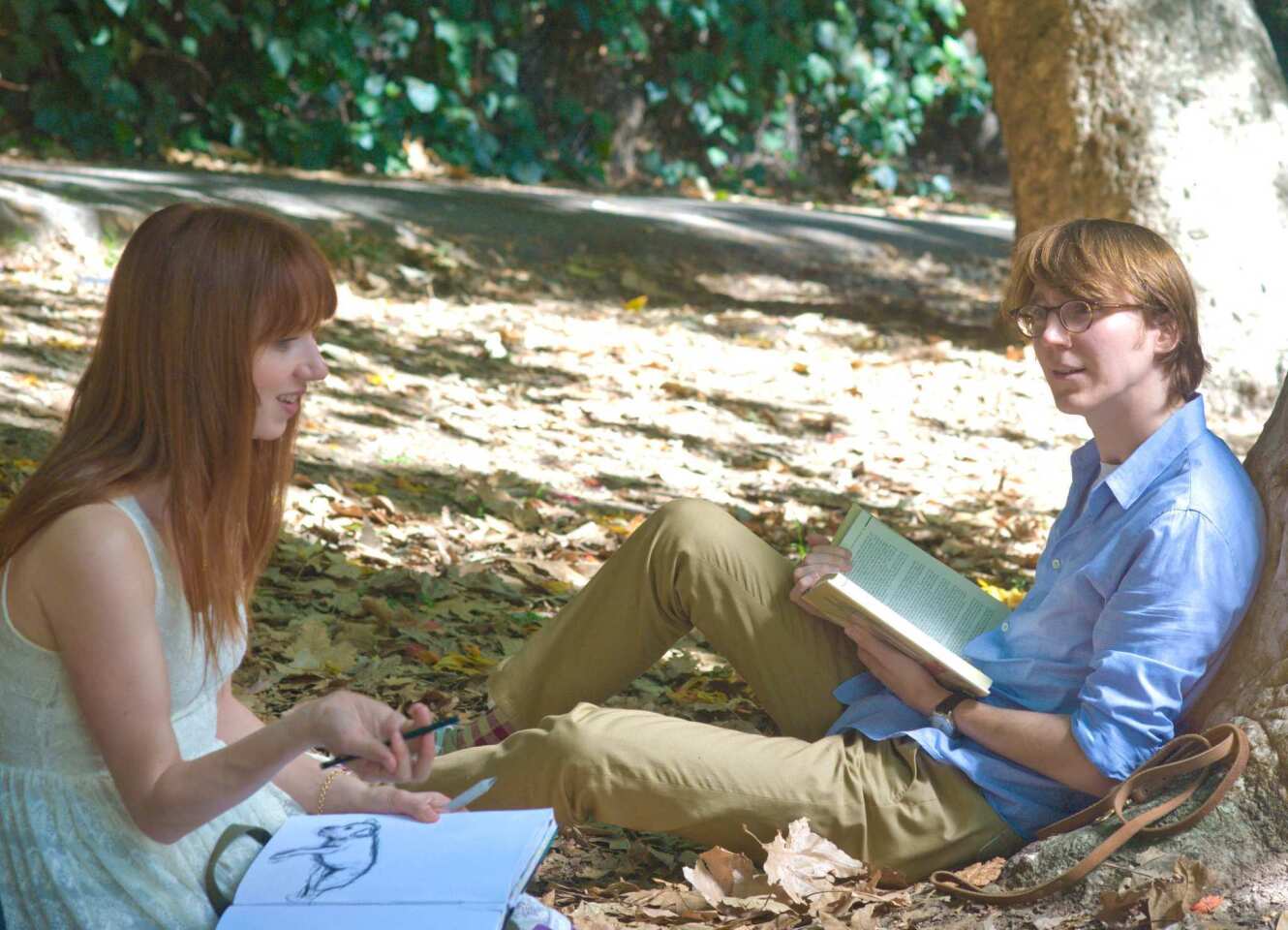 The story of a shy novelist whose written ideal of a woman comes to life, this lightly twisted
romantic
comedy directed by the team from "Little Miss Sunshine" is a summer surprise. Led by the fragile charm of Paul Dano (who could be this generation's
John Cusack
) and screenwriter-costar Zoe Kazan, the movie overcomes a few plot holes with the help of scene-stealing cameos from
Annette Bening
,
Antonio Banderas
and the reliably fantastic Steve Coogan.
(Fox Searchlight)
Like the last refuge of a scoundrel, just about every rock star past his or her prime feels a sudden urge to plunder the vintage pop songbook for one last run at the limelight. Most recently tackled by the Eagles'
Glenn Frey
(pictured), these recordings could stem from a desire to establish a newfound musical maturity, but given
Rod Stewart
's success (five bland volumes and counting), the urge to fatten one's wallet seems most prominent.
(Jim Sheldon)
Remember in the '90s when just about every indie film featured this actress? Armed with a sharp wit and a lethal widow's peak, Posey grew harder to find as she succumbed to that debilitating Hollywood disorder known as "adulthood." But not only is Posey reveling in the advancing of time with beauty and grace but she also still had skills to burn in an incredible, possibly crazy but achingly vulnerable recent turn on "Louie." Let the Emmy buzz start here.
(FX)
The cineplex is full of examples of Hollywood attempting to squeeze as many dollars as it can from every movie, but a recently announced plan to extend
Peter Jackson
's take on
"The Hobbit"
to three films just feels excessive. The magic of time compression allowed Jackson's previous trips to Middle-earth to remain a trilogy; what will we gain by turning a single book into three volumes? More Shire shots? Will
Terrence Malick
be consulting?
(Warner Bros.)
A jigsaw puzzle of a film masquerading as a
crime thriller
, this recent Italian import is as difficult to describe as it is to comprehend without attentive viewing (these are good things, mind you). The story of a hotel maid who strikes up what's either a fortuitous or ill-fated romance with an ex-cop at a speed dating event with twisty results, this will have you questioning what you saw and why movies can't inspire those questions more often.
(Samuel Goldwyn Films)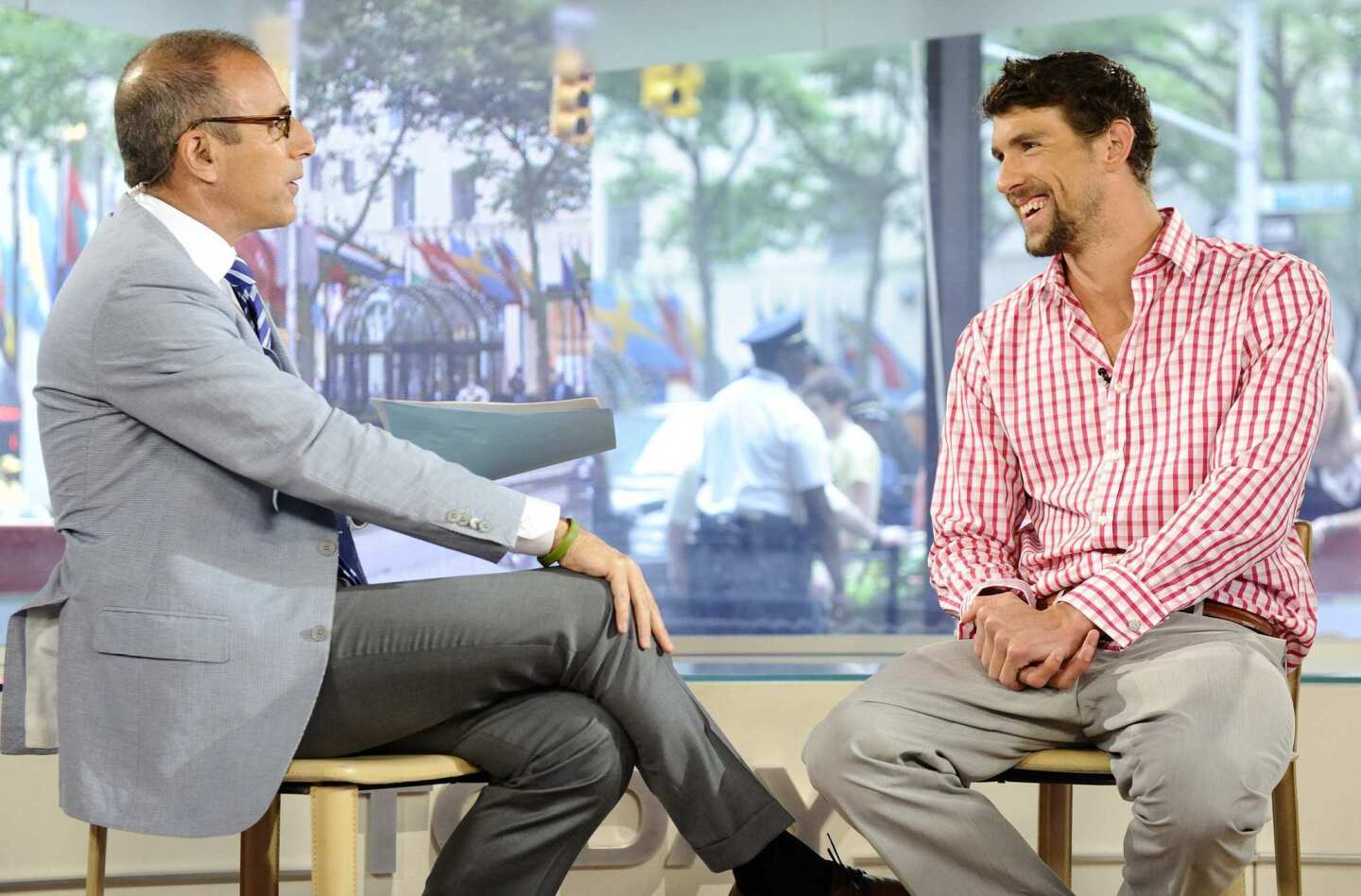 Broadcasting these games should be easy from a storytelling standpoint: Just point cameras and get out of the way. Yet despite the modern age's gift for making entertainment more real-time than ever,
NBC
has stuck to the classic model of tape delays, talking heads and an ad-riddled online presence marred by video glitches and the need for a cable subscription. The good news is that ratings are up — just imagine where they'd be if NBC showed us more.
(NBC)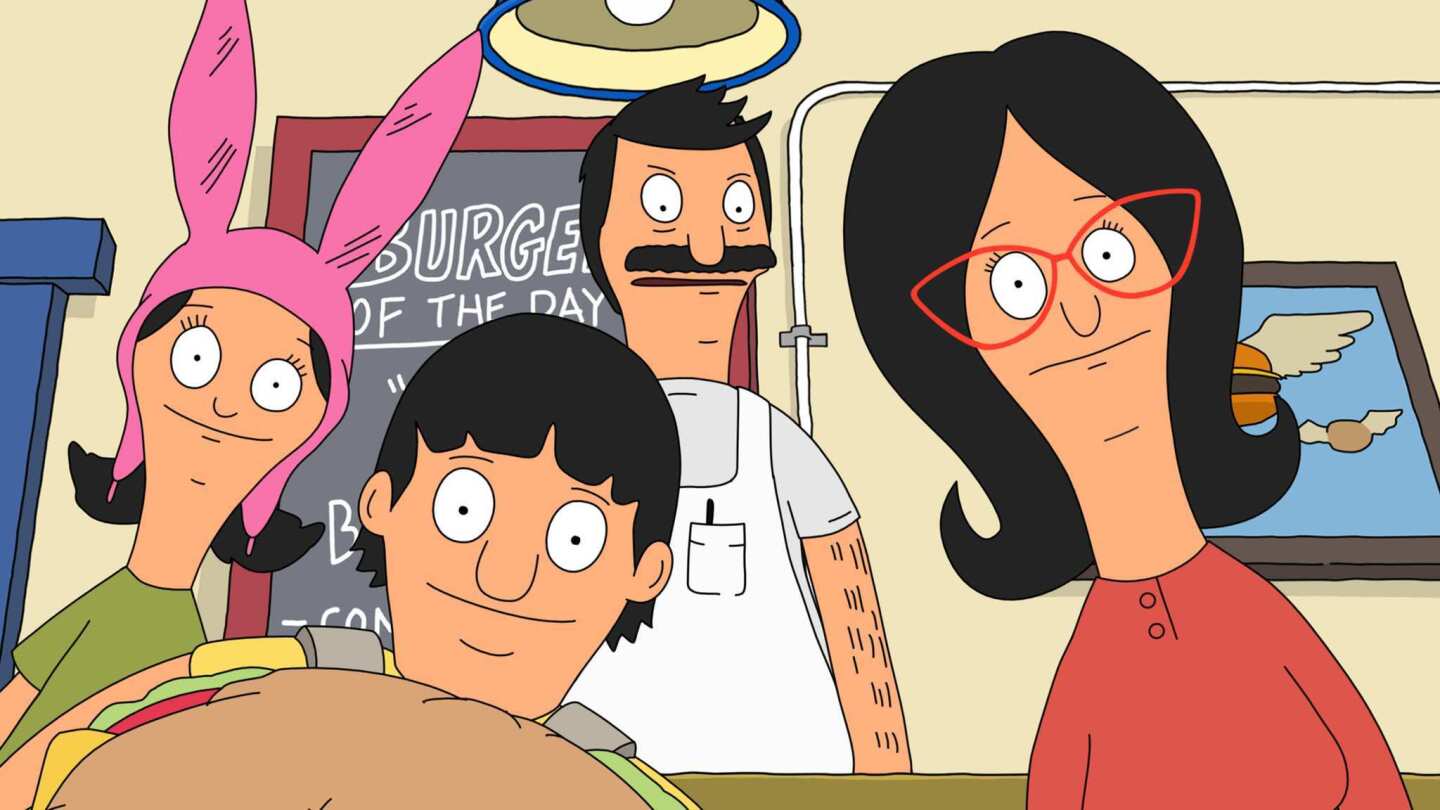 Often overshadowed by its cruder cousins on Fox, this series' mix of twisted
comedy
and genuine heart marks it as one of the first possible heirs to
"The Simpsons"
in bringing an animated family to life. Recently confirmed for a third season, the show's cast is a comedy nerd's dream with Kristen Schaal, Eugene Mirman and a bone-dry H. Jon Benjamin, which is no surprise given its creator also gave us
Comedy Central
's cameo-laden "Dr. Katz."
(FOX)
Given that this movie explores the possibility of another planet smashing into the Earth, you can't accuse filmmaker
Lars Von Trier
of not thinking big. Yet "Melancholia" never lives up to its high concept thanks to an interminably long and unnecessary wedding sequence and an overabundance of Von Trier's signature flashes of cruelty for cruelty's sake toward his characters (see "Dancer in the Dark" and "Breaking the Waves" — or perhaps don't).
(Magnolia Pictures)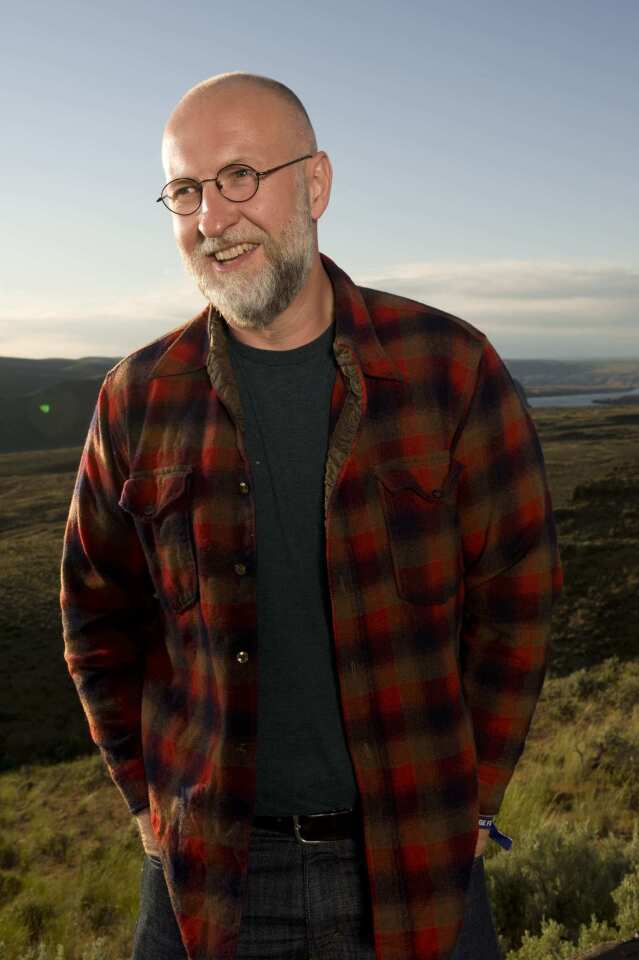 Bob Mould's most popular ensemble after post-punk pioneers Hüsker Dü imploded, Sugar might be too easily lumped in with '90s nostalgia bands such as the Gin Blossoms and Candlebox, but don't let your memory play those kind of tricks. With both of Sugar's albums returning this week in lush, remastered reissues, songs such as "Helpless," "Changes" and the utterly flawless "If I Can't Change Your Mind" still sound like nobody else 20 years later.
(Steven Dewall / Redferns)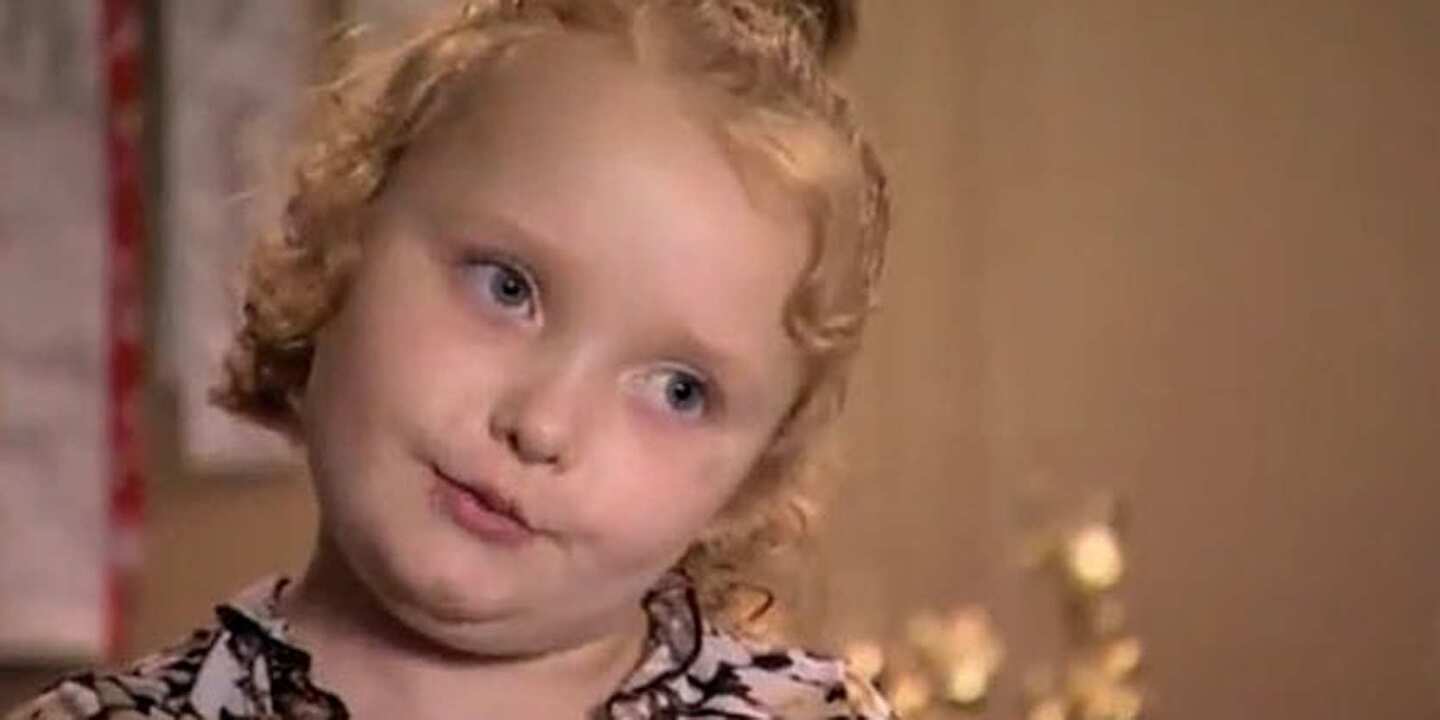 Unscripted television has long shown a billboard-sized mean streak given its ravenous appetite for swallowing people into its ever-rotating freak show. But as if this show allowing viewers to sit in judgment of pageant moms weren't bad enough, its offspring "Here Comes Honey Boo Boo" premiering on TLC this month takes the genre to new, unpleasant depths by holding a child up to the same acidic scrutiny. If we don't look, will it just go away?
(TLC)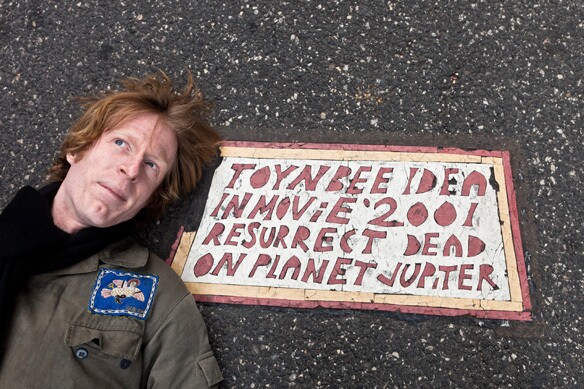 Resembling an as-yet-unfilmed conspiracy thriller, this raw and weirdly chilling documentary explores cryptic messages that have been mysteriously appearing on the streets of the East Coast since the '80s. Referencing the planet Jupiter,
Stanley Kubrick
's
"2001: A Space Odyssey"
and bringing the dead back to life, the tiles become an obsession for one man, and his search proves fiction is often no match for reality.
()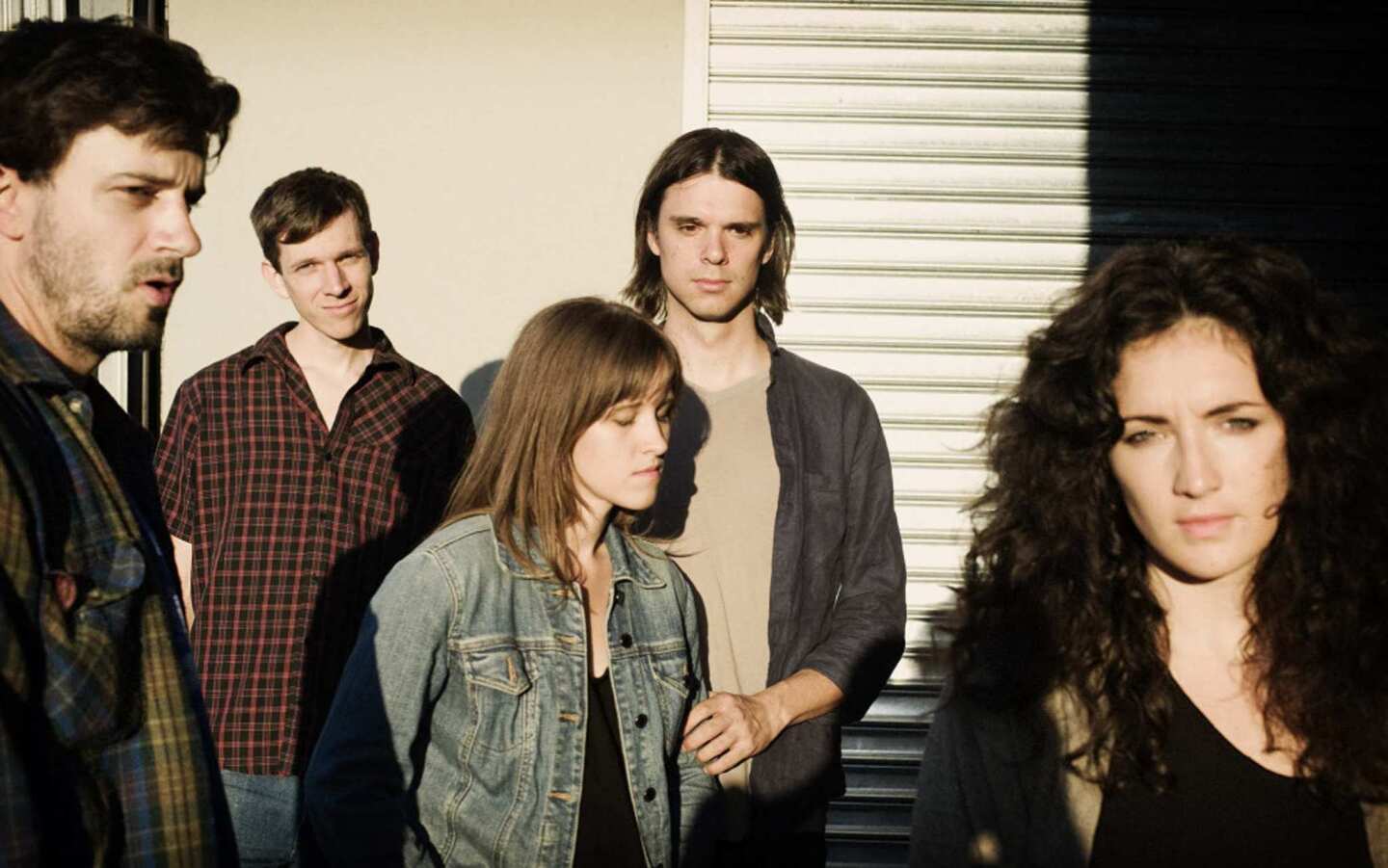 A critical darling since frontman Dave Longstreth reworked the songs of Black Flag into complex pop miniatures on 2007's "Rise Above," this band's ambition is exceeded only by its incomprehensibility. Built out of acrobatic vocals, arrhythmic structures and melodies that treat hummability as some kind of character flaw, Dirty Projectors' latest overpraised album, "Swing Lo Magellan," is easy to admire but nearly impossible to enjoy.
(Shawn Brackbill)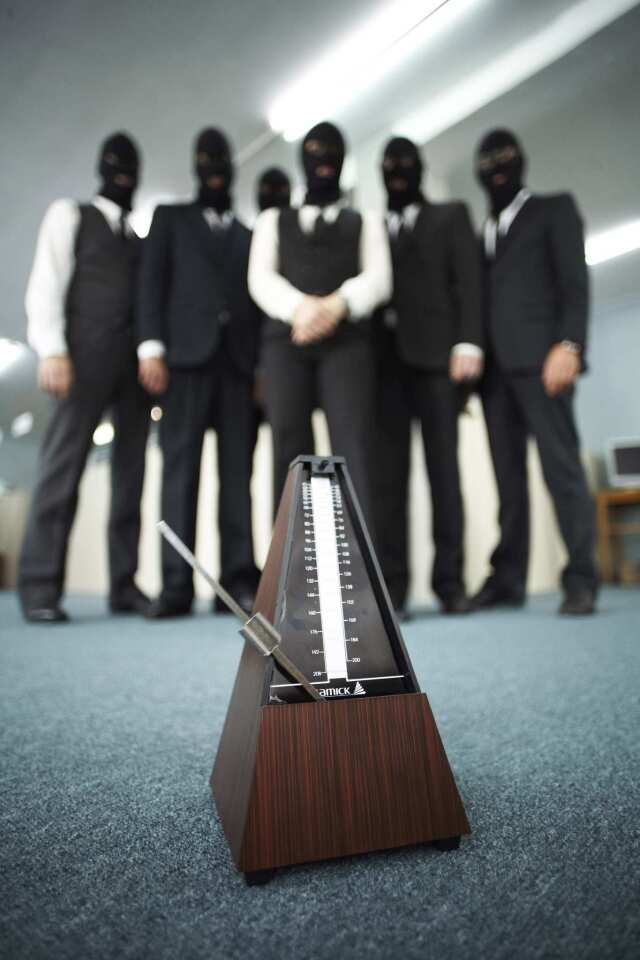 Like a cinematic adaptation of "Stomp" with a Scandinavian soundtrack, this film about rogue percussionists terrorizing a Swedish city is the kind of movie that deserves a cult following among any musicians in your life. Hell-bent on completing a found-sound suite called "Music for One Apartment and Six Drummers," a goofily gifted band of drummer-anarchists keeps an addictive beat with a music-hating cop in hot pursuit.
(Magnolia Pictures)
With a cast that looks like a continuation of the hit "Bridesmaids," this parent-focused tweak on the
romantic
comedy
earned decent reviews but ultimately falls short. A platonic partnership between "Party Down's" Adam Scott and actor-filmmaker Jennifer Westfeldt stays predictable despite an unconventional premise, and too much of the comedy relies on shock, leaving the characters as flat as words on a page.
(JoJo Whilden / MCT)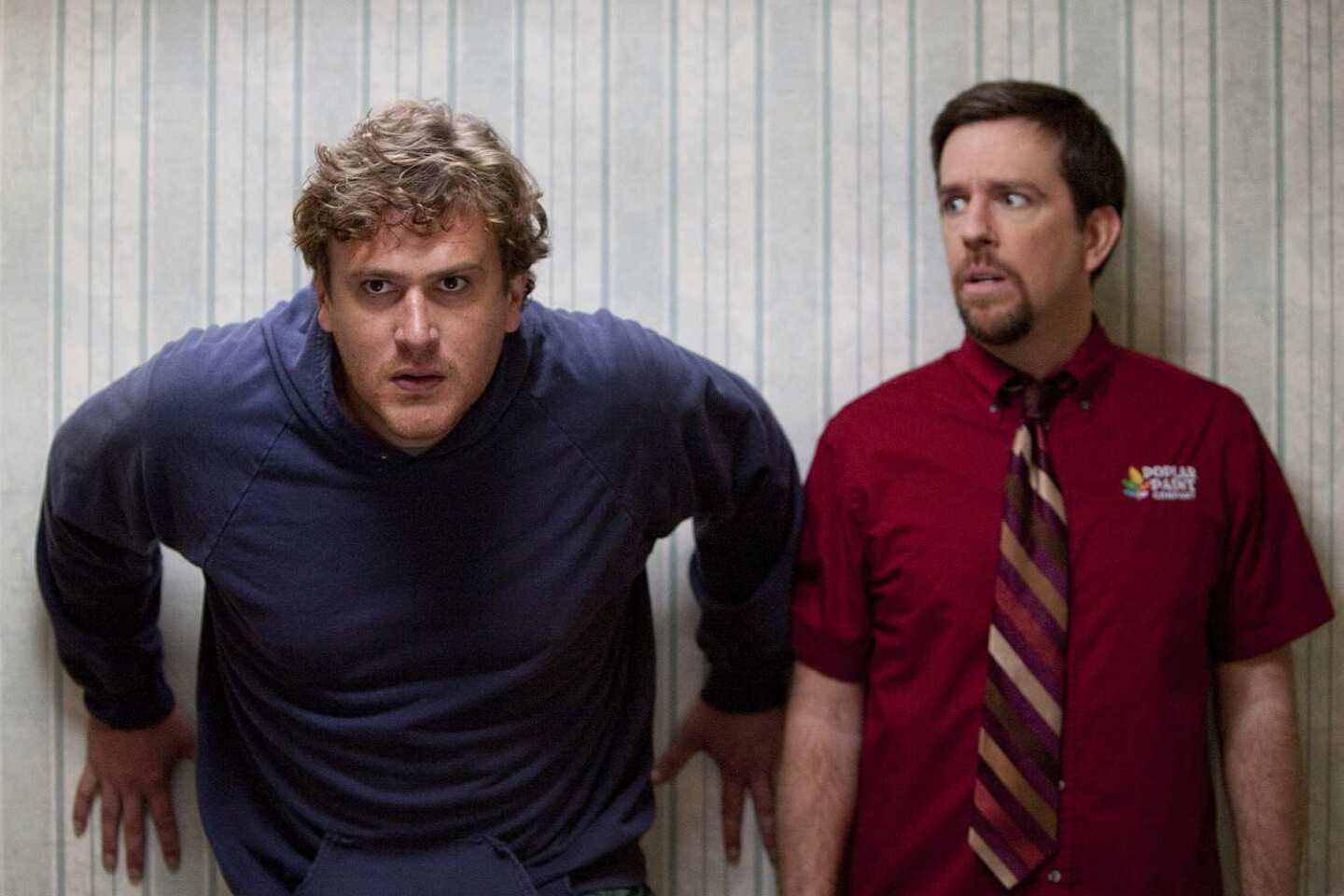 Written and directed by "
mumblecore
" graduates Jay and Mark Duplass, this movie masquerading as another man-child comedy (right down to its Apatow-friendly star
Jason Segel
) is aiming much higher. Focusing less on the fun and freedom of never growing up and more on the search for connection that touches all ages, Segel and costars Ed Helms and
Susan Sarandon
help tell a subtly touching yet still funny story.
(Paramount Pictures)
Because you have not adequately pledged fealty to your local cineplex in recent years, efforts are underway to take films to the next dimension (mathematical considerations of such a move aside). From a moviegoing standpoint, this means getting poked in the back, sprayed with water or otherwise physically assaulted while eating popcorn, which almost makes sense considering how little these pictures offer to move you on any other level.
()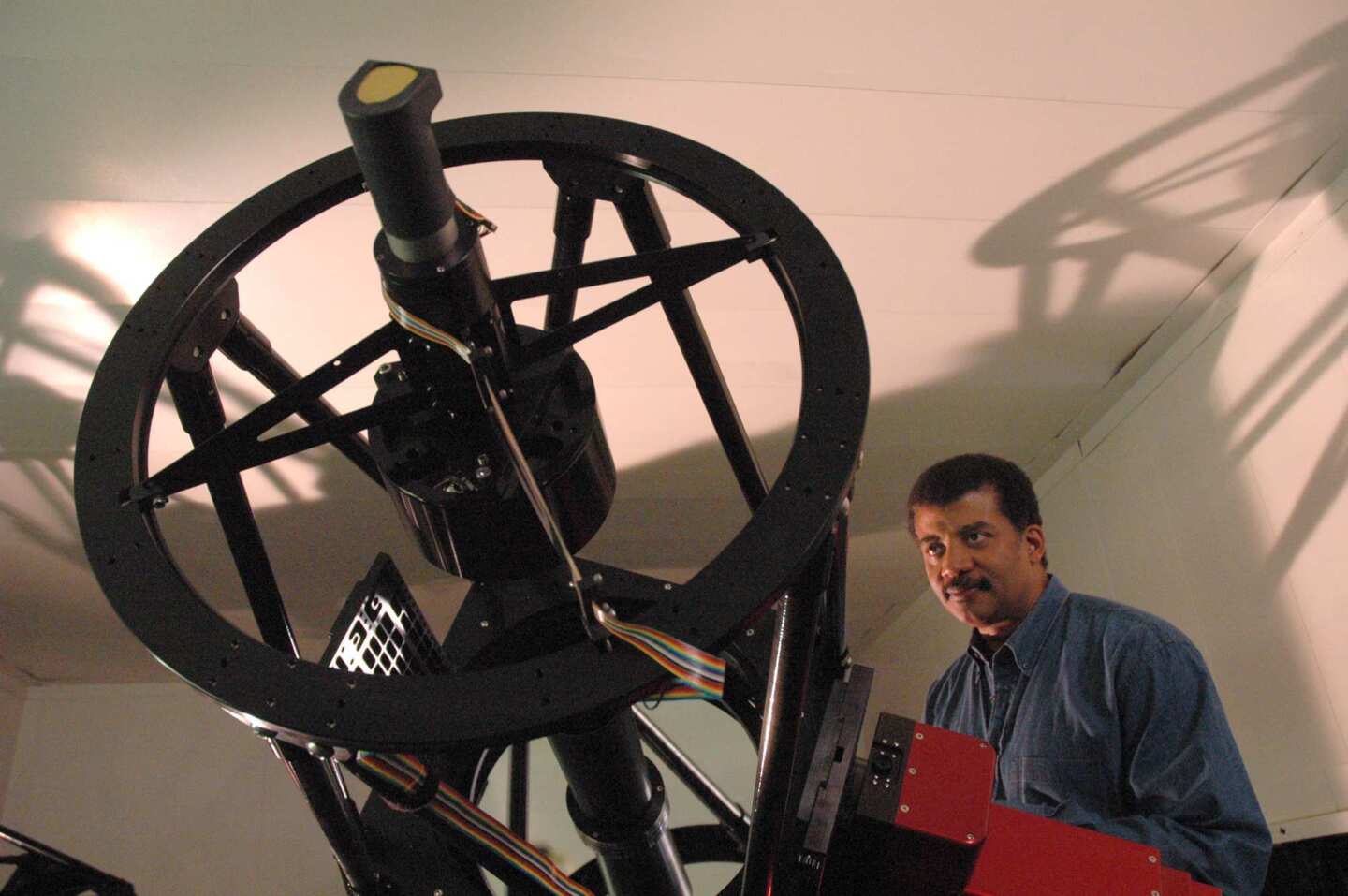 The unflappably genial former host of
PBS
'
"Nova ScienceNow"
and frequent guest on the
talk show
circuit, including "The Daily Show With
Jon Stewart
" and "Real Time With Bill Maher," proves that science can be not just funny and engaging but also essential. Now teamed with
Seth MacFarlane
to remake Carl Sagan's "Cosmos" for a new generation, DeGrasse Tyson is a stellar choice to walk in big footsteps.
(Julia Cort / PBS)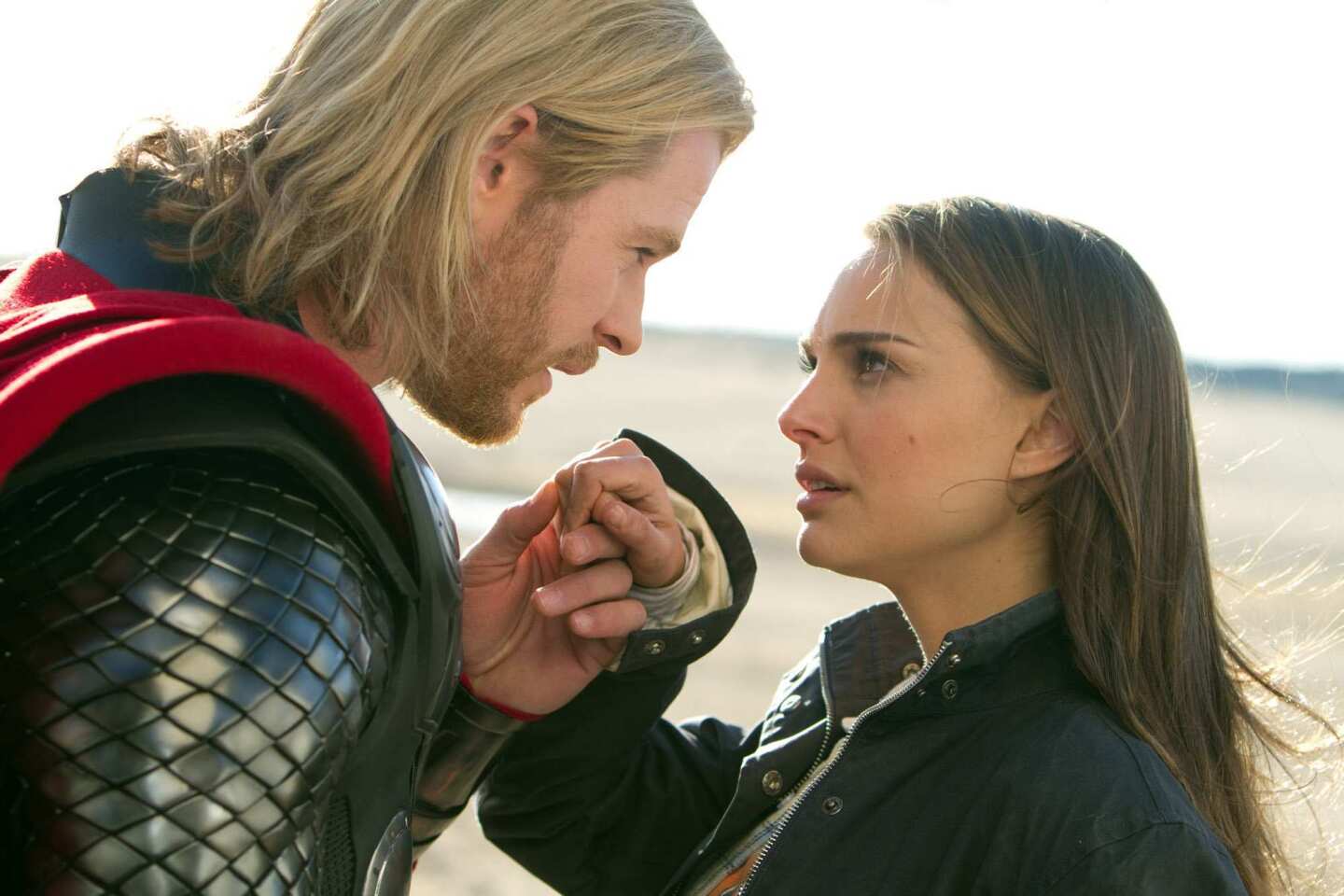 An actor's post-Oscar arc is never disappointing enough to inspire a retraction from the film academy, but Portman seems determined to try. The painful trifecta of
"Your Highness,"
"No Strings Attached" and
"Thor"
has found Portman acting as natural on-screen as her oaken turns in the "Star Wars" prequels. Outside of "Black Swan's" tortured overachiever, she still hasn't touched her best work in "The Professional" and "Beautiful Girls."
(Marvel Studios)
If you saw
Jim Jarmusch
's "Broken Flowers," you heard the mix of jazz, African and Latin music that defined vintage Ethiopian pop and bandleader Mulatu Astatke. Now this Boston-based band has picked up the same thread with an electrifying new album on Seattle's Sub Pop Records. Full of churning strings, driving horns and flashes of klezmer, Debo Band's eclectic sound should keep any summer barbecue cooking.
()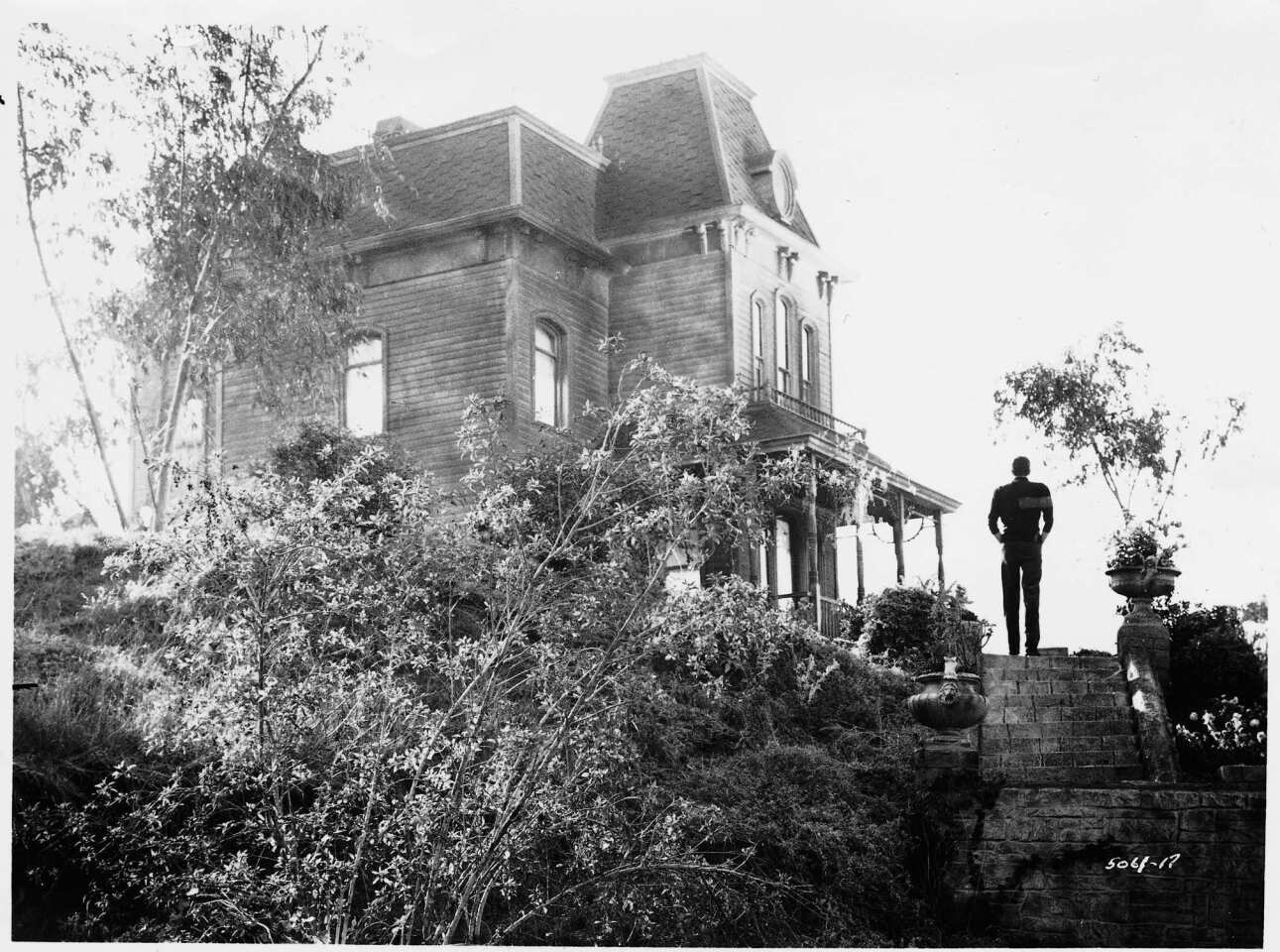 Again pulling
Alfred Hitchcock
's "Psycho" from the grave, A&E recently announced a new series co-produced by "Lost's" Carlton Cuse called "Bates Motel," which will search for new wrinkles in a story that's already inspired multiple sequels, prequels and a remake. Given its ongoing inability to resist reanimating dead ends, shouldn't we start considering Hollywood at least spiritually similar to Norman Bates?
(Universal)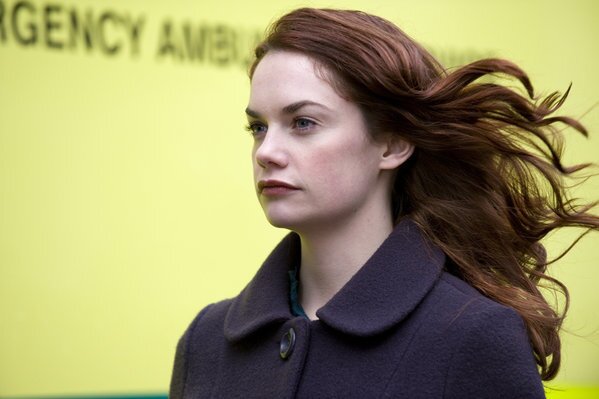 Though an incongruously rumpled (and cockney)
Idris Elba
of TV's
"The Wire"
earned plenty of notice for his role as a tortured criminal investigator in this
BBC
series streaming on
Netflix
, Wilson steals plenty of scenes as Luther's dangerous stalker, Alice Morgan. With a wide-eyed, lethal smirk, Wilson is a chilly mix of alluring and unsettling in a show that's just as underrated for twisting the detective drama into new, dark corners.
(BBC)
It's a testament to the diminished expectations of spring that this teen-angst superhero movie received such positive reviews on its release. Maybe it looks better on the big screen, but watching this film at home, the special effects are underwhelming, the other two young leads fade in comparison to criminally underused costar Michael B. Jordan ("Friday Night Lights") and the film's gimmicky found-footage conceit just feels unnecessary
(20th Century Fox)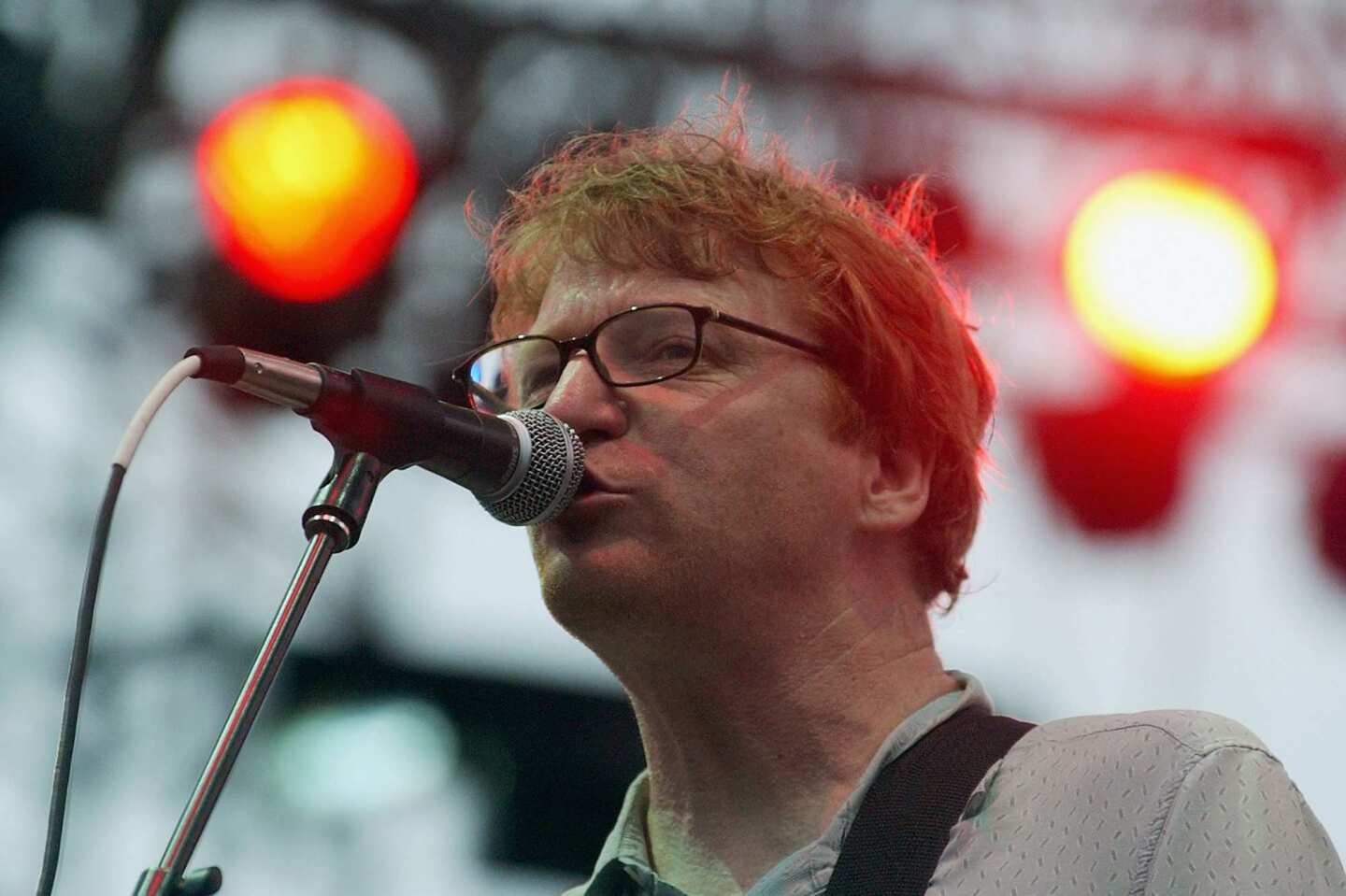 What were the odds that this frontman for Camper Van Beethoven and Cracker would become such an advocate for the modern musician? In two well-considered posts that went viral online, Lowery first broke down the harsh realities of the
new music industry
, then
took a young NPR intern
to task for bragging about not paying for music. Whether you agree with Lowery or not, he's doing important work in furthering the conversation.
(Erik S. Lesser/Getty Images)
< Every summer brings one song that requires a frozen poker to the eardrum to escape, and 2012's is this brain-infesting confection from Carly Rae Jepsen (pictured), which for some reason inspired a whole raft of musicians and celebrities to make a cover video in response. Although one involving the Roots and
Jimmy Fallon
was pretty cute, it's time for everyone to take a step back before the
virus
spreads further — for the good of mankind.
(Kevin Winter / Getty Images)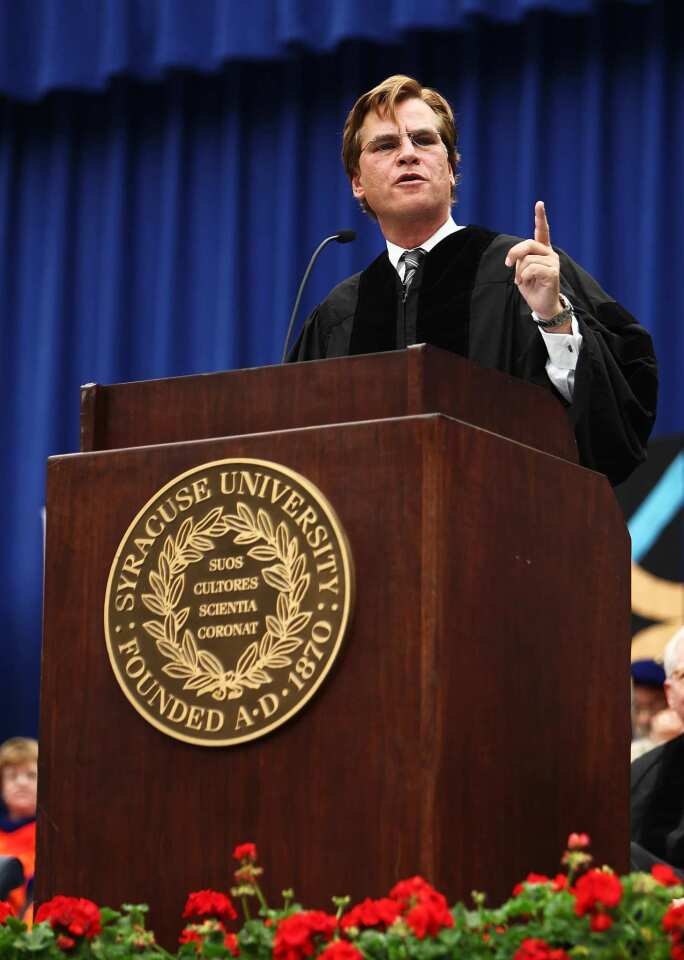 Though the reviews for
"The Newsroom"
have been unfavorable, Sorkin still is one of television's most brilliant writers, and odds are his new HBO show will still feature no shortage of goose bump-raising lines. Still, he'd be a lot easier to root for if another writer could put words in his mouth every now and then because his anti-Internet rants have started sounding anti-modernity — and the sooner he lays off his condescending tone the better.
(Nate Shron / Getty Images)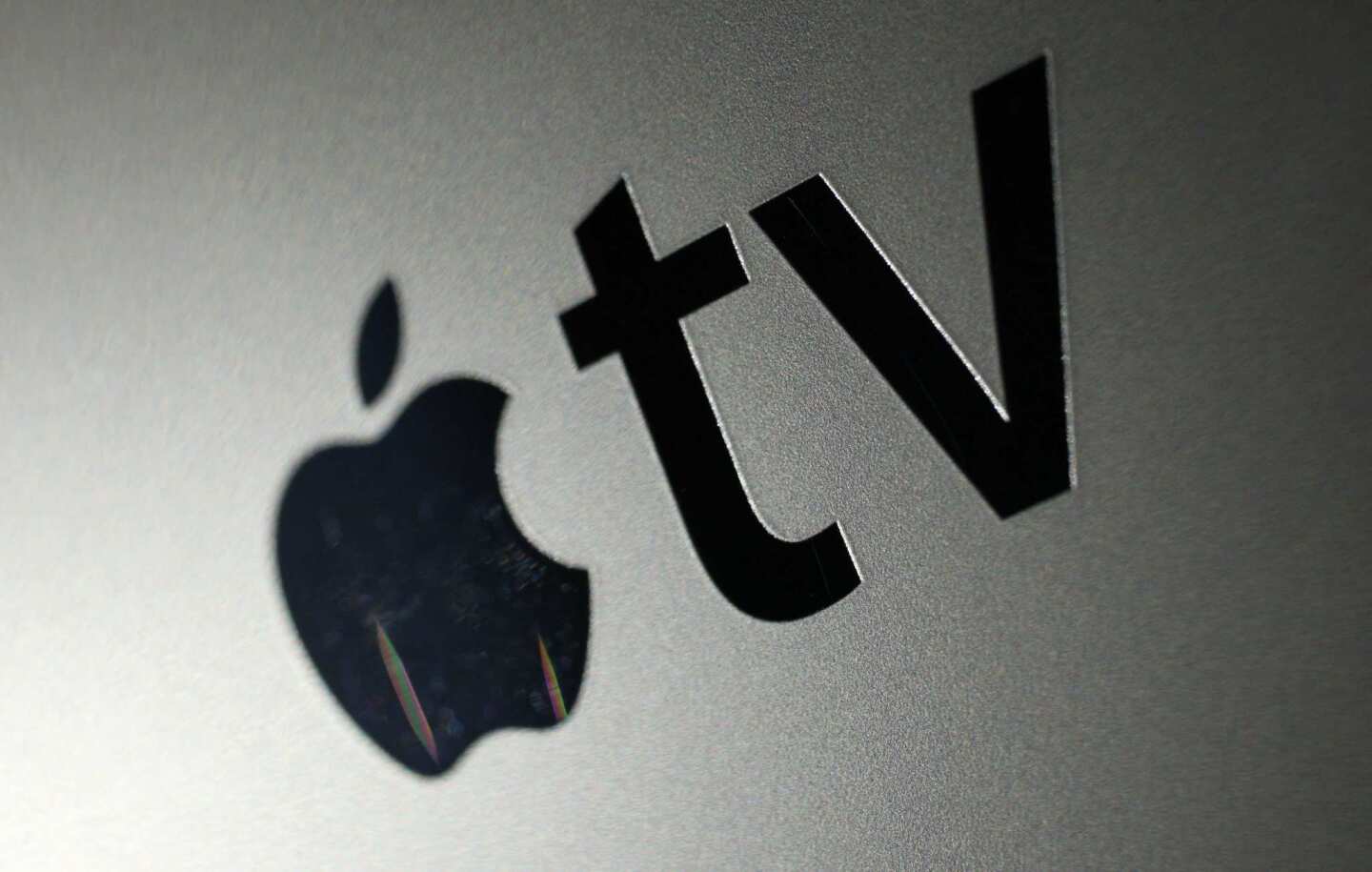 Dismissed by its own company as a "hobby," this little square hockey puck is a surprisingly enticing option for those ready to cut out their cable. Bringing the computer into the living room in an intuitive, simple way, it's intriguing to access your music and streaming video using Apple's typically elegant interface. Now all it needs is to be open to more of the Internet's riches (with, say, a browser or
Hulu
) and we'll really "think different" about TV.
(Mark Lennihan / Associated Press)
Wes Anderson
's skewed view feels even more sweetly strange than usual in his latest film from an uncertain universe where Scout camps resemble military installations. But what holds it all together is a sharp cast of all-in performances, including the one from Norton as the harried and fastidious Scout Master Ward. Who knew Norton, once known for an intensity that could drift over the top, had comic chops too?
(Focus Features)
If there's any potential fallout from the musical costume drama curiosity that is "
Rock of Ages
" (and really, haven't we seen enough of
Tom Cruise
's abs at this point?), it's the possibility that it could inspire more stars to grab a microphone. We've weathered amiable recordings from
Scarlett Johansson
and
Jeff Bridges
recently, but for every would-be
Zooey Deschanel
who finds a voice there are a thousand Steven Seagals who shouldn't.
(David James / Associated Press)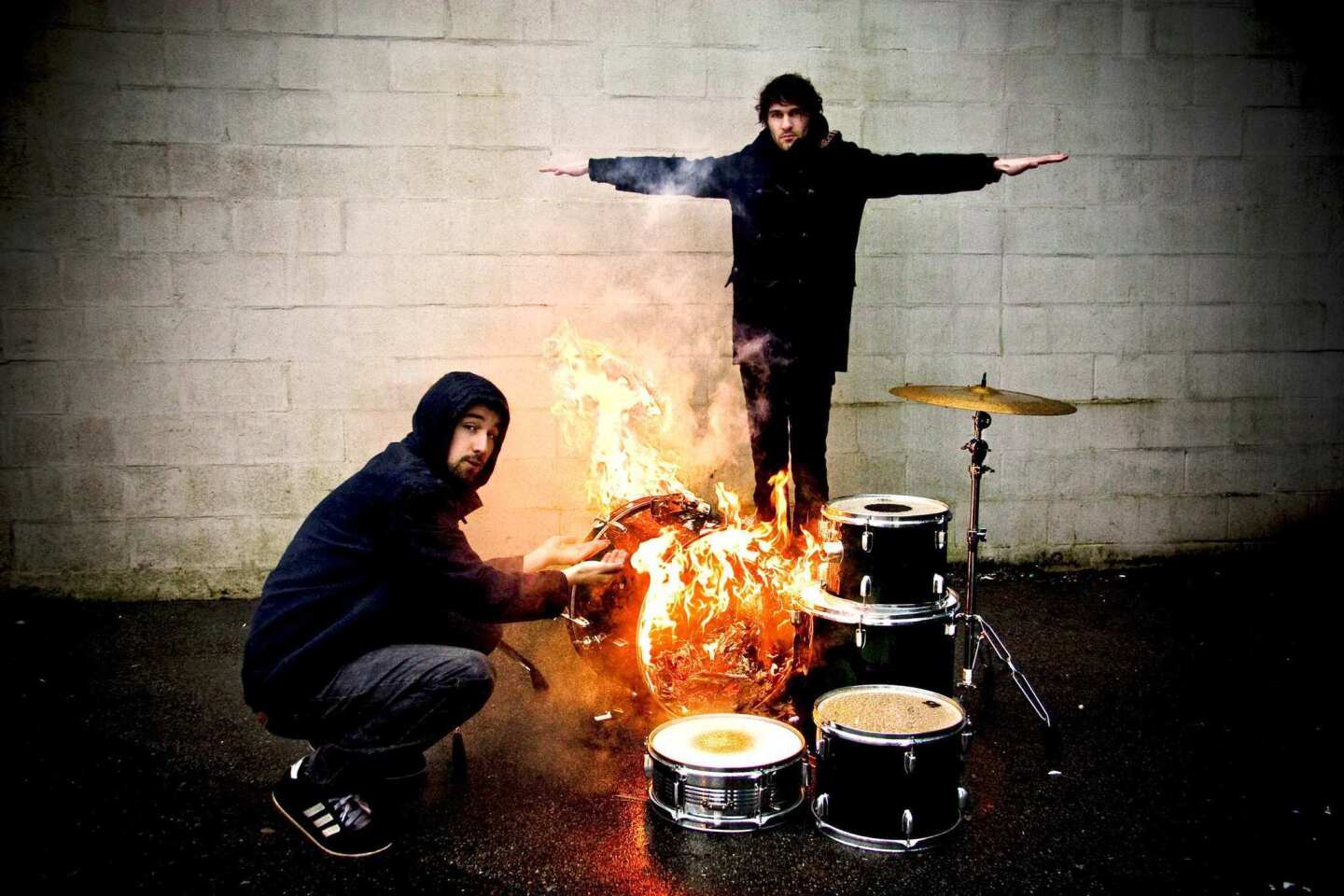 Is there a more aptly titled album in 2012 than this Canadian duo's "Celebration Rock"? It's full of fuzzed-out guitars, fist-pumping energy and sharp lyrics that demand to be screamed across a tiny club (or an even tinier car). Guitarist
Brian King
and drummer David Prowse hit a few classic sound-of-youth musical touchstones such as Husker Dü and the Replacements but still come out with something that makes you feel recklessly alive today.
(230 Publicity)
Samberg showed a gift for absurd laughs in his
"Saturday Night Live"
digital shorts, but he's not off to a promising start in switching to the big screen. His underwhelming "Hot Rod" from 2007 looks brilliant compared with the dreadful-looking
Adam Sandler
vehicle "That's My Boy," and next year doesn't look much brighter with a planned role in a "Grown Ups" sequel nobody wanted. Keep working on those songs, Andy.
(Tracy Bennett / Associated Press)
As much as the first season of this biting political satire was all about the twisted ensemble work around an imaginary vice president, Chlumsky was a standout as
Julia Louis-Dreyfus
' chief of staff, Amy Brookheimer. Perhaps best known for her childhood turn with
Macaulay Culkin
in "My Girl," the actress flexed the same dryly deadpan chops honed in series creator Armando Iannucci's 2009 feature, "In the Loop."
(HBO)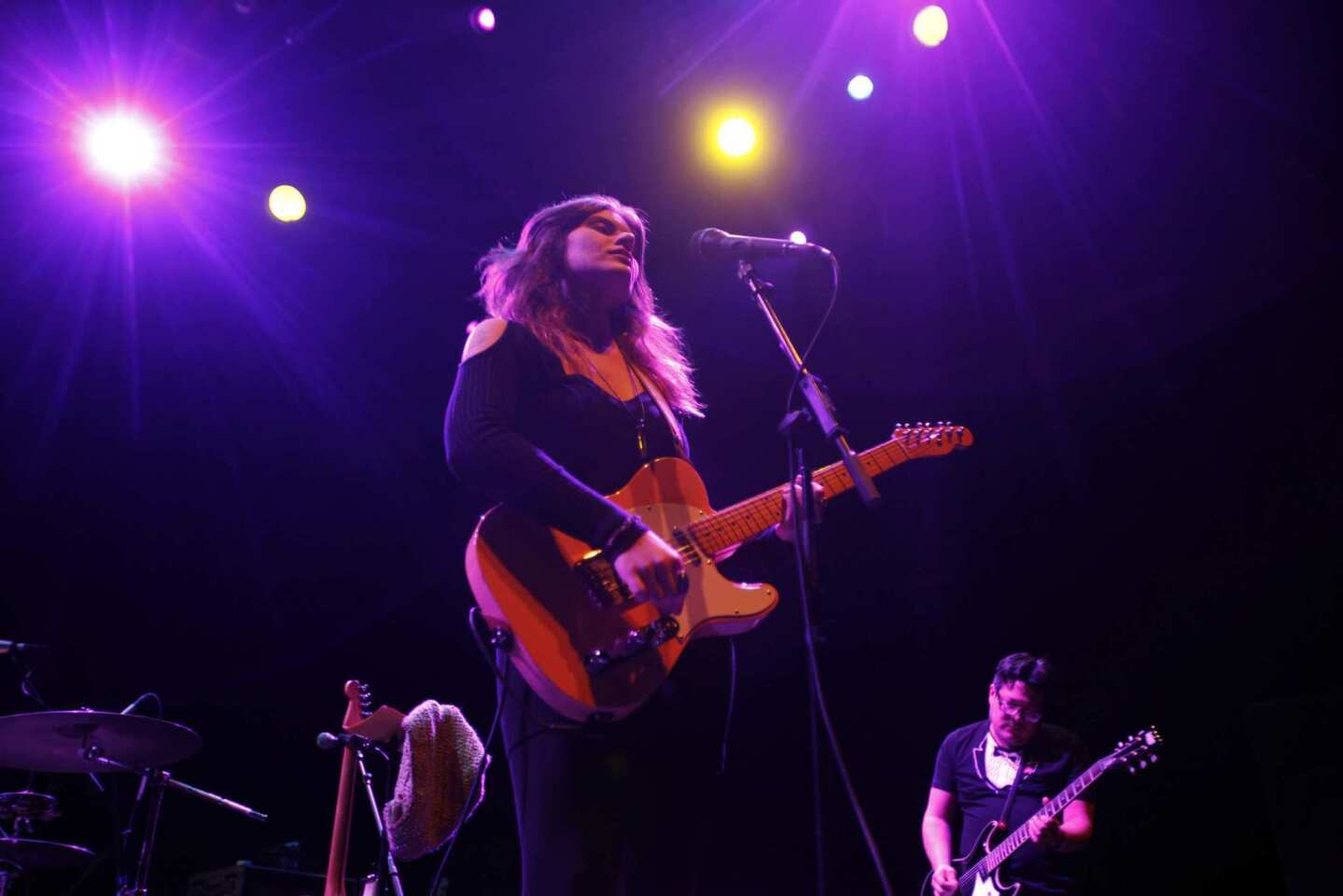 Although there's nothing wrong with loving where you live — and we do — the first track on this band's summer-bright sophomore album is so puffed with Southern California pride that it veers into self-congratulation. Despite Bethany Cosentino's vocals sounding like an irresistible mix of sun and sugar, a jangly pop song boasting "Why would you live anywhere else?" probably won't help our rankings in the next
"most hated state"
survey.
(Francine Orr / Los Angeles Times)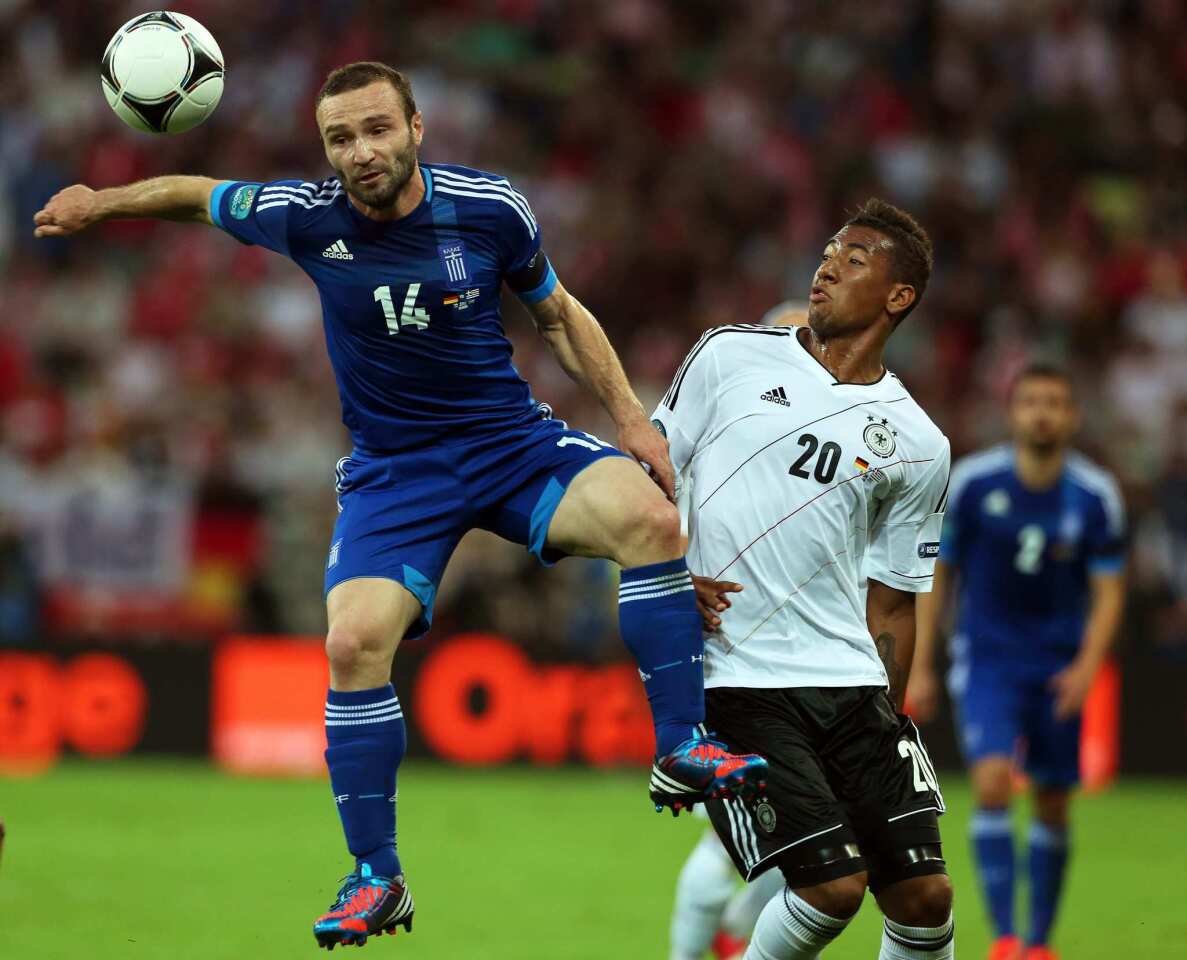 If you hear more shouting than usual from the neighbors this month it's thanks to this event, which every four years rounds up the top soccer nations in Europe in pursuit of continental bragging rights. Though many countries have made the news while staving off further financial meltdowns, it's inspiring to watch world-class athletes and face-painted fans (with their national tics) show their true colors, even if you're ambivalent toward what everyone else calls "football."
(Oliver Weiken / EPA)
You can't blame the DVD rental company for trying to up its profits, but some of its selections seem angled toward camouflaging themselves as bigger (and better) films.
"Abraham Lincoln: Vampire Hunter"
comes out Friday, but the completely unrelated "Abraham Lincoln vs. Zombies" is available now. Like
"Snow White and the Huntsman"
? Then you'll know it's a long way from "Grimm's
Snow White
." Be careful out there.
(George Frey / Getty Images)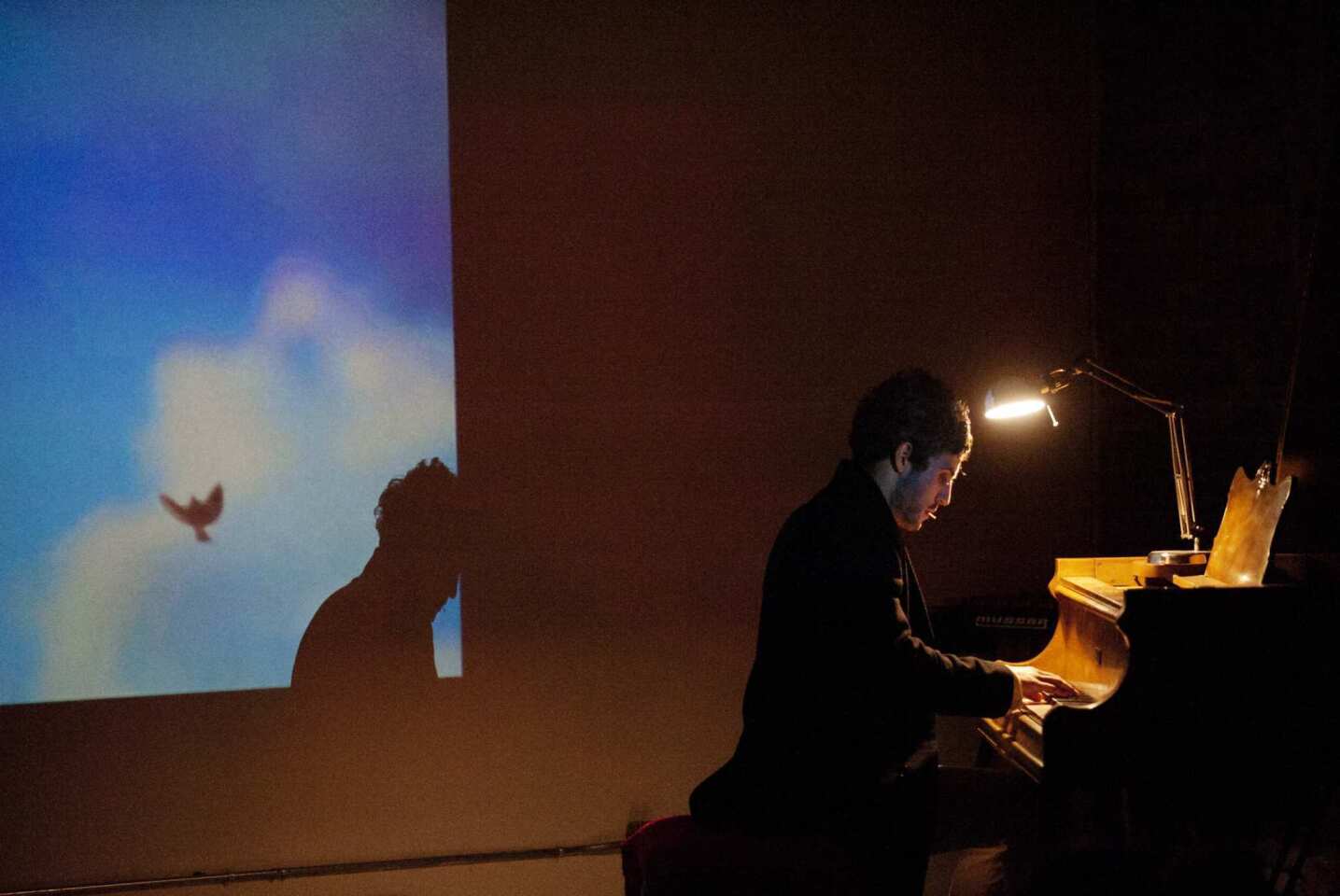 You wouldn't expect an indie rock drummer who appears to be engaged in a naked fight with Devendra Banhart on a recent album cover to release a record this contemplative. A collection of inviting and often melancholy pieces for solo piano, Rogove touches on pop and
classical music
through the hands of Medeski Martin and Wood keyboardist John Medeski, who delivers Rogove's songs in lush, living color.
(Mariah Tauger / For The Times)
Sure, it was fun for a while to watch the bearded Alexander Ebert bounce on stages with his expanding band like the Manson Family covering
Arcade Fire
with unavoidably peppy songs like "Home." But the hippie pop orchestra shtick has worn thin, and no matter how many homages to classic folk rock there may be on the band's new album, "Here," it all feels like a slickly produced costume
drama
.
(Charles Eshelman / Getty Images)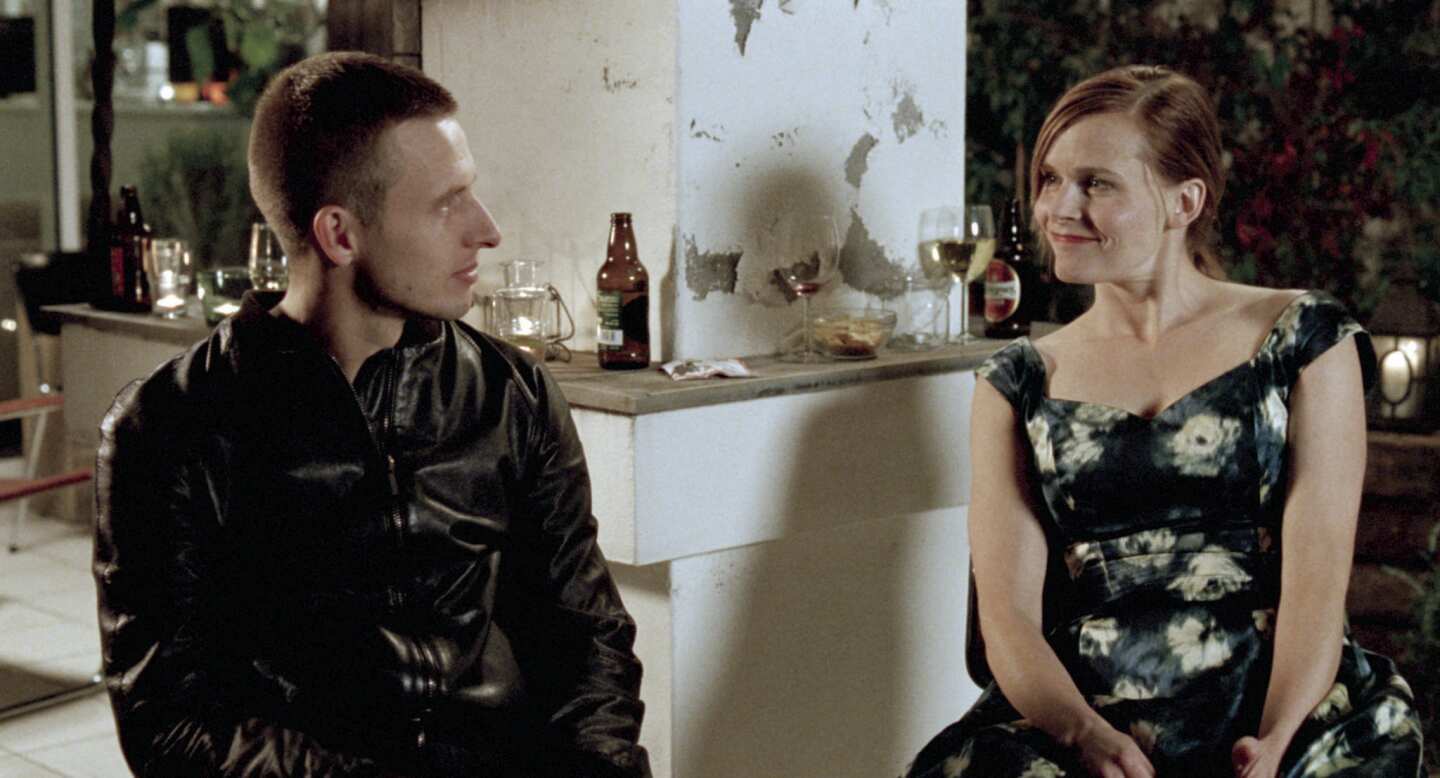 Nothing says "summer" quite like the story of a suicidal junkie searching for meaning. True, this feature from Norwegian director Joachim Trier doesn't pair as well with popcorn as the season's more amusement-park-adjacent fare, but there's something about Danielsen Lie's intense portrayal of an ex-
heroin
addict struggling for connection that's gripping in its own way and quietly beautiful in any season.
(Strand Releasing)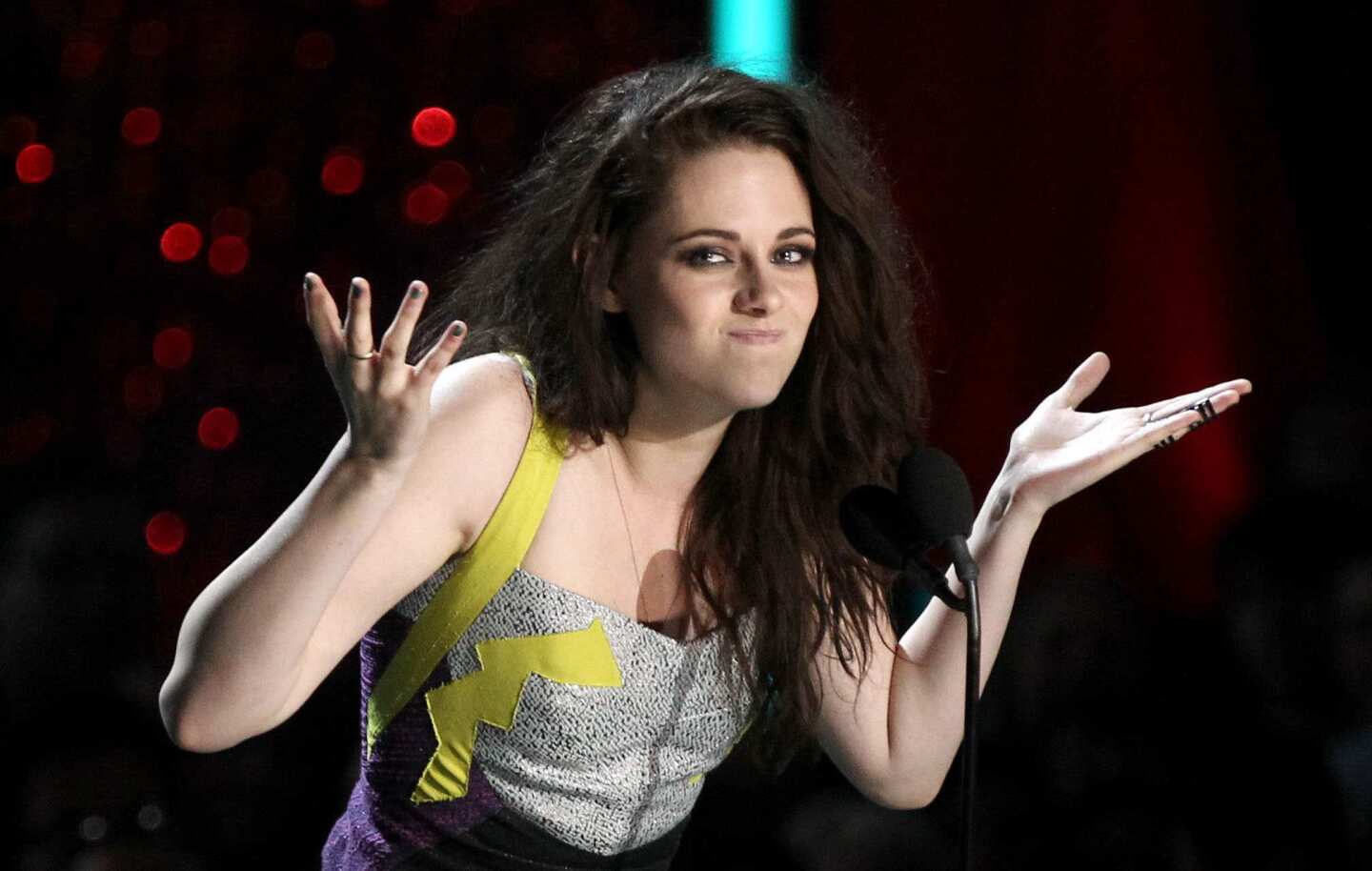 Now that
"Snow White and the Huntsman"
is packing theaters with the force typically reserved for superhero films, we can look forward to more big roles for this actress, who's probably best known as half the fun couple from "Twilight." Anticipation is running high for her turn in the adaptation of "On The Road" — will she play someone mysterious, sullen and of few words? Or will she actually (finally) play a different character?
(Matt Sayles / Associated Press)
If you've ever cursed the unscripted psychodramas that rule television, thank this enduring
MTV
franchise, which is entering its 27th season since it debuted in 1992. It would be nice if the show still carried an idealistic vision of mixing up ambitious twentysomethings in a stylish house to learn about themselves and the world instead of the contents of various bottles and bedrooms, but at least its heart began in the right place.
(MTV)
The ongoing performance piece that is
James Franco
's career took another left turn recently with "Rebel," a Franco-curated art show inspired by the film "Rebel Without a Cause." While it's been entertaining to watch this actor tweak audience expectations since his post-"Freaks and Geeks" rise (notably in playing a pretentious artist named Franco on a daytime soap), being unpredictable isn't the same thing as being interesting.
(Frederick M. Brown / Getty Images)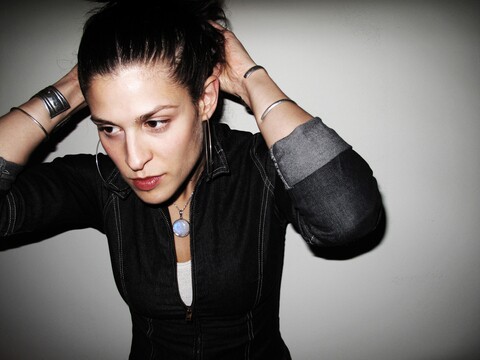 An unconventional hip-hop artist who rose out of the Minneapolis poetry slam scene into the city's underground rap community, the artist born Margaret Wander came into her own with this 2011 album. With a novelist's ear for lyrical detail, Dessa's mix of spoken and sung rhymes casts a riveting spell backed by a full band. When she sings, she sounds a little like
Ani DiFranco
, but more often than not she sounds like nobody else.
()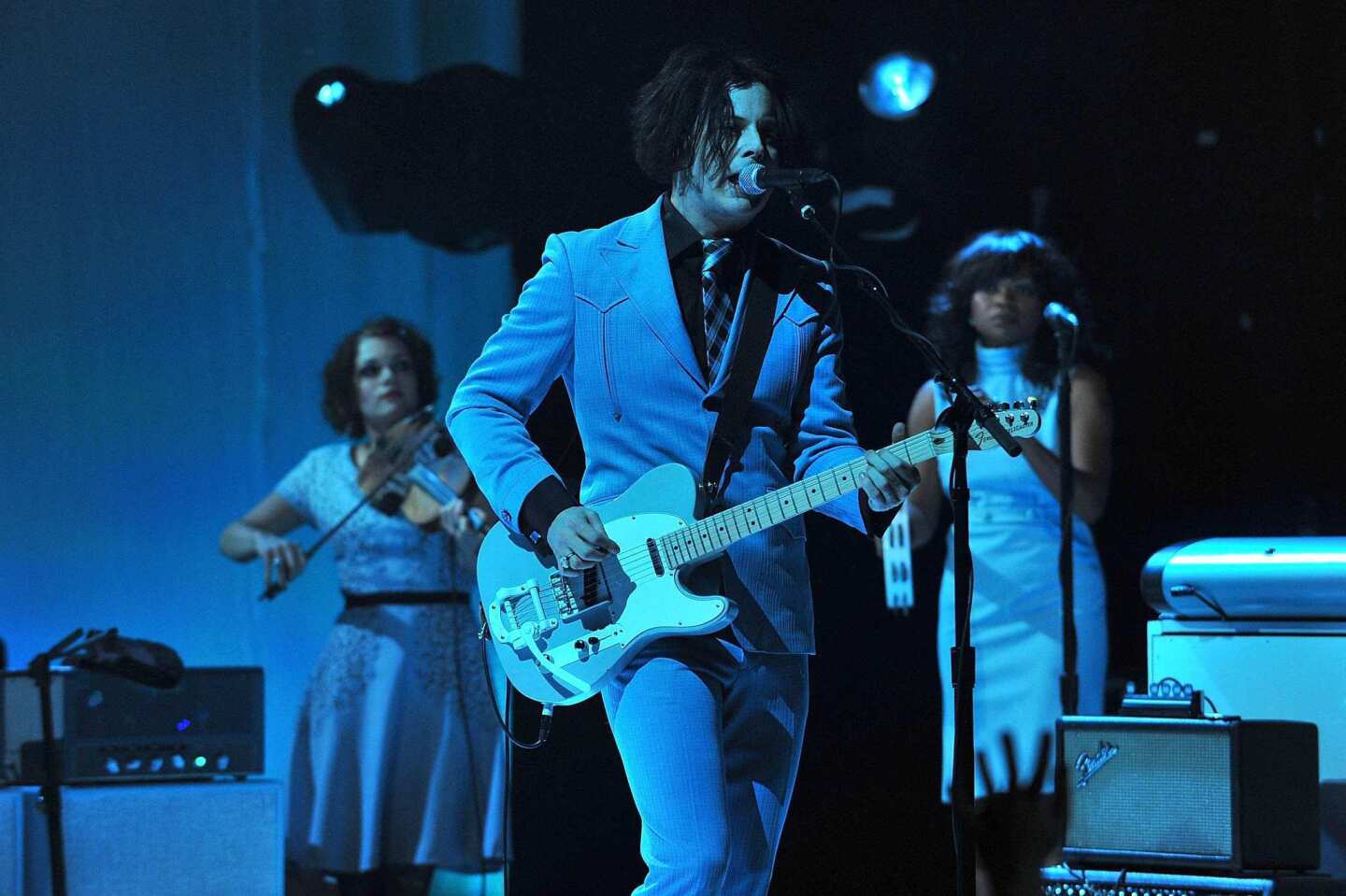 Dare anyone speak ill of this heir to the classic rock throne? While it's great to hear White playing with a drummer capable of more than the caveman beats of the White Stripes, it's difficult to figure why such an avalanche of praise follows his every move. Yes, he's got an ear for history, a sharp eye for visuals, and plays a killer guitar, but before we induct him into the
Rock and Roll Hall of Fame
, can't he make one truly surprising record?
(Theo Wargo / Getty Images)
Perhaps best known for his off-kilter melodies in the knotty, instrumental indie rock excursions of
Tortoise
, Parker has spent the bulk of his career developing into one of the top modern jazz guitarists working today. His latest trio release, "Bright Light in Winter" (Delmark), mixes head-bobbing song craft with an elastic sense of improvisation. Listen to the gently propulsive track "Change" for an intriguing taste.
(Lenny Gonzalez)
We admit a small measure of glee in watching the
Facebook
IPO land with a bit of a thud after inspiring a rash of luxury spending in the already pricey San Francisco area (though we still love you, NorCal). Maybe the social networking giant will eventually mount a Wall Street comeback, but right now it seems some people have realized that a supposedly game-changing website is really just a glorified means to share baby pictures.
(Joerg Koch / Associated Press)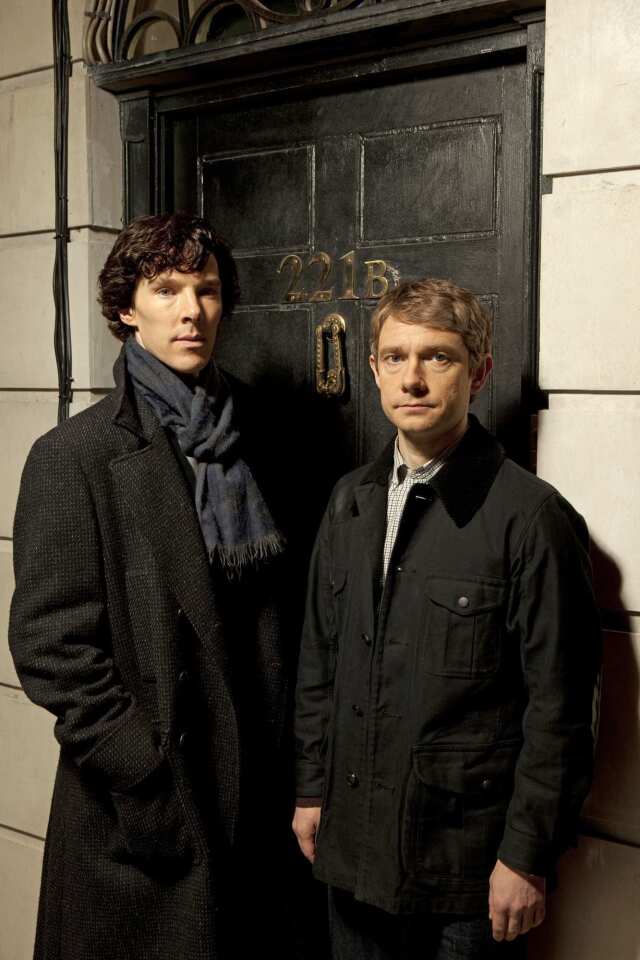 Freeman is part of an underrated show that's a bit like Sherlock Holmes for "Doctor Who" fans, but he's best known for dryly comedic turns with the
BBC
's "The Office" and the film adaptation of "The Hitchhiker's Guide to the Galaxy." In "Sherlock," his role as the quietly tormented Dr. Watson to Benedict Cumberbatch's manic Holmes is a thrill to watch. Any chance of getting Freeman and
Simon Pegg
together in a buddy cop
comedy
?
(Hartswood Films)
Last week,
NBC
announced it was replacing Dan Harmon, the demented genius behind
"Community,"
after low ratings and maybe a few too many public spats with
Chevy Chase
. Still, for a show that's drawn a devoted audience for Harmon's twisted re-imagining of the sitcom tha''s included homages to "The Legend of Zelda" and a paint-spattered "Die Hard," it's tough to imagine how its weird appeal can survive.
(Jay L. Clendenin / Los Angeles Times)
Like a real-life "Mad Men" with far less interesting furnishings, this reality show captures the drama behind today's ad game and transcends the cliches while doing it. Sure, it's a little unsettling to consider the economics behind a show about creating commercials — one of which you actually watch by choice once the "winner" for the week's campaign is picked — but it's strangely worth it after seeing the creativity at work.
(AMC)
Now that NBC's pop shop has wrapped after making serious progress supplanting "American Idol" as America's top singing competition, it should be noted that Aguilera walked a steady, thin line between "quirky" and "massively annoying" all season. Though her coaching and comments still outpaced the inanity of "Idol's" chatter, someone must stop her from rushing the stage every week. And really, put some pants on.
(NBC)
Though this film by the director of "The Scent of Green Papaya" takes on greater depth if you've read
Haruki Murakami
's novel of the same name, it still casts a spell of its own. Steeped in the sound of its introverted record store clerk lead, with music by Can and
Radiohead
's Jonny Greenwood, the movie is a moving examination of ill-fated love, with all lush scenery of late-'60s Japan only underscoring the dreamlike atmosphere.
(Red Flag Releasing)
Every generation spends most of its time looking at the next with a rueful shake of the head, but the flashes of ignorance during this
MTV
show documenting a campus tour by sex advice columnist Dan Savage set a new standard in concern for "kids these days." While Savage is to be commended for providing education for students who still don't understand safe sex, it's ultimately shocking that he still needs to do it.
(MTV)
The name sounds like a chaplain serving not far from the 4077th, but in reality it's the musical
nom de plume
of ex-
Fleet Foxes
drummer Josh Tillman, who's behind a captivating new album, "Fear Fun." Led by Tillman's quavering voice, Father John Misty's lush and evocative mini-sermons recall '70s singer-songwriters with nods toward local landmarks like the Hollywood Forever Cemetery only sweetening the hazily sunny vibe.
(Sub Pop)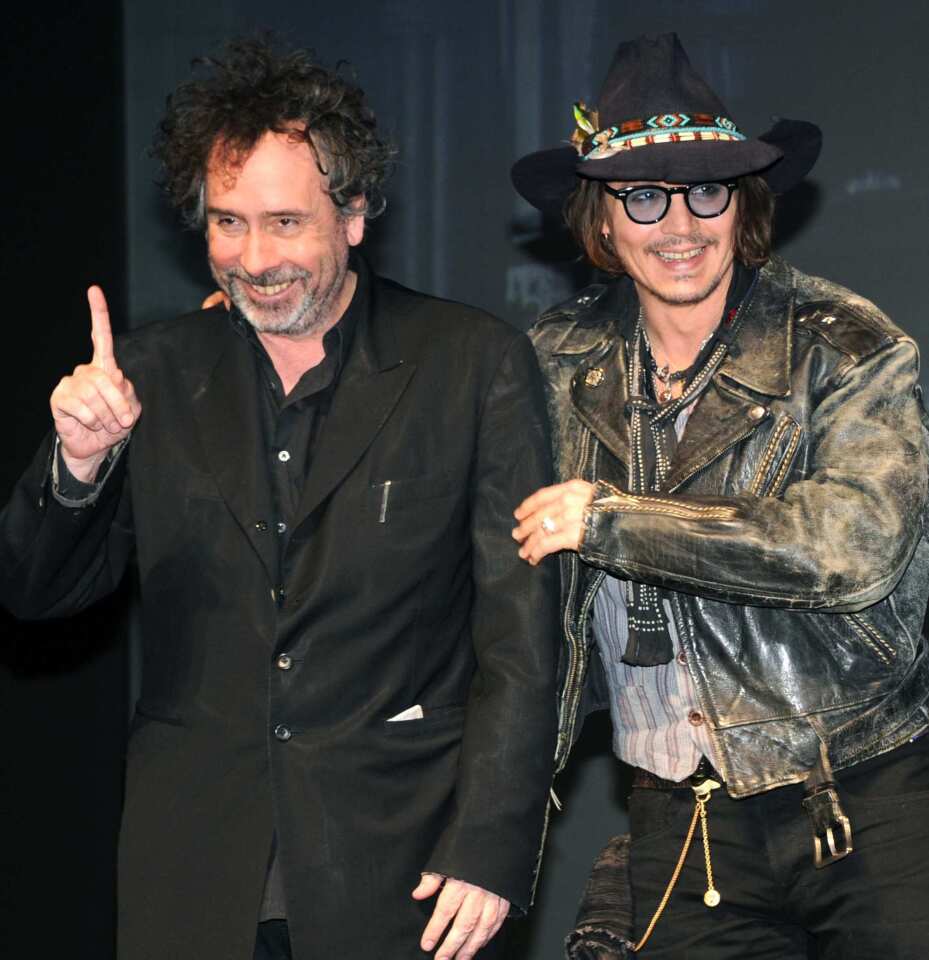 With the campy "Dark Shadows' in theaters, we have to wonder if
Tim Burton
has any interest in surprising us any longer. Ever since the heartfelt and beautifully quirky
"Ed Wood,"
Burton has specialized in churning out what could be called "Tim Burton Movies," the sort of films that may be visually dazzling and often require
Johnny Depp
in goth-adjacent costume. It's entertaining to look at, but Burton could give us so much more.
(TOSHIFUMI KITAMURA, AFP/Getty Images)
Ordinarily it's best not to get invested with Fox's overblown but declining musical juggernaut, but once in a while a line must be drawn. With luck, by this time clearer heads will have prevailed and extracted this dorm room
Dave Matthews
from the airwaves, but given the whims of teenage girls and the show's incoherent judging, his grunted violence toward innocent rock tunes goes on. The man must be stopped.
(Michael Becker / Associated Press)
As we careen into election season, there was something so soothing about seeing some of President Josiah Bartlet's Cabinet reconvene for a wittily self-aware PSA about walking (and, if possible, talking, in keeping with series creator Aaron Sorkin's signature style). Though there are laughs in the pointless political jockeying of "Veep" and its predecessor "In the Loop," we could use more of the Bartlet administration's ambition and good intentions.
(NBC)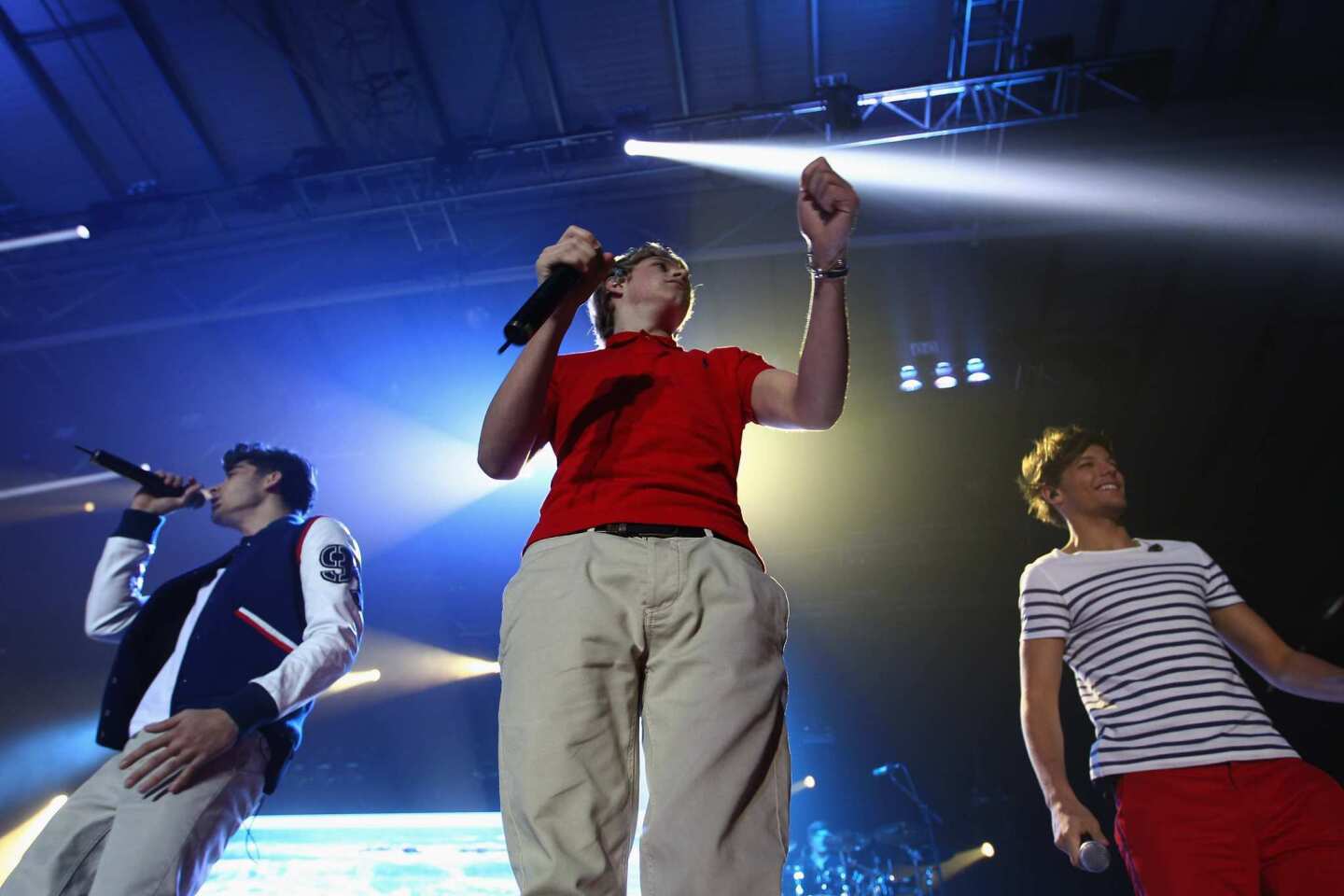 Just when you thought a stake had been driven through the "five boys and a melody" pop formula that begot
New Kids on the Block
and
Backstreet Boys
, the phenomenon is back with the U.K.'s chart-topping One Direction. Brace yourselves, everyone — this is how the siege begins before these groups start reproducing on our shores. Honestly, England, we'd apologize for that whole revolution thing if you'd just quit exporting this stuff.
(Phil Walter / Getty Images)
Maybe better known by one of the names on his Twitter bio ("The Black Guy From '40 Yr. Old Virgin'"), Malco should finally make a name for himself as a top-tier comic talent in
"Think Like a Man,"
a new film with stand-up star
Kevin Hart
. Malco was a scene stealer in Showtime's "Weeds" and the aforementioned Apatow movie, but his Web-friendly turn as life coach Tijuana Jackson on "Funny or Die" helped take him to the next level.
(Kirk McKoy / Los Angeles Times)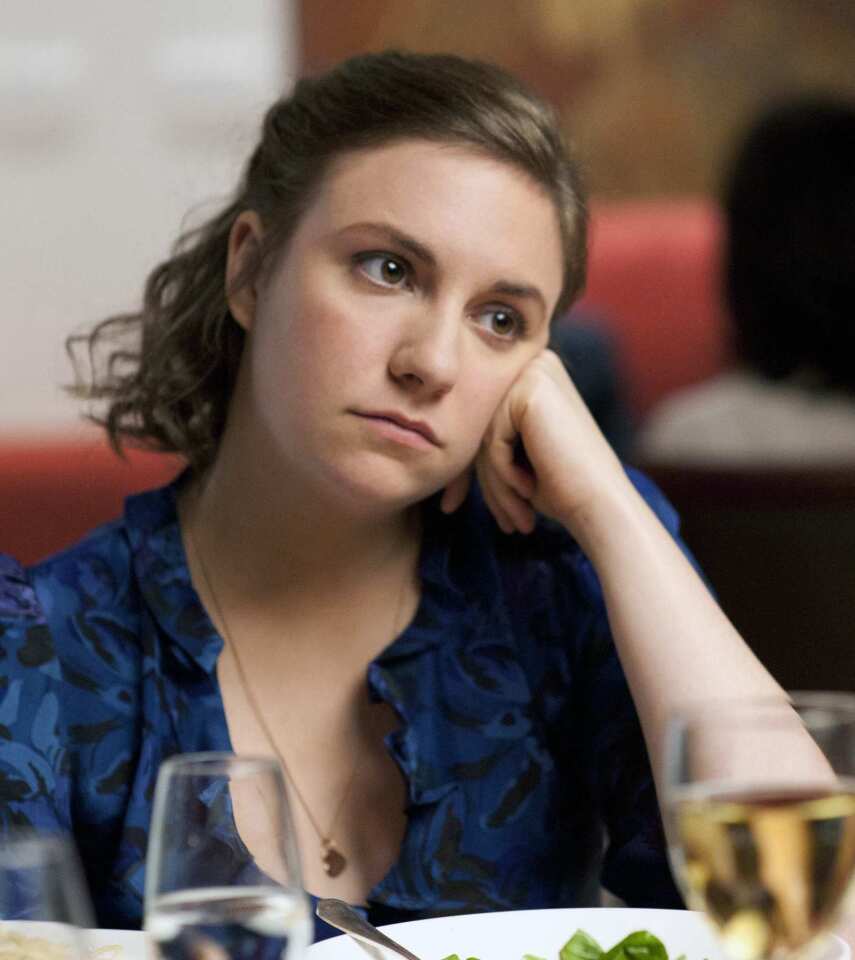 She's the twentysomething auteur of the moment (every decade needs one), and her new HBO series could rack up tidy profits if the network had a dollar for every time the words "revolutionary" or
"Sex and the City"
were invoked in its wake. But this alleged comedy seems a familiar depiction of privileged, post-collegiate angst in
New York City
that's served with such awkward self-obsession that it's too unpleasant to be funny.
(HBO)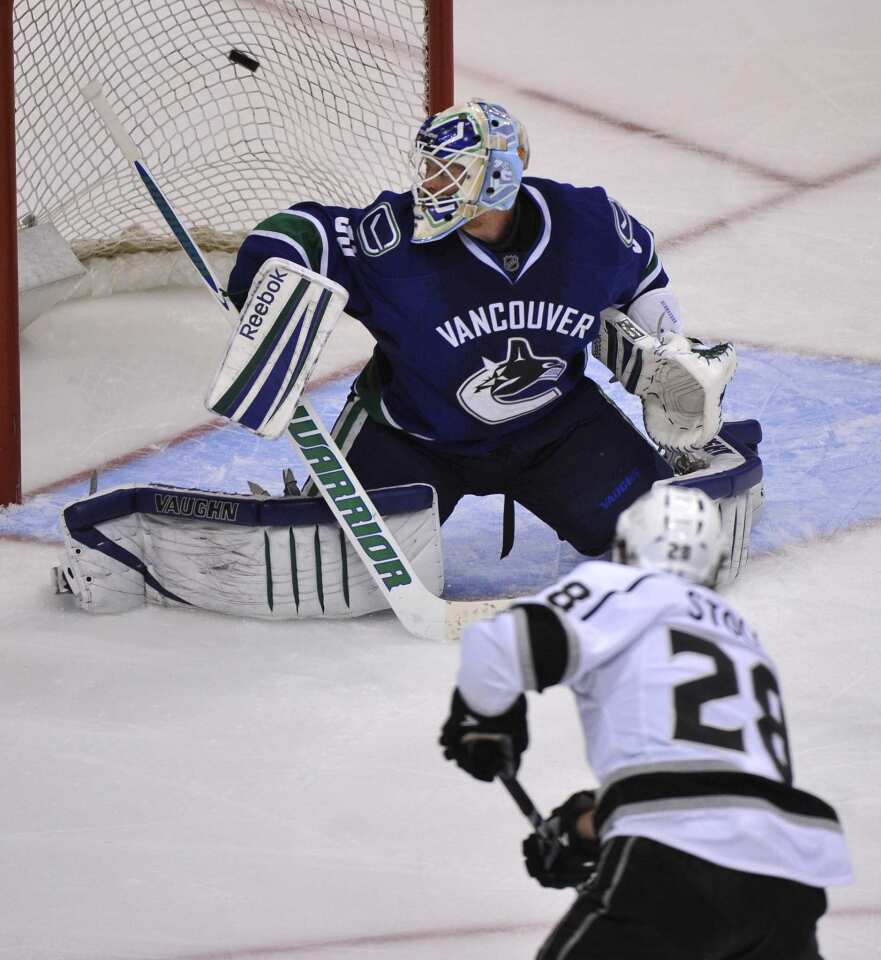 Regardless of whether the
L.A. Kings
continue their torrid pace or revert to the underdog No. 8 seed they are, few experiences in sports are as riveting as the
NHL playoffs
. You can have your strike-shortened
NBA
and the sleepy early stages of spring baseball, but for pure cathartic release and mind-scrambling skill, nothing beats hockey — no "Slap Shot"-styled violence required. Kudos to NBC for putting spring back on ic
(Jenelle Schneider / MCT)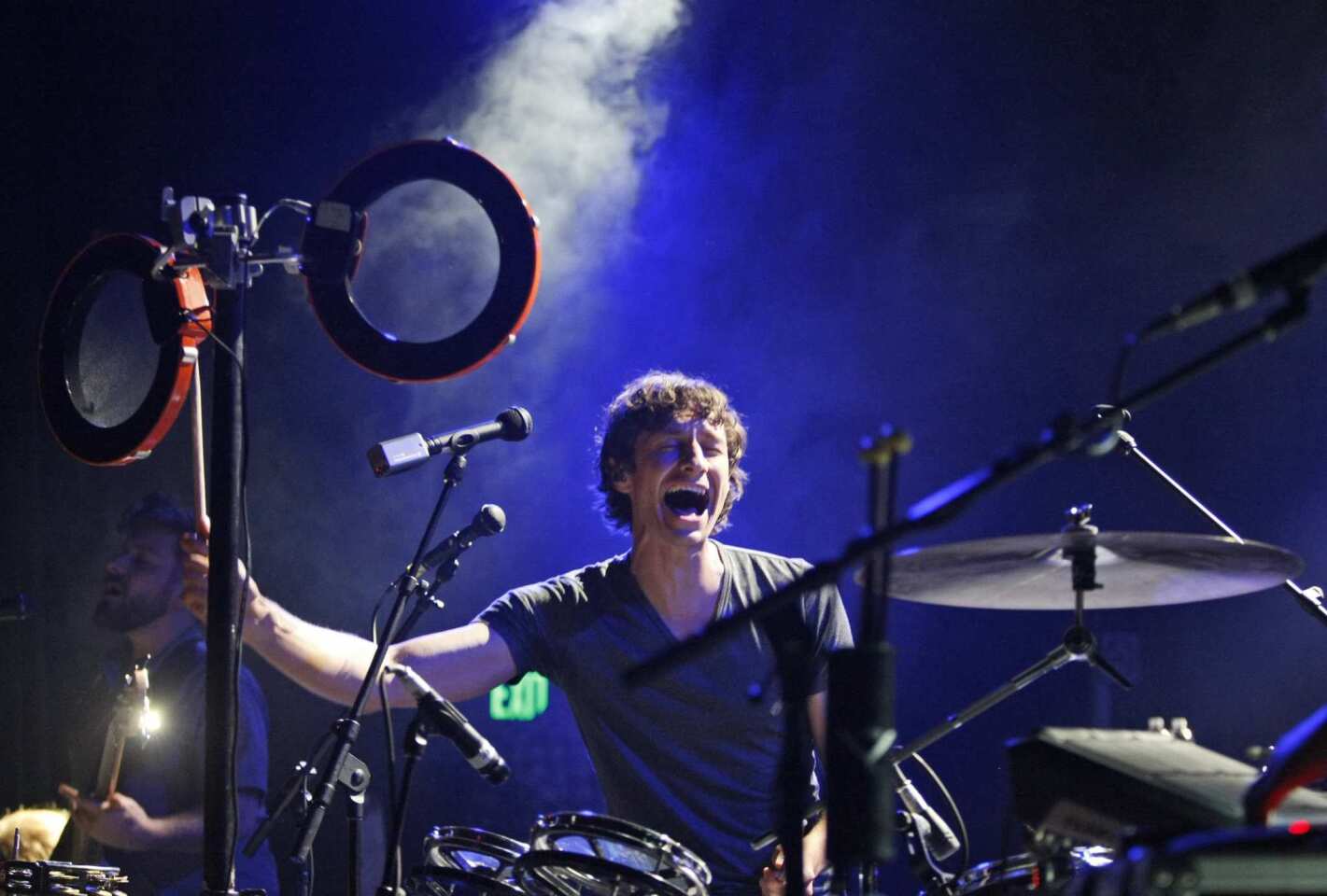 Each year brings one song that's inescapable, and 2012's early winner is the daintily melancholy "Somebody That I Used to Know" from this Australian singer-songwriter. But it's not enough that the song itself seems everywhere, it's the many covers reproducing at an alarming rate on "Glee," "The Voice" and
YouTube
that further push the limits of tolerance. The song's fine in a modern-day Mr. Mister kind of way, but can we move on now?
(Allen J. Schaben / Los Angeles Times)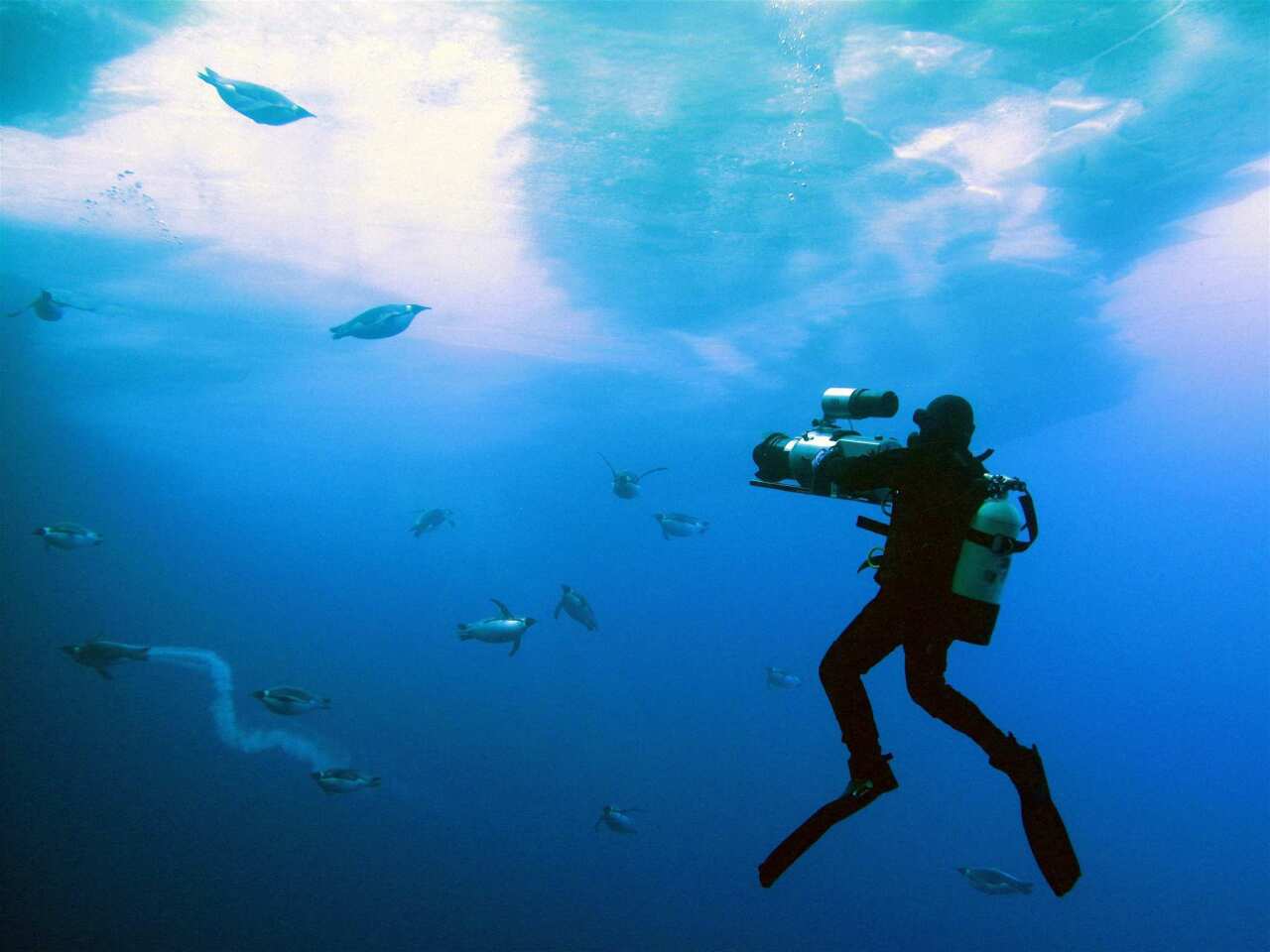 Though we could live without the footage of struggling baby penguins and the inevitable heart-rending "nature is harsh" lessons, there is no greater use of your large-screen television and HD video signal than this documentary series. Created by the people behind "The Blue Planet" and "Planet Earth," this series digs into the perilous lives of polar bears, penguins and beluga whales and finds life worth savoring -- and saving.
(Chadden Hunter / Associated Press)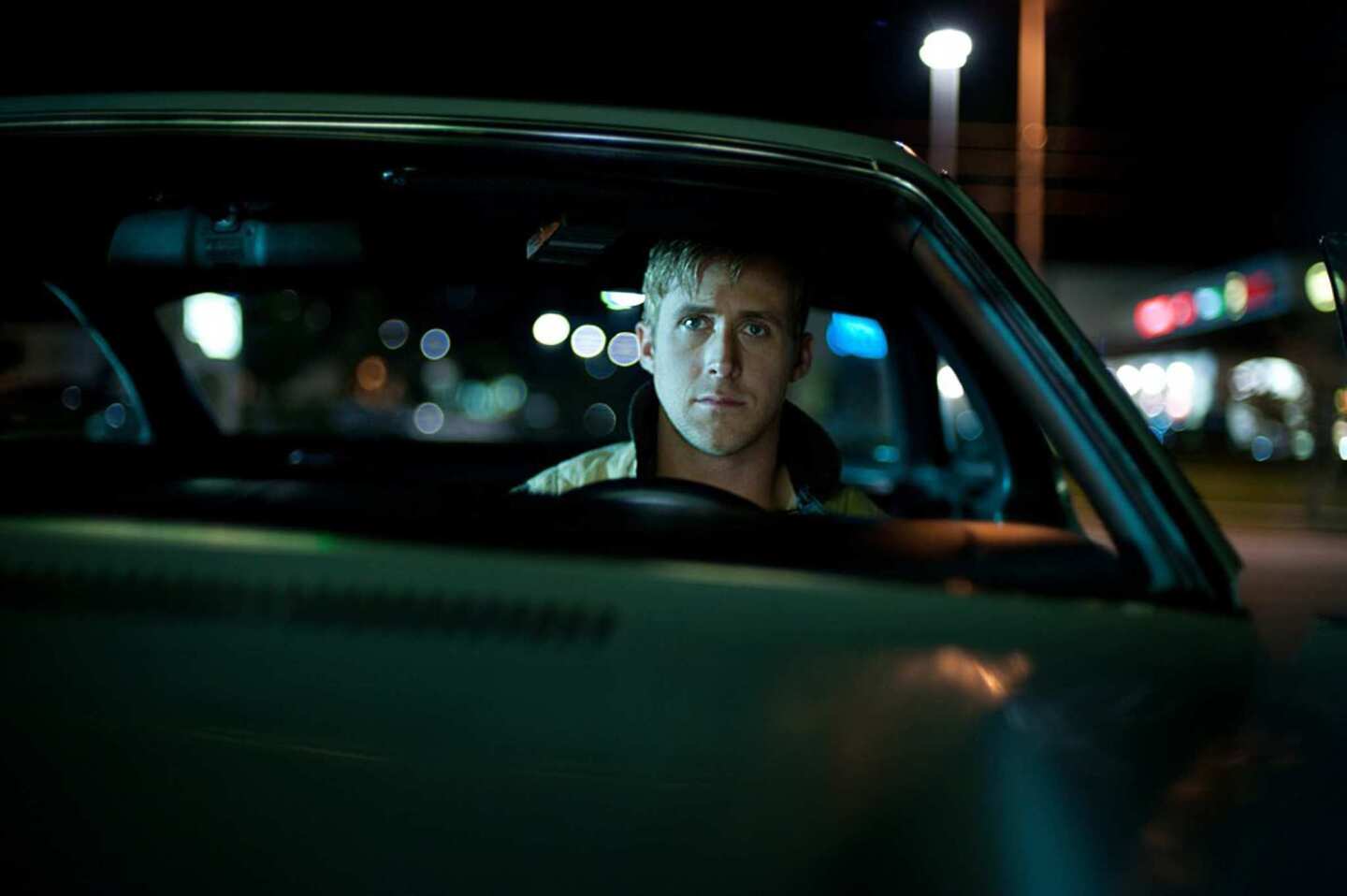 A year-end critical darling and one of the most talked-about movies from last fall, this stylish movie ultimately underwhelms on the small screen. Though its cooler-than-cool look is entertaining in flashes, the random '80s touches feel almost campy, and
Ryan Gosling
's character is a man of so few words he hardly exists. In an early monologue,
Albert Brooks
' meta-description of his work as a producer aptly describes this hollow film.
(FilmDistrict)
A companion piece of sorts to Marc Maron's interview podcast "WTF," this
Showtime
series is another example of how entertaining stand-up comics can be when sitting down. With a veteran comedian at the controls in Provenza, the show delivers funny, freewheeling discussion with the likes of
Eddie Izzard
, Bo Burnham and
Garry Shandling
coming together to talk comedy and whatever else comes to mind.
(Showtime)
Considering that superheroes, remakes and sequels have become the safest bets in Hollywood, maybe it makes perfect sense to simply re-release a 15-year-old blockbuster with fancier special effects (see "Star Wars"). And as fun as it may be to watch the big boat sink into your lap, the real question is how James Cameron will have again earned your money for an overlong, over-the-top story you already saw. "King of the world," indeed.
(Paramount Pictures)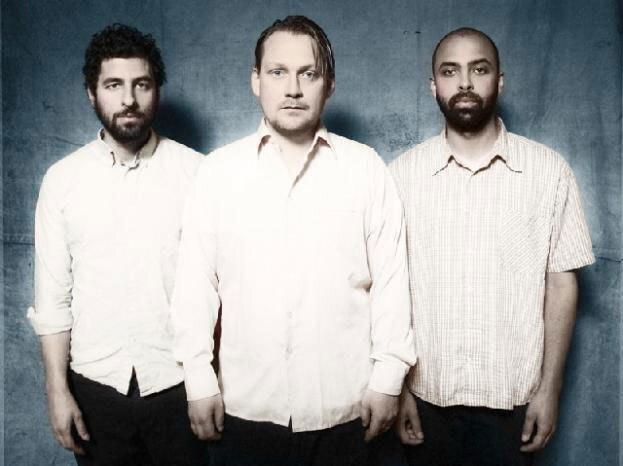 Like a futuristic European version of Crosby, Stills and Nash, this Swedish band's 2010 album is one of the addictive indie-rock pleasures of the decade. Led by the crushed velvet vocals of singer-songwriter Jose Gonzalez and a spacey mix of churning guitars, burbling keyboards and driving African percussion, "Fields" grows more enchanting with every listen. Spring gets only sunnier with the one-two punch of "Always" and "Rope & Summit."
()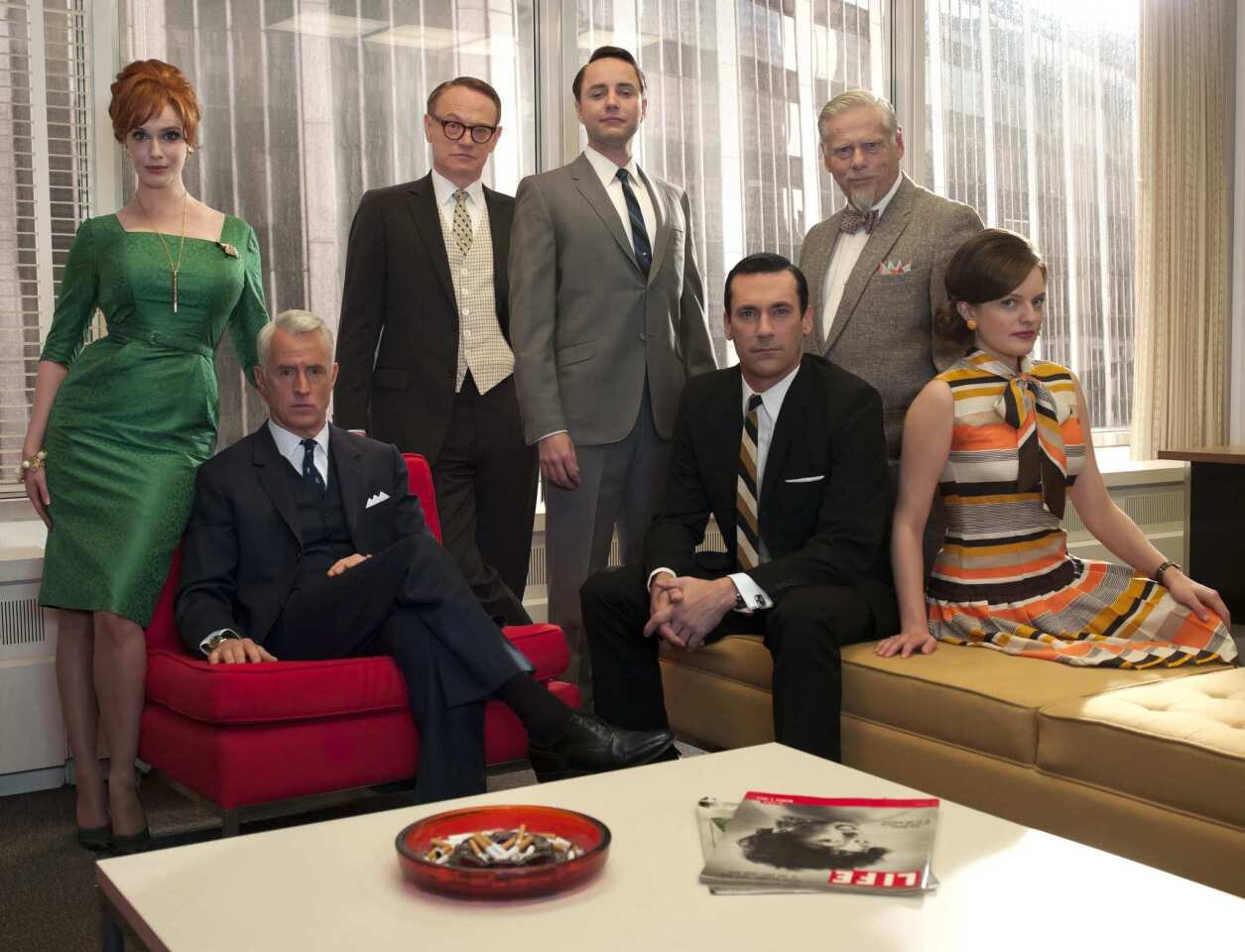 Maybe it's a hangover from the stylish show's layoff, like a power hitter in
spring training
who can't find his swing, but something seems off with Matthew Weiner's much-beloved baby since its comeback. Don Draper looks half-asleep, characters have been drifting into caricature and drab generational cliche and fortune tellers are seemingly falling from the sky to underscore plot points. But hey, at least the show still looks good.
(Associated Press)
Fans of this remake of the Danish series "Forbrydelsen": It's time to come off the ledge after this show supposedly reneged on its promise by not solving its mystery last season. First, the original series was 20 episodes as compared with 13 for
"The Killing,"
and this is not a show that benefits from time compression. Second, from its moody look to its subtly powerful performances, it's one of the most compelling shows on TV. Let's move on.
(Frank Ockenfels / MCT)
A few thoughts now that "
Harry Potter
" and "The Hunger Games" have earned several dump trucks full of money. First, does it point to an infantilization of pop culture that literature targeting teens and tweens keeps hitting with adults (at the expense, presumably, of adult-ready books)? And second, writers and publishers should get used to the idea that evocative blends of fantasy and solid storytelling aren't just for kids anymore.
(Murray Close / Associated Press)
Acclaimed but unfairly forgotten, this film by writer-director Sean Durkin will hopefully gain a new life on DVD. As unsettled as it is unsettling, the film parachutes you into the life of a young girl as she escapes a chillingly charismatic cult leader portrayed by
John Hawkes
. The movie's time-skipping structure feels as uncertain as Elizabeth Olsen's traumatized title character, with an ominous finish that avoids easy conclusions.
(Fox Searchlight)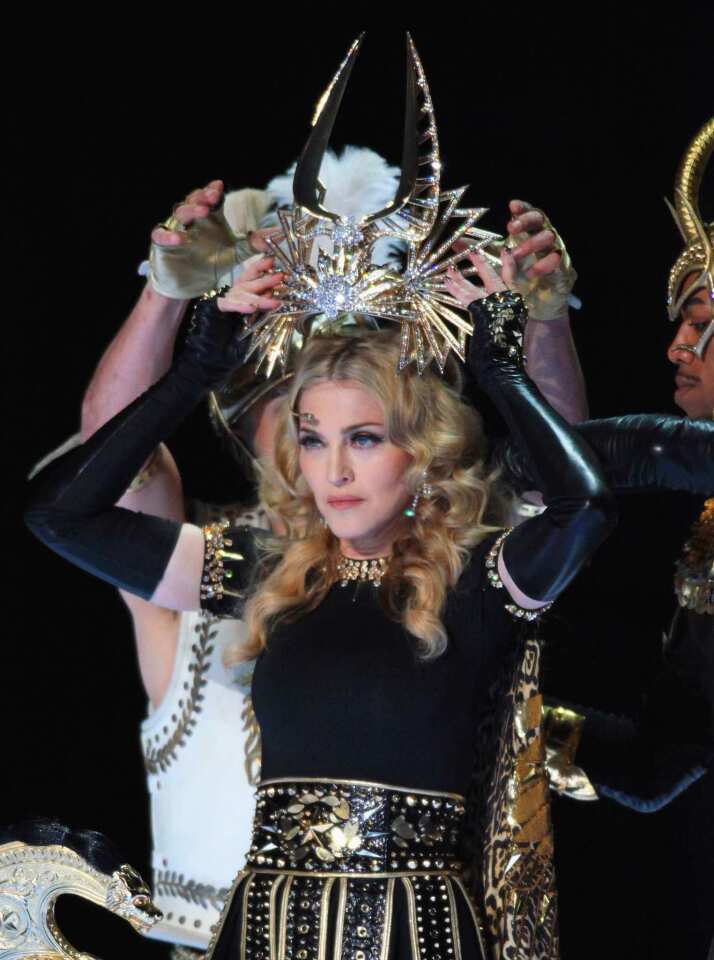 The grand dame of dance-pop has an unparalleled track record of reinvention and a steady dedication to the cutting edge of music and fashion. Now, with her dated new album, "MDNA," it's time to accept that the 53-year-old singer rests alongside the
Rolling Stones
as the sort of act that releases albums well below the level of its prime as serviceable fodder for massive tours that inspire joy, dancing and the spending of serious cash.
(Christopher Polk / Getty Images)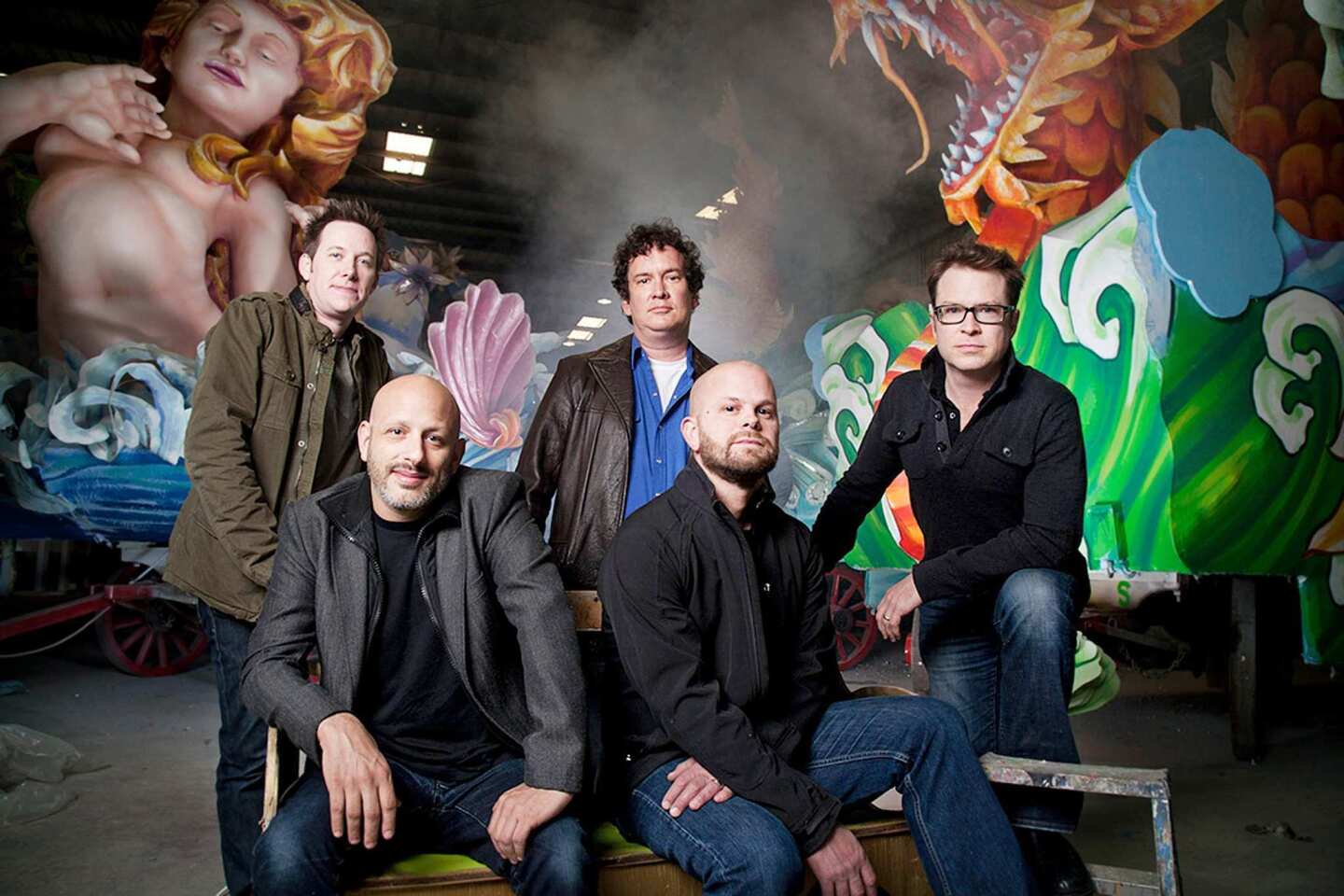 Longtime purveyors of raucous, New Orleans-bred jazz-funk whose members have made frequent cameos on HBO's "Treme," the group has gone to another place with the recently released album "Carnivale Electricos." A taut but rowdy mix of middle-of-the-night
Mardi Gras
sounds and flourishes of Brazilian samba, the album is probably the closest approximation to a genre-blind Crescent City party available on CD, beads and hangover not included.
(Zach Smith)
There's no denying the pure entertainment in the
NCAA
's annual spider web of brackets and tiny schools from basketball backwaters upsetting major college programs that basically function as NBA farm systems. But the bandwagon-jumping from just about every publication extending the gimmick to best book covers, TV shows, movies and pop radio favorites has gotten out of hand. Doesn't anyone remember top 10 lists?
(Paul Rogers / For The Times)
Written and directed by
Emilio Estevez
and starring his father,
Martin Sheen
, this film isn't the meditative exploration of faith and loss you might expect from the story of a father undertaking a spiritual pilgrimage after the death of his son. Yet in shining a light on the wonders of the road that is Europe's "El Camino de Santiago," Estevez has found something beautiful and undeniably personal that stays with you after the credits roll.
(David Alexanian)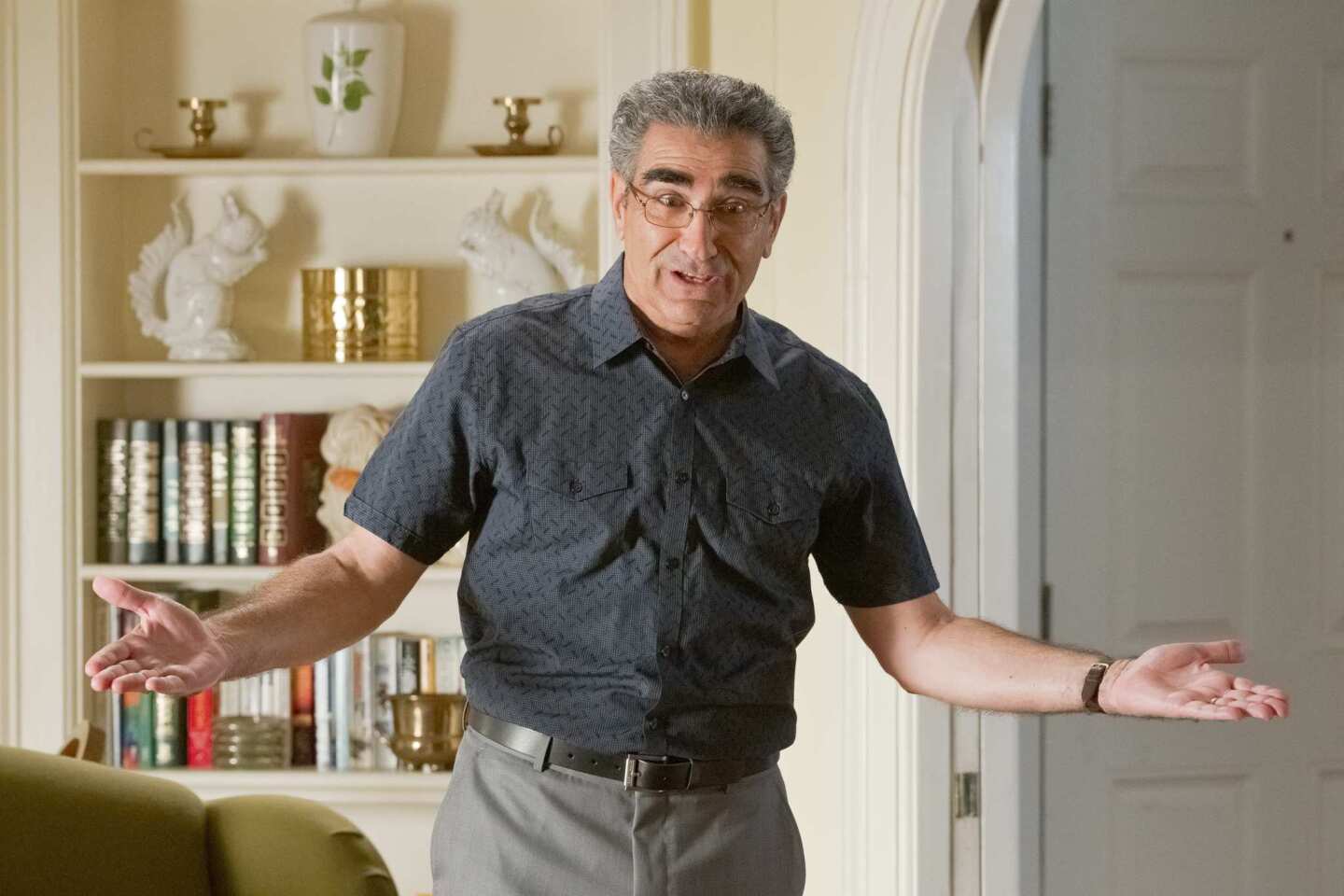 A quick reminder for those anticipating the upcoming "American Reunion": These things work better when a franchise has disappeared long enough to inspire nostalgia. Overlooking that the 1999 film's legacy is forging new ground in substituting outrageousness for genuine humor, the brand has been replicating itself in drab, straight-to-video sequels since 2005. Honest, we might miss you a lot more if you really go away for awhile.
(Universal Pictures)
With a gently scuffed, quavering voice, this singer-songwriter reached new heights with her new album, which is titled in reference to her period of semi-homelessness. Produced by the National's Aaron Dessner, the record is a quietly addictive listen with Van Etten's lyrics on heartache and uncertainty landing with such disarming rawness that you sometimes wonder if she's sharing too much -- yet you can't help wanting more.
(Lawrence K. Ho / Los Angeles Times)
Television is full of reasons to feel pessimistic about our long-term prospects as a species, and the latest example is this show exploring the unsettling habits of those arming themselves for the end times. Although a bit of the Boy Scout motto goes a long way in a disaster, you get the feeling that those obsessed with being ready for the worst in humanity are in their own way also revealing the worst in humanity.
(Sharp Entertainment / NatGeoTV)
Frequently referenced in relation to the
Academy Awards
snub of star
Michael Shannon
(also seen as the square-jawed Fed in HBO's
"Boardwalk Empire"
), this film is an affecting experience in its own right. Shannon's powerful portrayal of a man either in the grips of mental illness or wild apocalyptic visions gets burned into your memory, but the impact of those surreal turns in writer-director Jeff Nichols' hands is every bit as enduring.
(Sony Pictures Classics)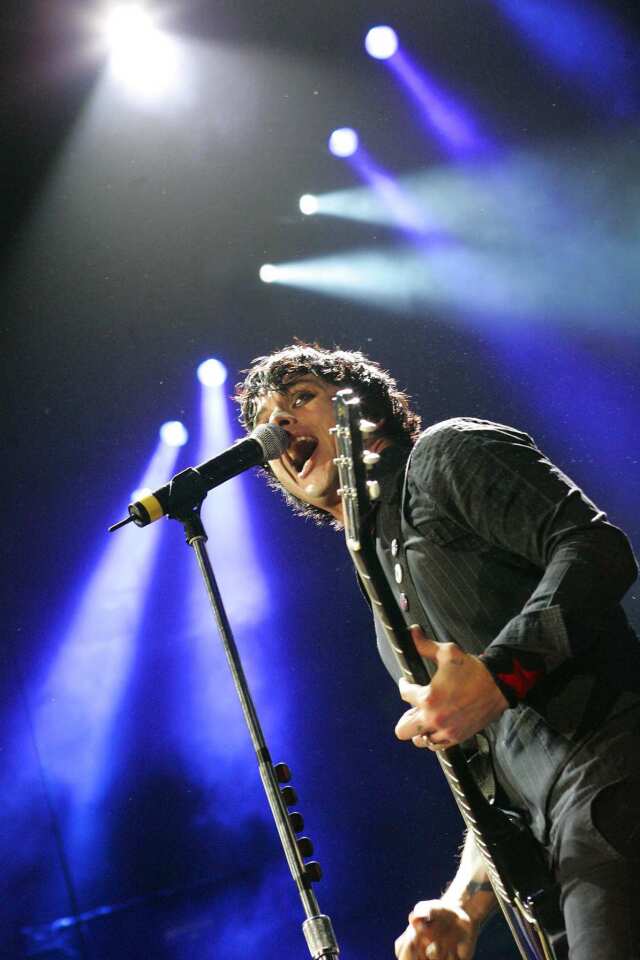 : Now that the stage version of this lauded 2004 album has come to town, the truth can be told: The source material isn't all that good. At one point inexplicably hailed as "album of the decade" by Rolling Stone (did they know "Kid A" and "Yankee Hotel Foxtrot" had been released?), Green Day's rock opera is bloated, bombastic and, years removed from its mid-aughts angst, packs as much nuance as, well, some Broadway musicals.
(Los Angeles Times)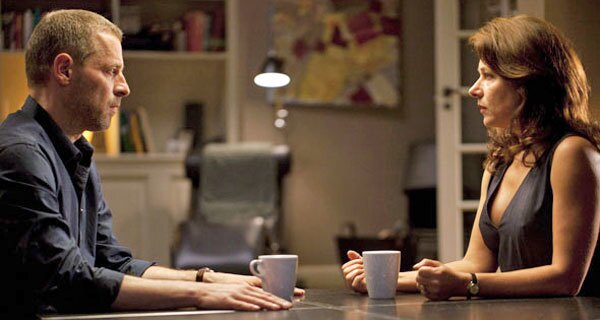 Viewers drawn into AMC's
"The Killing"
(adapted from the taut
Danish
import, "Forbrydelsen") should seek out the similar aesthetics of this political drama, a Denmark-born twist on
"The West Wing"
covering European politics, the media and a cunning prime minister, played by Sidse Babett Knudsen, right. Plus, with
NBC
reportedly working on an adaptation, you can get onboard before the series (with English subtitles) shoots itself in the foot in the States.
(LinkTV)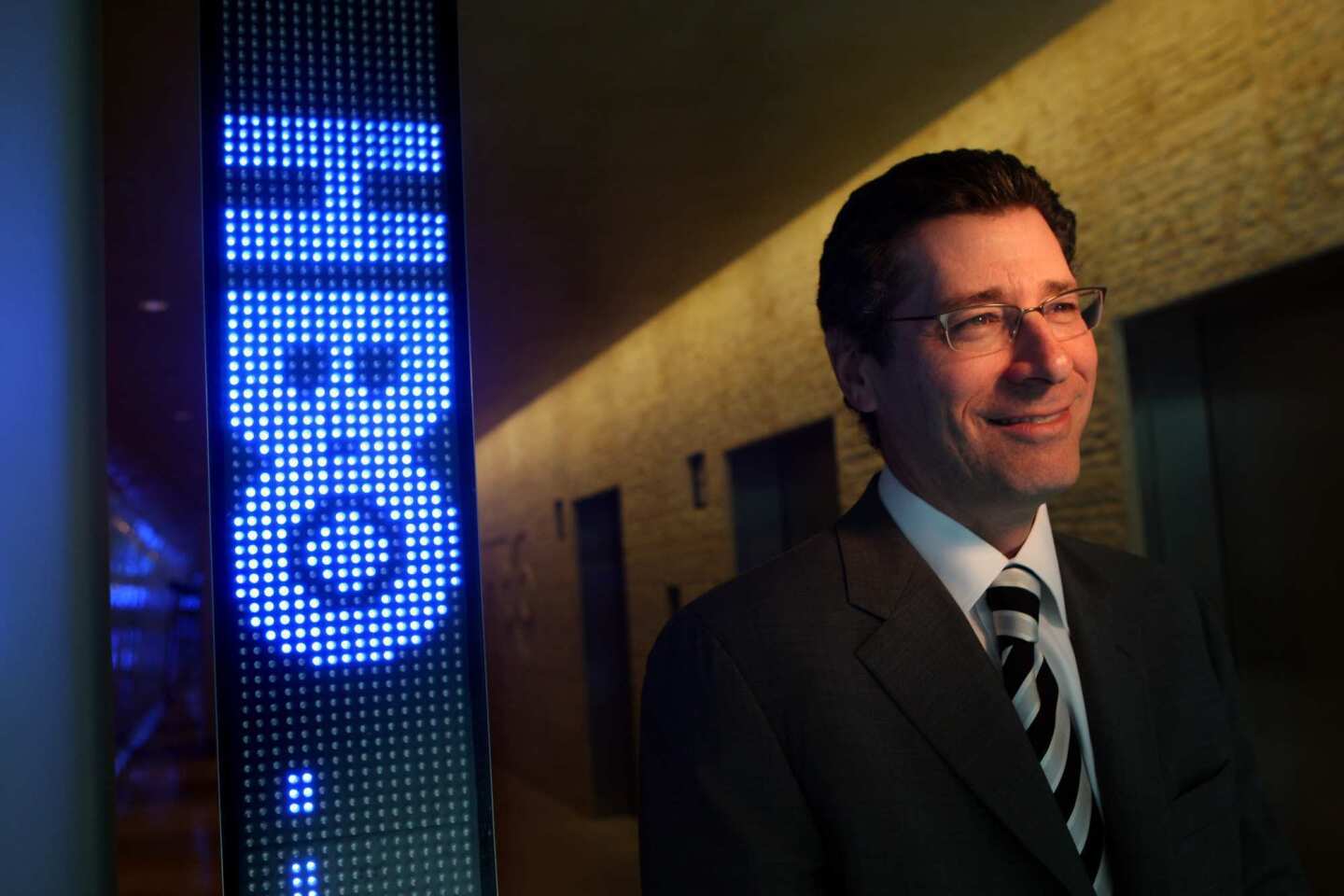 On the surface it's a forward-thinking move for the network to allow subscribers to watch past seasons of its original shows online, but ultimately
HBO
is missing the bigger picture by not allowing customers to subscribe to only a streamable option. Though it's easy to imagine current cable and satellite users enjoying the app's portable ease, imagine the money HBO would make if they made it available to everybody. After all, it's not TV, right?
(Genaro Molina / Los Angeles Times)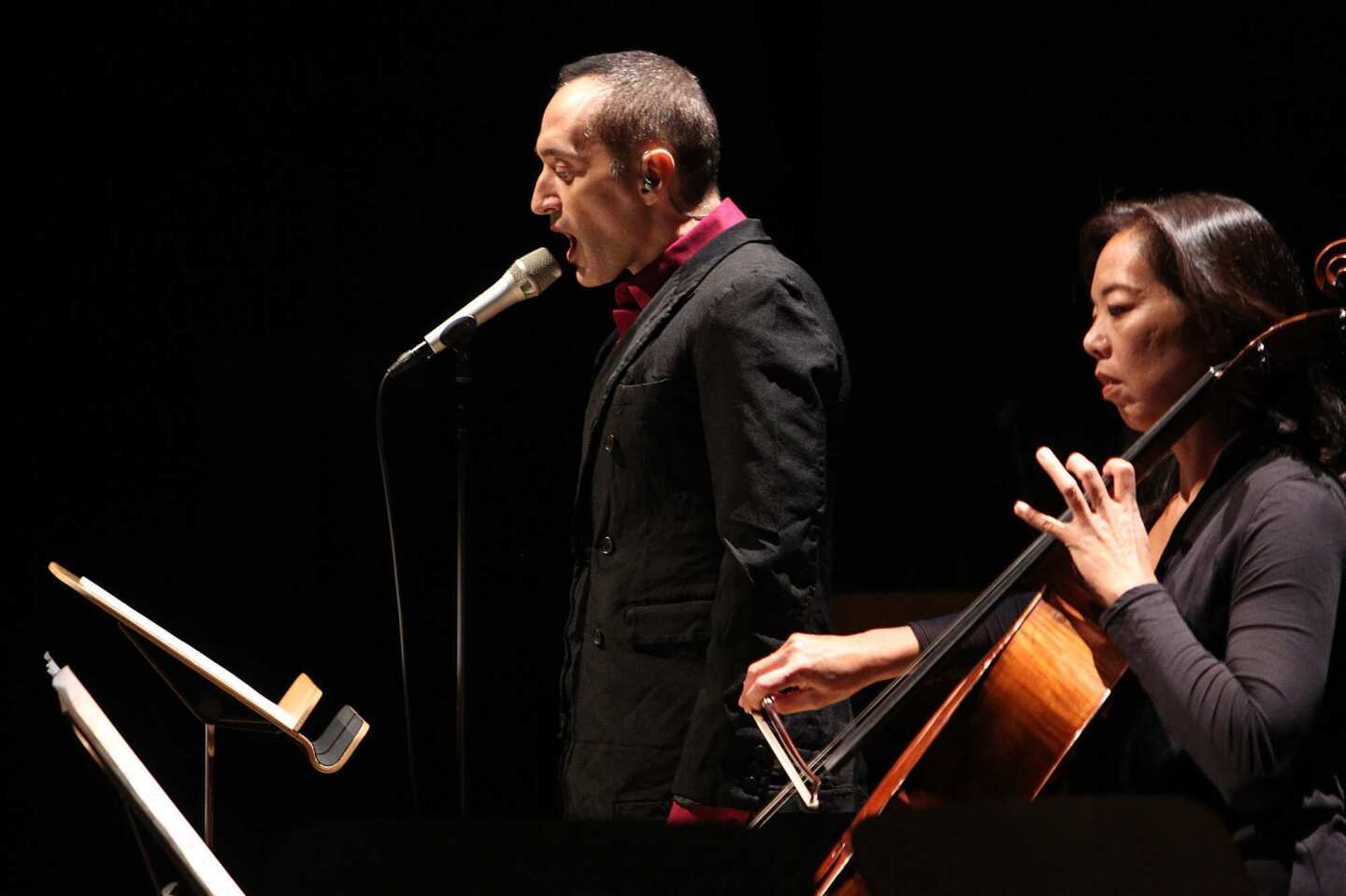 An inventive vocalist often filed under "jazz" simply for want of a suitable genre to contain his otherworldly sound, Bleckmann's latest album is a gentle yet consistently rewarding take on the
Kate Bush
songbook. Backed by seasoned jazz players such as Grammy-nominated drummer-composer John Hollenbeck, Bleckmann's lilting, acrobatic voice takes Bush's already singular vision somewhere unexpected and every bit as heartfelt.
(Robert Gauthier / Los Angeles Times)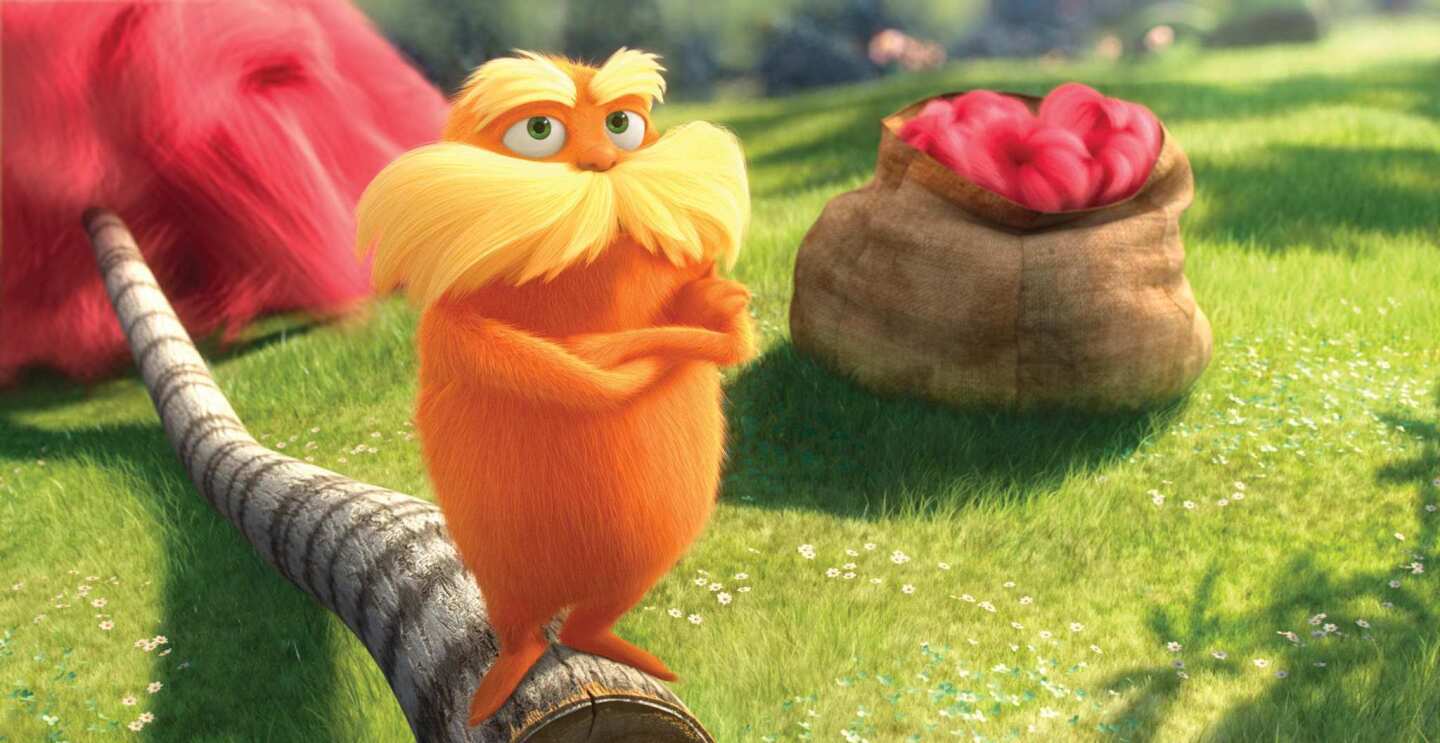 It's hard to complain about one of
Dr. Seuss
' most enduring creations becoming a box-office star, but there's something unsavory about the formerly soft-spoken character getting words put in his mouth. Though it's inevitable that Hollywood's 3-D update would become something much louder, seeing Seuss' conservationist creation also shill for cars and cellphones feels like someone should've thought to "speak for the Lorax."
(Universal Pictures / Associated Press)
Though spring isn't the best time for cinematic scares, it's worth tracking down this recent chiller starring the former
Harry Potter
,
Daniel Radcliffe
. Set in a damp, perpetually bleak corner of Northern England in the Gothic-friendly early 1900s, this atmospheric haunted house story delivers plenty of creepy jolts and subtle, over-the-shoulder scares but somehow never succumbs to becoming gory or silly (no small feat in this genre of late).
(Nick Wall)
Maybe there's a similar level of commitment among some fans of "The Simpsons" and Snoopy, but there's something about the Mouse that leads true believers to princess-themed weddings and stays "on property" that remain unique to Disney-philes. This home makeover show takes the immersion to a new level in offering a fully branded backyard, but doesn't that just amount to in-home corporate sponsorship?
(HGTV)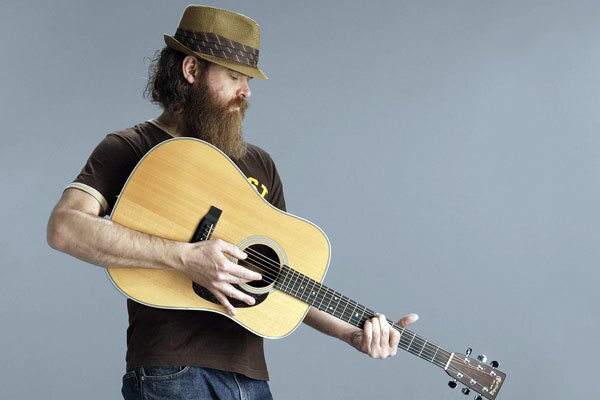 The singer-songwriter's mid-'00s solo albums "Tell It to the Dust" and "The Wounded Astronaut" were hidden gems with a mix of dusty Americana and jagged, Crazy Horse guitars. Hopefully, Parker's work on "New Multitudes," a diverse and dusty new collection of unrecorded
Woody Guthrie
lyrics with Son Volt's Jay Farrar, Centro-Matic's Will Johnson and My Morning Jacket's Jim James, will bring him closer to the surface.
()
Every generation has its era-defining band, and these sunny sons of Hawthorne certainly would qualify as one of them. And while after 50 years and an impossibly influential body of work they deserve the curtain call, it's tough getting any more excited about this than the next, inevitable reconvening of the
Rolling Stones
and what's left of the Who. You can bring back the band and trot out the hits, but nobody can bring back the time.
(Robert Gauthier / Los Angeles Times)
In an age where anyone with a phone can live their own
Diane Arbus
fantasies, there's still no substitute for a professional. Though this series lasted only 25 episodes a few years back, its constant rotation on PBS means you can check in with Wolfe and his awe-inspiring eye and equipment as he takes better pictures than you in the Grand Canyon, Patagonia and other picture-perfect spots. You might even learn something.
(PBS)
All due respect to
the Oscar
-nominated
"Hugo"
and
"The Artist"
(pictured), but is there any greater recipe for awards season success than releasing a movie that could be described as "a Valentine to the cinema"? The Grammys, Emmys and all the other races for year-end statuettes are generally exercises in celebrating a given medium, but why is it that movies in particular seem especially addicted to reminding us how wonderful they can be?
(The Weinstein Co.)
Though most nominees in the foreign language category tend to be less than household names in the U.S., American audiences are better acquainted with this director of the moving Nazi occupation drama "In Darkness." Previously nominated for "Europa, Europa" (1990) and "Angry Harvest" (1985), the Polish-born Holland has also brought her deft, sympathetic touch to episodes of
"The Wire,"
"The Killing" and "Treme."
(Krzysztof Opalinski / Sony Pictures Classics)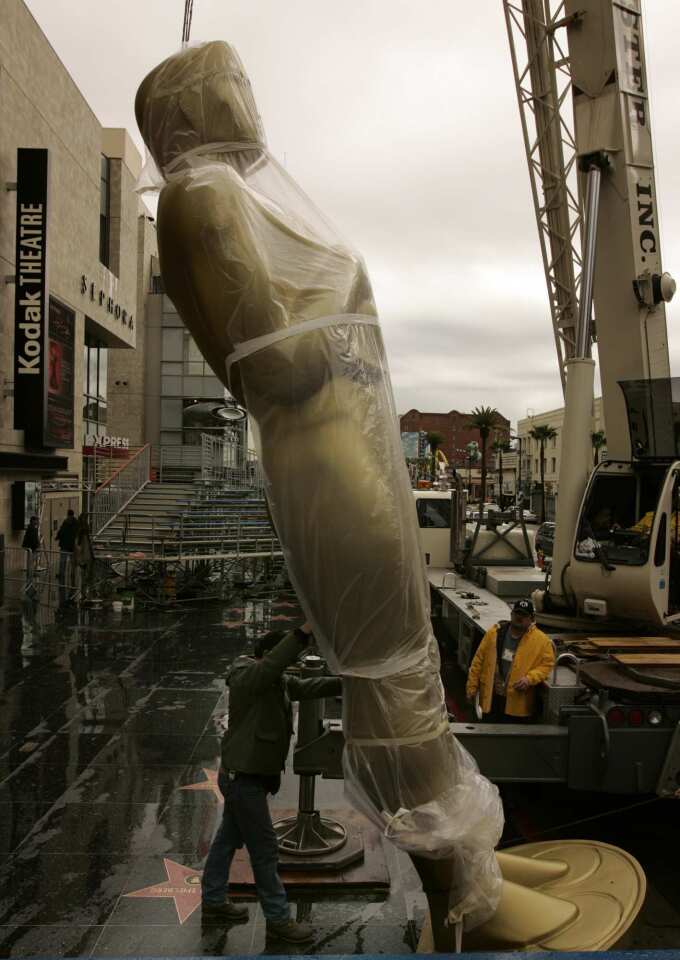 This host is too young, that host is too old, this category is too big while the other is too small. The right films never win, there's too much red carpet coverage and, of course, it's all about campaigns and commerce, not the art. If these are common refrains for you, the
Academy Awards
aren't the weather -- you can do something about it. Turn off your TV, maybe go see a movie. We hear there are a couple of good ones out there.
(Al Seib / Los Angeles Times)
It's a little puzzling in a best picture category big enough to nominate "War Horse" and "Midnight in Paris" that there was no room for this taut, almost startlingly grown-up thriller. A contender for adapted screenplay, for original score and for
Gary Oldman
's understated performance as a crafty espionage vet, the film deserved more notice for its oppressively brown '70s sets and the careful direction from "
Let the Right One In
's" Tomas Alfredson.
(Jack English / EPA)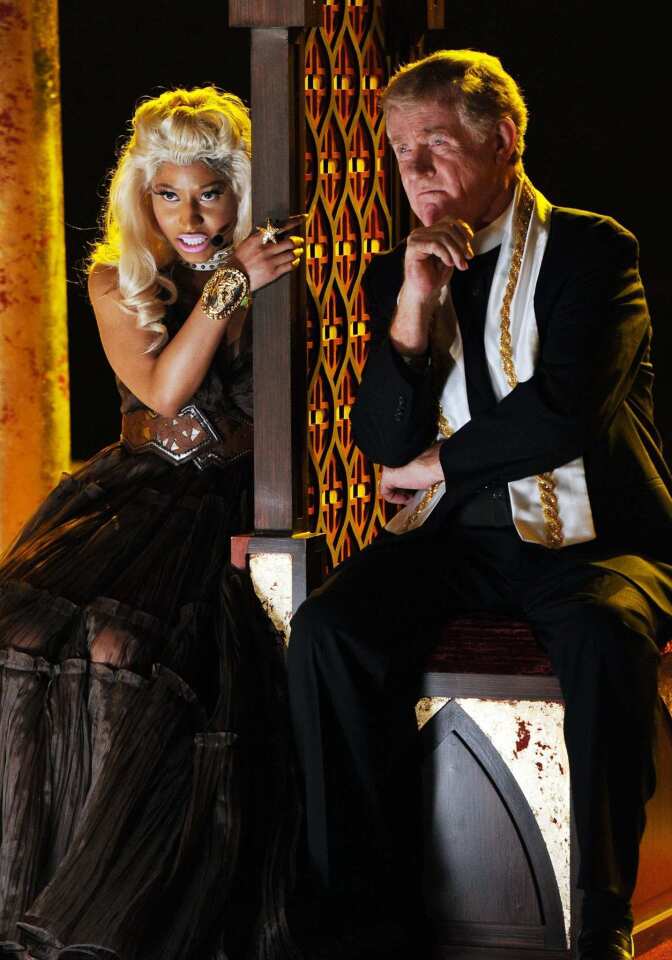 In a baffling, over-the-top Grammy appearance last week, this former next-big-thing followed a well-worn route in looking for publicity: Start offending religious groups. And while all that seemed missing in Minaj's exorcism-evoking performance of new single "Roman Holiday" was an outraged soft-drink sponsor à la
Madonna
's 1989 "Like a Prayer" controversy, these high-concept attention grabs work a lot better if the song is good too.
(Kevin Winter / Getty Images)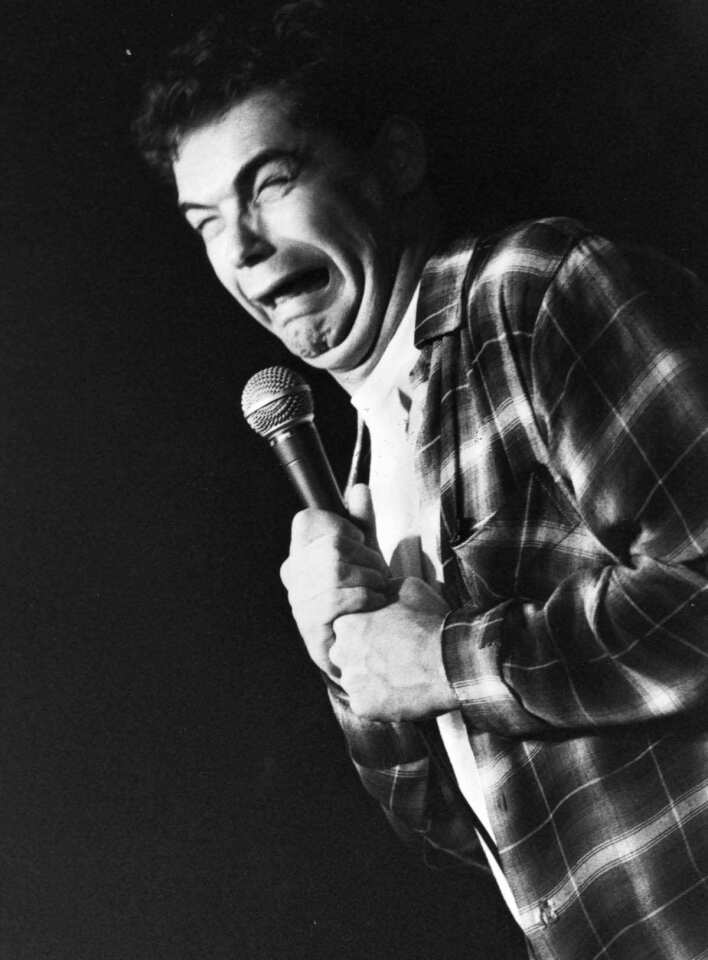 Though many graduates of what was then called "alternative comedy" went on to greater fame (such as Patton Oswalt, Janeane Garafalo and Marc Maron), this lightning-quick star of the scene's '90s heyday deserves more notice. Gould, a former writer for "The Simpsons" as well as the video game Gex, has launched "The Dana Gould Hour," a biweekly comedy and chat podcast that hopefully will introduce his twisted voice to a new generation.
(Claudia Kunin)
At its peak,
Tina Fey
's screwball comedy was the funniest show on TV, and now a puzzlingly tepid sixth season feels reminiscent of watching a star athlete in decline. After years of greatness, even
Michael Jordan
lost a step, and as the show's razor-sharp timing slips, the jokes get more broad and Liz Lemon loses her way, it's hard not to wonder if the end is near. As sad as it may be, nothing lasts forever -- except maybe
"The Simpsons."
(NBC)
Ostensibly a bluegrass band if you consider only the all-acoustic instrumentation, this project co-led by Largo favorite (and former Nickel Creek mandolinist) Chris Thile offers a new, giddily supercharged take on folk-pop. The group just released its second album, "Who's Feeling Young Now," which features a head-spinning mix of sticky melodies, instrumental fireworks and, for good measure, a twisted, rustic take on
Radiohead
's "Kid A."
(Jay L. Clendenin / Los Angeles Times)
M.I.A. performs during the Super Bowl halftime show last year.
(Christopher Polk / Getty Images)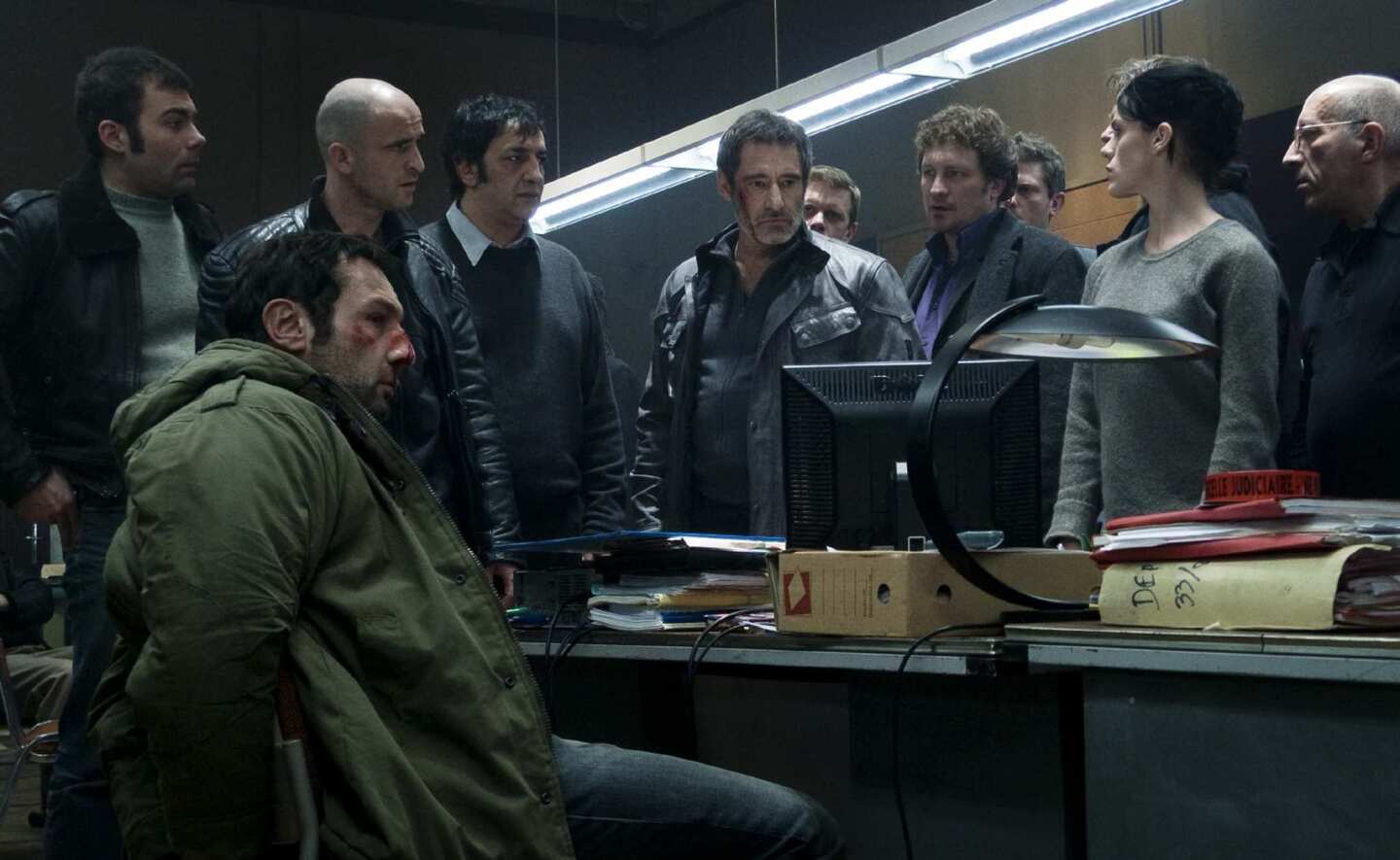 Part of a remarkable recent run of French thrillers that includes
"Tell No One"
(2006), this film directed by Fred Cavayé is a taut story of a man pushed to his limit after being in the wrong place at the wrong time. Full of sharp twists at a fat-free 80 minutes, the film gathers steam as a nurse fights to save his pregnant wife from a web of corruption, highlighted by a compassionless turn by
Roschdy Zem
as a wounded criminal out for answers.
(Magnolia Pictures)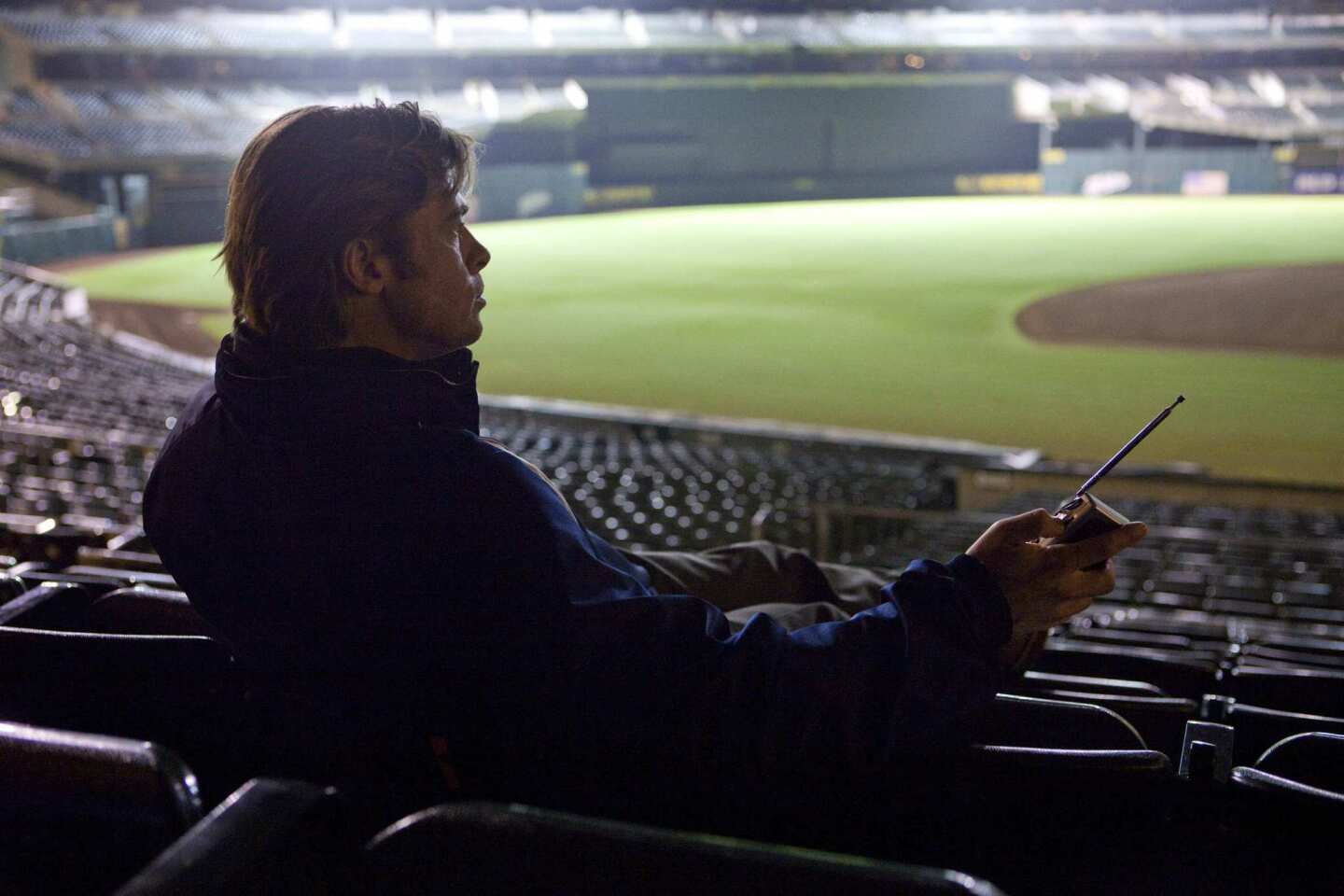 A fixture in the march to the
Academy Awards
, this best picture contender has an intoxicating, insider quality for baseball fans and statistics wonks, but the argument that this movie will satisfy the baseball averse feels as grounded as a hanging curve ball in
Fenway Park
. It's a well-written, coolly done film, but if you're the sort who didn't understand the metaphor in the last sentence, this isn't the movie for you.
(Columbia Pictures)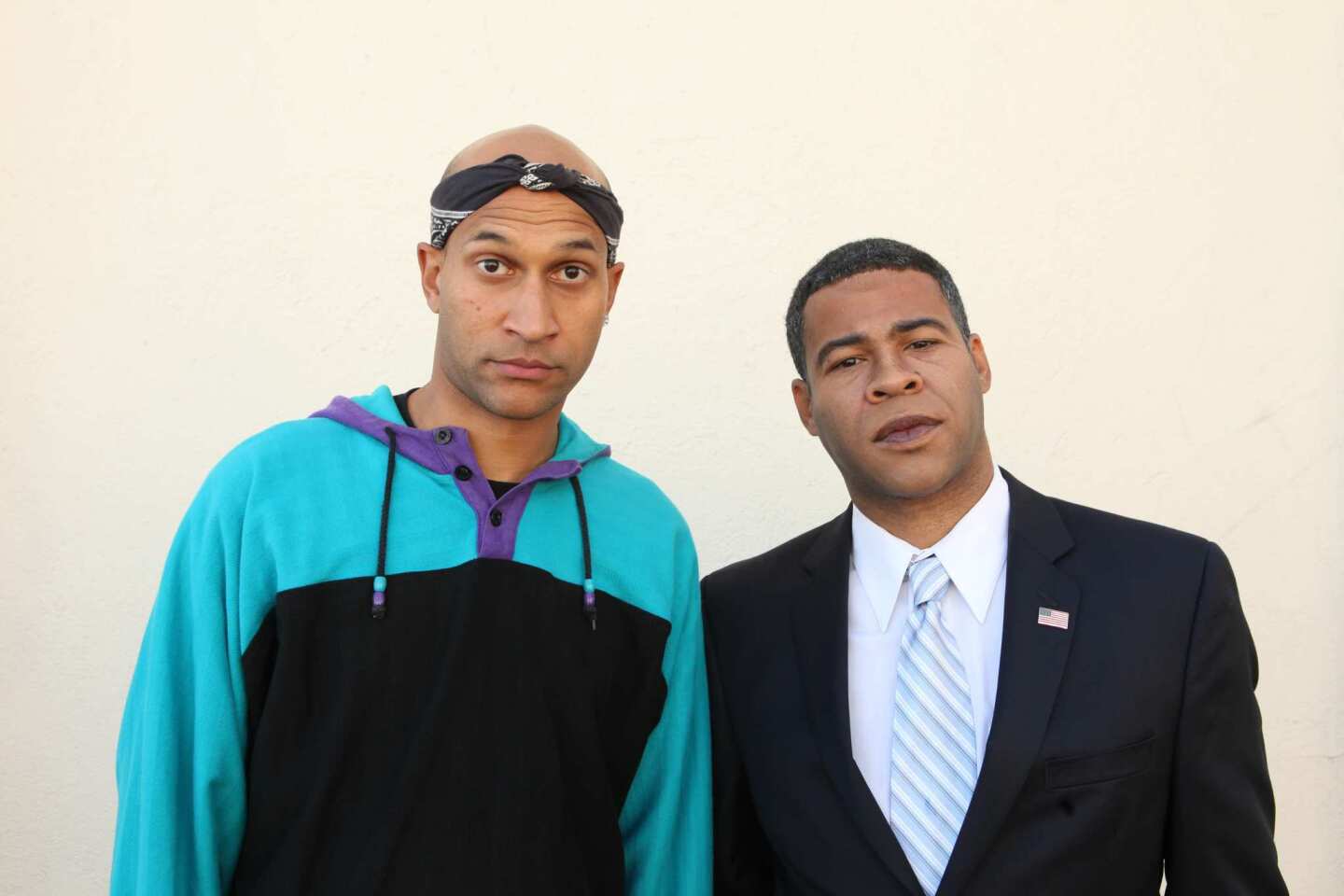 Sketch comedy isn't a common thing on TV, so credit must be given not only for the network airing this show from the comic duo of Keegan Michael Key and Jordan Peele but for it being so solidly funny. Here's hoping this newcomer, vaguely similar to "The Chappelle Show" both in format and a sharp facility for tweaking racial issues, gets as much time to find an audience as the middling "Workaholics."
(Comedy Central)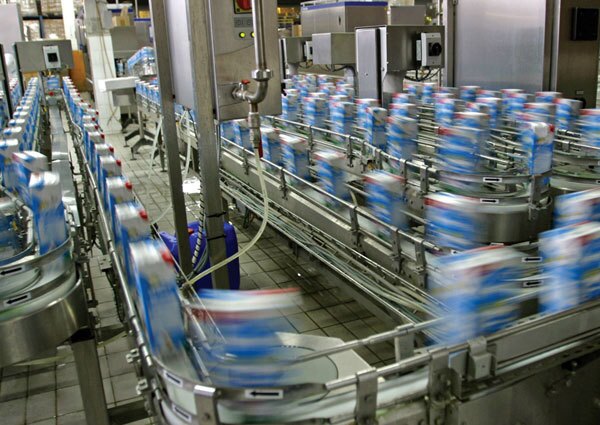 A fixture on the
Science Channel
, there's something strangely meditative about this program's steady diet of bustling factories churning out random ephemera, including artificial eyes, scuba gear and hockey skates. In its soothing world, manufacturing jobs have never been outsourced, everyone's hours are fair, and a perfectly assembled product rolls off the line every time. Short of the Rose Parade, this may be TV's best hangover remedy.
()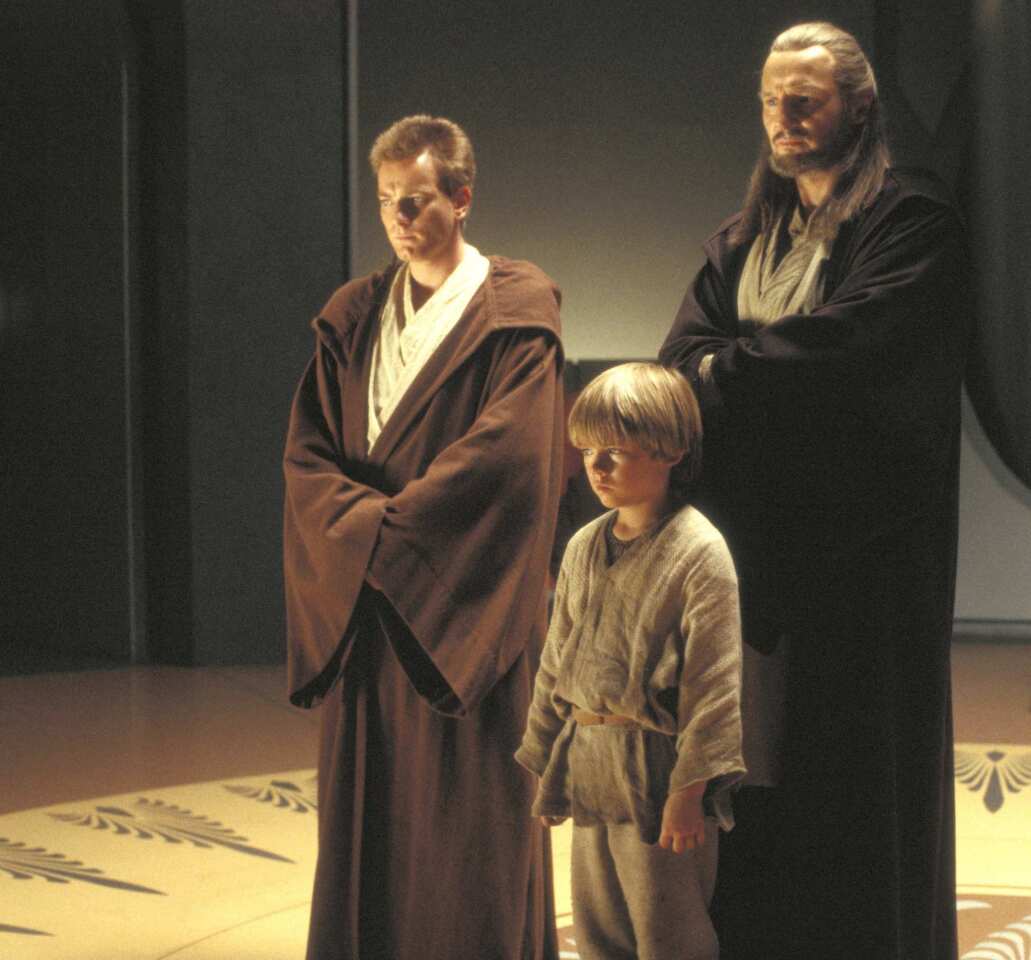 With all due respect to "Star Wars" fanatics, is anyone truly excited about the prospect of a third-dimension return of Jar Jar Binks, a wee Anakin Skywalker and a cast of co-stars so wooden that the film could've been sponsored by a lumber yard? Barring another round of post-production effects that includes an entirely new screenplay, eye-popping visuals can compensate for only so much. (Though this technique did wonders for "Avatar.")
(Keith Hamshere)
An in-demand producer who collects Grammy nods the way some collect stamps, Henry may be best known for the warm glow he's cast on award-winning records by
Solomon Burke
and the Carolina Chocolate Drops. But he deserves as much notice for his own work as a singer-songwriter. Colored by rich acoustic instrumentation and Henry's lyrical literary flourishes, this 2011 album is a great place to get to know Henry's voice.
(Kirk McKoy / Los Angeles Times)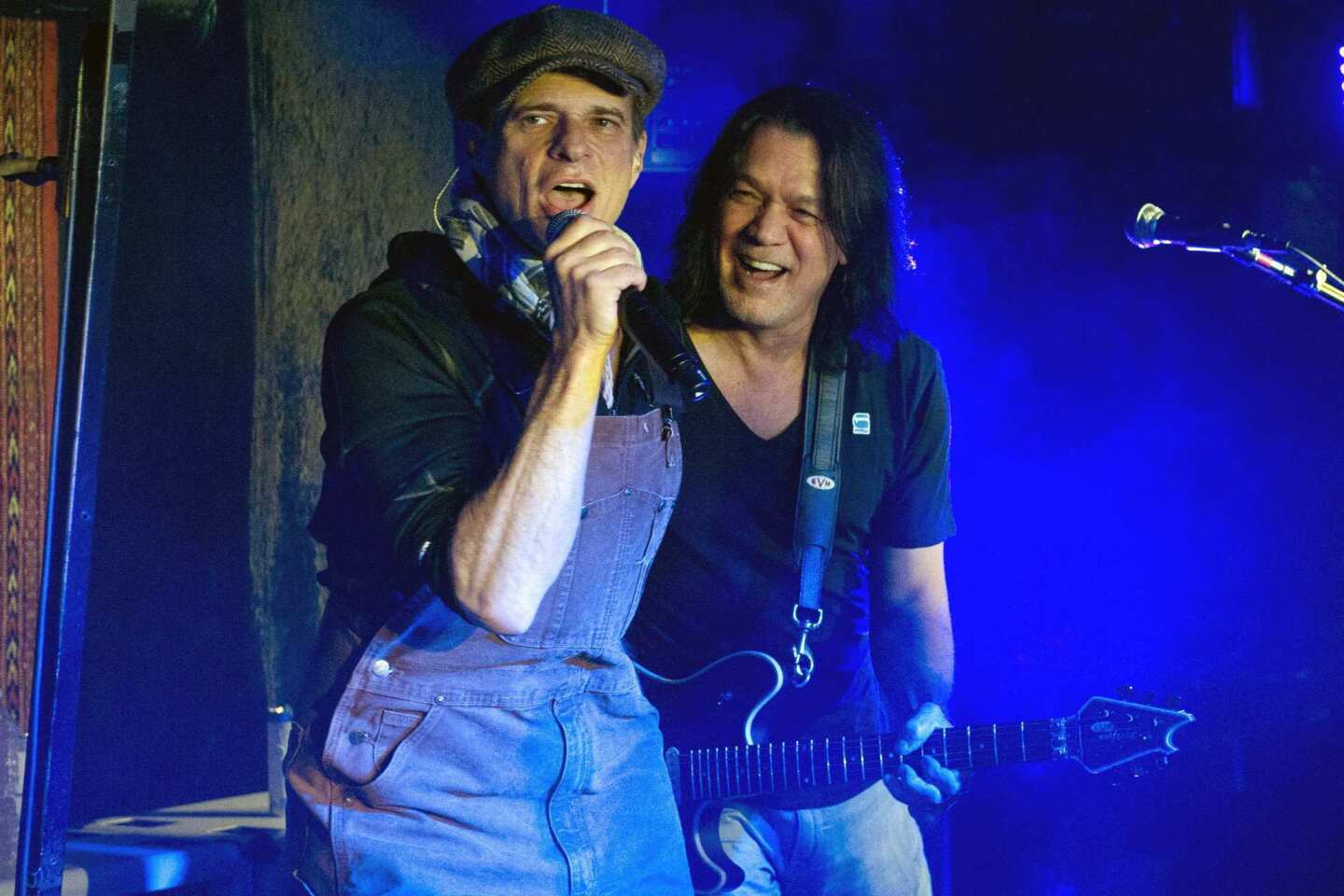 For all the hype about the past-its-prime return of this L.A. band, there's something very "Voodoo Lounge"-feeling about the news that
Van Halen
has recorded a new album. The single "Tattoo" is underwhelming, and the rest of the album's promised takes on vintage material will still be heard on tour as beer breaks between "Unchained" and "Panama." The band already reunited in 2007, so this is just a convenient excuse for another lucrative tour.
(Charles Sykes / Associated Press)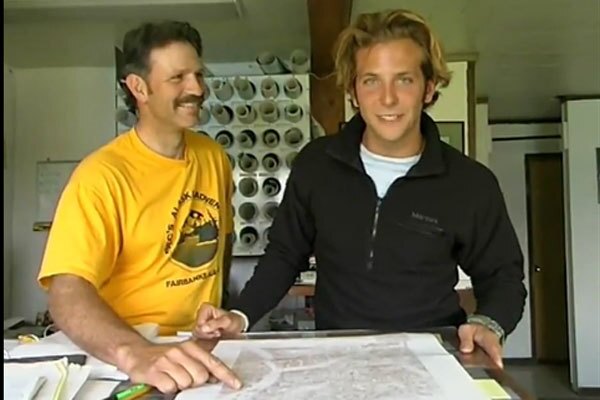 Flip to
PBS
on practically any day and odds are you're only a few hours from this landmark show, which got a leg up on the current travel-oriented TV craze with its mission of seeing the world on a budget and its knack for breathtaking outdoor adventures. Plus with reruns stretching as far back as 1994, you have a chance to see former host and current "Sexiest Man"
Bradley Cooper
battle both the Alaskan wild and a serious case of '90s hair.
(PBS / Pilot Guides)
Whether the result of the Internet's thirst for chatter or the ease with which shows can be consumed in obsessive binges, it's no longer enough for a series to be good, it must become a cause. Consider
"Downton Abbey,"
(pictured) a well-done (if familiar) British costume drama earning
PBS
some deserved press: Can't such a show just be enjoyable without inspiring theme parties, evangelical social media testimony and inevitably unrealistic expectations?
(PBS)
The film was initially promoted as a
Helen Mirren
-as-James Bond thriller, but the pleasures in this straightforward yet still tense
drama
run much deeper than chase scenes and shoot-'em-ups. The movie concerns a Mossad team's bungled attempt to capture a Nazi doctor and the fallout from its ultimate outcome, and its flashback-heavy structure may disappoint Mirren fans. But when she's on-screen, Mirren carries the film's regret-fueled core as few actresses can.
(Focus Features)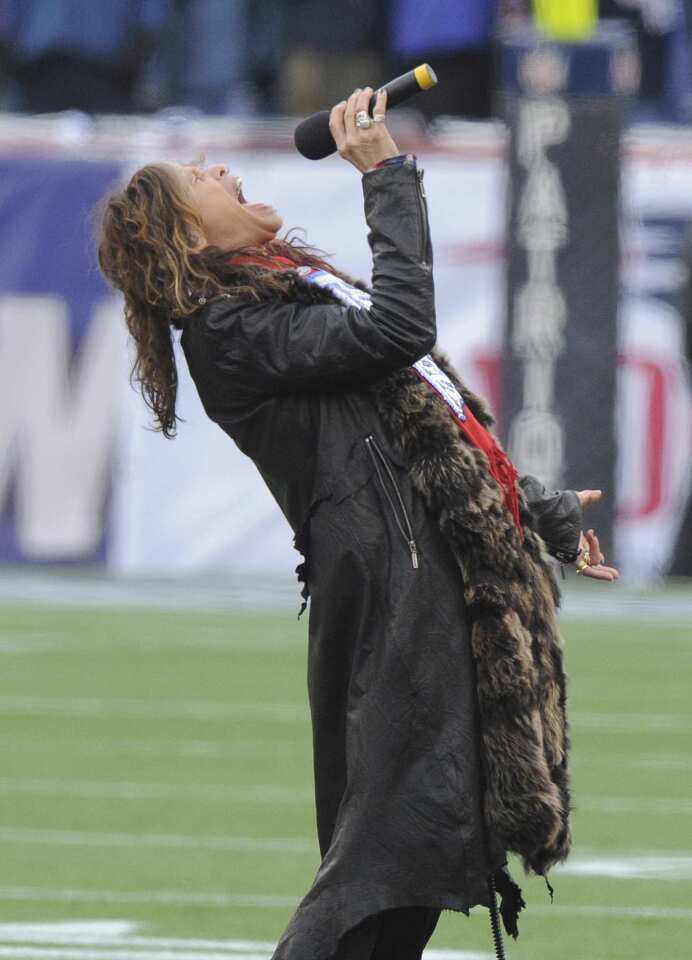 If a sports championship is near, it must be time for a celebrity to bungle a pregame take on the singer-slaying "Star-Spangled Banner." Last week, it was
Aerosmith
's
Steven Tyler
, who outraged a nation of frustrated "American Idol" judges; after so much outcry, it's time for two choices. Accept that, like nations, no two versions of the song can be alike, or prevent future hand-wringing by opting for the more agreeable "America the Beautiful."
(Gene Sweeney Jr. / Baltimore Sun)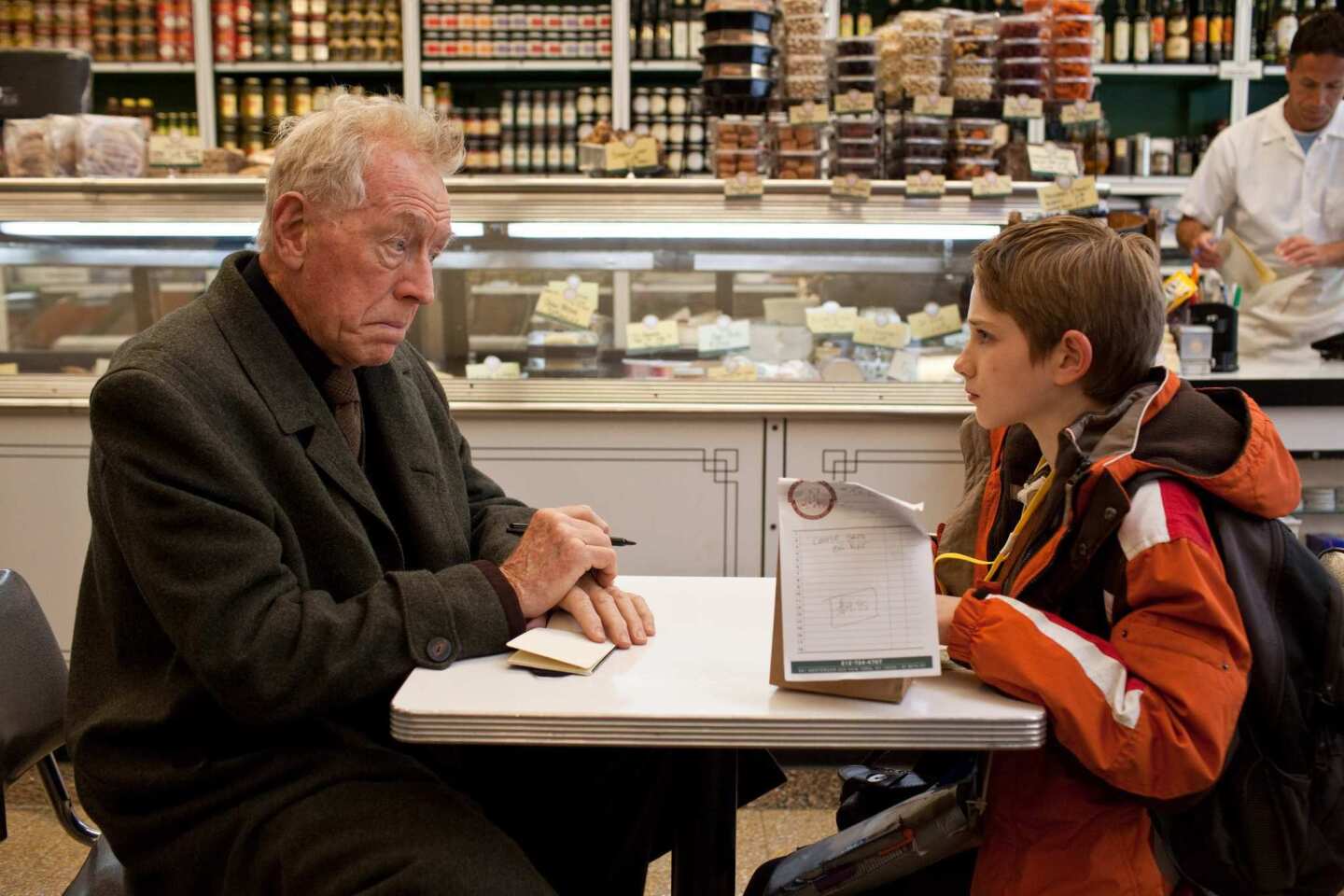 Though much of
Stephen Daldry
's well-intended adaptation of Jonathan Safran Foer's Sept. 11 recovery novel comes off heavy-handed and a bit precious, this veteran actor adds a grizzled note of genuine humanity as a mysterious figure from young Oskar Schell's past. Von Sydow doesn't speak a word of dialogue, but his warm, quirky performance says more than any other in the film.
(Warner Bros.)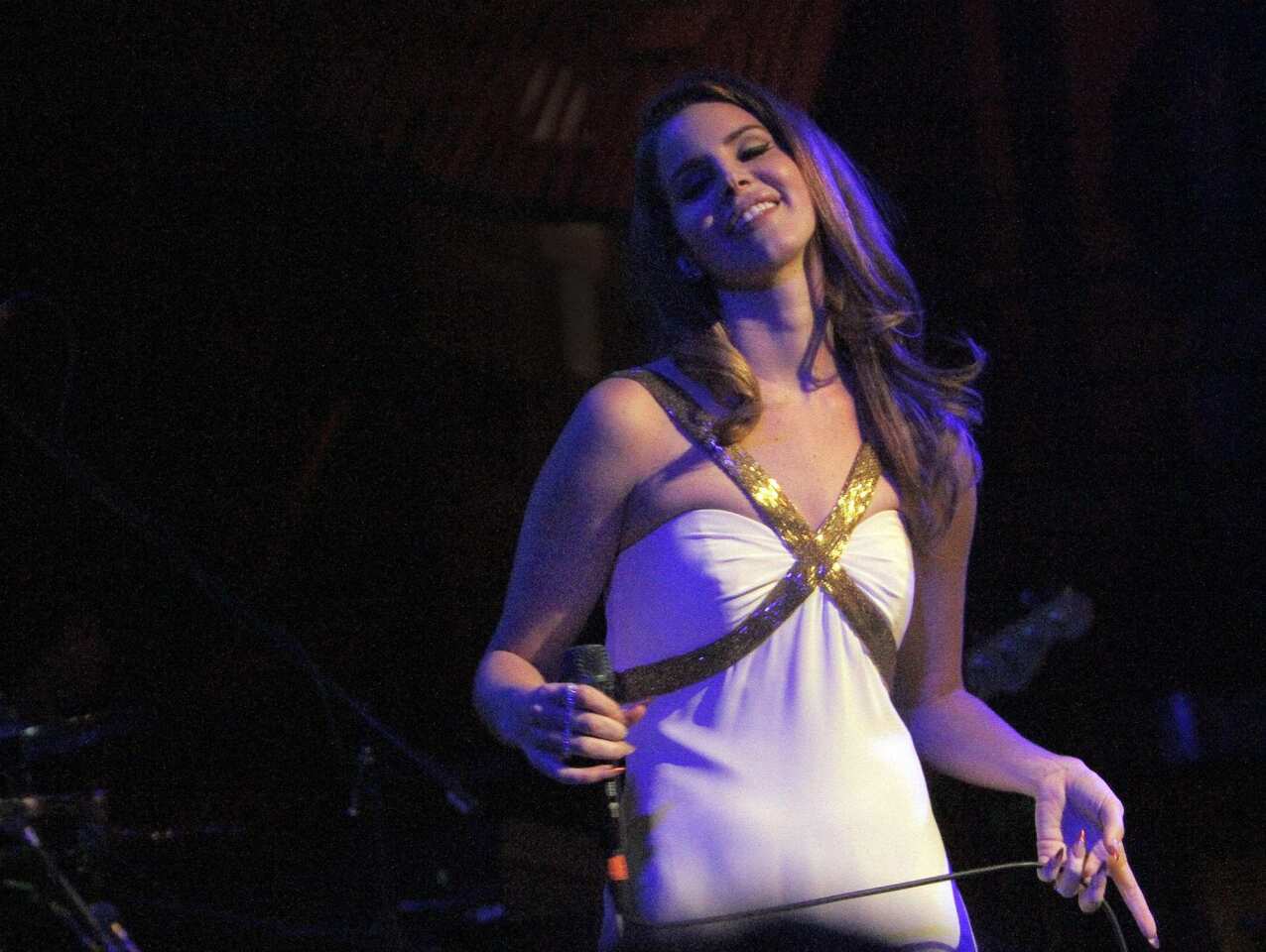 Welcome to 2012, where an artist can be the Next Big Thing, have the social import of her music debated among critics and be tapped for a too-soon set on "SNL," only to have her sound just bad enough to conceivably kill her career after only two songs and a still-unreleased album. This is the ballad of Lana Del Rey, a possibly interesting artist with a decent voice who just might already be finished before she started. Who dares to be next?
(Lawrence K. Ho / Los Angeles Times)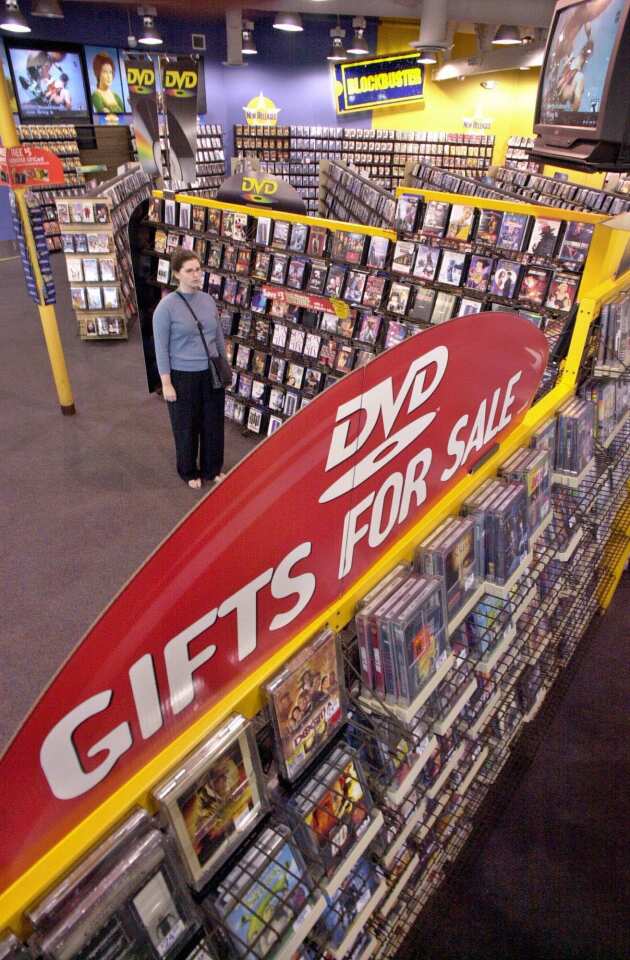 With a '90s revival in full swing, there may be no more vivid time capsule of the decade than these blue-and-gold relics, if you can still find one near you. With most rentals a Red Box-fighting 99 cents, it's a surprisingly workable option when all else fails. The odd reality is that despite all the talk of streaming video and technological advances, renting the movie you want can still be simplest and most efficient with a decades-old business model.
(Paul Sakuma / Associated Press)
Coming soon to a
CW
affiliate near you, the somewhat unfortunately named "Oh, Sit!" takes network creativity to new heights by promising a riveting round of "musical chairs for adults," which apparently will include a live band and an obstacle course. Place your bets for how long it will take for more childhood activities to air, such as high-concept twists on tag, high-speed skipping and, of course, watching TV.
(David Guttenfelder / Associated Press)
Seeing Pegg on board for
Tom Cruise
's latest "Mission Impossible" entry promised plenty of smart one-liners as the crew's gadget man, but one of the film's happiest surprises was how much room the
"Star Trek"
alum was given to pull off some secret agent shtick of his own. As if the spoof "Hot Fuzz" weren't enough proof, think of what more Pegg could do to freshen up the otherwise stale action genre with a franchise of his own.
(Paramount)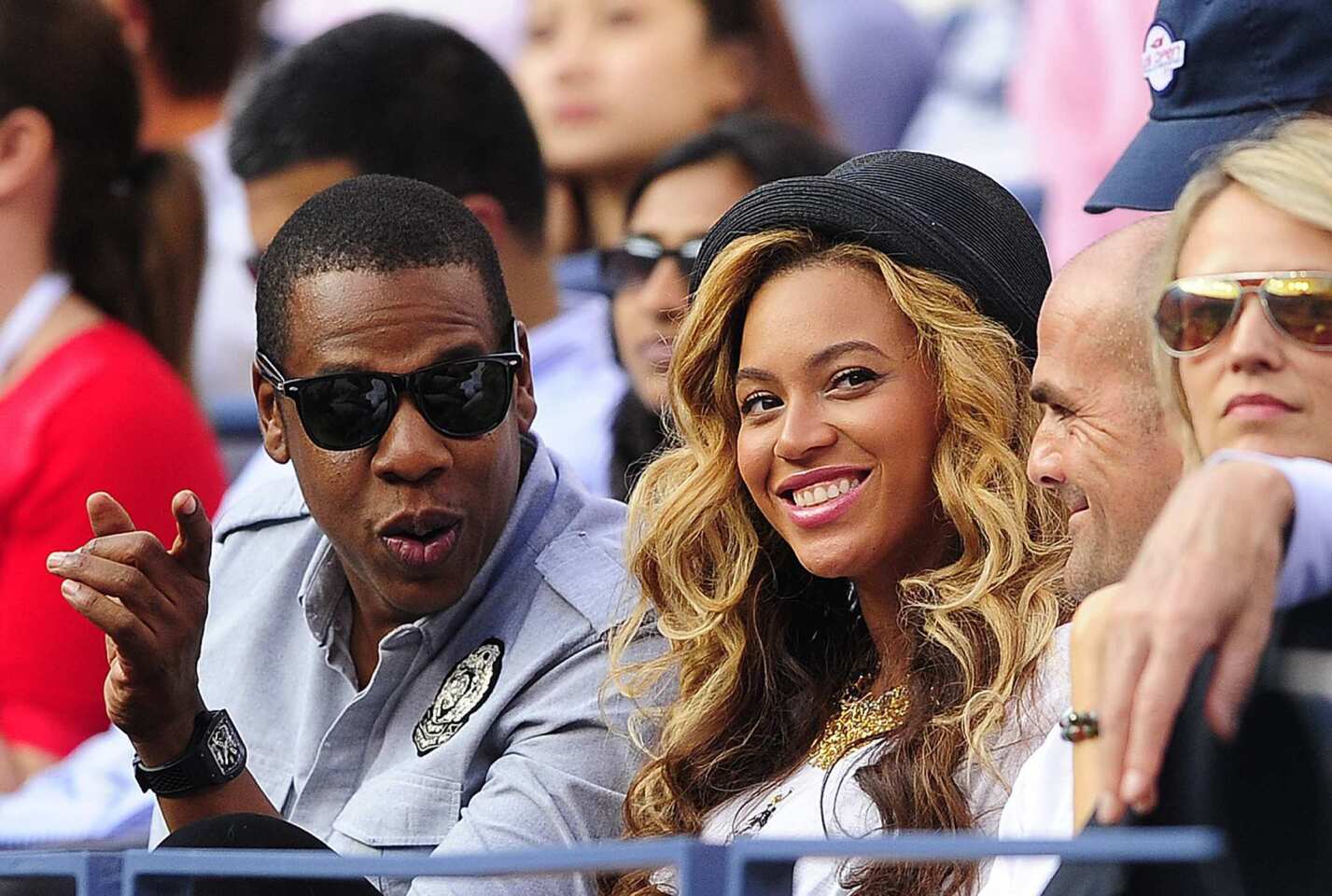 Days removed from a birth that reportedly took a whole hospital wing to accommodate, the Internet was abuzz over Blue Ivy Carter and her first vocal credit on
Jay-Z
's new single, "Glory." As touching as it is to hear the ever-proud papa boast about one day taking his kid shopping on Savile Row, the interest wanes quickly when you consider how many children are born every week into poverty instead of recording careers.
(Emmanuel Dunand, AFP/Getty Images)
With luck, this will be the record that brings this rustic singer-songwriter — unfairly under the radar since her remarkable 2003 debut, "Failer" — the wider audience she deserves. Edwards' fourth album was co-produced by
Bon Iver
's Justin Vernon with a lush folk-rock sound familiar to fans of the current indie darling. But with a gently sandpapered voice and vividly heartsick lyrics, Edwards still shines brighter than ever.
(Chad Johnston)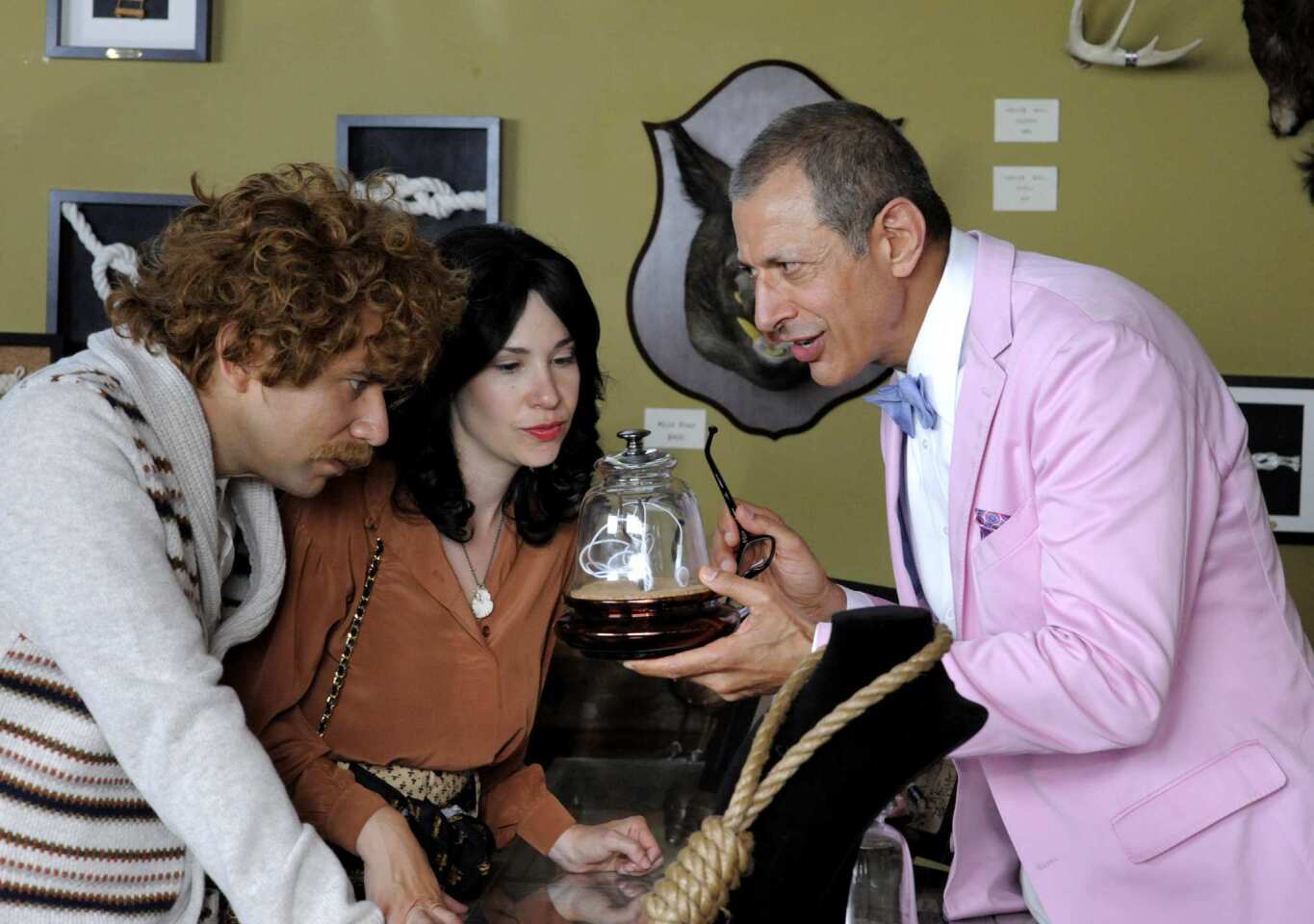 The second season for this IFC sketch comedy series with "Saturday Night Live's" Fred Armisen and Wild Flag's Carrie Brownstein has enjoyed more advance praise than ever, but it needs to deliver more consistency. Most gags merit more knowing nods than laughs, and as tasty as the meat can be skewering the sacred cows of urban hipsterdom, many sketches go on just too long.
(Danielle Mathias / Associated Press)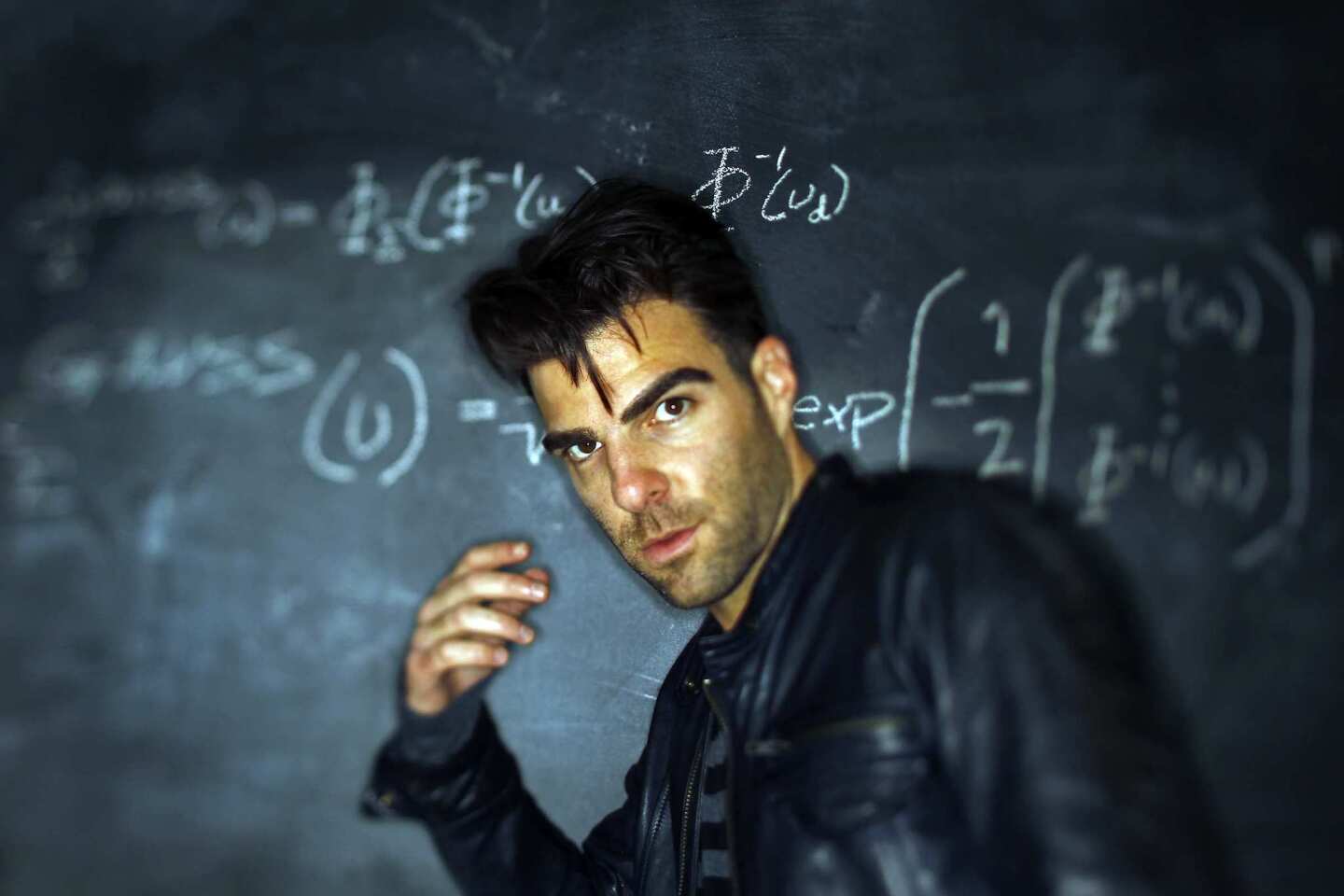 First noticed for perfecting an eyebrow-shaded glare as Sylar on NBC's "Heroes," Quinto has risen from being Vulcan-ized as Spock in the
"Star Trek"
reboot to something far more intriguing. He earned raves in a production of "Angels in America," and his campy turn in "American Horror Story" was light-years from his shellshocked Wall Street foot soldier in "Margin Call," a film he also co-produced. Where else can Quinto boldly go?
(Al Seib / Los Angeles Times)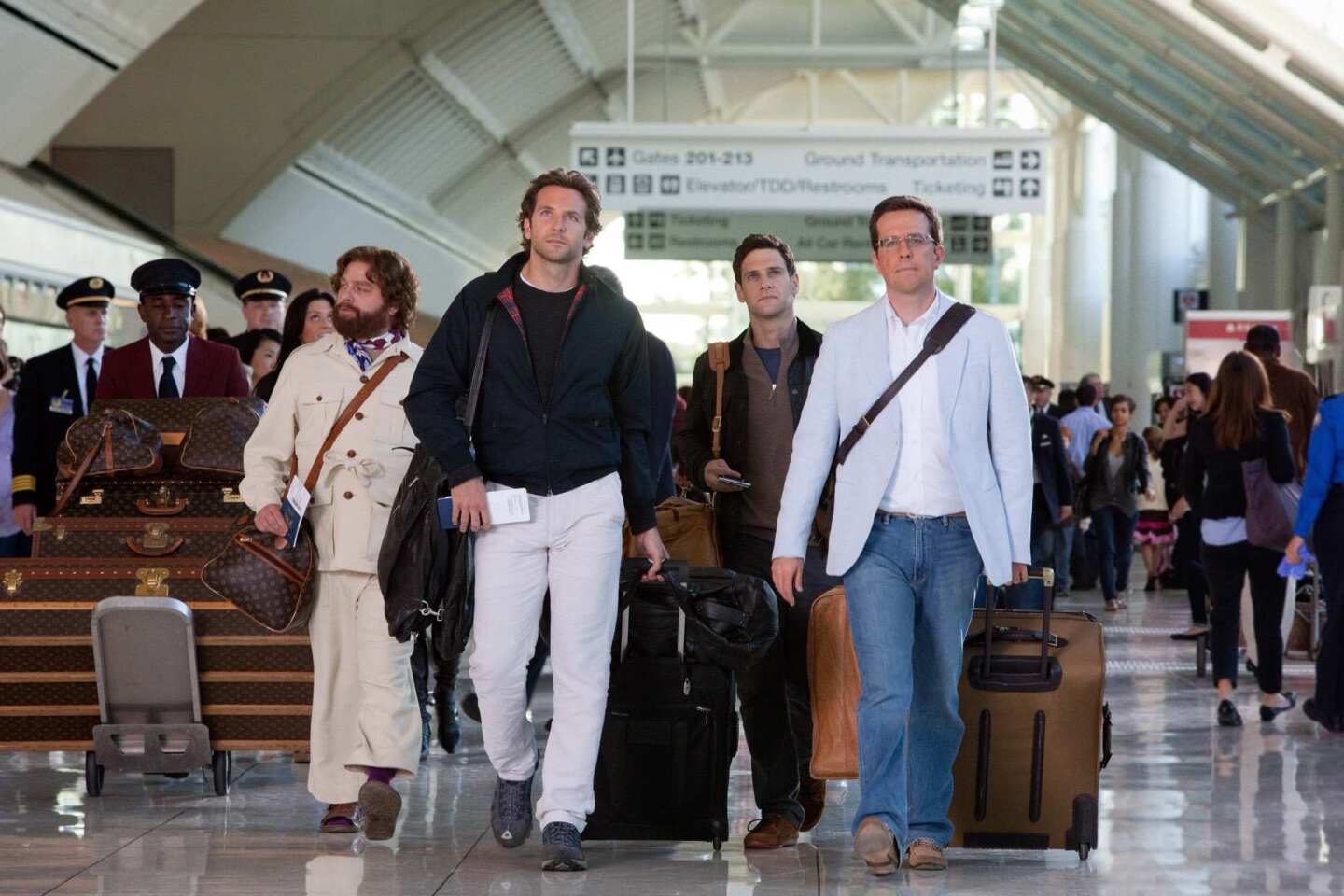 Piracy is no joke, and it's wrong when people download films without paying for them. Still, there was something satisfying in December's revelation of the most-stolen movies of the year and, not so surprisingly, they don't resemble anyone's Oscar ballot.
"Fast Five"
?
"The Hangover Part II"
(pictured)? It's gratifying that these films still made loads of money, but considering much of the quality involved, the pirates certainly got what they paid for.
(Warner Bros.)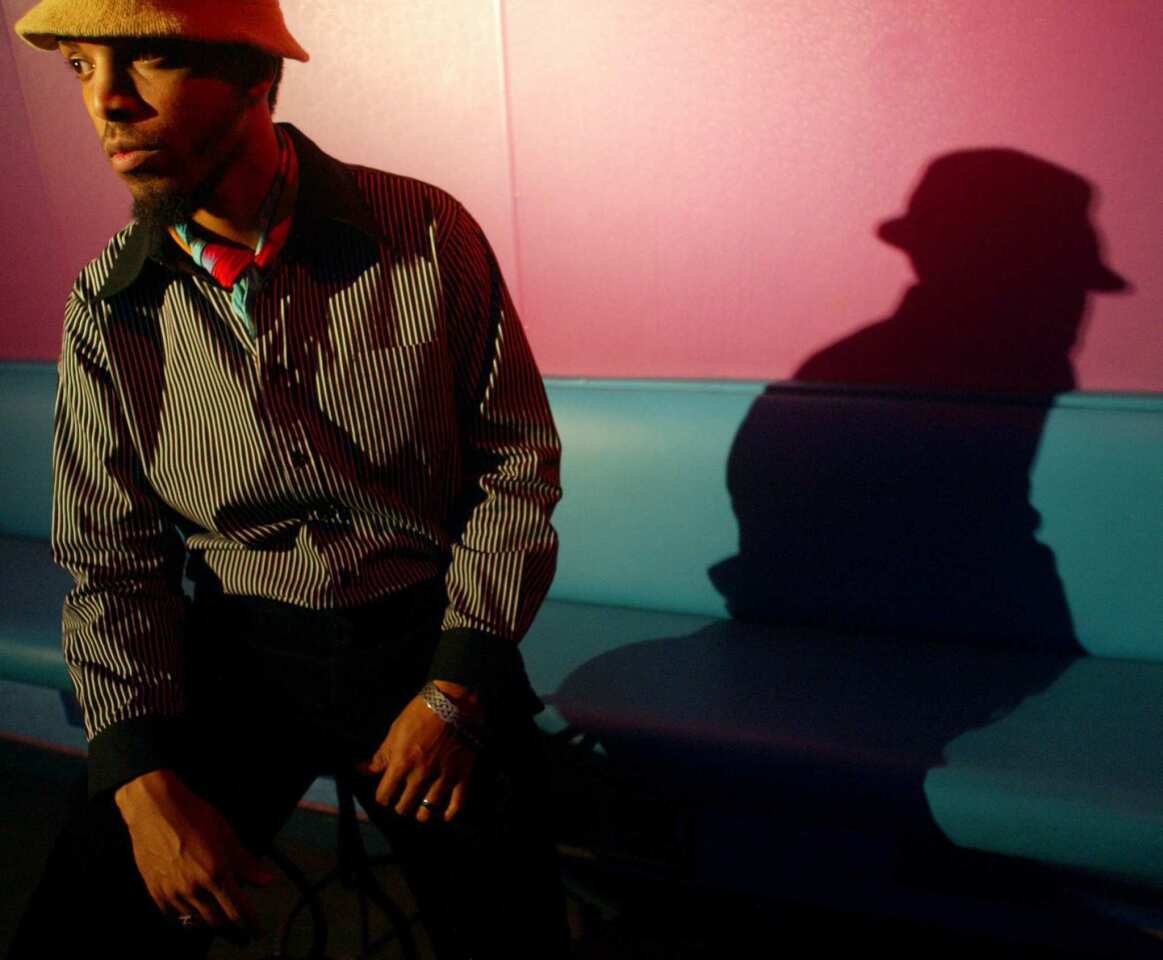 A welcome sighting on
some year-end best-of lists
, this category-busting songwriter deserves a wider audience, particularly among those waiting for
Prince
to recapture past glories. But that diminishes what Van Hunt has done on this gleefully twisted record, which mixes soul, psychedelic funk and fuzz-rock into something original that sounds not only from another time but another planet.
(Francine Orr / Los Angeles Times)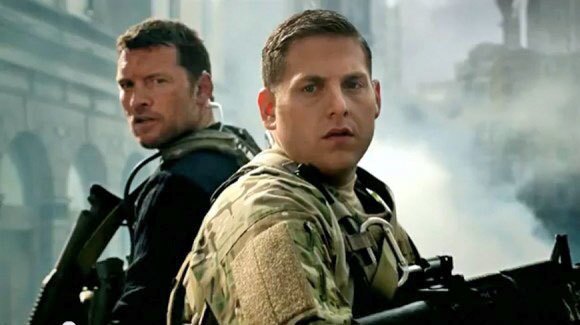 As popular as the gaming blockbuster "Call of Duty: Modern Warfare 3" has become, there's something about its depiction of war as exhilarating sport in expensive-looking ads starring
Jonah Hill
and Sam Worthington that feels in poor taste. With American soldiers still fighting actual modern warfare half a world away, making their battles look like a fun way to spend an afternoon with friends feels like a misfire.
()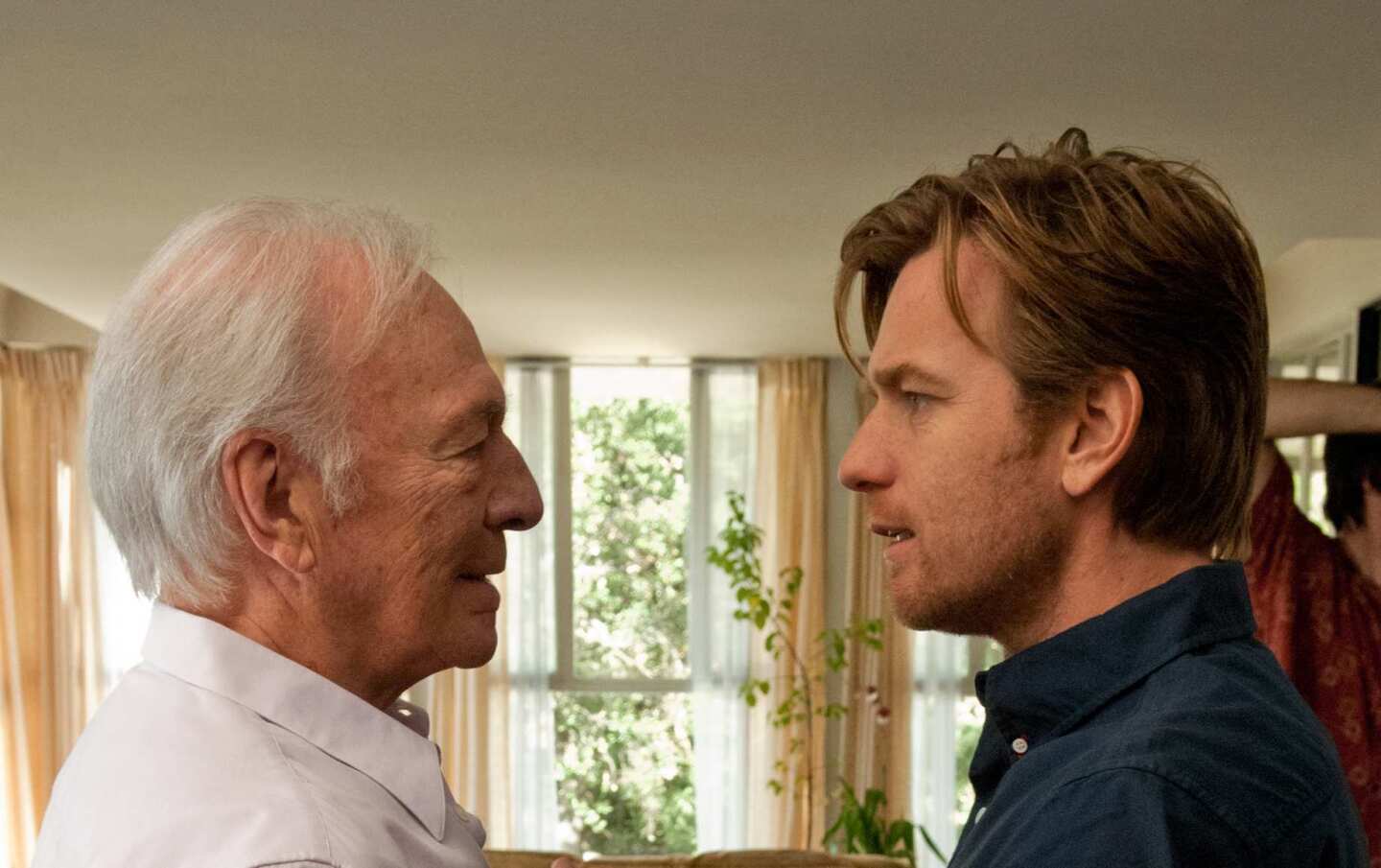 There are few late-career runs more unlikely yet as deserving as the 2011 enjoyed by this 82-year-old character actor. Plummer offered rich, memorable 2011 turns as
Ewan McGregor
's sweetly just-out father in "Beginners" (pictured) and the dryly cynical Swedish employer of
Daniel Craig
's disgraced writer in "The Girl With the Dragon Tattoo." Both are a long way from "The Sound of Music" but are as sharply in-tune as ever.
(Focus Features)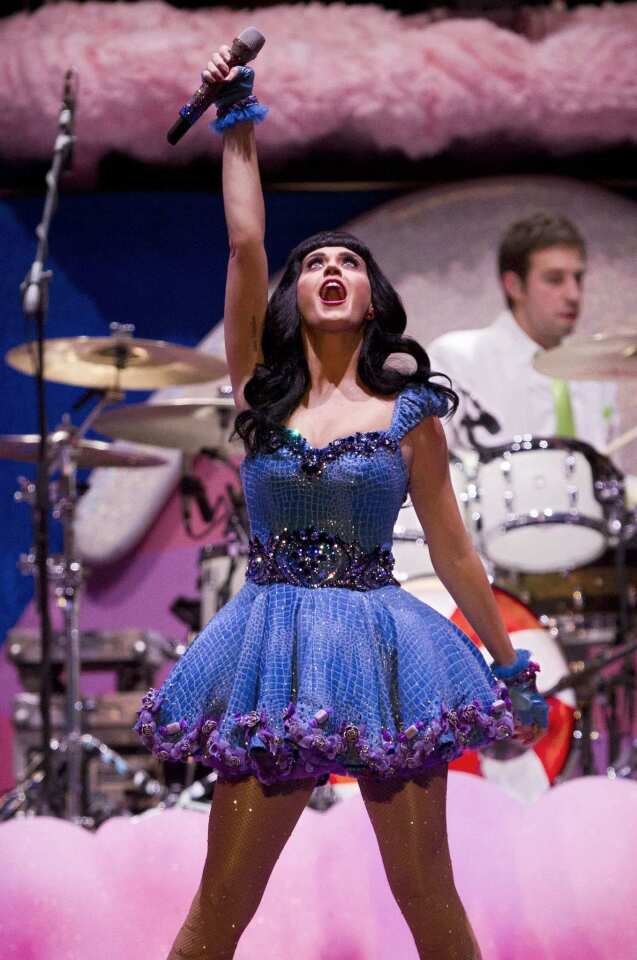 A flip of the calendar always inspires reflection on the previous year, and one moment from 2011 that leaves a mark is knowing
Katy Perry
tied
Michael Jackson's
long-held record for No. 1 hits from a single album with the pop tarts spawned from "Teenage Dream." Though it's a comfort knowing the numbers are a bit skewed given the current music industry, this hangover still might take another year to recover from.
(Victor R. Caivano / Associated Press)
A U.K. singer-songwriter whose latest album made a splash among only select circles, Marling's twisting and addictive "A Creature I Don't Know" deserved a more fixed presence on the year-end lists of the last month. Though only a brain-scrambling 21, Marling is armed with a sharp, roomy voice and a wicked way with words that can recall a brilliant cross between
Joni Mitchell
and
Lucinda Williams
.
(Lawrence K. Ho / Los Angeles Times)
On any given night on basic cable you can go "Hillbilly Handfishing," tromp among the gators with "Swamp People" and even indulge "white lightning"-running fantasies with "Moonshiners" (pictured). Though it would be consistent with the holiday spirit to believe these shows aim for greater cultural understanding, much of it feels more like freak-show tourism that only reinforces broad stereotypes in the name of ratings.
(Discovery Channel)