Larchmont house is disguised as an office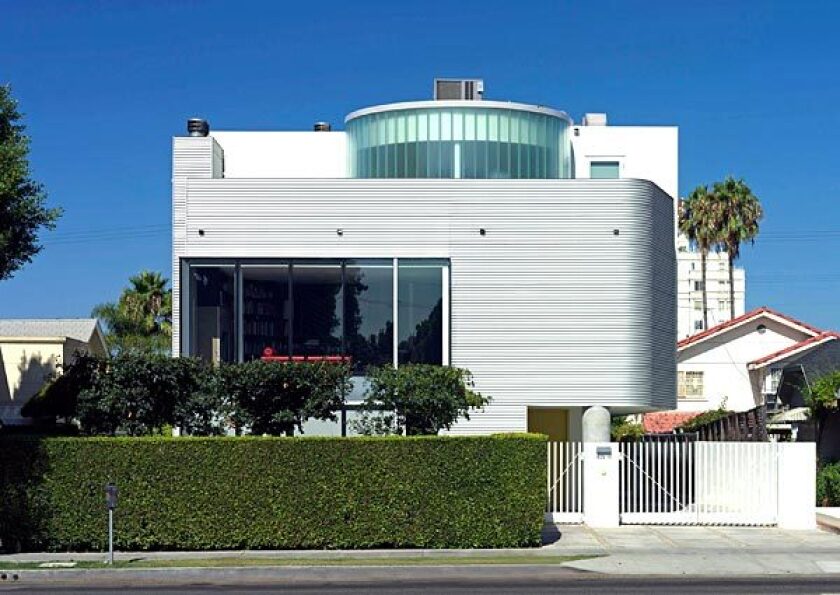 Nothing about it screams "house." There's no pitched roof, brick chimney or neutral-colored front door.
In fact, Scott Johnson was once asked if the home he designed for his family on Larchmont Boulevard was the YMCA. But that's exactly how Johnson likes it.
"I wasn't trying to design a house around visual symbols," said the architect and partner at the Los Angeles architecture and design firm Johnson Fain. "I was trying to design based on orientation, where the light came in, how we access the garden and how spaces flow from one to another."
The home, in the Larchmont area, is zoned for commercial and residential use. With its corrugated steel exterior and glass-curtain wall, it stands out in a neighborhood mostly filled with neo-traditional homes.
"If someone wanted to live in it, that would work," Johnson said. "If someone wanted an office or a practice, that would work too."
Johnson and his wife, Meg Bates, a physician, picked the site so their children -- 13 and 8 at the time -- could walk nearby for whatever they needed and not have to be driven.
Johnson is no stranger to creating his own home. The one on Larchmont, completed in 2002, is the third home he's designed for his family. Sixth, if you count the other three they tore down and completely remodeled.
"When most people do their house, they want to live there forever," Johnson said. "I'm in designing, so I'm always hatching new ideas."
Here, he has created a cross between contemporary and industrial.
With his kids in mind, Johnson designed the first-floor media room to be separate from the rest of the house, with its own door to the outside and a small patio area. They use the space to compose digital music and make recordings.
The second floor is the main public space. Johnson and Bates have held Christmas parties for 200 people in the kitchen, which is lined with maple cabinetry and has a large center island for entertaining. The dining room, which opens up to a small outdoor pool, includes one of Johnson's many eclectic touches: a fireplace inset into colorful geometric glass panels. The master suite was designed to keep out daytime noise because of Bates' unorthodox work hours.
The third floor has two additional bedrooms and a library. A roof deck on this floor has panoramic views of the Hollywood sign and Griffith Observatory.
Johnson and his family have lived there eight years, the longest they've stayed in any house. They will move on to their next home in Malibu with fond memories of Larchmont, he said.
To submit a candidate for Home of the Week, send high-resolution color photos on a CD, caption information, the name of the photographer and a description of the house to Lauren Beale, Business, Los Angeles Times, 202 W. 1st St., Los Angeles CA 90012. Questions may be sent to homeoftheweek@latimes .com.
---