Housing downturn moves up to Silicon Valley mansions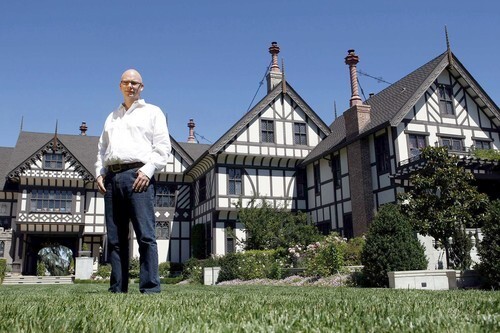 Kelly Porter, a venture capitalist, owns Stonebrook Court, a 30,000-square-foot mansion on 7.5 acres in Los Altos Hills, Calif.
(Erin Lubin / Bloomberg News)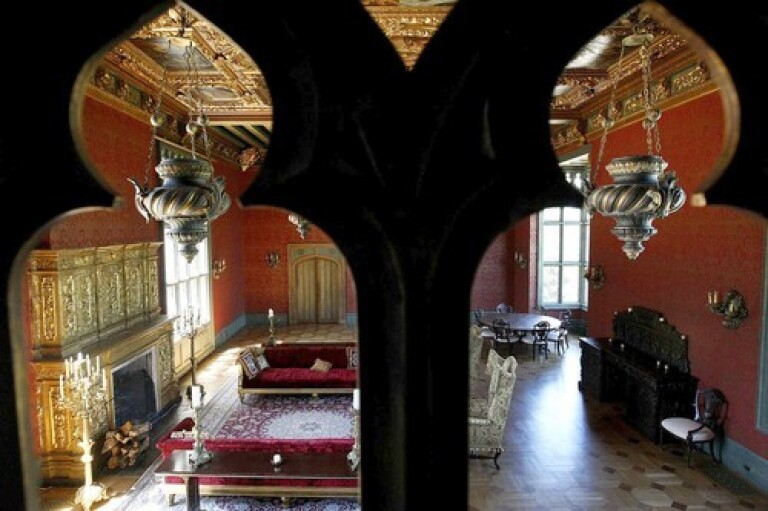 The north wing's 2,500-square-foot ballroom was patterned after grand reception halls in Italian palaces.
(Erin Lubin / Bloomberg News)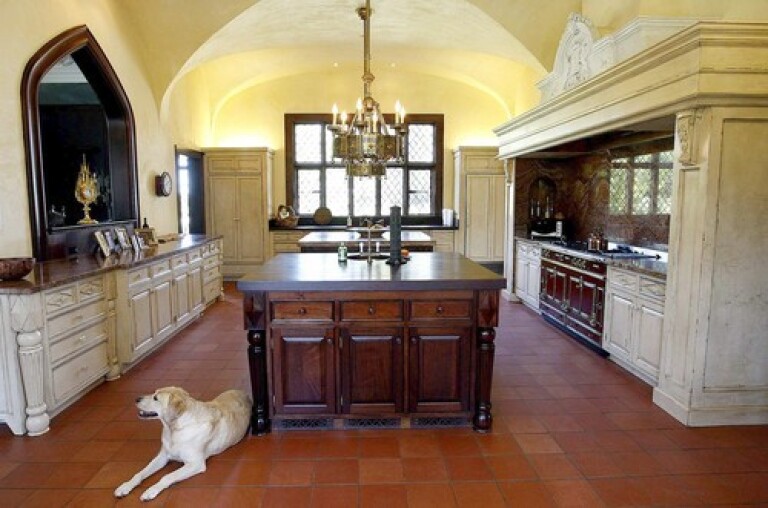 The kitchen.
(Erin Lubin / Bloomberg News)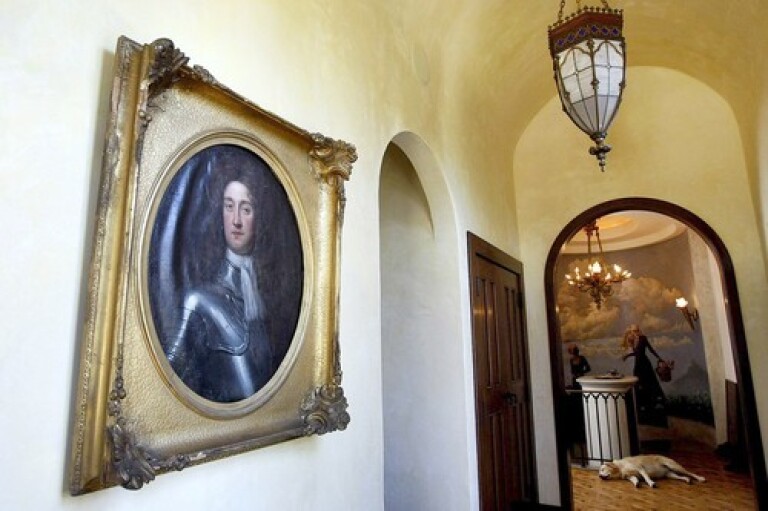 The original owners and the Porters bought antiques and paintings in Europe to fill the mansion.
(Erin Lubin / Bloomberg News)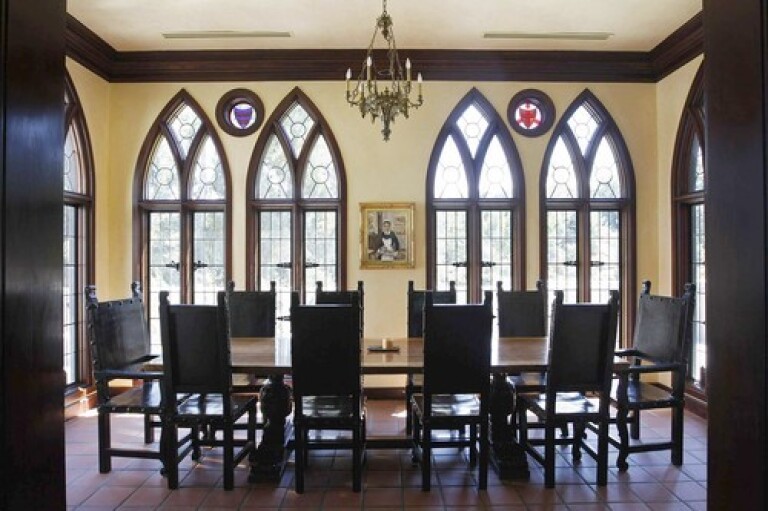 The dining room.
(Erin Lubin / Bloomberg News)
Reporting from Los Angeles and Los Altos Hills, Calif. -- The housing slump has reached even the wrought-iron gates of Silicon Valley's great estates, where the rich and sometimes not-so-famous are having to adjust their thinking and their asking prices.
Exhibit A is Stonebrook Court, a grand 30,000-square-foot Tudor on 7.5 majestic acres that dwarfs its neighbors in the bucolic enclave of Los Altos Hills.
The classic half-timbered home, built beginning in 1914, was a ramshackle relic when it was purchased a decade ago for $5 million by Kelly Porter, a television executive turned Internet investor. He and then-wife Christina, a designer, took to its renovation with the artistic flourish of William Randolph Hearst, spending tens of millions of dollars on a dot-com-boom-financed face-lift.
But Stonebrook has become an inadvertent monument to a residential downturn that has spread to the highest-end homes and touched buyers and sellers of considerable wealth.
Porter, divorced and ready to move on, put the home on the market in January 2008 for $45 million.
With no takers, he lowered the price in July to $38 million -- an amount that matches the most expensive California sale logged in public records that year: a six-bedroom Bel-Air mansion that sold in October. (This year, the record is $31.5 million for a Beverly Hills mansion that sold this week.)
Silicon Valley, like the rest of the state, has seen home values plunge. In March, the median price in Santa Clara County (home to most Silicon Valley communities) declined 37.1% from a year earlier -- compared with a 31.8% drop in Los Angeles County, according to real estate tracker MDA DataQuick.
Los Gatos-based real estate agent Larry Miller says high-end homes in Silicon Valley -- ones going for $5 million or more -- are selling for about 15% less than their asking price, about twice the discount seen in 2007.
"Things are staying on the market a little longer," Miller said.
The discount might be even greater, except that wealthy owners can afford to bide their time, he and other agents say.
Cherie Colon, who sells homes in the Los Gatos and Saratoga areas, said rich owners figure it this way: "If I can get my price, fine; otherwise, I'll wait it out."
Patience has long been a requirement for selling trophy homes. Entrepreneur and Oracle Corp. co-founder Larry Ellison's Japanese-inspired 8,000-square-foot residence in Atherton went on the market at $25 million in March 2005 and sold in June 2007 for $14 million.
In Southern California, the 56,500-square-foot Candy Spelling mansion, which came on the market in March, defines the upper limit of the housing market at $150 million.
Because the pool of potential buyers for these properties is so small, there's no telling how long it will take to sell, said Jeffrey Hyland, one of three listing agents for the Spelling compound.
"As brokers it's always one of the questions that we are asked," he said. "And that's the only question you really can't answer."
With Stonebrook Court, Porter recognizes that it could be years before he receives a suitable offer. And he is in no hurry.
"Buying this house is akin to buying one of the great masters," Porter said.
But, his listing agent said, Porter may be more flexible now than he was last summer.
"He's not lowering the price, but will consider less," said Olivia H. Decker of Decker Bullock Sotheby's International Realty. "He will also consider trading for income properties."
The prices of two of the homes she used as comparables in pricing Stonebrook Court have been reduced substantially: A 32,000-square-foot Hillsborough home, not on the open market but priced at $45 million, has dropped to $25 million. On six acres, it's a "smaller lot, bigger house," she said. "Both are historical homes built about the turn of the century and beautifully restored."
The Blanding estate, a historic landmark in Belvedere at the tip of a peninsula, has been reduced from $65 million to $48 million. Built in 1895, it underwent a nine-year restoration that was finished in 2004.
The manor on Stonebrook Court, now the envy of Silicon Valley's freshly minted billionaires, is a legacy of Percy Morgan, a genial San Francisco entrepreneur with a considerable appetite for risk. The British native became a director of Union Trust Co. and Wells Fargo Nevada National Bank, helped grow California's wine industry and reinvigorated Stanford University, for which he served as a trustee.
In 1914, he and wife Daisy began pouring their vast fortune into the construction of a vacation house.
They collected paintings, sculptures and objets d'art during their European travels. Entryway pieces date to the 17th and 18th centuries and come from the home of Irish dramatist and politician Richard Brinsley Sheridan. The rosebushes were grown from cuttings sent from the Alhambra in Spain.
A real estate circular first lured Porter and his wife to the house.
Porter, who rose through the ranks of advertising agencies and television networks in New York and Los Angeles, had moved to Silicon Valley to run CatchTV, an interactive television software company. He pulled down millions when the company was sold in 1999.
Porter then turned to venture capital, and he and his wife started looking for a new home.
By the time they visited the estate on a sleety January day in 1999, Stonebrook Court had fallen into disrepair. Their first impression: It looked like a beat-up fraternity house.
A chain-link fence with a padlock barred the way to the cracked asphalt of the private driveway, which cut through overgrown orchards, oak-studded knolls and thorny ravines. Five layers of roofing were peeling. Buckets and hoses drained torrents of water from the attic.
Finials were missing, rafters corroded, chimneys crumbled.
"It was more 'Grapes of Wrath' than 'Great Gatsby,' " Porter recalled.
Yet neither the rain nor the ruin could spoil that first visit. The Porters crossed the threshold into the north wing's 2,500-square-foot ballroom, patterned after grand reception halls in Italian palaces. They raised their eyes, and their jaws dropped. The ornate Venetian ceiling was covered in coats of arms and a dozen oil paintings in gilded frames.
In that moment, the Porters saw through the blemishes to the bones.
"It spoke to a way of building and being," Porter said.
They bought the home and for seven years worked to preserve the historical feel while installing modern comforts. The couple hired more than 2,000 craftsmen, architects and contractors and scoured Europe and antique auctions for artifacts.
Today it's the most impressive remaining home from the period of grand house building that ended with the 1929 stock market crash, said architectural historian Ward Hill.
"The house has a tremendous amount of presence to it," Hill said. "Once you see it, you never forget it."
On the property, perennial borders are filled with roses. A bronze statue of Neptune presides over the rectangular swimming pool. Nearby, a king's tent is guarded by stone elephants and enriched with Persian rugs, silk walls and carved furniture from Damascus, Syria.
Inside, an antique bronze statue of Mercury, once a fixture in a Toledo, Ohio, Freemasons club, greets guests in the foyer, one hand gesturing up the Jacobean staircase to the family quarters. A 16th century Venetian marble fireplace anchors the living room. In the library, mahogany bookcases conceal a secret room with a wet bar.
Porter gave a flurry of tours to buyers when Stonebrook went on the market; then they slowed to a couple each month. Since the beginning of April, however, five have toured the home, and real estate agent Decker and Porter spent four hours on a recent evening trying to put a deal together.
Like so many wealthy owners, Porter could bide his time. "He owns the house free and clear," Decker said. But he may be ready to sell.
"As long as my energies are here, it holds me back from moving on and doing new things," he said.
And if Realtor Miller's adage applies to this topsy-turvy market, Porter may not have to wait long for a sale: The high end has traditionally been, Miller said, the "last to feel it and the first to recover."
---