A diva who loved high drama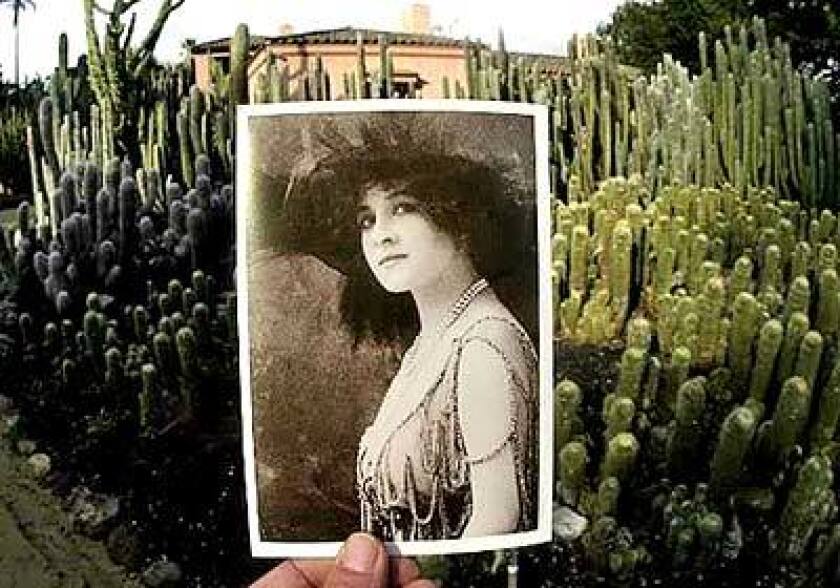 Special to The Times
For garden lovers, the world is not always a better place when a woman gets what she wants. If the French Empress Josephine had been able to keep Napoleon from divorcing her, she might have had less time for the roses that are her enduring legacy at Malmaison.
Similarly, if Ganna Walska had achieved her ambition of becoming a celebrated opera singer — or if her sixth marriage had worked out — Lotusland, the Montecito estate she purchased in 1941, might be just another mansion.
Instead, two decades after the Polish soprano's death in 1984, her garden remains the horticultural wonderland she envisioned in the years she was single-mindedly ordering workmen to lever giant boulders into half a dozen new positions and selling her jewels to finance one more shipment of rare plants.
A performer to the core, Walska, born Hanna Puacz in 1887, always intended her work to be admired, stipulating in her will that Lotusland's grounds be open to visitors. (Tours, for which reservations are required, are offered from mid-February to mid-November.) Once inside the estate's pink walls, it doesn't take a visitor long to realize that the diva didn't so much retire from the stage as bring it with her.
Set against a backdrop of rugged mountains, Walska's 37 acres are divided into more than a dozen gardens, each a seemingly separate world.
One is an oak grove highlighted by the hot pinks and vibrant purples of hundreds of bromeliads, floral relatives of the pineapple. Another surrounds the visitor with water plants — including the estate's namesake lotus — in dreamy, nested pools.
Scenes change with the suddenness of a curtain rising: A classic Japanese landscape melts into the Australian Outback, while a drive flanked by bunched pillars of Chilean wine palms opens to a golden "lawn" — actually a mass planting of barrel cactus. There is even a theater garden whose grassy stage can be viewed from a private box cut into the surrounding hedge.
Evidence of Walska's art is everywhere — in surprising juxtapositions of form and playful shocks to our expectations. Spiky-leaved dragon trees and towering cactus-like euphorbia stand guard at the entrance of the estate's Spanish-style house, like an armored regiment from an alien planet.
There is evidence, too, of a keen botanical passion. The dragon trees (Dracaena draco), slow-growing natives of the Canary Islands, need temperate coastal conditions to thrive outdoors in California. Some of Lotusland's specimens — which at 15 feet high look like giant versions of familiar potted succulents — date to the estate's 19th century owner, Kinton Stevens, a rare-plant aficionado who used part of the grounds as a demonstration nursery.
Walska not only preserved these historic specimens but added to Stevens' collection and ordered them grouped in a dramatic circular grove directly opposite her front door.
Walska's imperiousness about what she wanted where was as legendary as her disinterest in the names of plants, and more than one of her many garden designers and advisors had reason to believe he was working for Lewis Carroll's Red Queen.
Certainly a visitor encountering the garden's living clock — reported to be the world's largest when it was created in the 1950s — may be forgiven for thinking she's fallen down a rabbit hole. Composed of succulents, and the diameter of a merry-go-round, it tells time to an audience of topiary bears and peacocks.
And then there's the forest that's planted exclusively in shades of blue (blue hesper palms and Atlas cedars underplanted with blue fescue).
But Lotusland's garden is not simply an eccentric fantasy, any more than "Alice in Wonderland" is just a children's book. For Walska, plants were more than plants; they were colors to paint with, a family to nurture, characters to direct.
You have only to walk among her aloes to understand. Densely packed on a series of knolls, the 100 or more varieties form galaxies of fleshy stars. The knolls allow good drainage, always important to a succulent, but the effect is something more. We are no longer an audience but a part of this crowd scene: The 2- and 3-foot-high flower spikes are flame-colored spears or an army of torches, and we're onstage with them.
In gardens, it seems, Walska found a trick that divas can only imagine: Her grandest performances are perpetually repeated. The aloe act culminates at a rise where a pair of larger and more gnarled specimens are standing. These, we soon realize, are fountains, not plants.
Made from the wavy shells of giant clams, they stand in a pool that's a Pacific fantasy, edged in abalone shells that reflect its pearly blue. The interplay of colors and the faintly grotesque beauty aren't all that takes our breath away. Anticipation does too. At any moment Venus should emerge, though what she'll look like in this strange new world is anybody's guess.
No doubt Walska had a fellow feeling for the love goddess. At 30, she had the dewy skin and liquid dark eyes of a teenager. Her romantic career began in St. Petersburg with an adolescent marriage to a Russian count and admiring notice from the czar.
Well into her 50s, she was accustomed to seeing men fall helplessly in love after spending only days — or hours — in her company. And many of them were extremely wealthy: Her third husband, Alexander Cochran, was known in 1920 as "the richest bachelor in the world."
When marriage paled, Walska came to Southern California looking for a simpler life. She wanted, she wrote later, "a garden tiny … enough to count on only Nature's help for growing." But "tiny" was a relative term for a woman whose other properties included a New York town house and a French château.
And what would "simple" mean to a hostess who wrote knowledgeably of the protocol involved in seating two related grand dukes, a patroness of the arts whose summer parties had featured "a different orchestra in each corner of the park"?
That Walska was in the U.S. was not entirely a matter of choice. Although she often married Americans (her favorite seems to have been Harold McCormick of the International Harvester fortune), she preferred to live in France. When, in 1940, the impending Nazi invasion made life there untenable, she fled to Manhattan.
It was not a happy transition. Walska was 53, emotionally unattached, and the vocal teachers who had nurtured her in the face of stage fright and bad reviews were either dead or a continent away.
Mysticism in many guises — from yoga to Christian Science to Ouija boards — had preoccupied Walska for years. On her first visit to California, in the late 1930s, she caught a whiff of the nirvana her gurus were always promising: "Nature herself coquettishly conspires in pressing you to her bosom," she gushed in her memoir, "Always Room at the Top." "The air is magnetized … the consciousness awakens."
A second visit, in 1941, found her shopping at the behest of a suitor, Theos Bernard, a 32-year-old with a soulful simper who had grander dreams in mind. Bernard, who had studied yoga in the East and could twist himself into knots, had seen the Montecito property and thought it would be perfect for the Tibetan monastery he hoped, with Walska's money, to found. The pair married, and although they christened the estate Tibetland, the lamas didn't come. (A wartime State Department denied their visas.)
Fortunately, Walska's previous marriages had educated her in the use of the prenuptial agreement. When she and Bernard divorced in 1946, she returned with revived enthusiasm to her temporal nirvana and gave it a name, Lotusland, that more accurately reflected her own ambitions: spiritual growth and flowers.
For all the gauzy platitudes in her memoirs, Walska had a temperament more in common with the hardheaded industrialists who transformed California at the end of the 19th century. She liked to make a splash and had no patience with half-measures.
In "Lotusland: A Photographic Odyssey," Theodore Roosevelt Gardner II tells the story of a meeting of the Palm Society that Walska hosted. Although her own palm collection featured rarities that had been growing on the property since it was a nursery in the 1890s, she ordered truckloads of prize specimens to be planted before the palm lovers arrived.
Like the singer herself, the existing gardens at Lotusland had good bones. The previous owners had installed inviting terraces and planted a long, dreamy allée of gray-barked olive trees.
With the help of consultants including Ralph Stevens, Kinton's son, who had grown up on the property before becoming Santa Barbara's superintendent of parks, Walska set out to preserve and enhance these features even as she was replacing Italian cypresses with American cactuses and exchanging the garden's look of upper-class horticultural propriety for something decidedly more radical.
The change didn't happen overnight. Records indicate that her first "blue garden" was a blue-flower collection full of such traditional Southern California choices as delphinium and Cape plumbago.
As Walska transferred her energies from husbands to gardens, she never lost her penchant for opulent femininity. Consider the profusion of ornaments among her plantings: not only the diminutive cupids crouching among the succulents, or the weathered rocks as personable as statues, but the amethyst-lined geodes scattered among the crown-of-thorns, the pink quartz accents in the cactus patch, the several paths edged with chunks of turquoise glass, slag from a local bottling plant.
It's as if she feared the garden, like any self-respecting beauty, would feel naked without its jewels.
Her own rocks were legendary — including a 95-carat yellow briolette diamond named in her honor. When her jewelry was auctioned in 1971, it brought close to $1 million. She was at work on her last great project at the time, the cycad garden. Although their smooth trunks and feathery leaves make them look like dwarf palms — or giant feather dusters — cycads are ancient, cone-bearing relatives of pine and spruce.
Their extremely slow rate of growth and the hard-to-recognize differences among some species make buying mature specimens a costly proposition. Walska amassed 500 plants.
Ironically, the cycad garden is Lotusland's least flashy. The dell it occupies is a serene green bowl cupping the sun. Spaced about the undulating terrain — which is almost unornamented except for a pond and a scattering of boulders — the clumps of gently waving fronds with their startling eruptions of footlong cones suggest a world that has never known a human.
It cost her 40 years and a considerable fortune, but Walska finally found her simple life.
Recently the Lotusland Foundation commissioned a new garden — the most ambitious addition since Walska's death. It was inspired by the donation of a major cactus collection that Fallbrook resident Merritt Dunlap, a longtime friend of Walska's, had promised her in 1966.
The site of this desert garden, installed a year ago at the end of the old olive allée, is appropriately dramatic. Vaguely prow-shaped, it seems to be heading straight for the mountains. Within its sunny confines, hills with an appropriate desert paving of black stone bring cactuses to different levels for better viewing.
Here and there, rough basalt columns among the bulbous pillars of echinopsis give the sense of an archeological site; so does the central terrace, shaped like a lopped-off pyramid. But walking up its steps I am oddly disappointed. This Aztec setting is perfect for cactus, but it doesn't make me want to linger.
Leaving the desert, I look across the lawn. The minor toll this year's rains have taken on the gardens — the downing of an oak, the borders of sandbags — are invisible here. Dewed by a recent shower, this vast carpet in the center of the property is the nearly neon green of an English spring. Given its country-house sweep, I half expect it to end in some equally English shrubbery.
Instead, my glance stops short at a border of man-high, teal-blue agave. Even as I am unsettled by this startling juxtaposition of desert and temperate zones, my eyes are entranced: The two greens electrify each other. The two sorts of leaves, grass and agave, are similarly blade-shaped but so different in size that, for a moment, I'm unsure of my own place in their scale.
This, I realize, may be why I like Lotusland so much. Unpredictable, contradictory, extravagant: Walska's gardens not only mirror their inventor but are also an artful reflection of the California landscape.
*
(BEGIN TEXT OF INFOBOX)
To Lotusland
Reservations: Required. Call visitor services at (805) 969-9990 between
9 a.m. and noon to schedule your visit and tour. Directions to the garden are given with reservation confirmations.
Admission: $15 for adults and children 10 and older; $8 for children under 10. Children younger than 2 are free.
Tours: Two-hour docent-led tours take place Wednesdays through Saturdays at 10 a.m. and 1:30 p.m.
More information: https://www.lotusland.org .
---