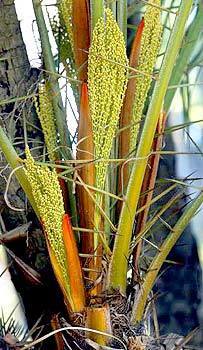 6 Images
Six that reach for the skies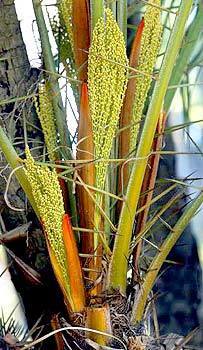 DATE PALMS
[PHOENIX DACTYLIFERA]
Aristocrats of not just palms, but all plants. Phoenix dactyliferas are the fruit trees of the Bible, P. canariensis the sentinels of our broadways and stand watch on the bluffs of Santa Monica, P. reclinatas the spiny bouquets good for large planters. Fruit doesn't ripen without desert heat, but parrots like it. Fast growing, drought tolerant once established. Dactyliferas and canariensis to 80 feet, reclinatas to 30 feet.
(Lawrence K. Ho / LAT)
MEDITERRANEAN FAN PALM
[CHAMAEROPS HUMILIS]
Only palm native to Europe. Unlike flagpole American palms, is multi-trunked, low growing and stays low, forming an attractive thicket. The upshot: It is ideal for a residential lot. Dusky green compatible with native plant palette. Once common in wild around the Mediterranean, but were collected by landowners and moved into villas. Needs water until established, then drought tolerant.
(Lawrence K. Ho / LAT)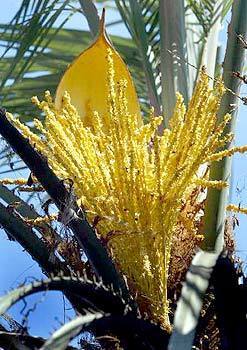 JELLY PALMS
[BUTIA CAPITATA]
Need a plant for a Spanish bungalow that won't outgrow the house? Landscaper Nancy Goslee Power recommends these South American palms — Butia capitata or Butia paraguayensis — with attractive thatched trunk, gray-green foliage, edible fruit. Slow growing, drought tolerant once established. From 6 feet to 20 feet. For greener foliage, try the frilly Australian foxtail palm, Wodyetia bifurcata.
(Lawrence K. Ho / LAT)
KING PALM
[ARCHONTOPHOENIX CUNNINGHAMIANA]
Australian import; can be artfully mixed with Kentia palms (Howea forsteriana). Both have bright green, tropical good looks, feathery or pinnate leaves, medium water needs. Fast grower to 60 feet. Planted at the Huntington gardens with agapanthus. Smooth green beneath leaves; "crown-shaft" indicates the palm sheds dead foliage. The flowers form a lush summer necklace.
(Lawrence K. Ho / LAT)
MEXICAN BLUE PALM
[BRAHEA ARMATA]
Baja native with elegant blue-gray leaves, "can take some really quite serious cold," Power says. Drought and wind tolerant, adds the Palm Society. Slightly fierce leaf bases, lavish white flowers in spring startling against blue leaves. Perfect plant for mixing with California natives. Handsome in containers, mature height 35 feet, slow grower. Water until established. See mature ones in Balboa Park in San Diego.
(Lawrence K. Ho / LAT)
STREET PALMS
[WASHINGTONIA FILIFERA]
The tall and taller street palms are Mexican and California fan palms, Washingtonia robusta and Washingtonia filifera, respectively. For a home garden, a smaller alternative is the Guadalupe palm (Brahea edulis), with a mature height of 30 feet. Water until established, then drought tolerant. Best stands around town in Chavez Ravine, Rosedale Cemetery, the Arboretum and farm lanes of old Pasadena.
(Lawrence K. Ho / LAT)