4 Images
Elegant simplicity
Stuff both ends of this pasta-shaped blown-glass piece and presto -- an interesting, low centerpiece for any table. The Macaroni vase by Chiasso is available in two sizes, $18 and $28, at www.chiasso.com.
(Glenn Koenig / LAT)
A sleek porcelain interpretation of an old-fashioned tulipiere with four necks, $145 from KleinReid, www.kleinreid.com.
(Glenn Koenig / LAT)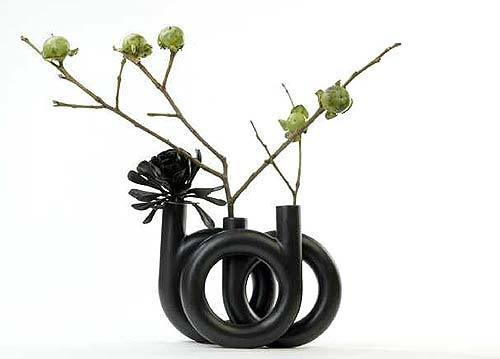 Both Asian design and '80s minimalism are reflected in the satiny finish of this ceramic triple bud vase, $64 from Kabuki, (310) 477-2663.
(Glenn Koenig / LAT)
The utter simplicity of this German glass bud vase, circa 1960, still packs a design punch that gets noticed. It's $50 from Retro Gallery, (323) 936-5261.
(Glenn Koenig / LAT)