Ruth Graham, 87; had active role as wife of famed evangelist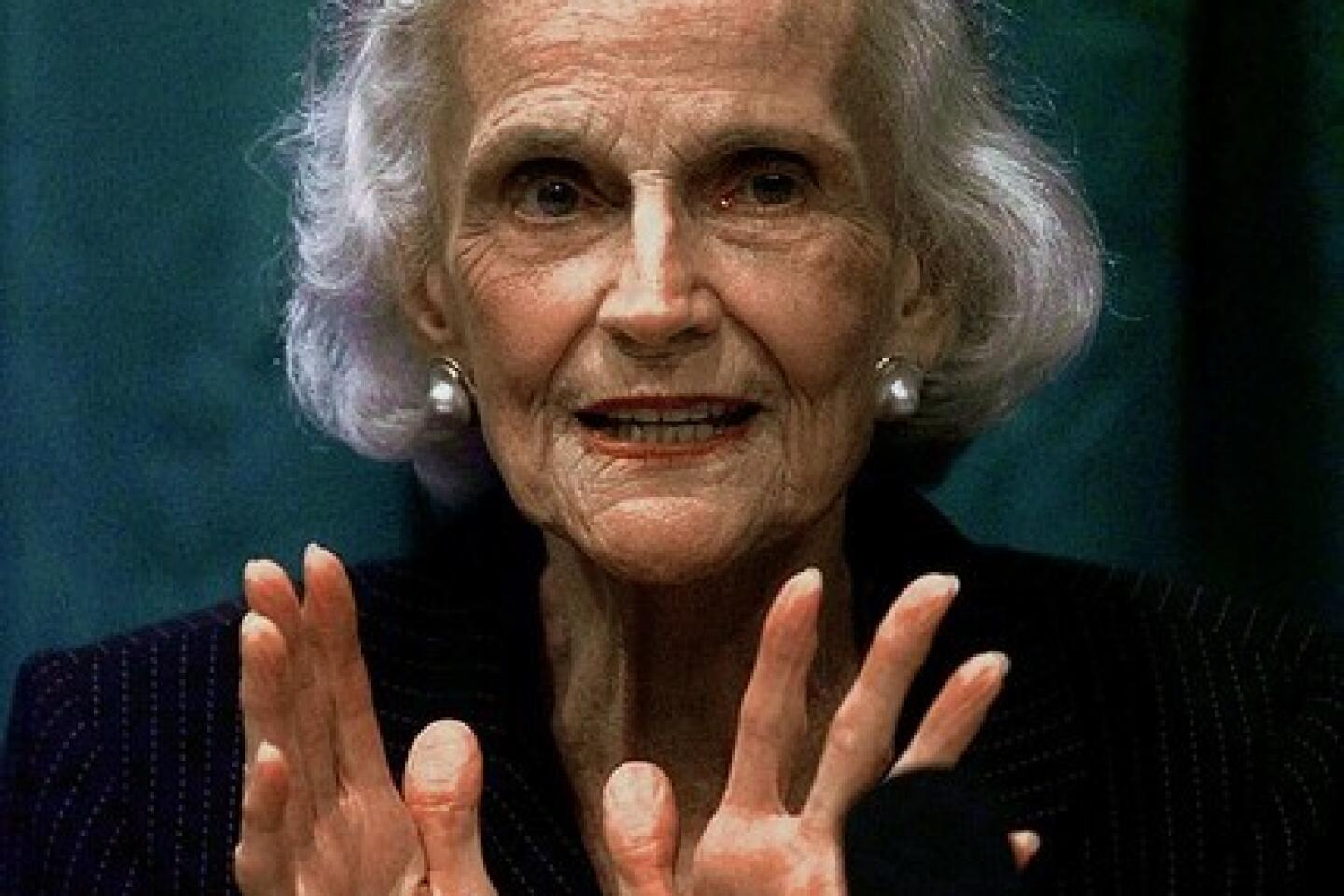 Graham, wife of evangelist Billy Graham, has died. She was 87.
(Chris O'Meara / AP)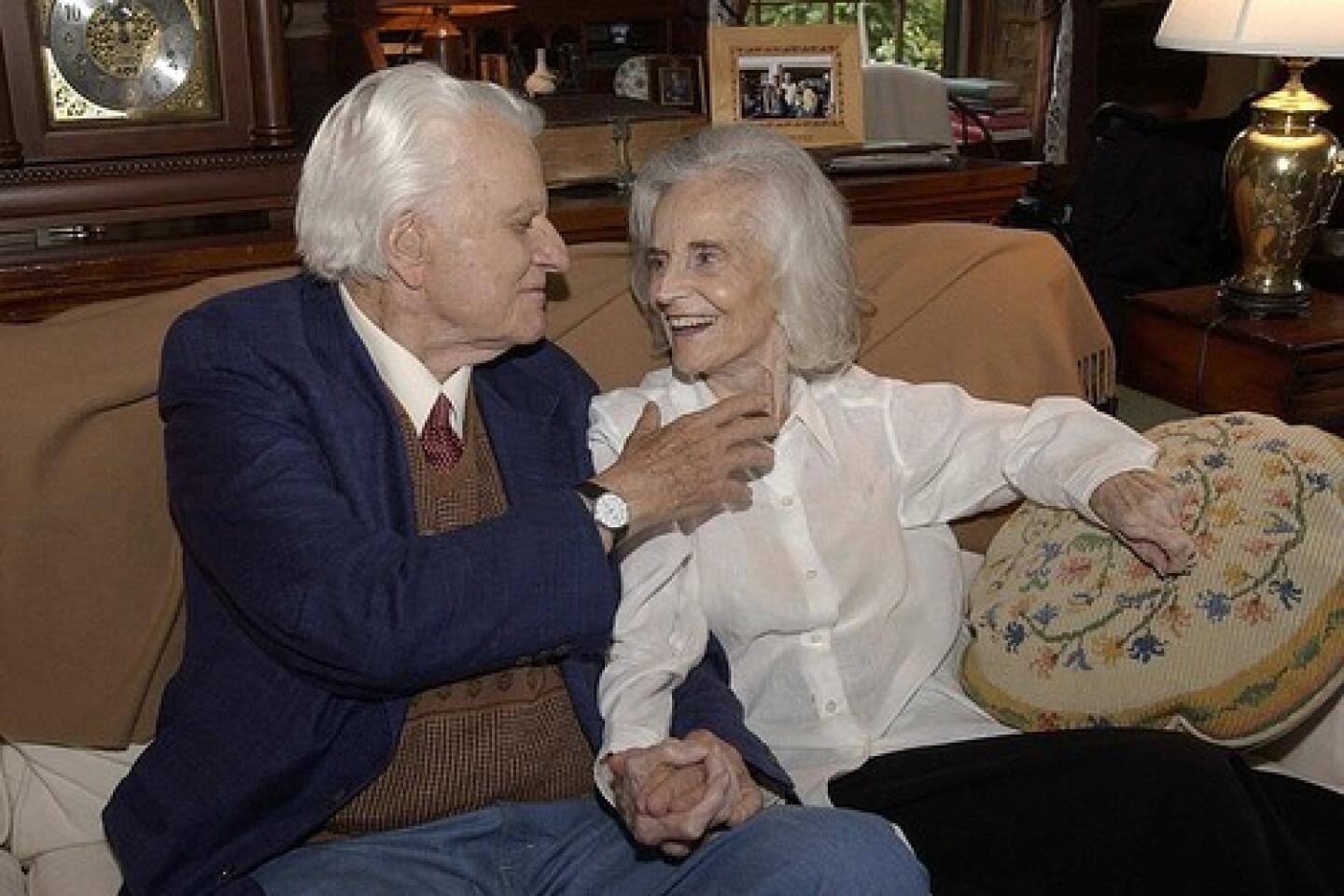 Billy and Ruth Graham at their Montreat, N.C., mountaintop home.
(Steve Dixon / AP)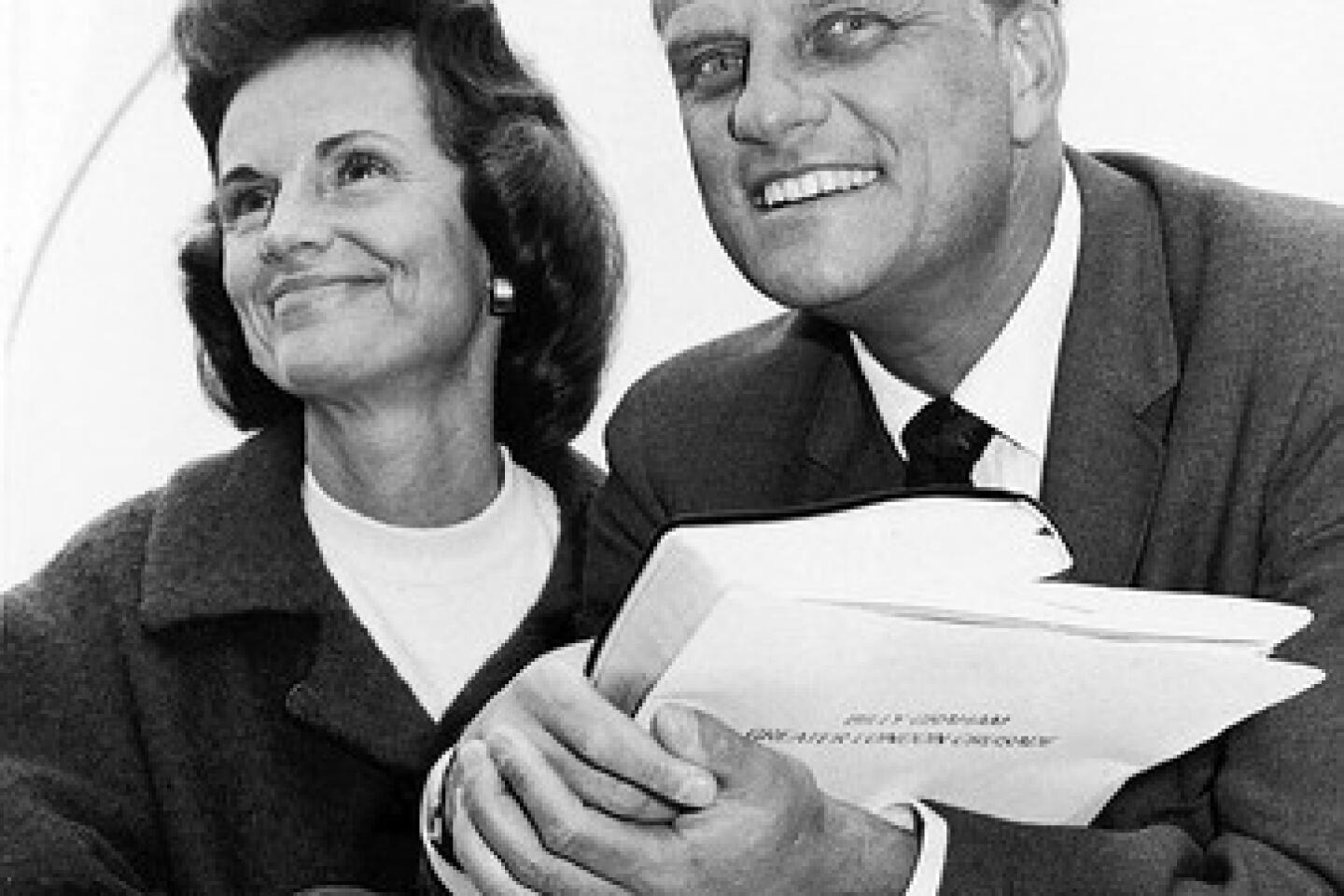 Ruth and Billy Graham aboard the Queen Mary in 1966.
(Pictorial Parade / AP)
Los Angeles Times Staff Writer
Ruth Graham, the wife of evangelist Billy Graham, who supported her famous husband as he spread the Gospel to millions but dispelled the notion of the demure preacher's wife with her humor, spunk, poetry-writing and motorcycle riding, died Thursday at her home in Montreat, N.C., from complications of pneumonia. She was 87.
"Ruth was my life partner, and we were called by God as a team," the Rev. Billy Graham said in a statement released Thursday.
"No one else could have borne the load that she carried. She was a vital and integral part of our ministry, and my work through the years would have been impossible without her encouragement and support."
It was Ruth Graham who dissuaded her husband from launching a campaign for the U.S. presidency: She told him she would leave him if he quit his ministry. The American public would not accept a divorced man as president, she warned.
And it was she who took the lead in rearing their five children, supervised the construction of their mountain homestead -- Little Piney Cove in Montreat -- and otherwise anchored the family.
"I'm assuming home responsibilities," Graham explained to her husband early in their marriage, "to free you for your more important ones."
Long before Billy Graham's legendary 1957 crusade in New York -- the beginning of a journey that would take him to 185 countries and territories -- she understood that his calling would eclipse her own. The woman who once had dreams of becoming a missionary in Tibet surrendered them for her husband.
"If I marry Bill, I marry him with my eyes open," she wrote in her journal. "He will be increasingly burdened for lost souls and increasingly active in the Lord's work .... I will slip into the background.... In short, be a lost life. Lost in Bill's."
The couple married Aug. 13, 1943, and had five children. In addition to her husband, Graham's survivors include her children: Virginia, Anne, Ruth Bell, Franklin (William Franklin III), and Nelson Edman.
For Ruth Graham, life in the background did not mean a life of obscurity. As her husband's ministry grew and his fame spread, Graham felt the eyes of the world on her and the family. When country music star June Carter Cash sent her a mink coat as a gift, Graham explained that as the wife of an evangelist, she could not wear mink in public.
"She anguished over the importance of providing the children with a normal environment," according to "Ruth, A Portrait: The Story of Ruth Bell Graham" by Patricia Cornwell. "She fought the resentment that boiled to the surface when tourists invaded their property and their privacy, and she also knew that any unkindness on her part would not be forgiven."
Ruth Graham called the fame an "odd kind of cross to bear."
Raised as a Presbyterian, Graham had no experience in submitting to a husband's authority the way the evangelist, who was reared in a Southern Baptist family, expected.
Ruth Graham once was driving and hit the accelerator instead of the brake, sending her car crashing through a fence. Nobody was hurt, but in a phone call from California, Billy Graham demanded that she surrender her driver's license. Ruth argued with him, standing her ground, according to an account in the Asheville (N.C.) Citizen-Times.
After a long moment of silence, Billy Graham said, "I don't recall reading in Scripture that Sarah ever talked to Abraham like this."
Ruth Graham retorted: "Well, I don't recall reading in Scripture that Abraham ever tried to take Sarah's camel away from her."
Graham was born Ruth McCue Bell in Jiangsu province, China, on June 10, 1920. From the start, Ruth, the second of five children, seemed destined for a life of Christian service. Though she witnessed and shared the hardships of her missionary parents, Dr. Nelson and Virginia Bell, Ruth concerned herself with spiritual matters and was drawn to the notion of helping others.
She spent three years of high school in Pyongyang, in what is now North Korea, then graduated from a school in Montreat while her parents were on a furlough from their mission work. When she was 17, Graham enrolled at Wheaton College in Illinois, where Billy Graham was a student. She had vowed never to marry, but after one date with her future husband, she prayed and told God it would be an honor to serve him as Billy Graham's wife.
For months at a time, he was away from home preaching. His absence meant Graham was mother and father to their children, a role that required much prayer.
When as a teenager her oldest son Franklin refused to stop smoking, Graham made him chain-smoke a pack of cigarettes, according to a Washington Post article last year. When he wouldn't stop pinching his sisters in the car during a trip to a fast-food restaurant, she locked him in the trunk.
The youngest of the family, Nelson -- known as Ned -- also gave Graham plenty of reasons to get on her knees in prayer.
"In my late teens, early 20s maybe, I'd be out late drinking, getting stoned," he said in the Washington Post article. "I'd come home at 2 or so and Mother would be up. She'd just kiss me and say, 'Ned, I'm glad you're home. Love ya. I'm going to bed now."
Graham sometimes traveled with her husband; she joined one of his crusades riding a motorcycle.
Throughout her life, Graham spread the Gospel in her own way: to a man accused of murder in prison, to a cabdriver in London, to the family of a Montreat woman who sneaked into a neighbor's house and killed herself. Graham helped clean up the house where the suicide occurred, then allowed the family that had been living there to sleep in the Graham home for a night, she recalled in "Ruth, A Portrait."
"What does God say to a Christian who's committed suicide?" a member of the woman's family asked.
"I once heard someone say," Ruth replied tenderly, " 'God did not call her home, but he welcomed her.' "
"What about punishment?" she was often asked. "God does not punish us for our sins but by them," she would say.
Graham was a prolific writer, crafting poetry and writing in her journals. Over the years, she published at least 14 books and collections of poems. Later in life, she suffered from degenerative arthritis and was in constant pain. Poetry gave voice to her pain and prayers.
A little more time
Lord
Just a little more time
There's so much to do
So much undone
If it's all right with You
Lord
Please stop the sun ...
Graham will be buried at the foot of a cross-shaped walkway in the Prayer Garden of the recently dedicated Billy Graham Library in Charlotte, N.C.
jocelyn.stewart@latimes.com