L.A. County will pay $3.9 million to settle jail sexual assault claims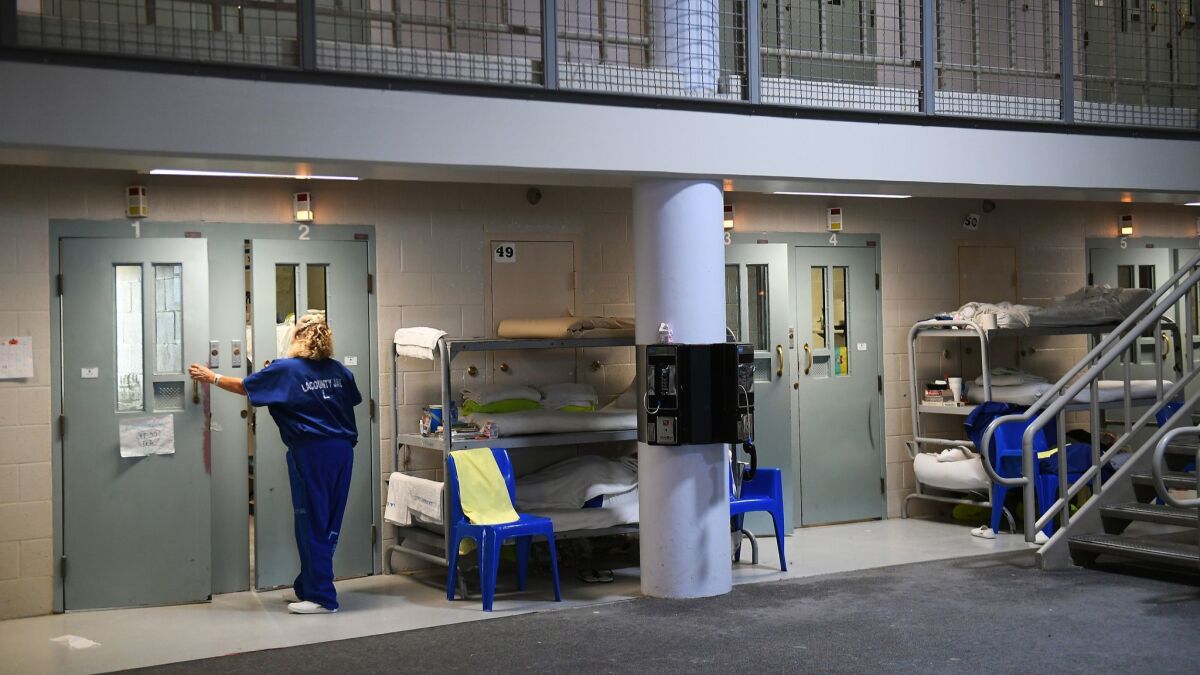 The Los Angeles County Board of Supervisors on Wednesday agreed to pay $3.9 million to settle federal civil rights claims against the Sheriff's Department and a deputy accused in a sexual assault involving female jail inmates.
The board's action ends one lawsuit, and another potential claim, brought by three women alleging sexual assault by Deputy Giancarlo Scotti last year at the Century Regional Detention Facility in Lynwood.
The plaintiffs also alleged that they faced retaliation inside the jail after raising the alleged incidents with Sheriff's Department investigators, and that they were put at risk because the facility didn't comply with federal standards related to sexual harassment and abuse of inmates.
An attorney representing two of the women receiving the settlements, which the board approved unanimously without comment, praised them as a first step toward improving jail conditions for current and future inmates.
"Today's approval by the board finalizing the settlement is really an acknowledgement of the institutional failure that this case represents," said Justin Sterling, who represents other plaintiffs who name Scotti in a separate pending federal lawsuit. "We really believe that this was preventable."
Scotti, 32, is charged with eight counts of sexual activity with a detainee in a correctional facility, a felony, from March to September 2017.
Scotti, who remains on unpaid leave from the department, was released from custody pending trial and is scheduled for a preliminary hearing Nov. 16, according to the Sheriff's Department and the Los Angeles County District Attorney's office.
Spokesmen for both law enforcement agencies — and the county government – declined Wednesday to comment further on the case.
At least six women have been plaintiffs in lawsuits against Scotti and the department, and two are still pending in federal court, according to federal court records.
Attorneys representing the deputy in the criminal cases, Gilbert Nishimura and Janet Keuper, couldn't immediately be reached for comment.
In multiple incidents, according to lawsuits and the criminal complaint, Scotti is alleged to have made sexually harassing statements and ordered female inmates to submit to sexual acts with him in the jail.
In a previously unreported lawsuit, filed Nov. 3, another former inmate alleges that Scotti exposed himself and groped her breast.
The allegations in that case are similar to those made by plaintiffs in the claims settled Wednesday. In those instances, the women allege that Scotti forced them to engage in oral and vaginal sex. They say they complied out of fear and were told afterward not to complain, according to the suits.
The plaintiffs in the settlements and pending lawsuits are named in court records, but The Times generally does not identify people who report being victims of sexual assault.
Inmates cannot legally consent to sexual intercourse with deputies under state and federal law.
An independent report released in March found the Lynwood facility was out of compliance with numerous mandates under the federal Prison Rape Elimination Act that are designed to keep inmates safe and limit opportunities for abuse.
Auditors noted flaws in the jail's complaint process and said female inmates could be seen showering.The department has said it has made improvements under the federal anti-rape law, including fixes to the inmate complaint process.
The Sheriff Civilian Oversight Commission, an independent watchdog agency, has taken up the jail rape guidelines as a major focus of its efforts to reform the agency.
The stories shaping California
Get up to speed with our Essential California newsletter, sent six days a week.
You may occasionally receive promotional content from the Los Angeles Times.