California voters approve gun control measure Proposition 63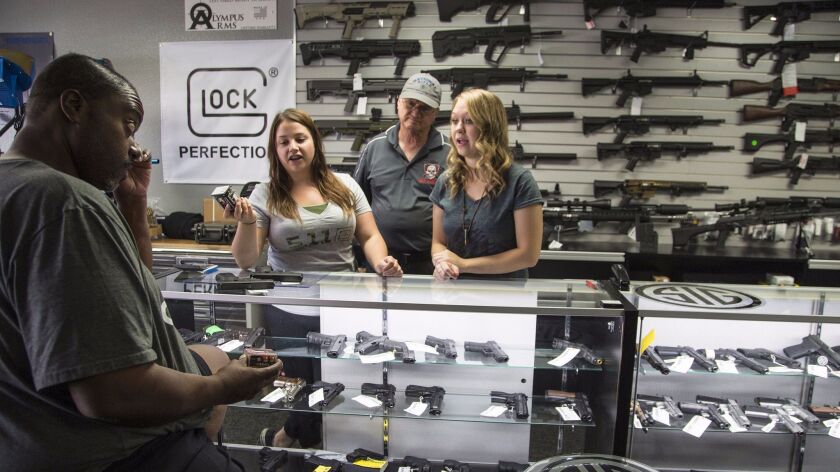 Following a year marked by a series of mass shootings, voters on Tuesday approved Proposition 63, which toughens California's already strict gun control laws.
The initiative outlaws the possession of ammunition magazines that hold more than 10 rounds, requires background checks for people buying bullets, makes it a crime not to report lost or stolen guns, and provides a process for taking guns from people upon their conviction for a felony.
The measure was proposed by Lt. Gov. Gavin Newsom, who late Tuesday called the vote "historic progress to reduce gun violence."
"It was a repudiation of the National Rifle Assn. and the gun lobby. They lost badly," Newsom said in an interview. "It's a very important initiative because I think it's the beginning of a national debate on relinquishment (by felons) and ammunition background checks that will I think will have a very significant impact on reducing gun violence in this country."
During the campaign, Newsom argued more laws are needed to keep guns out of the hands of criminals and terrorists following a series of mass shootings in the United States.
Live updates from the day after the 2016 election »
Tuesday's vote came nearly a year after two terrorists killed 14 people in San Bernardino. The Proposition 63 campaign ads also cited a mass shooting at an Orlando nightclub that killed 49 people in June and the 2012 massacre that left 20 children and several educators dead at Sandy Hook Elementary School in Newtown, Conn.
The opposition, which includes the National Rifle Assn., argued it would create a burden on gun owners but that criminals will find a way to get around the new law.
Opponents also said Newsom was using the ballot measure to raise his profile ahead of his campaign for governor in 2018.
"Prop. 63 is another attempt by Newsom and his 1%, elitist friends to attack law-abiding Californians," said Craig DeLuz, a spokesman for the Stop Prop 63 Committee. "They want to replace the 'War on Drugs' with 'The War on law-abiding gun owners' so they can continue locking up young black and Latino men."
With the NRA focusing more of its resources in other states where gun control had more opposition, the campaign against Proposition 63 was outspent. Supporters raised close to $4.5 million, while opponents were able to raise about $868,000.
ALSO
L.A.'s ambitious plan to tackle homelessness has overwhelming lead
California voters reject measure to repeal death penalty, approve plan to expedite it
Recreational marijuana will effectively become legal in California
---