Newsletter: Opinion: Hurray for Harriet Tubman on the $20 bill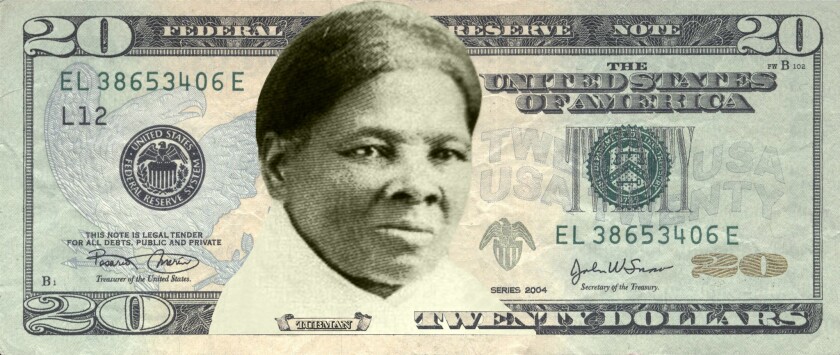 Good morning. I'm Paul Thornton, The Times' letters editor, and it is Saturday, April 23, 2016. Here's a look back at the week in Opinion.
The image of a slave owner and ethnic cleanser is arguably as ubiquitous in America as those menacing portraits of Kim Il Sung and Kim Jong Il are in North Korea, but few of us notice it. This man also happens to have been the seventh U.S. president, Andrew Jackson, and those of us lucky enough to handle money regularly likely see his portrait several times a week, if not everyday, on the $20 bill.
President Obama's Treasury Department decided now was a good time to honor a woman and a hero to the very people Jackson sought to own as property, deciding to put Harriet Tubman's portrait on the bill in place of the former president's — a move endorsed enthusiastically by The Times' editorial board:
Currency is a sort of edited Hall of Fame, just like the postage stamps of old and those statues in the Capitol rotunda, and as such it's time for Jackson to relinquish one of his pedestals. The U.S. Treasury announced Wednesday that his image will be replaced by Harriet Tubman's, and it's a good choice.

Tubman was a slave who freed herself and then worked to free others, helping them to escape bondage as part of what has become known as the Underground Railroad. That journey — the escape, the flight, the continuing resistance — is an indelible part of American history. It is the other side of the coin — or the bill — in what is otherwise an incomplete story of liberty. It is a reminder that freedom is bigger than any single person, bigger even than national heroes like Washington, Jefferson and Jackson, who fought to gain and preserve freedom while denying it to others.

And it is a slow, insufficient but welcome note that the solidly male fraternity represented on U.S. bills represents only half of the nation's population, half its story and, when it comes down to it, half its value.

So will we now become the nation of experts on Tubman that we never were on Jackson? Perhaps she'll just be another face that we see but give little thought to when we walk away from the ATM. But it will be a female face, and one with features that represent an American population with ancestry in Africa. Our wallets, at least, will have a more well-rounded view of who we are and how we got here.
Just when hard currency is in decline, we put a woman on it. Paper money just isn't what it used to be, notes senior editorial writer Michael McGough: "I regularly stew in the convenience-store checkout line while other customers pay for absurdly small purchases using a credit or debit card. Then there are applications that allow you to make a payment with your smartphone. By one estimate, cash is used in only half of the payments for goods and services in the U.S., compared with 80% half a century ago." L.A. Times
NYPD cop Peter Liang killed an unarmed black man but isn't going to jail. Is there such as a thing as Asian privilege? UC Irvine professor Claire Jean Kim thinks so, and not because Asians are a "model minority." Rather, she writes, even though early Asian immigrants to the U.S. were subject to mob violence and segregation, since then they've been spared, relatively speaking, the harsh institutional and social treatment experienced by African Americans. Kim concludes, "The Liang case challenges Asian Americans to develop a political ethos that calls for confronting racial hierarchy and anti-black racism, even when the self-interest of Asian Americans dictates otherwise." L.A. Times
Colleges' obsession with admitting "well-rounded" students has got to stop. Karin Klein, a former Times editorial writer, shares the story of a perfect test scorer and high-achieving student whose essay landed his application in the rejection pile to show how absurd and opaque college admissions have become: "Maybe [this student is] not a laugh a minute in the dining hall and maybe he's woefully unaware of social ills. But maybe he'll become the intense, hyperfocused researcher who discovers something entirely new about distant universes." Sacramento Bee
Are you an independent planning to vote for Bernie Sanders or Hillary Clinton? Well, you might actually be a registered member of the far-right American Independent Party. There's a difference between independent and capital-I Independent, and California's confusing voter registration form has led thousands of otherwise unaffiliated residents to sign up with the AIP. "There is still time for voters to check their registration and, if they want to, change it to participate in their primary of choice," notes The Times' editorial board. "The deadline is May 23 — two weeks before election day." L.A. Times
And now, finally, back to our regularly scheduled programming: Donald Trump. The Republican front-runner actually won more than 50% of his party's vote in New York, and the candidate, writes Doyle McManus, appears to be doing something different: thinking strategically. "Over the last two weeks, the famously impulsive real estate promoter has stopped giving nonstop television interviews, reassessed his campaign plan, and made some significant changes," says McManus. L.A. Times
Send me feedback — I promise I'll read it: paul.thornton@latimes.com.
---