Newsletter: To the resisters and the MAGA-capped: Vote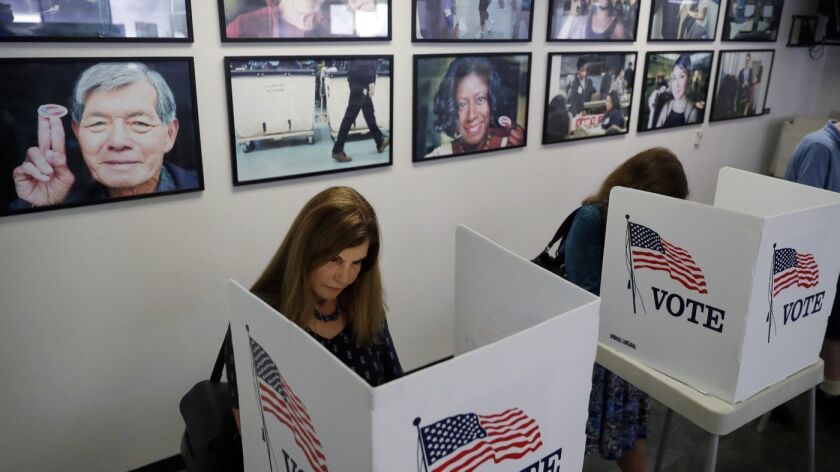 Good morning. I'm Paul Thornton, and it is Saturday, Nov. 3, 2018. All that's left to do now is vote, so with that in mind, let's take a look back at the week in Opinion.
Regular readers of this newsletter have gathered by now that I do not support much of what President Trump has done over his nearly two years in office (an opinion shared by my colleagues on the Los Angeles Times Editorial Board). But that doesn't matter now; in fact, disagree as much as I might with fans of this president, I wouldn't hesitate to share a line at the polls with a MAGA-capped citizen wielding his marked-up sample ballot.
My point: Vote, please — everyone of you who's eligible. Do it. In this polarized environment, one of the few things we have in common politically is our ability to cast a single ballot making our opinions official government business. It neatly equalizes the power of the loudest Trump rally-goer, the pink-capped Women's Marchers with the pithiest protest sign, and the quiet citizen who cares just enough about policymaking to vote.
In this election, it's more important than ever for voters to cast their ballots. The Times Editorial Board explains why:
If you still haven't voted, here are The Times Editorial Board's recommendations (and yes, we included judges, and no, we didn't forget Proposition 9 — because there is no Proposition 9):
Governor: Gavin Newsom
U.S. Senator: Dianne Feinstein
Lieutenant governor: Ed Hernandez
Attorney general: Xavier Becerra
Secretary of state: Alex Padilla
Controller: Betty Yee
Treasurer: Fiona Ma
Insurance commissioner: Steve Poizner
Proposition 1 (affordable housing): Yes
Proposition 2 (mentally ill housing): Yes
Proposition 3 (water bond): No
Proposition 4 (children's hospitals): Yes
Proposition 5 (property taxes): No
Proposition 6 (motorist taxes): No
Proposition 7 (daylight saving time): Yes
Proposition 8 (dialysis centers): No
Proposition 10 (rent control): Yes
Proposition 11 (EMT pay): Yes
Proposition 12 (chicken cages): Yes
California Supreme Court and 2nd District Court of Appeal: Yes to all judges
L.A. County Superior Court: Alfred A. Coletta, Sydne Jane Michel, Holly L. Hancock, Michael Ribons
L.A. Charter Amendment B (public bank): No
L.A. County sheriff: Jim McDonnell
Reach me: paul.thornton@latimes.com
---