A twofer trail: half pine, half desert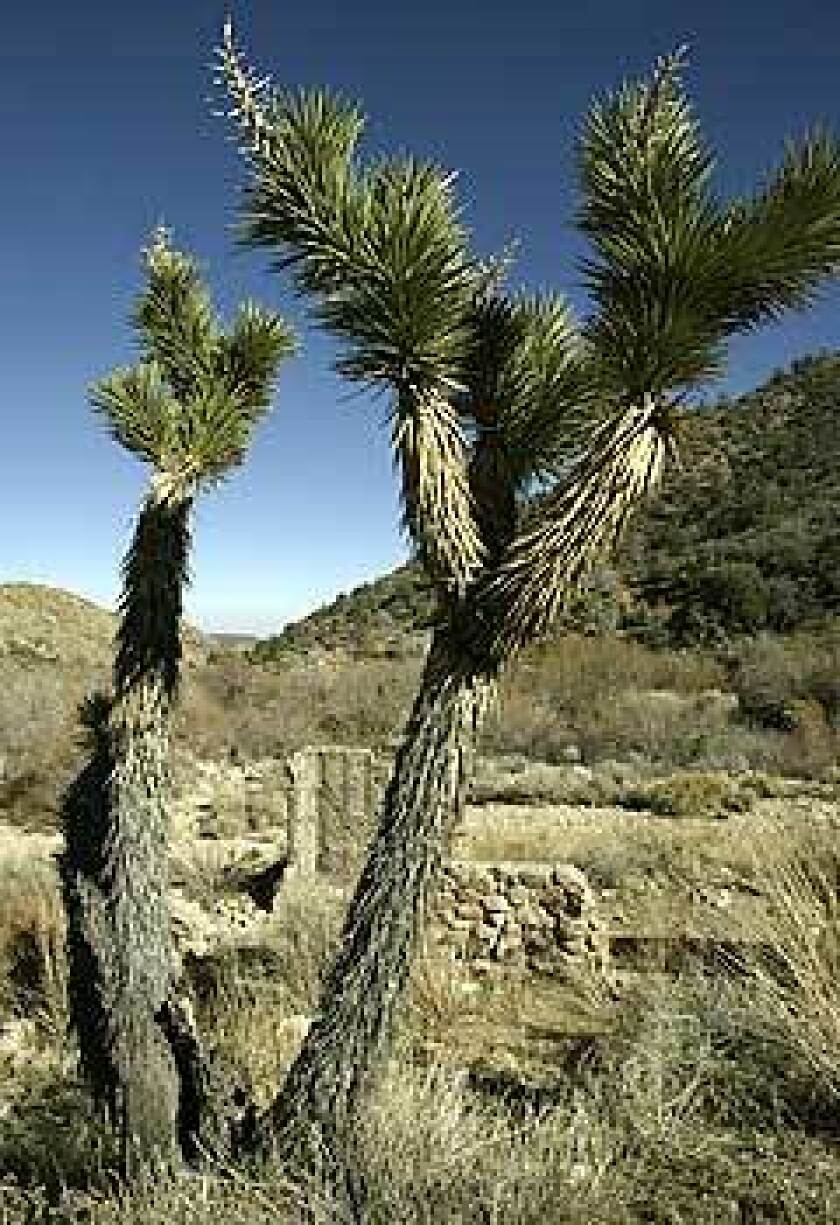 Special to The Times
About five years ago, I bought a cabin in the high desert, between Big Bear and Joshua Tree National Park. It's in the Pipes Canyon area of Pioneertown, just north of Yucca Valley. I wanted to breathe clean air, take in big skies, see the Milky Way.
Right where the Pipes Canyon and Pioneertown roads intersect, there's a sign that says "Wildlands Conservancy." It's a private land preserve with thousands of acres, a magical place.
It has a hiking loop named Indian Loop Trail that provides a gentle climb on well-marked trails that go through a beautiful little valley. As you climb what used to be a miner's road, on the right there's barren, rocky hillside. To the left the shady side of the hill is covered in a thick forest of piñon pines, manzanita, yucca.
After about 1.6 miles, you come upon remnants of a stone house, and you can't help but wonder: Did someone live here? There are also many different animal tracks — like big cat prints — but fortunately I've never encountered any big creatures face to face. You hardly ever run into other people either, but I've taken generations of my family on this hike.
At various places, water comes to the surface. I think the water is there year-round. You can tell that the piñon pines that grow out of the crevasses of rocky cliffs are hundreds of years old. You can almost feel their struggle.
About a half-mile beyond the stone house, there's an incredible grove of trees. You walk for another mile or so, and that's where it gets steep and there are great views. You'll break a sweat, but it will only make you feel good.
I do the same loop over and over. It changes with the seasons, and that's enough to make it feel different. It's not uncommon in winter to have a dusting of snow. There are definitely four seasons out there.
The particulars
Where:
Pipes Canyon Preserve is a 15,000-acre private nature preserve in the high desert near Joshua Tree National Park.
What: Pipes Canyon loop, a 6.5-mile round-trip hike with a 900-foot elevation gain that heads up a ravine, crosses a ridge, winds through hills and descends on a dirt road.
How: Take Interstate 10 to Highway 62 (Twentynine Palms Highway toward Joshua Tree National Park). Continue about 25 miles northeast on Highway 62 to Yucca Valley. Look for the "Pioneertown" sign, then go left on Pioneertown Road. Travel about seven miles to Pipes Canyon Road. Turn left and follow the dirt road to the parking lot and visitor center. Call (760) 369-7105.
Back story: The mouth of Pipes Canyon is in Pioneertown, built as a western movie set in the 1940s and now a town with a single street, called Mane. The area was also a main drag for pioneers and Native Americans: So many migrated through here from Twentynine Palms to Big Bear Valley that Pipes Canyon Road is also known as the Twentynine Palms National Historic Trail.
---